Air Purifier Market
Air Purifier Market (Mounting Type: Fixed and Portable; Product Type: Upper Air, In-duct, Self Contained/Standalone, and Others; Technology: HEPA Filtration, Activated Carbon Filters, Ionic Filter, Ultraviolet [UV] Technology, and Others; End User: Residential, Commercial, and Industrial; and Distribution Channel: Online and Offline) - Global Industry Analysis, Size, Share, Growth, Trends, and Forecast, 2020-2030
Category :

Consumer Goods & Services

Format :
Can Air Purifiers Combat COVID-19?
Air purifiers help to reduce airborne contaminants, including viruses and bacteria in homes and confined spaces. However, it has been found that portable air purifiers alone are not enough to protect from coronavirus. Hence, companies in the air purifier market are increasing awareness that air cleaners be combined with other recommendations given by the CDC (Centers for Disease Control and Prevention) to effectively combat exposure to the novel infection.
High-income groups hold lucrative opportunities for manufacturers in the air purifier market, since medium and low income groups are reluctant to spend on non-essential products and devices. Relaxations in trade and travel restrictions are anticipated to increase revenue flow in the market and global economy. The reopening of manufacturing facilities help to ease supply chain hurdles.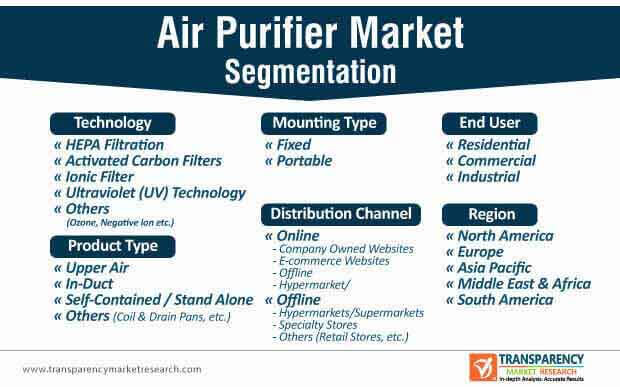 Request a sample to get extensive insights into the Air Purifier Market
HEPA-based Air Purifiers Emerge as Gold Standard for Clean Environments
Air purifiers are gaining popularity for eliminating allergens such as dust and pet odor. However, one must take note that such devices need frequent cleaning and maintenance. In many cases, these devices are not completely effective in eliminating gases and odors. Hence, manufacturers and startups in the air purifier market are focusing on developing HEPA (High Efficiency Particulate Air)-based purifiers that are emerging as the gold standard for establishing clean environments.
Companies in the air purifier market such as LG and Filtrete have entered the race to develop HEPA-based air purifiers. Mobile designs, energy efficient performance, and effective filtration mechanisms are being preferred by users. Manufacturers should team up with air quality researchers to gain a strong research base in efficacious air filtration technologies.
To understand how our report can bring difference to your business strategy, Ask for a brochure
Bamboo Materials, Low Energy Profiles Key in Air Purifiers
Sustainability is a fast growing phenomenon in the air purifier market. Air purifiers of OneLife, Luftqi, and CleanAirZone are gaining recognition for minimizing waste, since washable filters are eliminating the need for filter replacements. Manufacturers are gaining proficiency in low energy profiles and environment-friendly hardware with the help of sustainably sourced materials such as bamboo.
Compact air purifiers compounded with deodorizers are gaining prominence in cars. Their easy plug and use properties are being preferred by consumers in order to keep their vehicle dust- and allergen-free. Manufacturers in the air purifier market are integrating digitized displays in devices that show the air quality, temperature, and humidity.
Ultraviolet LEDs, Photocatalytic Tech Help Break Down Pathogens
Innovators in the air purifier market are boosting their output capacities in battery-powered devices that are the size of a travel mug. Workplace environments and coffee shop owners are opting for portable air purifiers. Removable and washable filters are emerging as an alternative to disposable HEPA filters. Breakthrough technologies such as ultraviolet (UV) LEDs and photocatalytic tech are helping to break down pathogens and irritants.
Startups in the air purifier market are resorting to crowd-funding techniques to successfully launch their product in the market. The influx of air quality sensors is benefitting device manufacturers, since the sensors work in tandem with purifiers to measure the risk of viral transmission and molds.
Elimination of Disposable Filters Become Recurring Trend in Global Market
Purifying the air with natural biotics and enzymes are proving a game changer for companies in the air purifier market. The CleanAirZone device is gaining recognition for its proprietary cocktail of water, microbiotics, and natural enzymes to omit pollutants from the air. The elimination of disposable filters has become a recurring trend in the air purifier market. As such, retails store owners, supermarkets, malls, and stakeholders in the hospitality industry are under scrutiny for clean air environments, which is boosting the uptake of air purifiers.
Brondell is gaining popularity for its Pro Sanitizing Air Purifier, which uses the shotgun approach i.e. the combination of HEPA filter, a disinfecting UV lamp, a nano-crystalline filter, and a plasma generator. Companies in the air purifier market are taking cues from such companies to adopt innovative technologies that eliminate airborne irritants and contagions.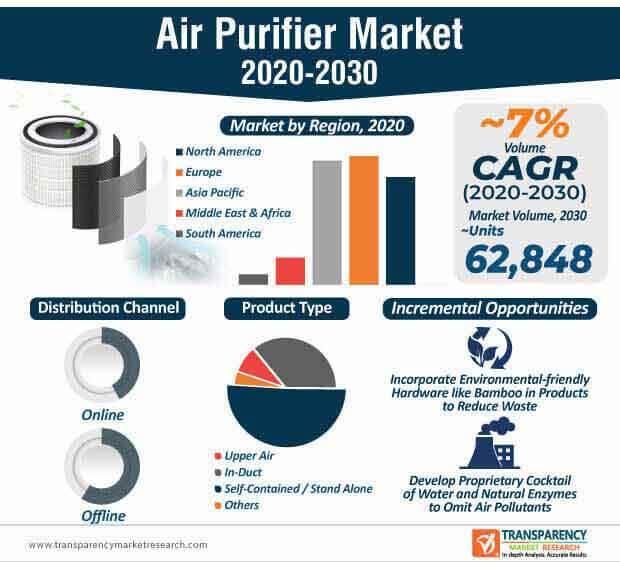 Stuck in a neck-to-neck competition with other brands? Request a custom report on Air Purifier Market
Analysts' Viewpoint

Since the coronavirus pandemic has reordered modern life on a global scale, manufacturers are innovating in air purifiers that are portable, smart, and compact in nature. HEPA-based air purifiers are storming the market. However, devices need to undergo rigorous approval tests and demonstrations before launching them in the market. Hence, companies and startups should gain a strong research base in understanding the air quality and purification mechanisms to innovate in devices. Washable filters and sustainable bamboo hardware designs in purifiers are a game changer for the air purifier market. Ultraviolet LEDs and photocatalytic technologies help omit airborne irritants and contagions.
​Air Purifier Market: Overview
According to Transparency Market Research's latest research report on the global air purifier market for the historical period 2018–2019 and the forecast period 2020–2030, increasing customer expectations concerning safety & comfort and spending power is expected to boost the global air purifier market during the forecast period
In terms of revenue, the global air purifier market is estimated to reach the value of US$ 20.7 Bn by 2030, expanding at a CAGR of ~8% during the forecast period. Portable air purifiers are expected to dominate the global air purifier market.
Deteriorating Air Quality & Increasing Health Concerns: Key Driver of Air Purifier Market
Air purifiers help in filtering out bacteria, dust, viruses, mites, etc. and hence, its demand intensified during the COVID-19 pandemic when work from home or stay at home norms were implemented by countries around the world. Consumers today are cautious and taking precautions to improve the air quality. This is expected to drive the air purifier market during the forecast period.
The market in recent years has experienced noteworthy increase in spending by companies on research and development of advanced air purifiers. Research is majorly focused on enhancing the reliability, performance, and ease of operating air purifiers. Rising complexity of building and infrastructure design has resulted in the demand for in-duct purifiers that are capable of delivering better performance. Increasing adoption of advanced technologies in air purifiers is expected to fuel the market in the upcoming years.
Demand for air purifiers is majorly anticipated to increase due to growing health concerns. R&D plays an important role in introducing new products in existing markets. Companies that add new and differentiating features in newer versions of their existing products are likely to have better growth opportunities during the forecast period. Development of smart and connected appliances has opened doors for business growth. Companies are entering the technology sector, and introducing products that can be operated remotely using mobile phone applications.
IoT and Market Penetration Strategies Adopted by Manufacturers to Gain Edge
Internet of Things (IoT) is largely influencing the air purifier market, as it helps the user to work with a compatible smartphone that shows air quality reports and enables remote use. Consumers prefer to connect conveniently with appliances, which has proliferated the demand for smart air purifiers.
Many manufacturers are striving to increase their market share through strategic initiatives and innovations and introducing technologically advanced products, thus driving the demand for air purifiers. Manufacturers are focusing on developing their distribution, marketing, and sales channels to improve their product reach, and exploring the potential of selling the products online and through direct channels such as department stores and supermarkets.
Rising demand for portable HEPA purifiers and multi-functional air purifiers is being witnessed globally. HEPA purifier is a highly preferred air purification system around the world, and this trend is estimated to continue during the forecast period due to its high efficiency in removal of small particles.
Small household appliances are enjoying fast volume growth in several countries, and the market is majorly driven by rising pursuit of health and convenience. Majority of demand for small consumer appliances is from people who prefer latest and technologically advanced products, which is expected to fuel the demand for air purifiers during the forecast period. Increase in purchasing power and change in lifestyle are anticipated to positively impact the air purifier market.
Air Purifier Market: Competition Landscape
Detailed profiles of providers of air purifiers have been provided in the report to evaluate their financials, key product offerings, recent developments, and strategies
Key players operating in the global air purifier market are

American Air & Water, Inc.
Eureka Forbes Ltd
Hitech Ultraviolet Pvt. Ltd.
IQAir
Daikin Industries, Ltd.
Honeywell International, Inc.
Koninklijke Philips N.V
Panasonic Corp.
LG Electronics
Sharp Corporation
Air Purifier Market: Key Developments & Strategies
Some key developments and strategies adopted by manufacturers in the global air purifier market are highlighted below:

October 2020: Koninklijke Philips N.V launched New Urban Living Series of air purifiers designed for urban homes. This new series is equipped with AeraSense and VitaShield Intelligent Purification System technology, and is available in three series: 3000i, 2000i, and 1000 for around US$ 240.
August 2020: LG Electronics launched PuriCare™ Wearable Air Purifier. This product employs two H13 HEPA filters and offers up to eight hours of operation in low mode and two hours on high mode. It is an addition to the growing lineup of products designed to deliver meaningful health and hygiene benefits.
January 2019: American Air & Water, Inc. appeared on the Worldwide Business with Kathy Ireland show, which features global executives sharing their business insights and framing the opportunities shaping their industries. This promotion strategy of the company was beneficial as it reaches a wide range of audience through various digital platforms and helps in educating consumers and increasing the consumer base.
January 2019: Panasonic Corporation in 2019 launched Air Purification Technology, nanoe™X at the AHR Expo 2019. With this, the company is aiming to set a new standard for comfort and IAQ for the U.S. ductless heat pump market.
October 2018: IQAir introduced its first car air purifier for passenger vehicles. The Atem car purifier is specifically designed for families with children or car owners. The Atem car air purifier is priced at US$ 399 and is available on various online platforms.
Honeywell's latest air purifiers utilize the Bluetooth technology via a free mobile app. This type of HEPA air purifier tracks local pollen count and auto-adjusts its clearing levels accordingly. The purifier has additional feature settings that automatically turns the purifier unit on and off when the connected device enters or leaves the Bluetooth range. The air purifier is compatible with most recent mobile application systems.
Air Purifier Market – Scope of the Report
Transparency Market Research's recent report on the air purifier market with the help of a comprehensive outlook provides readers with an assessment of the global market landscape. This study on the global air purifier market analyzes the scenario for the period 2020 to 2030, wherein 2019 is the base year and 2018 and earlier is historical data. The report enables readers to make important decisions regarding their business, with the help of a wealth of information enclosed in the study.
TMR's study on the global air purifier market provides data on the developments of important players and stakeholders in the market, along with a competitive analysis. The report also provides an understanding of strengths, weaknesses, threats, and opportunities, along with trends and restraints in the landscape. Presented in a clear, sanctioned manner, the report on the global air purifier market gives readers an individual understanding of the market.
Key Questions Answered in This Report on Air Purifier Market
How much revenue will the global air purifier market generate by the end of the forecast period?
What type of air purifiers are likely to hold the maximum market share by 2030?
Which regions currently contribute the maximum share to the overall air purifier market?
What are the indicators expected to drive the global air purifier market?
Which region is likely to be a lucrative market during the forecast period?
What are the essential strategies incorporated by key stakeholders in the global air purifier market to expand their geographical presence?
What are the major advancements witnessed in the global air purifier market?
The report answers these questions and more about the global air purifier market, aiding major stakeholders and key players in making the right decisions and strategizing for the advancement of their business.
Air Purifier Market – Research Methodology
This TMR report on the global air purifier market is based on a complete and comprehensive evaluation of the market backed by secondary and primary sources. The competitive scenario of the global air purifier market is supported by an assessment of different factors that influence the market on a minute and granular level. By thoroughly analyzing the historical data and current trends, researchers of the air purifier market arrive at predictions and estimations and calculate the forecast for the market.
The report uses an analytical triangulation method to estimate numbers and figures of the global air purifier market, with both bottom-up and top-down approach.
The detailed assessment of the global air purifier market, along with an overview of the landscape, has been provided based on a careful examination of the avenues related to this market. Analysts' conclusions on how the global air purifier market is set to grow are based on carefully vetted primary and secondary sources.
Air Purifier Market – Segmentation
The report on the global air purifier market provides information on the basis of mounting type, product type, technology, end user, distribution channel, and region.
Mounting Type

Product Type

Upper Air
In-duct
Self Contained/Standalone
Others (Coil & Drain Pans, etc.)

Technology

HEPA Filtration
Activated Carbon Filters
Ionic Filter
Ultraviolet (UV) Technology
Others (Ozone, Negative Ion, etc.)

End User

Residential
Commercial
Industrial

Distribution Channel

Online

Company Owned Websites
eCommerce Websites

Offline

Hypermarkets/
Supermarkets
Specialty Stores
Others (Retail Stores, etc.)

Region

North America
Europe
Asia Pacific
Middle East & Africa
South America
The study discusses the underlying trends and the impact of various factors that are driving the global air purifier market, along with their influence on the evolution of the market.
The study also offers Porter's Five Forces analysis, value chain analysis, technology analysis, price trend analysis, and SWOT analysis of the global air purifier market in order to elaborate crucial growth tactics and opportunities for market players.
Custom Market Research Services
TMR offers custom market research services that help clients to get information on their business scenario required where syndicated solutions are not enough.
REQUEST CUSTOMIZATION