AI in Aviation Market - Introduction
Artificial intelligence technology is used in aviation ground operations such as air traffic control and real-time support systems in aviation operations. AI in aviation helps to improve predictive maintenance and air traffic control operations.
Solution providers offer services and embedded systems with artificial intelligence such as passenger identification, baggage screening, facial recognition, customer support systems, and other process optimization solutions.
The aviation industry is increasingly adopting AI technologies for revenue management, air safety & airplane maintenance, feedback analysis, messaging automation, crew management, and fuel efficiency optimization operations.
Aviation companies are more focused on enhancing the customer experience at airports and optimizing employee workflow, which is expected to increase the demand for Artificial intelligence technology in the aviation industry during the forecast period.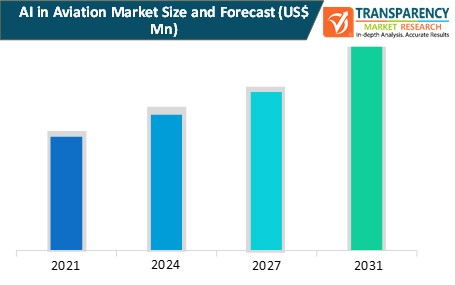 Key Drivers of the AI in Aviation Market
Increasing consumer spending on advanced automation technologies in the aviation sector to increase the efficiency of ground operations is expected to drive the growth of the AI in aviation market. The aviation industry is increasingly using cloud-based solutions and data management solutions to manage huge databases, which is also driving the demand for AI in the aviation sector.
Increasing adoption of data analytics and automated customer service systems is expected to offer significant revenue opportunities to solution providers of Artificial intelligence in the aviation sector.
Lack of skilled professionals for AI-based operations expected to hinder the AI in aviation market
The lack of skilled professionals in aviation companies to manage AI-based operations and deliver better results with advanced technologies is restraining the growth of the AI in aviation market. The employees require technical training to use AI technologies on the existing system and explore all features of the solution to increase productivity and efficiency of the system.
High capital investment to integrate AI technologies in existing infrastructure is expected to hamper the growth of the AI in aviation market.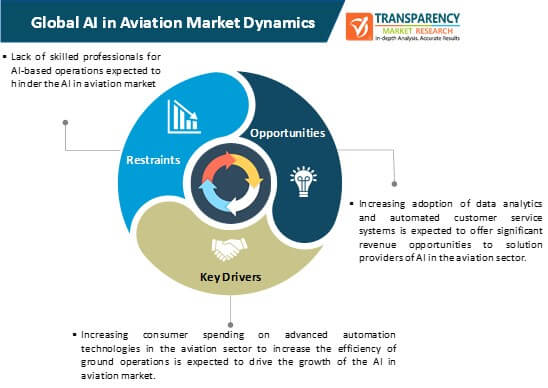 Impact of COVID-19 on the Global AI in Aviation Market
In the global aviation market, demand for advanced solutions and technologies is decreasing during the COVID-19 period due to the low return on investment. Most countries have altered aviation and traveling policies during the COVID-19 period that negatively impacts the aviation industry across all regions. The ever-increasing threat of COVID-19 is projected to decrease the investment of companies in Artificial intelligence in aviation solutions and services during the pandemic period.
North America to Hold Major Share of the Global AI in Aviation Market
North America holds a prominent share of the global AI in aviation market due to early adoption of AI-based solutions and services in the aviation industry and presence of major players in AI solutions and services.
The AI in aviation market in Middle East & Africa and Asia Pacific is expected to expand at a rapid pace during the forecast period due to the increasing adoption of AI technologies among major players and also solution providers are increases their investment in Asia Pacific region to increase commercial customer base.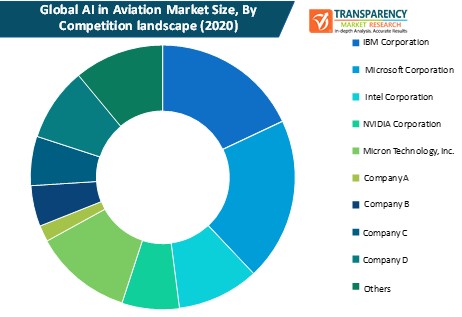 Key Players Operating in the Global AI in Aviation Market
IBM Corporation is a multinational company, manufacturing, and marketing products including computer hardware, middleware, and software, and AI-based industrial solutions, besides providing hosting and IT consulting services.
Microsoft Corporation engages in the development, manufacture, licensing, marketing, and sale of software, personal computers & services, and consumer electronics. The company operates globally and has offices in more than 190 countries. It offers solutions in Artificial intelligence and machine learning technologies for the aviation industry.
Other key players operating in the global AI in aviation market include Intel Corporation, NVIDIA Corporation, Micron Technology, Inc., Samsung Electronics Co., Ltd., Xilinx, Inc., Airbus Group, The Boeing Company, The General Electric Company, Thales Group, Lockheed Martin Corporation, and Garmin Ltd.
Global AI in Aviation Market: Research Scope
Global AI in Aviation Market, by Component
Hardware
Software
Services

Integration & Deployment
Support & Maintenance
Global AI in Aviation Market, by Technology
Machine Learning
Context Awareness Computing
Natural Language Processing (NLP)
Computer Vision
Global AI in Aviation Market, by Application
Smart Maintenance
Flight Operations
Surveillance
Dynamic Pricing
Others
Global AI in Aviation Market Segmentation, by Region
North America
Europe

Germany
U.K.
France
Russia
Italy
Spain
Nordic
Rest of Europe

Asia Pacific

China
India
Japan
Australia
Singapore
Malaysia
South Korea
Rest of Asia Pacific

Middle East & Africa (MEA)

UAE
Saudi Arabia
South Africa
Rest of Middle East & Africa

South America

Brazil
Rest of South America
Alternative Keywords
Fuel Optimizing in Aviation with AI
AI Applications in Aviation and Travel Industry
Interested in this report?
Get a FREE Brochure now!