Adhesive Tapes Market
Adhesive Tapes Market (Products - Single Coated, Double Coated, Transfer Tape, and Foam Tape; Composition - Acrylic, Rubber, and Silicone; Backing Materials - Polypropylene, Paper, and Polyvinyl Chloride; End Users - Health Care, Building & Construction, Consumer Goods, Automotive, and Graphics) - Global Industry Analysis, Size, Share, Growth, Trends, and Forecast 2016 - 2024
Category :

Chemicals & Materials

Format :
Global Adhesives Tapes Market: Snapshot
Owing to the rise in awareness among competitors with regards to the benefit of adhesive tapes, the market for adhesive tapes is expected to increase at a progressive speed in the forthcoming years. Major players of the market are focusing in manufacturing more innovative products so as to draw more revenue and surge the demand for adhesive tapes in the market. New techniques are being adopted in order to enhance the capacity of production and so as to develop new techniques and to draw more revenue into the market.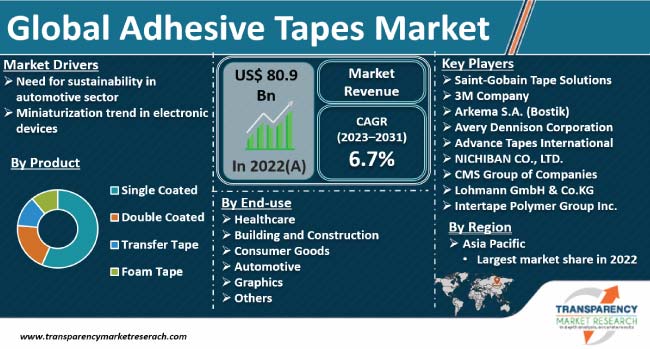 Leading vendors of the adhesive tapes market are also focusing on new merger and acquisition strategies in order to boost the market globally. The high rate of raw materials are making it difficult for new players to enter the market but the manufacturers who are already established take this as an opportunity and consider it as a boon in order to boost their product in the market and attract more revenue share in the market.
The global market for adhesive tapes is seen to be drawing most part of the revenue share from its application segment. Various research and developmental activities have led to the growth of the application category and thus, the market seems to be growing at a remarkable speed. The new trend of substituting bolts, screws, rivets and other attaching or fastening techniques with adhesives has been leading to the progress of the adhesive market at a global rate. Besides, there is new demand for light weight vehicles and this is also adding fuel to the growth of the adhesive market.
The electronic industry is also adding to the growth of this market and so is the medical industry and healthcare sector with regard to covering wounds, or in order to fix post-surgery cover shield, cleaning purpose, and even for protecting the layer for surgical containers. Not only this, adhesives in the medical sector are also used to monitor electrodes. The rise in demand for specialty tapes is mainly due to its easy-to-handle property, desired performance, and most importantly its cost efficiency.
The fact that adhesives are nature friendly and do not cause any harm to the environment acts as an advantage and thus, adds to the overall growth of the adhesive tapes market in all parts of the world.
The global adhesive tapes market is assumed to be worth US$92.36 bn within the forecast period of 2016 to 2024 with a CAGR of 6.8%.
Automotive Sector to Dominate Market for Adhesive Tapes
The global adhesive tapes market is classified on the basis of product, composition, end-use, and backing materials. Based on classification by product, the market is divided into foam tape, transfer tape, double coated, and single coated tapes. On the basis of composition, the market for adhesive tapes is classified into silicone, rubber, and acrylic tapes. Based on segmentation by material, the adhesive tapes market is categorized into Polyvinyl Chloride, Paper, and Polypropylene. With regard to end use, the global adhesive tape market is segmented into graphics, automotive, consumer goods, building and construction, and healthcare.
Europe and Latin America to Witness Rapid Development Owing to Automotive Sector Development
The global adhesive tapes market is studied on the basis of key geographies Latin America, Middle East and Africa, Europe, Asia Pacific, and North America. Among these, the market in Asia Pacific is expected to grow with a promising rate in the coming years owing to the development in technology. Moreover, raw materials are easily available in Asia Pacific and the manufacturing infrastructure is also developing with the advent of time.
Apart from Asia Pacific, the market for adhesive tapes is to see significant growth in the regions of Latin America and Europe. This is due to the quick development of the automotive sector in both the regions.
Major companies dominating the global adhesive tapes market are Advance Tapes International, NICHIBAN CO., LTD., CMS Group of Companies, Lohmann GmbH & Co.KG., and Surface Shields.
Global Adhesive Tapes Market: Overview
This report analyzes and forecasts the market for Adhesive Tapes at the global and regional level. The market has been forecast based on revenue (US$ Mn) & Volume (Million Square Meter) from 2016 to 2024. The study includes drivers and restraints of the global Adhesive Tapes market. It also covers the impact of these drivers and restraints on demand for Adhesive Tapes during the forecast period. The report also highlights opportunities in the Adhesive Tapes market at the global and regional level.
The report comprises a detailed value chain analysis, which provides a comprehensive view of the global Adhesive Tapes market. Porter's Five Forces model for the Adhesive Tapes market has also been included to help understand the competitive landscape in the market. The study encompasses market attractiveness analysis, wherein end-users are benchmarked based on their market size, growth rate, and general attractiveness.
Global Adhesive Tapes Market: Regional and Competitive Landscape
The study provides a decisive view of the global Adhesive Tapes market by segmenting it in terms product and end use. These segments have been analyzed based on present and future trends. Regional segmentation includes the current and forecast demand for Adhesive Tapes in North America, Europe, Asia Pacific, Latin America, and Middle East & Africa. The report also covers demand for individual end-user segments in all the regions.
The study includes profiles of major companies operating in the global Adhesive Tapes market. Key players profiled in the report include Adhesive Tapes market include 3M, Nitto Denko Corporation, Kruse Adhesive Tape, Saint-Gobain, Surface Shields, CCT Tapes, tesa SE, Scapa Group plc., Advance Tapes International, Vibac Group S.p.a., H.B.Fuller, CMS Group of Companies, Lohmann GmbH & Co.KG., K.L. & Ling, NICHIBAN CO., LTD. Market players have been profiled in terms of attributes such as company overview, financial overview, business strategies, recent developments, and SWOT analysis.
Global Adhesive Tapes Market: Scope of the Study
The report provides the estimated market size of Adhesive Tapes for 2015 and forecast for the next nine years. The global market size of Adhesive Tapes has been provided in terms of revenue. Market numbers have been estimated based on product and end use segment of Adhesive Tapes. Market size and forecast for each major product and end use have been provided in terms of global and regional markets.
In order to compile the research report, we conducted in-depth interviews and discussions with a number of key industry participants and opinion leaders. Primary research represents the bulk of research efforts, supplemented by extensive secondary research. We reviewed key players' product literature, annual reports, press releases, and relevant documents for competitive analysis and market understanding. Secondary research also includes a search of recent trade, technical writing, internet sources, and statistical data from government websites, trade associations, and agencies. This has proven to be the most reliable, effective, and successful approach for obtaining precise market data, capturing industry participants' insights, and recognizing business opportunities.
Secondary research sources that are typically referred to include, but are not limited to company websites, annual reports, financial reports, broker reports, investor presentations, and SEC filings, internal and external proprietary databases, and relevant patent and regulatory databases, national government documents, statistical databases, and market reports, news articles, press releases, and webcasts specific to companies operating in the market, Omnexus4adhesives,PCI, ICIS, Adhesives magazine, Fecia, Coatings world magazine, BASA online
Primary research involves e-mail interactions, telephonic interviews, and face-to-face interviews for each market, category, segment, and sub-segment across geographies. We conduct primary interviews on an ongoing basis with industry participants and commentators in order to validate the data and analysis. Primary interviews provide firsthand information on market size, market trends, growth trends, competitive landscape, and outlook, etc. These help validate and strengthen secondary research findings. These also help develop the analysis team's expertise and market understanding.
The report segments the global Adhesive Tapes market as:
Adhesive Tapes Market: Product Analysis
Single Coated
Double Coated
Transfer Tape
Foam Tape
Adhesive Tapes Market: Composition Analysis
Acrylic
Rubber
Silicone
Others
Adhesive Tapes Market: Backing Material Analysis
Polypropylene
Paper
Polyvinyl Chloride
Others
Adhesive Tapes Market: End use Analysis
Health Care
Building & Construction
Consumer Goods
Automotive
Graphics
Others
Adhesive Tapes Market: Regional Analysis
North America
Europe

France
U.K.
Spain
Germany
Italy
Rest of Europe

Asia Pacific

China
Japan
India
ASEAN
Rest of Asia Pacific

Latin America

Brazil
Mexico
Rest of Latin America

Middle East & Africa (MEA)

GCC
Egypt
South Africa
Rest of MEA
Custom Market Research Services
TMR offers custom market research services that help clients to get information on their business scenario required where syndicated solutions are not enough.
REQUEST CUSTOMIZATION