Adhesive Market: Snapshot
The growing drift in trend of using adhesives instead of welding processes and fasteners has led to expansion of opportunities in the global adhesive market. 3M company, Henkel AG & Company KGaA, and Pidilite Industries Limited, are a few of the big players of the global adhesive market and these players are now focused on making new products for the customers along with merging with other players. The global services market is predicted to see the use of bio based adhesives in the time to come because of the green revolution. Also, since eco-friendly adhesives can be used under the water and are also not harmful for the environment, their demand is predicted to see an upward trend. Important end users to the bio based adhesives will be paper and pulp, healthcare, and packaging, in the time to come.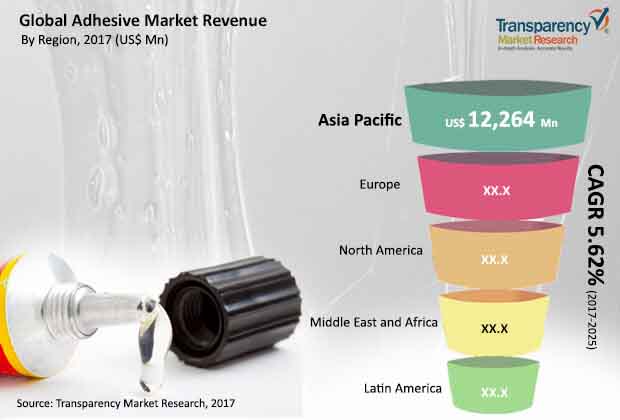 The adhesive market is predicted to be valued at US$55.8 bn towards the end of 2025 and it was valued at US$34.3 bn in the year 2016 globally, as stated by Transparency Market Research. This report by Transparency Market Research also shows that this market will grow at a noticeable CAGR of 5.62% between the years 2014 to 2025. One very important part of this market in the time to come will be the acrylic sector. The emerging countries in the region of Asia Pacific are predicted to continue to bring in demands for adhesives as predicted by the researchers, and in the year 2016, Asia Pacific accounted for over 30% of the total market share globally, and is also predicted to lead the global adhesive market during the assessment period.
Fuel efficiency to be an important factor driving the demand for adhesives.
Increasing Demand from Industrial Segments Behind Growth of Adhesives Market
The main factor that is driving the global adhesive market is the growing requirement of adhesives from a number of industrial segments. Currently, while manufacturing aircrafts and vehicles, adhesives are widely taken into use. And the main reason behind this is the property of adhesives to minimise fuel usage along with minimising the weight of vehicles. Also, since orthodox methods like welding are no longer used widely, even this is predicted to boost the requirements of adhesives. The reason behind the curb in welding activities is because welding of engine parts makes it heavy, and because of this manufacturers are know interested in using adhesives. This research states that the requirement of adhesives will be on the higher side continuously since minimising fuel consumption as well as low weight of the vehicles is very important.
Strict Government Regulations to Minimize Air Pollution Creating a Favourable Environment for Market
While buying a new vehicle, most customers consider fuel efficiency to be the deciding factor before making a purchase, and less weight of the vehicle helps in improving fuel consumption. Also, the government of the United States has taken stern measures that requires the automakers to better the fuel consumption by up to 23.17 km per litre and failing to do so will result in a fine. The strict government rules and regulations to minimise air pollution is further predicted to increase the sales of vehicles that consume less fuel, which is ultimately predicted to boost the global adhesives market.
Global Adhesive Market: Snapshot
This report analyzes and forecasts the market for adhesive at the global and regional level. The market has been forecast based on revenue (US$ Mn) and volume (Kilo Tons) from 2017 to 2025. The study includes drivers and restraints of the global adhesive market. It also covers the impact of these drivers and restraints on demand for adhesive during the forecast period. The report also highlights opportunities in the adhesive market at the global and regional level.
The report comprises a detailed value chain analysis, which provides a comprehensive view of the global adhesive market. Porter's five forces model for the adhesive market has also been included to help understand the competitive landscape in the market. The study encompasses market attractiveness analysis, wherein end-users are benchmarked based on their market size, growth rate, and general attractiveness.
Global Adhesive Market: Segmentation
The study provides a decisive view of the global adhesive market by segmenting it in terms of type, product, and application. These segments have been analyzed based on present and future trends. Regional segmentation includes the current and forecast demand for adhesive in North America, Europe, Asia Pacific, Latin America, and Middle East & Africa. The report also covers demand for individual end-user segments in all the regions.
The report provides the estimated market size of adhesive for 2016 and forecast for the next nine years. The global market size of adhesive has been provided in terms of revenue. Market numbers have been estimated based on key type, product, and application segments of adhesive market. Market size and forecast for each major type, product, and application have been provided in terms of global and regional markets.
Global Adhesive Market: Research Methodologies
In order to compile the research report, we conducted in-depth interviews and discussions with a number of key industry participants and opinion leaders. Primary research represents the bulk of research efforts, supplemented by extensive secondary research. We reviewed key players' product literature, annual reports, press releases, and relevant documents for competitive analysis and market understanding. Secondary research also includes a search of recent trade, technical writing, internet sources, and statistical data from government websites, trade associations, and agencies. This has proven to be the most reliable, effective, and successful approach for obtaining precise market data, capturing industry participants' insights, and recognizing business opportunities.
Secondary research sources that are typically referred to include, but are not limited to company websites, annual reports, financial reports, broker reports, investor presentations, and SEC filings, internal and external proprietary databases, and relevant patent and regulatory databases, national government documents, statistical databases, and market reports, news articles, press releases, and webcasts specific to companies operating in the market, National government documents, statistical databases, and market reports, India Brand Equity Foundation (IBEF), British Geological Survey, Adhesive and Sealant Council (ASC), The Federation of Indian Chambers of Commerce and Industry, Indian Polyurethane Association, The Adhesives and Sealants Association (TASA), Flexible Packaging Association, ABRE – Brazilian Packaging Association, World Packaging Organization, British Adhesives & Sealants Association, Society for Adhesion and Adhesives, and other. Primary research involves e-mail interactions, telephonic interviews, and face-to-face interviews for each market, category, segment, and sub-segment across geographies. We conduct primary interviews on an ongoing basis with industry participants and commentators in order to validate the data and analysis. Primary interviews provide firsthand information on market size, market trends, growth trends, competitive landscape, and outlook, etc. These help validate and strengthen secondary research findings. These also help develop the analysis team's expertise and market understanding.
Global Adhesive Market: Competitive Landscape
The study includes profiles of major companies operating in the global adhesive market. Key players in the adhesive market include Pidilite Industries Limited, Henkel AG & Company KGaA, 3M Company, H.B Fuller India Adhesive Pvt. Ltd., BASF SE, The Dow Chemicals Company, and Bostik. Market players have been profiled in terms of attributes such as company overview, financial overview, business strategies, recent developments, and SWOT analysis.
The report segments the global adhesive market as follows:
Adhesive Market: Type Analysis
Water Based
Solvent Based
Hot Melt
Others
Adhesive Market: Product Analysis
Polyurethane
Acrylic
Poly Vinyl Acetate (PVA)
Polyester
Rubber
Epoxy
EVA
Others
Adhesive Market: Application Analysis
Packaging
Construction
Automobile
Footwear & Leather
Consumer
Other
Adhesive Market: Regional Analysis
North America
Europe

France
U.K.
Spain
Germany
Italy
Rest of Europe

Asia Pacific

China
Japan
India
ASEAN
Rest of Asia Pacific

Latin America

Brazil
Mexico
Rest of Latin America

Middle East & Africa (MEA)

GCC
South Africa
Rest of MEA