Adhesives Market
Adhesives Market (Type: Acrylic, Epoxy, Polyvinyl Acetate (PVA), Polyurethane (PU), Styrenic Block, Ethyl Vinyl Acetate (EVA), and Silicone & Others; Technology: Water-based, Solvent-based, Hot Melt, Pressure Sensitive, and Reactive and Others; and Application: Paper & Packaging, Building & Construction, Woodworking, Automotive & Transportation, Consumer/DYI, Leather & Footwear, and Others) - Global Industry Analysis, Size, Share, Growth, Trends, and Forecast, 2020 - 2030
Chemicals & Materials
TMRGL39953
2020-06-02
339

Pages
Economic Growth in Adhesives Business is Highly Liquid amidst COVID-19 Crisis
The global adhesives market has not been experiencing any major impact due to the COVID-19 (coronavirus) crisis. However, some manufacturers have reported a shortage in raw materials such as alcohols used in adhesives that are currently being used to manufacture hand sanitizers and other cleaning products. Transportation-related delays due to travel restrictions are anticipated to create a shortage in the availability of raw materials. However, the situation is highly fluid, especially in the case of raw materials such as binders and resins that are still readily available.
Export tax rebates are skyrocketing in the China adhesives market, since governments are making efforts to regain from business losses incurred due to tariff restrictions amidst the COVID-19 outbreak. As such, the DIY (Do-it-Yourself) residential sector is generating revenue streams for manufacturers, since most individuals are practicing stay-at-home orders of the government.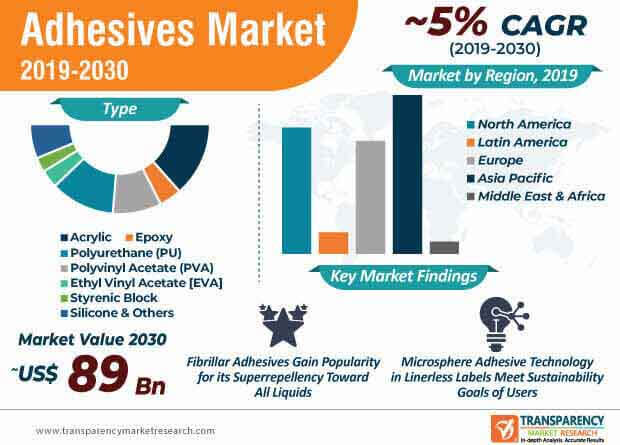 To gauge the scope of customization in our reports Ask for a Sample
BIM Tools Bridge Gap between Building Professionals and Adhesive Suppliers
Innovative BIM (Building Information Modeling) tools are playing a key role in the construction of complex architectures. For instance, Taylor Adhesives— a coatings and adhesives manufacturer in Georgia, announced to partner with BIMsmith— a provider of cloud platform for research activities, and introduced a new suite called the BIMsmith Forge® configurator, which is made available for free. Such strategic collaborations are churning revenue in the adhesives market, which is estimated to reach an output of ~22,000 kilo tons by the end of 2030.
Get an idea about the offerings of our report from Report Brochure
Several building professionals are opting for BIM tools in order to fetch architects and contractors that can help them execute large-scale construction projects. In this way, numerous adhesives suppliers can connect with building professionals and provide the necessary raw materials and other tailored services. As such, building & construction application segment is expected to generate the second-highest revenue in the adhesives market. The growing popularity of 3D modeling in the architectural community has also fueled the demand for high-quality adhesives and sealants.
Linerless Labels with Microsphere Adhesive Technology Meet Sustainability Goals of Packaging Companies
Linerless labels are being highly publicized in the foodservices sector. Hence, companies in the adhesives market are gaining efficacy in the microsphere adhesive technology to tap value-grab opportunities with the help of linerless label applications. For instance, H.B. Fuller— a global manufacturer of adhesives and specialty chemical solutions, is increasing its focus on the microsphere adhesive technology that allows a discontinued bonding film under labels that can be peeled off without leaving any residue behind on surfaces.
USPs of linerless labels are growing popular with paper & packaging applications. As such, the paper & packaging application segment dominates the adhesives market, where the market is estimated to reach a value of ~US$ 89 Bn by the end of 2030. Sustainability attributes of linerless labels are helping adhesives manufacturers to gain a competitive edge over other market players. Manufacturers are broadening their revenue streams by using the microsphere adhesive technology in the production of sticky notes, wallpapers, and window decals, among others.
Bioinspired Fibrillar Dry Adhesives Deliver Strong Adhesion with Superrepellency toward All Liquids
The adhesives market is expected to expand at a CAGR of ~5% during the forecast period. Hence, manufacturers are providing tailor-made high-impact solutions for their customers in packaging and consumer goods sectors. However, certain drawbacks of adhesives cannot be ignored and hence, companies in the adhesives market need to improvise in the same. For instance, the curing time of adhesives is uncertain, depending on the choice of adhesive used as well as it depends on environmental conditions. Hence, manufacturers are educating customers to use chemical boosters compatible with adhesives to ensure full-strength bonding.
On the other hand, bioinspired fibrillar dry adhesives, commonly known as fibrillar adhesives, are being extensively used in today's commercial products. Manufacturers are increasing their production capabilities for bioinspired liquid-superrepellent fibrillar dry adhesives that are capable of repelling oil-like liquids. In order to achieve this, manufacturers are innovating with new elastomeric soft materials to deploy strong reversible dry adhesion with superrepellency toward all liquids.
Looking for Regional Analysis or Competitive Landscape in Adhesives Market , ask for a customized report
Analysts' Viewpoint
The DIY residential sector is generating revenues for manufacturers; however, projects involving new builds and refurbishments are at high risk of incurring losses, if projects are cancelled or postponed to due to the COVID-19 crisis. Bioinspired fibrillar dry adhesives and the microsphere adhesive technology are some of the winning takeaways that are gaining increased popularity in challenging applications.

Moreover, BIM tools are bridging the gap between building professionals and adhesive suppliers. However, ageing is one of the key drawbacks of adhesives, since long-term strength of adhesive bonding may be affected due to physical and chemicals actions, such as UV exposure and chemical attacks. Hence, manufacturers in the adhesives market should educate customers to select adhesive according to environmental conditions.
Adhesives Market: Overview
The term 'adhesive' refers to a binding substance applied onto the surface of materials in order to avoid their separation. A large number of adhesive types is utilized for diverse applications.
Adhesives are used in various applications in building & construction, automotive, packaging, woodworking, and footwear industries. An adhesive is also employed in the form of tapes for bonding applications. These tapes can have several kinds of pressure-sensitive adhesives applied on them and they can be easily put on any surface by applying pressure either manually or mechanically. An adhesive tape comprises a backing material or carrier often coated with an adhesive or a release liner.
Key Drivers of Adhesives Market
The construction industry, comprising residential and non-residential construction, is a significant end user of adhesives. The construction industry in Asia Pacific is expanding at a steady pace due to increase in urbanization and improvement in the standards of living of people in the region. The adhesives market in the region is expanding rapidly, due to rise in industrialization and residential and commercial construction activities in Asia Pacific. Adhesives are utilized in various applications in construction activities. These include ceramic tiles, concrete, flooring underlayment, pre-finished panels, and roofing.
The global building & construction industry depends on macroeconomic developments and government activities. Quality enhancements and LEED certification encourage industry players to adopt sustainable designs and implement green building practices. This, in turn, boosts the demand for adhesives. Rise in the demand for adhesives in the green building technology has led to risen need for R&D to develop innovative adhesive products. For instance, in 2019, Franklin International launched a panel adhesive called Titebond to simplify installation of standard-sized panels. The new product contains a precise amount of adhesive required to install a standard 4' x 8' FRP panel. These factors are likely to boost the global adhesives market during the forecast period.
The global building & construction industry has been expanding significantly over the last few years. This trend is projected to continue over the next few years. Need for renovation of existing structures and new construction projects across the globe are likely to fuel the demand for adhesives in the near future. Increase in population and technology improvements in Asia Pacific have fueled the demand for residential and commercial buildings in the region. Rise in the number of non-residential projects such as hotels, schools, hospitals, and industrial buildings across the globe is estimated to boost the demand for adhesives in the next few years.
Major Challenges for Adhesives Market
Petrochemicals, solvents, tackifiers, and plasticizers are key raw materials employed in the manufacturing of adhesives. However, most raw materials, such as solvents and resins, are petrochemical derivatives.
Petrochemical byproducts are raw materials used in the production of adhesives. Prices of these raw materials depend on the prices of crude oil.
Regional demand–supply gap, production output, volatility in currency exchange rates, growth in the GDP, and unpredictable geopolitical conflicts have an adverse impact on prices of adhesive raw materials
High usage of petrochemicals in the production of adhesives and other specialty chemicals affects their prices negatively. Furthermore, depletion of crude oil sources is leading to price volatility in the global adhesives market.
The factors mentioned above have been causing substantial volatility in prices of primary petrochemical derivatives for the last few years. This is projected to hamper the supply of and demand for raw materials required in the manufacturing of adhesives in the next few years. Thus, dependence on the availability of petrochemicals and volatility in their prices are likely to restrain the global adhesives market during the forecast period.
Lucrative Opportunities for Adhesives Market
The global automotive industry is consistently focused on the design of lightweight and fuel-efficient vehicles that can reduce CO2 emissions significantly. Stringent regulations regarding CO2 emissions are being imposed worldwide. Adhesives play an important role in reducing CO2 emissions. They provide vehicles with structural strength. They possess the ability to bond various surfaces together.
Use of adhesives makes a vehicle lighter, quieter, and safer as compared to use of mechanical fastening methods such as welding, bolting, and soldering. Adhesives are known to distribute load evenly across a surface, resulting in better efficiency as compared to mechanical fastening, which generates local stress in the parts joined. Currently, around 15 kilograms of adhesives are utilized in an average car. This amount is likely to increase in the next few years.
Adhesives can bear heavy loads and improve uniform distribution of stress and strain across the joints. Adhesives also maintain integrity and strength of materials, as there exists no hole, rivet, or fastening element to weaken the structure.
Adhesives also play a significant role in construction, painting, and assembly of the body of electric vehicles (EVs) and hybrid electric vehicles (HEVs). Original equipment manufacturers (OEMs) emphasize reduction in the weight of components of the vehicle body, interiors, and powertrain, as reduction in the weight of EVs helps extend their range. These factors are projected to fuel the demand for adhesives worldwide during the forecast period.
Europe to Dominate Adhesives Market
In terms of value, Asia Pacific dominated the global adhesives market in 2019. The region is projected to remain a highly lucrative market for adhesives during the forecast period, due to growth of the construction sector and rise in the demand for adhesives for use in lightweight vehicles and the paper & packaging industry in the region.
The adhesives market in Asia Pacific is projected to expand at a notable CAGR during the forecast period, due to rise in the demand for adhesives in automotive and building & construction industries, primarily in developing economies in the region. Technological advancements, such as adoption of composites in various applications in South Korea and Japan, have also boosted the adhesives market in Asia Pacific.
The adhesives market in North America is expected to witness limited growth during the forecast period, due to sluggish growth of industries in the region such as automotive and construction. Drivers of the adhesives market in North America include high demand from wind energy, transportation, and marine sectors in the region. Engineering plastics and composites are replacing traditional materials such as metals, owing to rise in the demand for weight reduction, thereby driving the demand for adhesives in North America.
Polyurethane to Account for Prominent Share of Market
Among types, polyurethane was the most rapidly expanding segment of the global adhesives market in 2019. The segment is anticipated to continue its dominance during the forecast period, as polyurethane adhesives are characterized by excellent adhesion to smooth and porous surfaces and hence, they effectively bind various materials, such as wood, paper, cardboard, and sandwich panels.
Polyurethane adhesives form strong, durable bonds with several types of substrates. Some noteworthy properties of polyurethane systems are high flexibility, abrasion resistance, superior physical strength, and gap-filling capabilities. These adhesives are low in cost and they are preferred for use in applications such as automotive and construction, due to their elastic bonding.
Leading Players Actively Engage in Joint Ventures and R&D Activities
Key players operating in the global adhesives market are

Henkel AG & Co. KGaA
3M
DuPont de Nemours, Inc.
Sika AG
H.B. Fuller Company
Bostik
Huntsman International LLC
Avery Dennison Corporation
Illinois Tool Works Inc.
RPM International Inc
Akzo Nobel N.V.
Ashland
KCC Corporation
Mapei S.p.A.
DELO Industrie Klebstoffe GmbH & Co. KGaA
Jowat SE
Yokohama Industries Americas Inc
Permabond LLC
Franklin International,
LORD Corporation.

These companies actively engage in expansions, mergers & acquisitions, and joint ventures in order to maintain their share in the global adhesives market.
On February 4, 2020, Henkel AG & Co. KGaA established a new state-of-the-art manufacturing facility in Kurkumbh, Pune, India. The manufacturing facility is spread over an area of 100,000 square meters and it has a built-up area of 51,000 square meters. The move has increased the company's capabilities to serve customers across various sectors, including flexible packaging, automotive, agriculture & construction equipment, and metals.
Global Adhesives Market: Scope of Report
A latest study collated and published by Transparency Market Research (TMR) analyzes the historical and present-day scenario of the global adhesives market in order to accurately gauge its potential future development. The study presents detailed information about key drivers, restraints, and trends that are creating a landscape for future growth of the global adhesives market so as to identify opportunities for stakeholders. The report also provides insightful information about how the global adhesives market would expand during the forecast period i.e. from 2020 to 2030.
The report offers intricate dynamics about different aspects of the global adhesives market, which aids companies operating in the market in making strategic decisions. TMR's study also elaborates on significant changes that are anticipated to configure growth of the global adhesives market during the forecast period. It also includes a key indicator assessment that highlights growth prospects for the global adhesives market, and estimates statistics related to the market growth in terms of value (US$ Mn) and volume (kilo tons).
This study covers a detailed segmentation of the global adhesives market, along with key information and a competition outlook. The report mentions company profiles of players that are currently dominating the global adhesives market, wherein various development, expansion, and winning strategies practiced and implemented by leading players have been presented in detail.
Key Questions Answered in TMR's Report on Global Adhesives Market
The report provides detailed information on the global adhesives market on the basis of comprehensive research on various factors that are playing a key role in accelerating the growth of the market. Information mentioned in the report answers path-breaking questions for companies that are currently operating in the global adhesives market and are looking for innovative methods to create a unique benchmark in the market, so as to help them design successful strategies and make target-driven decisions.
Which technology segment of the global adhesives market would emerge as a revenue generator for the market during the forecast period?
How are key market players successfully earning revenues out of advantages of adhesives?
What would be the Y-o-Y growth trend of the global adhesives market between 2020 and 2030?
What are the winning imperatives of leading players in the global adhesives market?
Research Methodology – Global Adhesives Market
The research methodology adopted by analysts for compiling the report on the global adhesives market is based on detailed primary as well as secondary research. With the help of in-depth insights of the market-affiliated information that is obtained and legitimated by market-admissible resources, analysts have offered riveting observations and authentic forecasts of the global adhesives market.
During the primary research phase, analysts interviewed market stakeholders, investors, brand managers, vice presidents, and sales & marketing managers. On the basis of the data obtained through interviews of genuine resources, analysts have emphasized the changing scenario of the global adhesives market.
For secondary research, analysts scrutinized numerous annual report publications, white papers, market association publications, and company websites to obtain the necessary understanding of the global adhesives market.
Global Adhesives Market: Segmentation
TMR's research study assesses the global adhesives market in terms of type, technology, application, and region. This report presents extensive market dynamics and growth trends associated with different segments of the market and how they are influencing growth prospects for the global adhesives market.
Type

Acrylic

Epoxy

Polyurethane (PU)

Polyvinyl Acetate (PVA)

Ethyl Vinyl Acetate [EVA]

Styrenic Block

Silicone & Others

Technology

Water-based

Solvent-based

Hot Melt

Pressure Sensitive

Reactive and Others

Application

Paper & Packaging

Automotive & Transportation

Building & Construction

Woodworking

Leather & Footwear

Consumer/DIY

Others (Including Medical, Electronics, Aerospace, and Marine)

Region

North America

Latin America

Europe

Asia Pacific

Middle East & Africa
Custom Market Research Services
TMR offers custom market research services that help clients to get information on their business scenario required where syndicated solutions are not enough.
REQUEST CUSTOMIZATION