Home Press Releases
Endoscopy Devices Market Growing Strongly in Emerging Countries due to High Demand for Accurate and Minimally Invasive Surgeries
Endoscopy Devices Market Growing Strongly in Emerging Countries due to High Demand for Accurate and Minimally Invasive Surgeries
As endoscopy devices are minimally invasive, the adoption of endoscopy has increased rapidly across the globe, reports Transparency Market Research in its latest publication. TMR's report, titled '
Endoscopy Devices Market - Global Industry Analysis, Size, Share, Growth, Trends and Forecast, 2013 - 2019
', studies the
global endoscopy devices market
based on the device type, areas of application, and geography. According to the report, the market was valued at US$24.9 billion in 2012 and is further expected to reach an approximate value of US$36.9 billion in 2019. The overall market is growing at a CAGR of 6.8% from 2013 to 2019. In the past few years, the demand for endoscopy devices has increased tremendously due to the growing preference for minimally invasive surgeries and demand for cost-effective endoscopic procedures in terms of pre- and post-surgical operations.
The demand from this market has also increased due to the reduced chances of infection and blood loss as a result of noninvasive procedures and shorter stay at hospitals because of a quicker recovery. These factors are advantageous in the field of medicine, especially oncology. Hence, the adoption of endoscopy is increasing rapidly across major regions in the world. The global endoscopy devices market is categorized by two key criteria – device type and application. Based on the device type, the endoscopy market comprises endoscopes, operative devices, visualization systems, and high-definition (HD) visualization systems. The visualization systems segment further includes image processing devices, display, camera, control unit, and illumination devices, whereas other specialized operative instruments include internal closure devices, energy systems, irrigation systems, and others.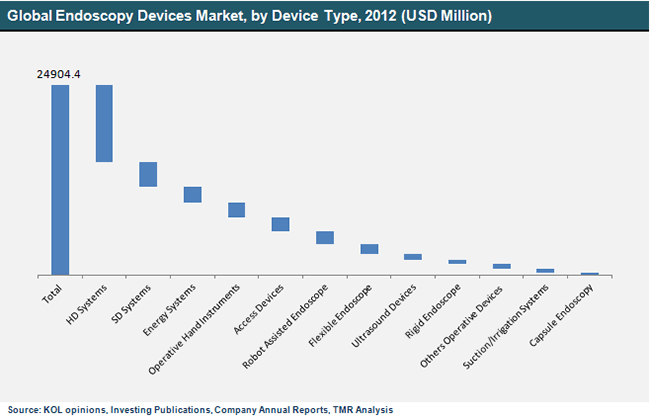 Among the various endoscopy devices, capsule endoscopes and robot-assisted endoscopes have completely transformed the endoscopy market. Capsule-shaped endoscopy devices deliver high-quality images of the gastrointestinal tract to external receivers. Due to these effective devices, the diagnosis of gastrointestinal conditions has become more efficient and accurate. One of the leading market players, Given Imaging, which is acquired by Covidien, accounts for nearly 85% of the global capsule endoscopy market. Other key players in the capsule endoscopy market are Jinshan Medical, Olympus, and IntroMedic.Visualization systems have also witnessed significant technological advancements in the recent past. The development of three-dimensional (3D) camera systems has reduced the errors and improved depth perception during surgical procedures, hence reducing the overall surgery time. Similarly, endoscopic ultrasound devices allow doctors to effectively diagnose intestinal tract conditions and obtain more accurate images, allowing more detailed and thus more precise examination of the same.
International market players and companies in the field of endoscopy devices are mainly aiming at Asian countries, especially India, China, and Japan, for lucrative opportunities in the upcoming years. Factors propelling growth of the endoscopy devices market in emerging economies such as Brazil, India, China, and Southeast Asia are the improving healthcare sectors in these countries, rapidly developing economic conditions, and the resultant increase in disposable incomes.
Global Endoscopy Devices Market, by Device Type
Endoscope
Rigid Endoscope
Flexible Endoscope
Capsule Endoscope
Robot Assisted Endoscope
Operative Devices
Energy Systems
Suction/Irrigation Systems
Access Devices
Operative Hand Instruments
Others (Insufflation Devices, Wound Protectors, Snares)
Visualization Systems
Ultrasound Devices
Standard Definition (SD) Visualization Systems

Two Dimensional (2D) Systems

Three Dimensional (3D) Systems
High Definition (HD) Visualization Systems
Two Dimensional (2D) Systems
Three Dimensional (3D) Systems
Global Endoscopy Devices Market, by Application
Gastrointestinal Surgeries
Urology/Gynecology Surgeries
ENT Surgeries
Cardiovascular Surgeries
Neuro/Spinal Surgeries
Laparoscopy Surgeries
Arthroscopy Surgeries
Global Endoscopy Devices Market, by Geography
North America
Europe

Asia Pacific
Rest of the World
About Us
Transparency Market Research (TMR) is a global market intelligence company providing business information reports and services. The company's exclusive blend of quantitative forecasting and trend analysis provides forward-looking insight for thousands of decision makers. TMR's experienced team of analysts, researchers, and consultants use proprietary data sources and various tools and techniques to gather and analyze information.
TMR's data repository is continuously updated and revised by a team of research experts so that it always reflects the latest trends and information. With extensive research and analysis capabilities, Transparency Market Research employs rigorous primary and secondary research techniques to develop distinctive data sets and research material for business reports.
Contact
Mr. Nachiket
State Tower,
90 State Street,
Suite 700,
Albany NY - 12207
United States
Tel: +1-518-618-1030
USA - Canada Toll Free: 866-552-3453
Email: sales@transparencymarketresearch.com
Website: http://www.transparencymarketresearch.com
Related Report
Cardiovascular Peptides Market - Global Industry Analysis, Size, Share, Growth, Trends and Forecast 2015 - 2023

Peptides are short chain of amino acids linked by peptide bonds. Usually they contain less than 50 amino acids. Natural cardiovascular peptides such as ANP and BNP are hormones of cardiac origin that play an important role in the regulation of cardiovascular homeostasis. Cardiovascular peptides are predominantly produced in heart, although many other tissues produced it but in amounts inadequate to induce any physiological effects. Advancement in biotechnology and...

Fracture Fixation Products Market - Global Industry Analysis, Size, Share, Growth Trends and Forecast 2015 - 2023

Fracture fixation is a process of stabilizing the fractured bone, to enable fast healing of the injured bone, and to return early mobility and full function of the injured extremity. The global fracture fixation market is growing significantly due to the rise in prevalence of osteoporosis and osteoarthritis propelling the demand for joint replacement surgeries. Osteoporosis is an alarming health issue, especially in the geriatric population. The disease is associated with weakening of hip,...

Bone Grafts and Substitutes Market (By Type: Allografts, and Bone Graft Substitutes; By Application: Spinal Fusion, Long Bone, Foot and Ankle, Craniomaxillofacial, Joint Reconstruction, and Dental) - Global Industry Analysis, Size, Share, Growth, Trends and Forecast 2015 - 2023




Bones have a natural tendency to heal, however if the defect surpasses a critical size, then bone grafting is the preferred option. Bone grafting is a surgical procedure that replaces the missing or damaged bone by natural or synthetic bone. There are three major types of bone grafts: autografts, allografts, and bone substitutes. Bone grafts and substitutes should be biocompatible, osteoconductive,...