Global Wood Activated Carbon Market: Analyst's Estimations
While coal continues to be the primary non-renewable raw material that is used for the production of activated carbon, its incremented usage across core industrial applications such as power generation has cultivated a demand for alternatives. Wood activated carbon ideally fits the bill, as it contains fewer inorganic components and is purer. According to the findings of this business intelligence report, the demand in the global wood activated carbon market will multiply at a formidable CAGR of 9.5% during the forecast period of 2017 to 2024. Revenue-wise, there will be opportunities worth US$463.6 million in the global wood activated carbon market by the end of 2024, substantially more than the market's evaluated valuation of US$245.6 million as of 2017.
Increased focus of several governments to promote ecofriendly measures, applications across water purification, and recent technological breakthroughs are foreseen as a few factors that will drive the wood activated carbon market in the near future. On the other hand, volatility in the prices of raw material such as wood pallets, saw dust, wood flour, and other pretreatment chemicals is the restraint that is holding back the prosperity of this market.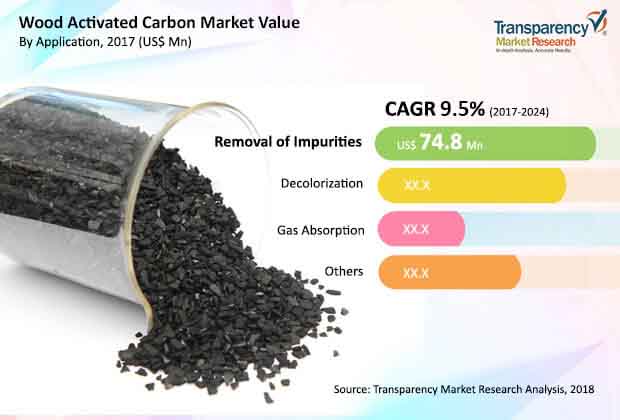 Removal of Impurities Key Application Segment
On the basis of application, the report segments the wood activated carbon market into gas adsorption, decolorization, removal of impurities, and others such as deodorization. Among these, removal of impurities continues to provide for the maximum chunk of demand for wood activated carbon, in terms of volume. As of 2017, the segment generated a demand of 43.8 kilo tons of wood activated carbon, which was valued at US$74.8 million. Due to its strong separation capability, wood activated carbon is employed for the removal of particulate matter, lead, and others from both gaseous and aqueous mediums. The removal of impurities industry is expanding significantly in Asia Pacific, North America, and Europe. This is a major factor likely to boost the demand for wood activated carbon during the aforementioned forecast period.
On the other hand, gas adsorption application segment of the wood activated market is projected to expand at most robust CAGR of 10.3% during the forecast period of 2017 to 2023. That being highlighted, decolorization is anticipated to remain the segment with the second most demand in terms of volume as well as value. Wood activated carbon is used for decolorization of sugar in the sugar industry, decolorization of amino acid, glucose, syrup, and gelatin in the food industry, and sewage and waste water purification in the water industry. Furthermore, wood activated carbon is also employed in the decolorization of cleaning solvents.
Asia Pacific Wood Activated Carbon Market Valued over Hundred Million as of 2017
This report has undertaken the task of evaluating the potential of demand that can be expected out of the regions of Asia Pacific, Europe, North America, the Middle East and Africa, and Latin America over the course of next seven years. As of 2017, the Asia Pacific wood activated carbon market was most lucrative, generating a demand of 63.19 kilo tons, which was worth US$104.27 million. Most of this demand came from the emerging economy of China, which has a large number of manufacturers of wood activated carbon as well as several processing units.
Calgon Carbon Corporation, Ingevity Corporation, and Cabot Corporation are some of the key players currently dominating the global wood activated carbon market. The report contains a featured section on competitive landscape, profiling aforementioned and several other prominent players of this market.
Global Wood Activated Carbon Market: Overview
The study offers a widespread view of the wood activated carbon market by dividing it into key application segments such as removal of impurities, gas adsorption, decolorization, and others. Application segments have been analyzed based on present and future trends of the market demand. The global wood activated carbon market is further segmented in terms of key geographical regions. The regional segmentation includes current and forecast demand for wood activated carbon in North America, Europe, Asia Pacific, Latin America, and Middle East & Africa (MEA). The report includes country-level analysis in terms of volume and revenue for application segments. Key countries such as the U.S., U.K., France, Germany, Italy, Spain, Belgium, China, Japan, Brazil, South Africa, as well as ASEAN and GCC regions are included in the study. Market segmentation includes demand for individual applications in all the regions and their respective countries.
The report encompasses detailed value chain analysis that provides an expansive view of the market. The analysis further provides detailed information about value addition at each stage of the value chain. The report covers major drivers and restraints of the global wood activated carbon market along with their influence on demand during the forecast period. Additionally, it includes the study of opportunities in the wood activated carbon market at the global level.
Global Wood Activated Carbon Market: Key Research Aspects
The report comprises Porter's Five Forces Model to estimate the degree of competition in the global wood activated carbon market. The report also comprises qualitative description on market attractiveness analysis in two sub-sections. The first sub-section consists of applications of wood activated carbon that are analyzed based on their attractiveness, growth rate, market size, raw material availability, profit margin, impact strength, technology, competition, and other factors. The second sub-section provides market attractiveness by analyzing key countries of each geographical region. The report also includes price trend analysis of raw materials such as saw dust, wood flour, wood pellets, and other pretreatment chemicals required during the manufacture of wood activated carbon.
Secondary research sources that have been typically referred to include, but are not limited to company websites, financial reports, annual reports, investor presentations, broker reports, and SEC filings. Other sources such as internal and external proprietary databases, statistical databases and market reports, news articles, national government documents, and webcasts specific to companies operating in the market have also been referred for the report.
In-depth interviews and discussions with a wide range of key opinion leaders and industry participants were conducted to assemble this research report. Primary research represents the bulk of the research efforts, supplemented by extensive secondary research. Key players' product literature, annual reports, press releases, and relevant documents were reviewed for competitive analysis and market understanding. This helped in the validation and reinforcement of our secondary research findings. Primary research further aided in improving the overall expertise and market understanding of the analysis team.
Global Wood Activated Carbon Market: Competition Matrix
The report covers detailed competitive outlook that includes market share and profiles of key players operating in the global market. Key players profiled in the report include Cabot Corporation, Calgon Carbon Corporation, Carbo Tech AC GmbH, Carbon Activated Corporation, CECA SA, Donau Chemie AG, Fujian Zhixing Activated Carbon Co, Ltd., Ingevity Corporation, Kuraray Chemical Corporation Ltd., Osaka Gas Chemicals Co. Ltd., Oxbow Activated Carbon LLC, and Zhejiang Xingda Activated Carbon Co., Ltd. Company profiles include fundamental pointers such as company overview, number of employees, key competitors, business overview, business strategies, recent/key developments, acquisitions, and financial overview.
Key segments of the Global Wood Activated Carbon Market
By Application
Gas adsorption
Removal of impurities
Decolorization
Others (recovery of organic solvents, etc.)
By Region
North America
Europe
Asia Pacific
Latin America
Middle East & Africa