Phosphoric acid is a colorless, odorless, and an inorganic acid used to acidify food products and beverages. Phosphoric acid is also utilized for preparing various types of phosphates for application in fertilizers. This acid also finds applications in non-fertilizers. Various types of end-uses of phosphoric acid include diammonium phosphate (DAP), monoammonium phosphate (MAP), trisodium phosphate (TSP), food additives and industrial uses.
Liberalization of Fertilizer Production Industry and Shortage of Cultivable Lands to Drive Market Growth
Majority of countries in the Southeast Asia and sub-Saharan Africa, cost of fertilizers are being strictly regulated by subsidies and import duties. For instance, agrarian economies such as Bangladesh and India are deficient in phosphate rocks and potash reserves. Liberalization of fertilizer production industry, along with the presence of numerous free markets is likely to fuel demand for phosphoric acid. Availability of cultivable land has witnessed a decline over the recent past, owing to rapid rate of urbanization. Arable lands are decreasing globally on the back of industrialization, high demand for energy and population expansion. However, efficient fertilizers have the potential to uplift cultivation capacity of the available arable lands. Phosphoric acid is used for producing effective fertilizers, which offer essential nutrients to crops. Currently, agricultural productivity is being improved worldwide by employing phosphate fertilizers such as TSP, DAP and MAP.
Nature of the global market for phosphoric acid is highly competitive, with the existence of several large & small vendors worldwide. Numerous integrated producers are located at large phosphate rick basins in China, North Africa and North America., with approximately 50% of global phosphate capacity accounted by these producers. Major players in the market realize significant benefits in terms of competitive pricing and low cost of production, owing to the easily available raw materials through integration.
Moderate Expansion Estimated for Global Phosphoric Acid Market through 2022
According to a new report by Transparency Market Research (TMR), the global phosphoric acid market is anticipated to maintain its expansion trajectory over the forecast period (2017-2022), although at a moderate CAGR. Global sales of phosphoric acid is forecast to surpass US$ 30,000 Mn in revenues by 2022-end.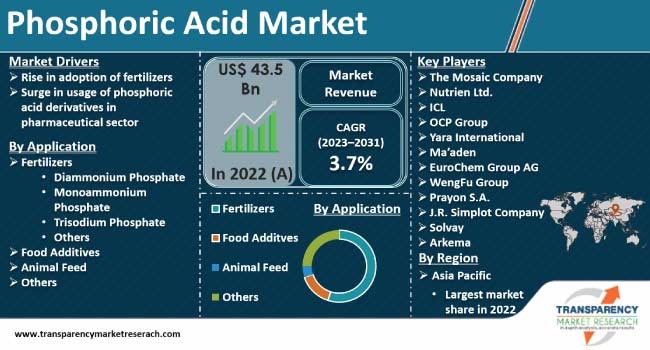 Asia-Pacific excluding Japan (APEJ) will continue to hold its position of being the most lucrative market for phosphoric acid. The market in APEJ will reflect the fastest expansion through 2022. Middle East and North America are also expected to remain lucrative regions for expansion of the global phosphoric acid market. The phosphoric acid market in North America and Latin America will register similar CAGRs through 2022. Japan will remain the least lucrative market for phosphoric acid over the forecast period.
Phosphoric Acid to Discern Highest End-Use in DAP
Phosphoric acid is anticipated to discern the highest end-use in DAP, with sales poised to exceed revenues worth US$ 10,000 Mn by 2022-end. Sales of phosphoric acid for end-use in DAP and TSP will witness a parallel expansion through 2022. Sales of phosphoric acid are projected to ride on the highest CAGR for end-use in MAP throughout the forecast period. Food additives and industrial uses will continue to be the least lucrative end-uses of phosphoric acid.
Phosphoric acid is expected to record the largest application in fertilizers during 2017 to 2022. In 2017, almost 90% of the revenue share of the market will be accounted by sales of phosphoric acid for application in fertilizers. The revenue share of this application segment is further anticipated to gain an uptick by 2022-end.
Company Profiles
TMR's report has listed active companies operating in the global phosphoric acid market, which include J.R. Simplot Co., Agrium, Inc., Eurochem Group AG, Ma'aden Phosphate Company, Wengfu Group Co., Ltd., Potash Corp. of Saskatchewan, Inc., PhosAgro PJSC, Yunnan Yuntianhua Co., Ltd., OCP S.A., and The Mosaic Co.
A new research report published by Transparency Market Research (TMR) offers a detailed forecast of the global phosphoric acid market for the time period between 2017 and 2022. The report has evaluated key factors propelling the prominent segments. It also peeks closer at recent advancements in manufacturing and processing technologies for phosphoric acid across various regions. Taking a scrutinized analysis on the various segments' market sizing throughout the historical period (2012-2016), the report has employed analytical tools for arriving at relevant projections on future of the global phosphoric acid market over the assessment period (2017-2022).
The report has tracked major developments by predominant industries, and their influence on demand for the product. The report has also provided a detailed overview of raw material sourcing strategy, supply chain, and has highlighted the prevalent pricing strategies and cost structure. The research findings in this report will guide its readers in devising impactful strategies for expansion of their businesses.
Report Structure
Commencing chapter of the report provides an executive summary of the global phosphoric acid market, highlighting in-depth insights on key regional segments as well as end-use segments of the market. The report also offers an exhaustive overview of the global phosphoric acid market, which includes a detailed introduction of the market, and a formal definition of – phosphoric acid. Market size estimations provided in the report have been interpreted through metrics such as absolute dollar opportunities, year-on-year growth rates, basis point share indexes, and compound annual growth rates.
The report includes study on market dynamics, distribution network, technology roadmap, and an intensity map plotting the existence of market players across various regions. The report has also provided insightful analysis on the global phosphoric acid market's competitive backdrop. Key market participants profiled by the report are analyzed based on their current market scenario, key developments, and strategic partnerships.
Market Taxonomy
A segmentation-wise analysis has been incorporated by the report for providing insights on key segments of the global phosphoric acid market. The global market for phosphoric acid has been divided on the basis of end uses, application and region. The taxonomy of the global phosphoric acid market has been elaborately illustrated in the form of a taxonomy table.
| | | |
| --- | --- | --- |
| Region | End Use | Applications |
| North America | Diammonium phosphate (DAP) | Fertilizers |
| Latin America | Monoammonium phosphate (MAP) | Non-fertilizers |
| Europe | Trisodium phosphate (TSP) | |
| Japan | Other Phosphorus Based Fertilizer | |
| Asia-Pacific excluding Japan (APEJ) | Food additives | |
| Middle East & Africa (MEA) | Industrial uses | |
Competitive Landscape
The report has included a weighted chapter on the competitive scenario of the global phosphoric acid market, wherein an in-depth analysis on key market players has been offered. Insights offered about these key market participants are in terms of product overview, company overview, key developments, and financials. A detailed SWOT analysis of these key players is also provided by the report, examining strengths, weaknesses, opportunities, and threats for their expansion in the market. Analysis has also been provided on new strategies adopted by the market players for enhancing their portfolios, marketing strategies, M&A as expansion strategies, and strategic alliances.
Research Methodology
Analysts at Transparency Market Research have employed a robust research methodology, which is a combination of extensive primary interview conducted with domain experts & key industry stakeholders, and an in-depth secondary research for gleaning necessary information and data related to the market. Chemical industry partakers manufacturing phosphoric acid have been contacted & interviewed for obtaining information about their net spending, profitability index and revenue procurements for the previous half decade. A number of validation tools have been adopted for gathered data for acquiring relevant market insights, highly impacting the critical business decisions. Key insights and findings have been represented in a systematic way in this research report.