Global Sulfuric Acid Market: Snapshot
Sulfuric acid is utilized to wash pollutants out of fuel and other refinery items in oil refining. It is additionally utilized as impetus and getting dried out operator in petrochemical process and natural concoction producing. The worldwide sulfuric acid market is divided on the premise of its application and regionally. The market is an unpredictable one that includes the science of product free market activity. There is variety in valuing of sulfuric acid between geographical regions relying on its concentration and usage regulations.
The significant employments of sulfuric acid in the industrial usage incorporates mineral preparing, assembling of compost, wastewater handling, compound amalgamation and oil refining. Sulfuric acid is utilized to make phosphoric acid with the assistance of wet technique, which is additionally used to make phosphate compost. Sulfuric acid is additionally utilized as impetus in the compound business for the change of cyclohexanone oxime to caprolactam utilized for nylon generation.
The international sulfuric acid market is prognosticated to rise at a steady CAGR of 2.6% over the forecast period, 2015 to 2023. The market, standing at US$67.9 bn in 2014, is expected to reach US$85.4 bn by 2023, the end of the forecast duration.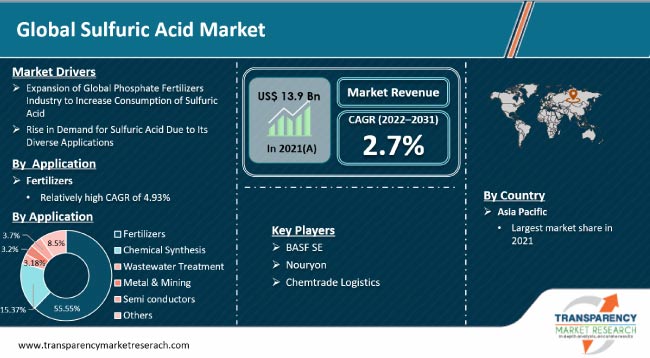 Agri-Business to Propel Fertilizer Demand and Subsequent Application Segment
The stead steadily rising interest for electronic-grade sulfuric acid for semiconductors will drive the growth opportunity for the worldwide sulfuric acid market for the following years. A huge part of the utilizations of sulfuric acid or ultrapure sulfuric acid (UPS) is the creation of silicon wafers, evacuation of inorganic residues, polluted particles, and carbon stores on the wafer amid etching and cleaning.
As of now, the segment of fertilizers serves the maximal demand, representing 60% of the overall demand in the year 2014. It generally has been and is relied upon to remain exceptionally productive all through the estimated forecast period, increasing steady interest for the assembling of phosphate manures, which are broadly utilized for cutting edge agribusiness. Then again, the developing utilization of sulfuric acid in t distinctive substance forms is required to all in all oust composts from being the most vital section sooner rather than later. Sulfuric acid is currently utilized for the assembling of sulfate salts, nitric corrosive, explosives, hydrochloric corrosive, and pharmaceuticals.
Sulfuric acid will keep on being sought after, particularly in the economically developing nations as they significantly rely upon agribusiness that requires phosphate manures. These manures are greatest clients of sulfuric acid as they represented around half of the sulfuric acid utilization on the planet in 2014. The interest for phosphate composts is expected to develop in the coming a very long time as region attempt to expand their yield of cotton, wheat, rice, and soya bean to oblige the requests of the consistently expanding populace. Government strategies will likewise bolster this request in nations, for instance, India, South Africa, and China.
Asia Pacific Emerges Dominant Market Opportunity due to Developing Countries' Demand
Geographically, Asia held a half offer in the worldwide sulfuric acid market in 2014, unmistakably, an asserting an overwhelming position for itself. Experts anticipate that this region will keep its position in the coming years due to the convergence of chemicals industry in China and other emerging countries. Subsequently, the expanding selection of sulfuric acid in the handling of chemicals, composts, accessibility of modest work, expanding remote venture, and adaptable administrative structure are on the whole going to contribute towards the rising offer of Asia in the worldwide sulfuric acid market. Then again, North America and Europe will witness a dive in the sulfuric acid utilization as the legislatures in these locale has taken a strict position towards this cancer-causing chemical.
Among the players driving the seller scene in the worldwide sulfuric acid market are The Chemours Company, Akzo Nobel N.V., The Mosaic Company, Vale Fertilizantes S/An, Eco Services Operations, LLC, and PotashCorp.
Sulfuric acid is an extremely corrosive acid that is highly soluble in water. It is one of the most widely produced as well as consumed bulk chemicals worldwide. Sulfuric acid is employed in a wide range industrial and domestic applications. Major applications of sulfuric acid include fertilizers, wastewater treatment, chemical synthesis, metal & mining, paper, and pharmaceutical.
The report estimates the sulfuric acid market on the global, regional, and country level. The study provides forecast from 2015 to 2023 based on volume (million tons) and revenue (US$ Bn).
The study offers a comprehensive view of the sulfuric acid market by dividing it into key application segments such as fertilizers, chemical synthesis, wastewater treatment, metal & mining, and others. Application segments have been analyzed based on present and future trends, and the market has been estimated from 2015 to 2023 in terms of volume (million tons) and revenue (US$ Bn). Regional segmentation includes current and forecast demand for sulfuric acid in North America, Europe, Asia Pacific, Latin America, and Middle East & Africa (MEA). Additionally, the report includes country-level analysis in terms of volume and revenue for application segments. Key countries such as the U.S., the U.K., France, Germany, Italy, Spain, China, Japan, Brazil, South Africa, as well as ASEAN and GCC are incorporated in the study. Market segmentation includes demand for individual applications in all the regions and countries.
The report comprises a comprehensive value chain analysis that provides a broad view of the market. Value chain analysis also provides detailed information about value addition at each stage of the value chain. The report covers drivers and restraints for the sulfuric acid market along with their impact on demand during the forecast period. Additionally, it includes the study of opportunities in the sulfuric acid market at the global level.
The report comprises Porter's Five Forces Model to gauge the degree of competition in the sulfuric acid market. The report encompasses a qualitative write-up on market attractiveness analysis, wherein applications have been analyzed based on their attractiveness, growth rate, market size, raw material availability, profit margin, impact strength, technology, competition, and other factors (such as environmental and legal) have been evaluated to derive general attractiveness of the market. The report also includes price trend analysis of raw materials such as elemental sulfur as well as oil & natural gas from 2014 to 2023.
Secondary research sources that were typically referred to include, but were not limited to company websites, financial reports, annual reports, investor presentations, broker reports, and SEC filings. Other sources such as internal and external proprietary databases, statistical databases and market reports, news articles, national government documents, and webcasts specific to companies operating in the market have also been referred for the report.
In-depth interviews and discussions with a wide range of key opinion leaders and industry participants were conducted to compile this research report. Primary research represents the bulk of the research efforts, supplemented by extensive secondary research. Key players' product literature, annual reports, press releases, and relevant documents were reviewed for competitive analysis and market understanding. This helped in validating and reinforcing our secondary research findings. Primary research further helped in developing the analysis team's expertise and market understanding.
report covers a detailed competitive outlook that includes market share and profiles of key players operating in the global market. Key players profiled in the report include The Mosaic Company, The Chemours Company, Eco Services Operations, LLC, Ltd., Chemtrade Logistics Inc., Khaitan Chemicals & Fertilizers Limited, BASF SE, Vale Fertilizantes S/A, Akzo Nobel N.V., Southern States Chemical, Honeywell International, Inc., and PotashCorp. Company profiles include attributes such as company overview, number of employees, key competitors, business overview, business strategies, recent/key developments, acquisitions, and financial overview.
The report segments the global sulfuric acid market as follows:
lfuric Acid Market – Application Analysis

Fertilizers
Chemical synthesis
Wastewater treatment
Metal & mining
Others (Including paper & pulp, pharmaceutical, etc.)


Sulfuric Acid Market – Regional Analysis

North America

U.S.
Rest of North America

Europe

Germany
France
U.K.
Italy
Spain
Rest of Europe

Asia Pacific

China
Japan
ASEAN
Rest of Asia Pacific

Latin America

Brazil
Rest of Latin America

Middle East & Africa (MEA)

GCC
South Africa
Rest of Middle East & Africa