Global Sulfuric Acid Market: Analyst's Estimations
Sulfuric dioxide is a strong airborne pollutant and a declared carcinogen. Known to cause severe respiratory disorders in humans, the usage of sulfuric acid has consistently decreased in the past decade owing to stringent government regulations and the future of the market for the same isn't very encouraging. However, stockholders connected to the value chain of the global sulfuric acid market will continue gaining moderate opportunities thanks to rapid industrialization in China and lucrative prospects of phosphate fertilizers. According to the findings of this business intelligence study – the demand in the global sulfuric acid market will increment at a CAGR of 2.8% during the forecast period of 2017 to 2023. Revenue-wise, this long-established market for sulfuric acid is estimated to attain a valuation of US$85.4 billion by the end of 2023, swelling up from the market's evaluated worth of US$72.4 billion as of 2017.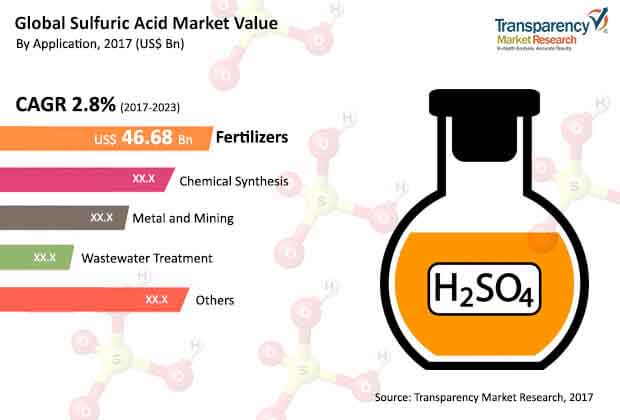 Fertilizers continue to be Market's Key Application Segment
This report has evaluated the potential of demand from the end use application of fertilizers, wastewater treatment, chemical synthesis, metal and mining, and others, such as paper and pharmaceuticals. Out of these application segments, the sulfuric acid market is gaining maximum demand from fertilizers, and although this segment is expected to experience slower growth rate than others over the course of 2017 to 2023, it will continue to remain most in-demand. Fertilizers such as superphosphates, ammonium phosphate and ammonium sulfates are manufactured using sulfuric acid. As of 2017, there was a demand for 179.57 million tons of sulfuric acid from the manufacturers of fertilizers, constituting for a revenue of US$46.68 billion. By the end of 2023, this segment is expected to generate 65% of the total demand in the overall sulfuric acid market.
China Dominating Demand for Sulfuric Acid
China has been identified as the country that will drive the global sulfuric acid market in the near future. The Asia Pacific giant is leading in terms of manufacturing industrialization and has abundance of raw materials as well as a large consumer base. By the end of 2023, the China sulfuric acid market is estimated to breach hundred billion dollar mark, with the demand projected to expand at an above-average CAGR of 3.2% during the forecast period of 2017 to 2023.
The U.S. and Europe Exhibiting Moderate Growth Rates
This is a significant shift in the sulfuric acid market. Over the years, developed regions such as North America and Europe have dominated the global chemicals market. However, production and consumption of chemicals as well as demand in downstream markets in these regions has reached the stage of maturity. Exploitation of raw material sources, significant technological breakthrough, and global awareness regarding environmental damage are factors responsible for this scenario. Consumption of sulfuric acid has declined significantly in Western, Central, and Eastern Europe in the recent past, due to unavailability of raw materials and stringent environmental laws restricting mining of elemental sulfur and burning sulfur dioxide. As far as the U.S. sulfuric acid market is concerned, increased production of spent acid from petroleum refineries and chemical plants has paved the way for sulfuric acid regeneration, which produces relatively pure and concentrated sulfuric acid through the reuse of spent or contaminated sulfuric acid.
Global Sulfuric Acid Market Shares Distributed in Fragmented
Regarding the competitive landscape of the global sulfuric acid market, this report has identified some of the key players that manufacture and supply hydrogen sulfide gas, such as Praxair, Inc., Bechtel Corporation, and Nalco Ecolabs. Furthermore, Vale Fertilizantes S/A, Solvay S.A., and Abu Dhabi Gas Development Company Limited. Prominent manufacturers of sulfuric acid include The Mosaic Company, The Chemours Company, BASF SE, Khaitan Chemicals & Fertilizers Limited, and Akzo Nobel N.V. Sulfuric acid is supplied through various distribution channels such as direct selling, bulk sale, distribution contracts with regional marketing & supply agencies, and online portals. Chemtrade Logistics Inc. is engaged in bulk sale, while Sigma-Aldrich Corporation is one of the largest online portals.
Global Sulfuric Acid Market: Overview
Sulfuric acid is an extremely corrosive acid that is highly soluble in water. It is one of the most widely produced as well as consumed bulk chemicals worldwide. Sulfuric acid is employed in a wide range industrial and domestic applications. Major applications of sulfuric acid include fertilizers, wastewater treatment, chemical synthesis, metal & mining, paper, and pharmaceutical.
The report estimates the sulfuric acid market on the global, regional, and country level. The study provides forecast from 2017 to 2023 based on volume (million tons) and revenue (US$ Bn).
The study offers a comprehensive view of the sulfuric acid market by dividing it into key application segments such as fertilizers, chemical synthesis, wastewater treatment, metal & mining, and others. Application segments have been analyzed based on present and future trends, and the market has been estimated from 2017 to 2023 in terms of volume (million tons) and revenue (US$ Bn). Regional segmentation includes current and forecast demand for sulfuric acid in North America, Europe, Asia Pacific, Latin America, and Middle East & Africa (MEA). Additionally, the report includes country-level analysis in terms of volume and revenue for application segments. Key countries such as the U.S., the U.K., France, Germany, Italy, Spain, China, Japan, Brazil, South Africa, as well as ASEAN and GCC are incorporated in the study. Market segmentation includes demand for individual applications in all the regions and countries.
Global Sulfuric Acid Market: Key Aspects
The report comprises a comprehensive value chain analysis that provides a broad view of the market. Value chain analysis also provides detailed information about value addition at each stage of the value chain. The report covers drivers and restraints for the sulfuric acid market along with their impact on demand during the forecast period. Additionally, it includes the study of opportunities in the sulfuric acid market at the global level.
The report comprises Porter's Five Forces Model to gauge the degree of competition in the sulfuric acid market. The report encompasses a qualitative write-up on market attractiveness analysis, wherein applications have been analyzed based on their attractiveness, growth rate, market size, raw material availability, profit margin, impact strength, technology, competition, and other factors (such as environmental and legal) have been evaluated to derive general attractiveness of the market. The report also includes price trend analysis of raw materials such as elemental sulfur as well as oil & natural gas from 2017 to 2023.
Secondary research sources that were typically referred to include, but were not limited to company websites, financial reports, annual reports, investor presentations, broker reports, and SEC filings. Other sources such as internal and external proprietary databases, statistical databases and market reports, news articles, national government documents, and webcasts specific to companies operating in the market have also been referred for the report.
In-depth interviews and discussions with a wide range of key opinion leaders and industry participants were conducted to compile this research report. Primary research represents the bulk of the research efforts, supplemented by extensive secondary research. Key players' product literature, annual reports, press releases, and relevant documents were reviewed for competitive analysis and market understanding. This helped in validating and reinforcing our secondary research findings. Primary research further helped in developing the analysis team's expertise and market understanding.
Global Sulfuric Acid Market: Vendors Analysis
The report covers a detailed competitive outlook that includes market share and profiles of key players operating in the global market. Key players profiled in the report include The Mosaic Company, The Chemours Company, Eco Services Operations, LLC, Ltd., Chemtrade Logistics Inc., Khaitan Chemicals & Fertilizers Limited, BASF SE, Vale Fertilizantes S/A, Akzo Nobel N.V., Southern States Chemical, Honeywell International, Inc., and PotashCorp. Company profiles include attributes such as company overview, number of employees, key competitors, business overview, business strategies, recent/key developments, acquisitions, and financial overview.
Global Sulfuric Acid Market: Segmentations
By Application

Fertilizers
Chemical synthesis
Wastewater treatment
Metal & mining
Others (Including paper & pulp, pharmaceutical, etc.)


By Region & Country

North America

U.S.
Rest of North America

Europe

Germany
France
U.K.
Italy
Spain
Rest of Europe

Asia Pacific

China
Japan
ASEAN
Rest of Asia Pacific

Latin America

Brazil
Rest of Latin America

Middle East & Africa (MEA)

GCC
South Africa
Rest of Middle East & Africa