Wedding Rings Market
Wedding Rings Market (Metal: Diamond Rings, Gold Rings, Platinum Rings, and Others [Titanium, Silver, etc.]; Gender: Men and Women; and Category: Engagement Rings, Wedding Rings, and Others [Anniversary & Valentine, etc.]) - Global Industry Analysis, Size, Share, Growth, Trends, and Forecast, 2019 - 2027
Consumer Goods & Services
TMRGL74280
2019-11-21
114

Pages
Wedding Rings Market: Surging Demand for Cost-effective and Lightweight Rings
Wedding and engagement rings have a long and varied history, dating back to the ancient Egyptian era. Centuries later, they still continue to remain a classic and popular tradition associated with engagements and marriages. The millennial population continues to be the most prolific consumer segment, giving a significant uptick to the growth of the wedding rings market. Leading stakeholders in the market are redefining the retail experience of wedding rings by innovating designs, sharing, and curating in order to stay on top.
The wedding rings market is receiving tailwinds from cost-effective and lightweight creations. In 2018, wedding rings accounted for ~US$ 66 Bn in sales, up 4.9% from the previous year. Sales will continue to witness an upward growth trajectory, and will hurtle toward an impressive valuation of ~US$ 107 Bn by the end of the forecast period (2019-2027). With women accounting for a significant chunk of the market share, the market for wedding rings will see a steady climb in the foreseeable future.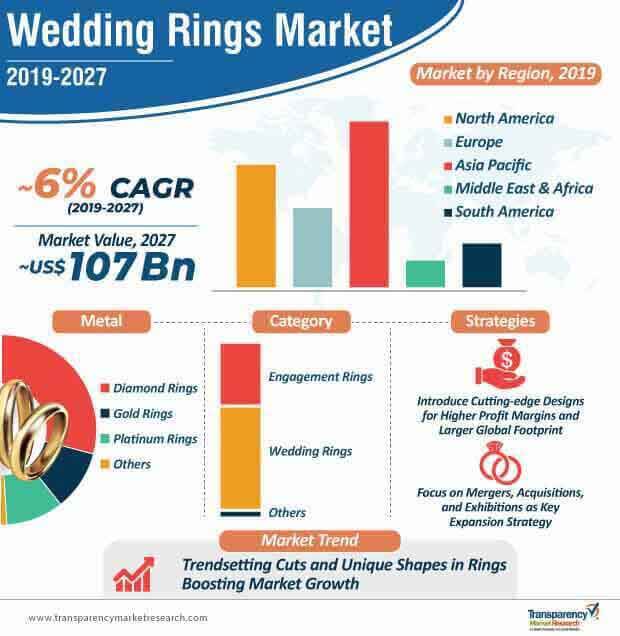 Request a sample to get extensive insights into the Wedding Rings Market
High Penetration in e-Commerce; Customization Gaining Significant Traction
The market for wedding rings is making significant inroads, capitalizing on the growing penetration of e-Commerce. The most effective differentiation strategy of E Commerce vis-à-vis traditional store formats is its deep understanding of customer needs at a granular and behavioural level. The proliferation of e-Commerce is further bolstered by a diverse product portfolio as compared to offline channels.
Stakeholders are offering a whole new suite of services when it comes to wedding rings. This includes customization of wedding rings to the minutest of details, from band shapes, size of the stone or diamond, colour selection, texture, and engravings. The market is abuzz with customized, Georgian-inspired trends, such as wedding rings with rose cut diamonds, pearl accents, and cluster settings. Bucking convention with an ample dose of sparkle, these trends will act as growth levers in the wedding rings market.
Wedding Rings Market: Diamond Rings Reign Supreme; Gold Buckling Up
Within the metal category, diamond wedding rings will reign supreme and continue to maintain their sheen over the forecast period, on the back of their superlative texture and appearance. Following close behind are gold wedding rings, occupying the second slot, foraying ahead boldly, as demand for gold continues to soar. Together, both, diamond and gold cumulatively account for ~78% of the market share for wedding rings. Companies will continue to pursue market share gains as consumers show an increased preference for wedding rings over engagement rings. The demand for wedding rings will continue to skyrocket, as it expands at a CAGR of ~6% during the forecast period.
To understand how our report can bring difference to your business strategy, Ask for a brochure
While women steal the spotlight and emerge as the top buyers of wedding rings, the segment of men will bring in noteworthy opportunities for market leaders. Men in the age category of 28-45 are in the peak of their careers, earning higher disposable incomes, and are more often than not ready to embark on a matrimonial journey. As a result, men will bring in an incremental dollar opportunity of ~US$ 31 Bn over the forecast period.
Asia Pacific's Appetite for Wedding Rings Remains Unmatched; North America Closing in
Regionally, Asia Pacific will maintain its hegemony in the wedding rings market, with North America following close behind. Together, these two regions will account for ~65% of the market share at the end of the forecast period. Asia Pacific, one of the largest producers of gold, is witnessing a spurt in jewellery purchases for investment purposes. This will be one of the key driving factors fuelling the growth of the wedding rings market. Engagement and wedding rings are a sizeable industry in North America, where manufacturers are hedging their bets on creating a unique shopping experience for love-struck customers. Many companies in North America are using the Internet to showcase their offerings before customers enter their brick and mortar stores.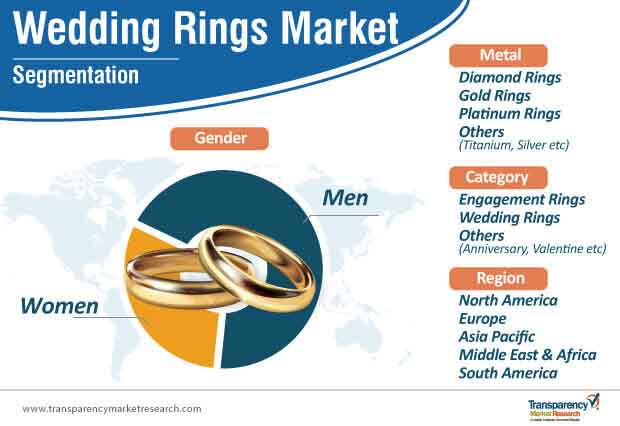 Stuck in a neck-to-neck competition with other brands? Request a custom report on Wedding Rings Market
Acquisitions & Exhibitions Remain Pivotal Strategies, Innovations Abound
The wedding rings market is fairly consolidated, with tier-1 players occupying a significant share through strategic mergers, acquisitions, exhibitions, and innovative product launches. Cartier, headquartered in Paris, is one of the leading manufacturers specializing in jewellery, watches, and fragrances. Through its dynamic product portfolio, it offers rings in unique cuts and shapes, such as pearl cuts, clusters, ovals, pears, and emerald cuts. In Oct 2019, Cartier partnered with DFS Group to start an exhibition in Macau, to feature high-end jewellery, watches, and rings. The company has grown immensely through 272 stores located in 59 countries.
Similarly, Harry Winston, headquartered in New York, brought in a sizeable revenue chunk of US$ 8.5 Bn in the year 2018, through its bridal couture offerings. The company has its global footprint in the regional markets of Europe, Asia, and The Americas, and is showing no sign of slowing down. In 2019, Harry Winston launched cocktail rings in Hawaii with brightly-coloured gems inspired from sketches dating back to the 1950-1960 era.
Wedding Rings Market: Overview
According to Transparency Market Research's latest market report on the global wedding rings market for the period of 2019–2027 (wherein, 2019 to 2027 is the forecast period and 2018 is the base year), increase in disposable income coupled with growth in the number of marriages is expected to fuel the wedding rings market, worldwide. Additionally, the legalization of LGBT marriages is likely to boost the growth of the wedding rings market.
In the report, revenue generated by the global wedding rings market has been mentioned in terms of value (US$ Bn) for the forecast period.
The global wedding rings market is projected to expand at a CAGR of ~6% over the period of forecast, increasing from a value of ~US$ 70 Bn in 2019 to ~US$ 107 Bn by 2027.
Growth in Number of Marriages: Key Driver of Wedding Rings Market
Millennials between the ages of 24 to 35 are the prime segment group that is getting married. Wedding rings for women accounted for greater value as compared to men. According to statistics released by the US National Vital Statistics System, the number of registered marriages in 2010 were 2,096,000, which increased to 2,140,272 in 2014, representing a growth of 2.1% during 2010-14. In 2017 it increased to 2,236,496, registering a growth of 4.5% during 2014-17.
China and India are two most populous countries in the world, and more than 10 million marriages are registered in each country every year. The growing millennial population in these countries is expected to increase the demand for wedding rings
During a marriage, the customs and rituals denote the emotional factor while purchasing a wedding ring. Increase in population along with rise in urbanization is another factor driving the growth of the wedding rings market.
Technological Advancements in Processing Machinery to Fuel Growth of Wedding Rings Market
Increase in innovation and technological developments in machinery that make wedding rings have led to new, fine designs. Women want unique and new designs such as engravings on their wedding rings, to make them special.
Developments in processing machinery for rings are leading to new designs that can make the rings lightweight.
The cost of wedding rings has increased over a period of time, due to increase in the demand for new designs
Chinese manufacturers are developing low-cost machinery that can customize wedding rings according to the needs of customers. These machineries are very cost-effective. All these factors are expected to spur the growth of the global wedding rings market during the forecast period.
Counterfeit Products: Key Restraining Factor of Wedding Rings Market
Wedding rings are expensive and bought for a lifetime event. Counterfeit rings are also sold in the market due to the high price of original rings. Counterfeiting and gray market activity (i.e. purchase of a product and its sale outside of the manufacturer's authorized trading channels) are increasing at a rapid pace globally. This significantly impacts the sales of wedding rings and dilutes the equity of leading global jewelry brands.
Wedding rings, including gold and diamond rings, are most adversely impacted by counterfeiting and gray market activity. Luxury brands are mostly targeted, because their high retail prices may be not affordable to lower income groups.
Legalization of LGBT Marriages: Opportunity for Growth of Wedding Rings Market
Legalization of LGBT (lesbian, gay, bisexual, and transgender) has given the opportunity to make specialized rings for this gender. In 2004, Massachusetts was the first state in the U.S. to legalize same sex marriages, and in 2015, all states in the US followed suit.
Most European countries have legalized/ recognized same sex marriages, the recent being Northern Ireland. Many brands are coming up with wedding rings for the LGBT community in recognition of this gender. This is anticipated to create opportunity and increase the demand for wedding rings during the forecast period.
Wedding Rings Market: Competition Landscape
Detailed profiles of companies in the wedding rings market have been provided in the report to evaluate their financials, key product offerings, recent developments, and strategies.
Key players operating in the global wedding rings market include

Cartier International SNC
Charles & Colvard, Ltd.
CrownRing
David Yurman Enterprises LLC
H. Samuel
Harry Winston, Inc.
Louis Vuitton
Pandora A/S
Robbins Bros. Jewelry, Inc.
Swarovski AG
Tiffany & Co.
Wedding Rings Market: Scope of the Study
A new study on the global wedding rings market has been published by Transparency Market Research (TMR). It presents a wealth of information on key market dynamics, including the drivers, market trends, and challenges, as well as the structure of the global wedding rings market. TMR's study offers valuable information about the global wedding rings market to illustrate how the market would grow during the forecast period of 2019–2027.
Key indicators of market growth, which include value chain as well as supply chain analyses, and Compound Annual Growth Rate (CAGR), are elucidated in TMR's study in a comprehensive manner. This data can help readers interpret the quantitative growth aspects of the global wedding rings market for the forecast period.
An extensive analysis on the business strategies of leading market players is also featured in TMR's study on the global wedding rings market. This can help readers understand principal factors to foresee growth in the global wedding rings market. In this study, readers can also find specific data on the qualitative and quantitative growth avenues for the global wedding rings market, which is expected to guide market players in making apt decisions in the future.
Key Questions Answered in TMR's Wedding Rings Market Study
What are the key factors influencing the wedding rings market in each region?
What will be the CAGR of the global wedding rings market from 2019 and 2027?
What is the future scope and changing trends in technologies used in the global wedding rings market?
Which factors are expected to impede the growth of the global wedding rings market during the forecast period?
Which are the leading companies in the global wedding rings market?
Research Methodology – Wedding Rings Market
A unique research methodology has been utilized by TMR to conduct comprehensive research on the growth of the global wedding rings market and arrive at conclusions on the future growth prospects of the market. This research methodology is a combination of primary and secondary research, which helps analysts warrant the accuracy and reliability of the drawn conclusions.
Secondary sources referred to by analysts for the global wedding rings market report include statistics from company annual reports, SEC filings, company websites, World Bank database, investor presentations, regulatory databases, government publications, and industry white papers. Analysts have also interviewed senior managers, service managers, CEOs, VPs, and market intelligence managers who contributed to the production of TMR's study on the wedding rings market as a primary source.
These primary and secondary sources provided exclusive information during interviews, which serves as a validation from wedding rings industry leaders. Access to an extensive internal repository and external proprietary database allows this report to address specific details and questions about the global wedding rings market with accuracy. The study also uses the top-down approach to assess the numbers for each segment, and the bottom-up approach to counter-validate them. This has helped in making TMR's estimates on the future prospects of the global wedding rings market more reliable and accurate.
Segmentation of Wedding Rings Market
TMR's study on the global wedding rings market includes information categorized into four sections -by metal, by gender, by category, and by region. Changing industry trends and other crucial market dynamics associated with these sections of the wedding rings market are discussed in detail.
Metal

Diamond Rings

Gold Rings

Platinum Rings

Others

Gender

Men

Women

Category

Engagement Rings

Wedding Rings

Others

Region

North America

U.S.
Canada
Rest of North America

Europe

U.K.
Germany
France
Italy
Rest of Europe

Asia Pacific

China
India
Japan
Rest of Asia Pacific

Middle East & Africa

GCC
South Africa
Rest of MEA

South America

Brazil
Rest of South America
Custom Market Research Services
TMR offers custom market research services that help clients to get information on their business scenario required where syndicated solutions are not enough.
REQUEST CUSTOMIZATION