Water Purifier Market
Water Purifier Market (Technology Type: Gravity Purifiers, RO Purifiers, UV Purifiers, Sediment Filters, Water Softeners, Others; Mode of Operation: Pitcher Filters, Under Sink Filters, Shower Filters, Faucet Mounts, Water Dispensers, Replacement Filters, Countertops, Whole Houses, Others; End User: Industrial (Drinking, Water Treatment), Commercial (Hotels, Restaurants, Offices, Others) and Households) - Global Industry Analysis, Size, Share, Growth, Trends, and Forecast, 2019 - 2027
Category :

Consumer Goods & Services

Format :
Water Purifier Market: Scarcity of Potable Water and Geographical Penetration to Foster Growth
Research states that, nearly 80% of illnesses in developing countries are because of poor quality water and sanitation conditions. Although there has been a rise in the number of people that have gained access to pure drinking water, inequalities still persist. This scarcity of potable drinking water has directed the way for innovations in the water purifier industry.
The gamut of the market used to be 'urban-centric'; however, with continual efforts from various governments and manufacturers to increase consumer awareness, the water purifier industry is gradually seeping into rural markets. However, penetration is still low, as rural consumers refrain from spending huge sums on water purifiers. This factor may shrink the market's growth, but also provides a vital entry point for newcomers who may claw up the global market ladder by launching strategically-priced products.
As water-related issues are gradually entering the league of grave environmental and global concerns, the future demands the implementation of efficient water purifier systems. Sensing this demand and gauging the innovations spawned in the water purifier industry, Transparency Market Research conducted comprehensive research that brings to the fore compelling insights about the evolution and structure of the water purifier market.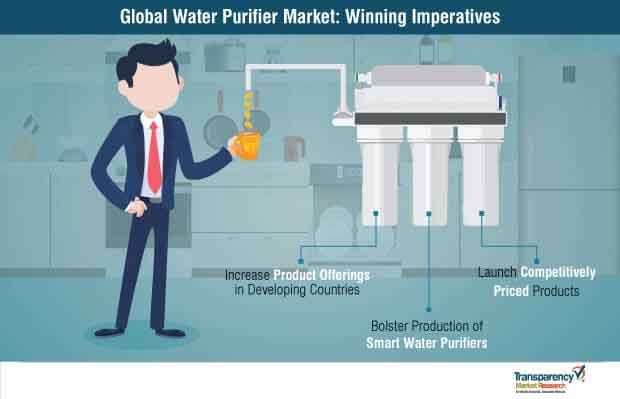 Planning to lay down future strategy? Perfect your plan with our report brochure here
Evolutionary Timeline of the Water Purifier Market
Water filtration technology dates back to as far as 500 B.C. when cloth was used to enhance water quality. Technology further progressed with the use of carbon filters and the advent of water purification technologies that render seawater drinkable. The water industry is gradually moving away from the conventional chlorination treatment approach and adopting new technologies such as membrane filtration, ultraviolet irradiation, and others.
Consumer preference is shifting towards simple water purification techniques and devices with the development of technologies that offer utmost ease of use. Moreover, in underdeveloped countries, consumers prefer water purification systems available at cheap rates. Understanding consumer behavior and the varied water purification needs in different geographical regions is the key to sustaining position in the water purifier market. According to TMR's study, the water purifier market will rise from its initial valuation of ~ US$ 67 Bn in 2019 to reach the mark of ~ US$ 128 Bn by the end of 2027.
Compelling Trends Reforming the Market
Increasing Adoption of Smart Water Purifiers
We live in a fast-paced world that demands the use of devices or systems offering real-time alerts. When it comes to water purifiers, consumers are keen on enhancing their smart home infrastructure with the use of connected water filters that offer water-quality monitoring and alerts on daily water consumption. It won't be too long since this technology proliferates from residential to municipal settings. Manufacturers are increasingly providing data to app platforms in water purification technology, sensing the scope of expansion of this technology.
Compact Products are Here to Stay
With the rising crunch for land and soaring property prices, people are forced to live in smaller spaces. Rural-urban migration has further added on to the prevailing issue of land crunch. Consumers are looking for compact products that help them save space and de-clutter at the same time. Banking on this trend, manufacturers are vying to manufacture slimmer and compact products to help consumers in their fight for space. For instance, Havells Water Purifiers has developed Havells Max, a compact water purifier with flexible mounting.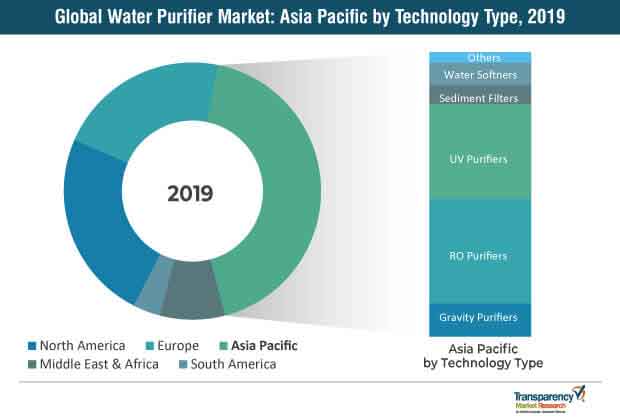 Want to know the obstructions to your company's growth in future? Request a PDF sample here
Winning Strategies to Expand Confines in the Market
Increasing Product Offerings in Developing and Underdeveloped Countries
Many developing countries such as India and China in Asia Pacific and underdeveloped regions in Africa are investing heavily in water purification infrastructure in the lieu of depleting drinking water resources. Organizations such as UNICEF and WHO are aggressively fighting the plaguing issue of water crisis and unavailability of safe drinking water by conducting awareness campaigns and funding water purifier companies.
Manufacturers are increasing their product offerings in these regions to reap massive revenue benefits. They are providing cheap water filtration solutions, such as 'Cycloclean', developed by Japan's Nippon Basic Company. This is a water purifying bike specially designed for remote villages. In another such humanitarian effort, LifeStraw Water Filters and Purifiers developed a small cigar-shaped tube that purifies water.
Capitalization on the Demand-Supply Gap
The rise in global population and the need for suitable water for operations in industries such as construction, food and beverages, chemicals, oil and gas, and petrochemicals have created a huge demand-supply gap. This is mainly due to the scarcity of water and poorly managed water usage. These issues, leading to greater investments in water purification products, have opened new avenues of growth for water purifier manufacturers. Not only are they bolstering their production capacities but also concentrating efforts on developing water purifiers for specific end-use industry requirements. Ageing water infrastructure in developed countries has further encouraged the proliferation of advanced water purifiers.
Sneak Peek into the Competition Landscape
The degree of competition in the global water purifier market is expected to remain high during the forecast period, with players offering cost-effective technology and prolonged services. There is the high threat of new entrants, as they are heavily investing in research and development activities to enter the global market. The entry of new players has increased the fragmentation of the market, thereby posing a challenge to established players. Some of the prominent players functioning in the market are A.O. Smith Corporation, Unilever, Coway Co., Ltd., Whirlpool, Eureka Forbes Limited, and TATA.
With Asia Pacific being the most lucrative region for the market's growth, players are consolidating their position in this region to establish their base in the market. Apart from this, providing customized products, business expansion through mergers and acquisitions, and enhancement of distribution network remain key business strategies. For instance, Whirlpool Corporation is expanding its distribution and production capacity to enhance its geographical expansion. Further, Pureit partnered with community-based water plants in India to establish its business in this region.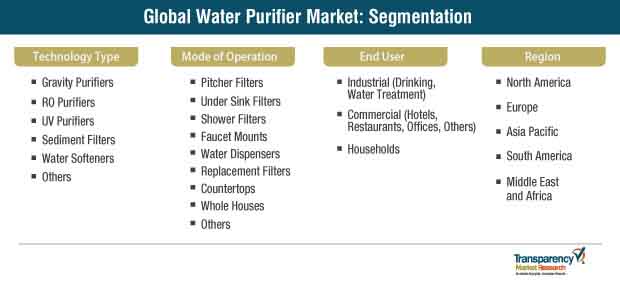 Looking for exclusive market insights from business experts? Request a Custom Report here
Analysts' Viewpoint
TMR analysts expect the water purifier market to grow at an astounding pace during the forecast period, due to the worldwide crisis of freshwater. Developing and underdeveloped regions are expected to be favorable for the market's growth, thus offering a growth opportunity for companies. The development of smart water purifiers will help players penetrate urban markets, whereas, the production of inexpensive water filtration technologies will help them consolidate their position in rural markets. Mergers and acquisitions is a key business expansion strategy adopted by market players, as it helps them target a large consumer pool. Furthermore, the development of compact products will help partakers reap huge sums from the market. Manufacturers should understand the specific water purification needs in different regions to expand their footprints in the market. Overall, the future of the water purifier market shines bright with rising consumer awareness and support from governments.
According to Transparency Market Research's latest market report on the water purifier market for the period of 2019–2027 (wherein, the period from 2019 to 2027 is the forecast period and 2018 is the base year), increasing global awareness about water safety and quality is anticipated to bolster the demand for water purifiers.
In the report, revenue generated by the water purifier market is given in terms of value and volume throughout the forecast period.
Water Purifier Market: Increasing Global Awareness about Water Safety and Quality
Increasing consumer awareness regarding water safety and quality, owing to rising water-borne diseases across the globe, is one of the prime factors responsible for the growth of the water purifier market. Moreover, government initiatives through various campaigns, tie-ups, etc., in many water-scarce countries are helping in increasing awareness regarding the usage of safe drinking water. This, in turn, is anticipated to proliferate the growth of the water purifier market.
Additionally, scarce portable water resources, globally, is another motivating factor in the increasing awareness of safe drinking water, which, in turn, is anticipated to drive the demand for water purifiers.
Furthermore, the increasing adoption of technology and product development to improve the water quality is also anticipated to boost the demand for water purifiers. Manufacturers are continuously working on higher technology adoption and continued product development for water purification systems to ensure maximum elimination of impurities from water.
Low Market Penetration of Water Purifiers in Rural Areas a Major Challenge
A prime barrier in the global water purifier market is low market penetration in rural areas. This is due to low awareness levels regarding the usage of safe drinking water. Rural consumers are less aware of the importance of the water purifying and filtering process employed to prevent water-borne diseases. Moreover, rural consumers prefer alternative methods such as cloth straining, boiling, chlorinating, slow sand filtration, and ceramic filters, which restricts the growth of the water purifier market.
Additionally, addressing water-related issues across different geographies is another major concern restraining the growth of the water purifier market. Total Dissolved Salts (TDS) comprises inorganic salts such as calcium, magnesium, potassium, chlorides, and sulfates, along with small amounts of organic matter that is dissolved in water. However, according to WHO, TDS levels more than 1200 mg/liter is unfit for drinking. The total dissolved salts (TDS) in water vary with different geographic conditions. Therefore, it becomes challenging for companies to provide purified water based on the region, restraining the water purifier market.
Water Purifier Market: Competition Landscape
Detailed profiles of manufacturers of water purifiers have been provided in the report to evaluate their financials, key product offerings, recent developments, and strategies in the water purifier market.
Key players operating in the global water purifier market include
A.O. Smith Corporation
Aquatech, BWT Aktiengesellschaft
Brita GmbH, Coway Co.
Culligan International Company
EcoWater Systems LLC.
Eureka Forbes Limited
Evoqua Water Technologies LLC
GE Appliances
Ion Exchange LLC
Kaz USA, Inc.
KENT RO Systems Limited
Kinetico Inc.
LG Electronics
Mitsubishi Rayon Cleansui Co., Ltd.
Panasonic Corporation
Pentair Plc.
Koninklijke Philips N.V.
Tata Chemicals Ltd.
Unilever N.V.
Whirlpool Corporation.
Water Purifier Market: Key Developments
Key manufacturers in the water purifier market such as A.O. Smith Corporation are focusing on acquisitions for their business expansion. In line with this, the company, in April 2019, acquired a water treatment solutions provider - Water-Right, Inc., a Wisconsin-based water treatment company. Similarly, the company, in September 2017, acquired Ohio-based water filtration solution company - Hague Quality Water International.
Other Key Developments in the Water Purifier Market
In January 2019, BWT AG partnered with Just a Drop, to provide clean and safe water to people across the world. The company partnered with Just a Drop, and is digging a borehole well in the village of Kasosa in Zambia, which will bring safe water to the 250 people living there.
Brita GmbH focuses on geographical expansion through acquisitions. Toward this, the company, in February 2019, acquired BV Aqua A/S, a Denmark-based company specialized in providing water treatment solutions. After this acquisition, the company is expected to serve BRITA B2B customers in the HORECA sector in Denmark, Sweden, and Norway.
Kaz USA, Inc. is focused on product portfolio expansion. The company, in 2017, introduced PUR 18-Cup Ultimate Dispenser with Lead Reduction, PUR Advanced Faucet Filtration System, and PUR 11-Cup Ultimate Pitcher Filtration System with Lead Reduction.
Transparency Market Research (TMR) recently published a report on the global water purifier market, which offers actionable insights that would help stakeholders make data-driven decisions for their business. The report provides an analysis and CAGR of the water purifier market for the forecast period of 2019 to 2027. The study is aimed at providing readers with in-depth analysis of the market structure, dynamics, key trends, opportunities, and challenges in the market.
Through this study of the water purifier market, readers will gain information about the key changes that are likely to shape the market's growth throughout the forecast period. Readers can also find out how changes in consumer behavior have impacted the business strategies adopted by players in the global water purifier market. An exhaustive analysis of the pricing and sales of water purifiers has also been presented in the report.
The report profiles prominent companies operating in the water purifier market and the winning strategies adopted by them. It also sheds light on the share held by each company and their contribution to the market's expansion. The study analyzes the water purifier market on both, regional and country levels, and takes into account various macro and microeconomic factors impacting the water purifier market.
Key Questions Answered in the Water Purifier Market Report
The study on the water purifier market answers salient questions that help stakeholders devise robust strategies for their business. The information is present in a lucid manner for the better understanding of readers. Some of the key questions are listed below:
Which technology type will register the highest growth in the global water purifier market?
What will be the sales and revenue of the water purifier market in 2027?
Which region will remain the most lucrative for the water purifier market's growth throughout the forecast period?
What are the regional growth strategies adopted by key players in the global water purifier market?
What will be the Y-o-Y growth of the water purifier market between 2023 and 2027?
How have historical trends impacted the current dynamics of the water purifier market?
Water Purifier Market: Research Methodology
A unique research methodology has been adopted to produce a report on the global water purifier market. Key market numbers and insights have been obtained through exhaustive primary and secondary research. This information was further cross-validated by in-house researchers to provide authentic forecasts of the water purifier market.
As a part of the primary research, TMR analysts interviewed company CEOs, vice presidents, manufacturers, regional managers, brand managers, raw material suppliers, and other industry players. For secondary research, analysts relied on sources such as industry reports, press releases, case studies, white papers, company websites, and research publications. The information acquired through these researches helped analysts analyze the development scenario of the global water purifier market.
Global Water Purifier Market: Taxonomy
The study of the water purifier market segments it into four broad categories – technology type, mode of operation, end user, and region. Each segment has been analyzed in detail and key growth statistics have been provided. Current and historical trends in each segment and sub-segment have been factored in to assess their impact on the current market dynamics. Information provided in the study includes value chain analysis, cost structure, y-o-y growth analysis, and supply chain analysis.
Technology Type

Gravity Purifiers

RO Purifiers

UV Purifiers

Sediment Filters

Water Softeners

Others (Ceramic Filter Technology, etc.)

Mode of Operation

Pitcher Filters

Under Sink Filters

Shower Filters

Faucet Mounts

Water Dispensers

Replacement Filters

Countertops

Whole House

Others

End User

Industrial

Commercial

Hotels
Restaurants
Offices
Others

Households

Region

North America

Europe

Asia Pacific

Middle East and Africa

South America
Custom Market Research Services
TMR offers custom market research services that help clients to get information on their business scenario required where syndicated solutions are not enough.
REQUEST CUSTOMIZATION

Water Purifier Market 2017 2025