Growing Adoption of Vibration Sensors Across Industries
Technological innovation is the key behind the growth of most industries. Among the various technologies, sensor technology has gained huge attention from manufacturers in the last few years. Increased adoption of this technology has benefitted manufacturers in expanding their production at a reduced cost. One such device is the vibration sensors, which helps in detecting abnormal vibration in industrial machines at that earliest, and thus, results in minimizing machine failure.
The application of vibration sensors has extended to various end-use industries, including oil & gas, processing, automotive, energy and power, consumer electronics, aerospace & defense, healthcare, and others. With the growing applicability of vibration sensors, Transparency Market Research has recently published a report on the global vibration sensor market. The report aims to deliver key insights by thoroughly analyzing various parameters contributing to the growth of the global vibration sensor market. This report also helps stakeholders take smarter and well-planned decisions to effectively establish themselves in the global market.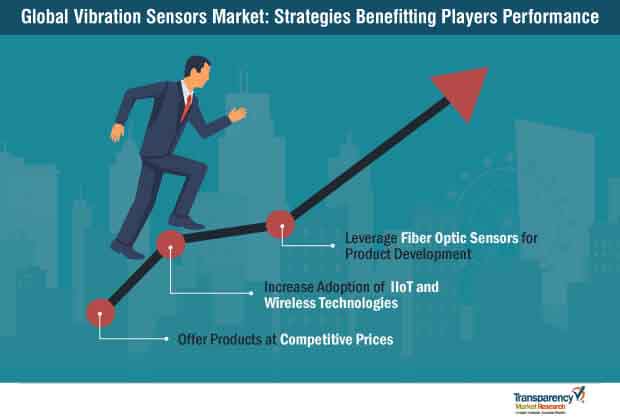 Planning to lay down future strategy? Perfect your plan with our report brochure here
Enhanced Efficiency of Vibration Sensors Over Time
Vibration measurements generally include acceleration, velocity, acceleration, and other related measurements. Gradual modifications in vibration sensor testing technology started taking place from the early 20th century. Since then, scientists have been exploring different ways to increase the use and efficiency of these sensors. In the recent past, the importance of vibration measurement has become crucial in mechanical structural product research, maintenance, design, and production. Moreover, advancements in electronic technology, computer technology, and manufacturing processes have resulted in the development of different types of vibration sensors, thus increasing their application.
Revenue generated in the global vibration sensor market in 2017 was ~ US$ 2.8 billion. Increasing industrial IoT and adoption of wireless sensor network technology in various industries is projected to further drive the demand for vibration sensors, leading to a projected revenue of ~ US$ 4.5 billion by the end of 2027.
Want to know the obstructions to your company's growth in future? Request a PDF sample here
Vibration Sensor Market: Trends Widely Adopted by Players
Growing Adoption of Industrial IoT (IIoT)
Internet of things, machine learning, wireless sensors, cloud-based analysis, and big data have found their way into the world of machine vibration measurements. IoT has proliferated the use of vibration sensors in the industrial sector. With growing Internet penetration, machines, factories, and infrastructural setup are now being upgraded with IoT. IIoT uses real-time data from equipment sensors to provide reports on a machine's cycle time, downtime, number of parts produced, and more. Additionally, IIoT has reduced work-related injuries and saved ~ US$ 220 billion of annual injuries and illness costs around the world.
A significant boost to the industrial Internet of things and the growing integration of wireless sensor network technology have augmented growth in the global vibration sensor market. Wide integration of these networks helps in better understanding of the machines, and resolving related issues at the initial stage. Most of the tech giants such as IBM, Capgemini, and others have integrated these wireless networks. Recently, North Carolina-based metal parts manufacturer BC Machining LLC. deployed a machine integrated a monitoring solution that helped in improving productivity and optimizing the utilization of computer numerical control (CNC) machines.
Low Product Cost Results in Higher Volume Sales
Technological advancements have turned out to be fortunate for manufactures and industries on a large scale. This is well proven with the development that took place in MEMS technology. This technology has revolutionized original accelerometer applications by reducing the size of accelerometers that consume lesser power and provide accurate results. These changes have resulted in the widespread adoption of accelerometers in various end-user industries such as consumer electronics, automotive, manufacturing, semiconductors, and others.
Nowadays, MEMS accelerometers are available at competitive prices, and are being widely utilized by a large number of manufacturers and industry players. The prices of MEMS accelerometers are comparatively very low than piezoelectric accelerometers and piezoresistive accelerometers, and these are expected to further reduce in the coming years. In terms of volume, as well, the demand for MEMS accelerometers is high, and by the end of 2027, their sales are expected to reach ~ 14.5 million units. Players are taking initiatives to enhance services related to MEMS accelerometers. For example, Safran Colibrys SA is a one-stop-shop manufacturer that offers a full supply chain, from designing to manufacturing and final testing of MEMS accelerometers. These accelerometers are designed for harsh environments and safety-critical applications.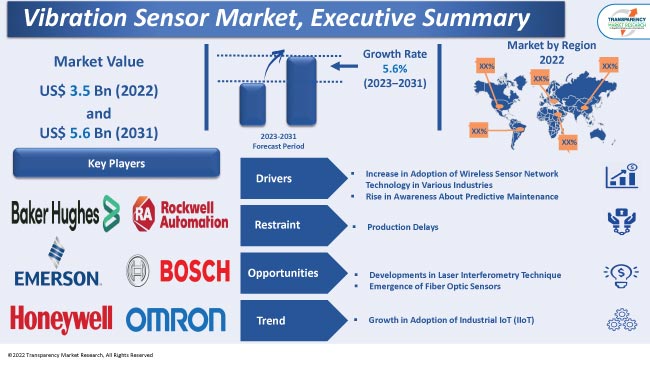 Looking for exclusive market insights from business experts? Request a Custom Report here
R&D Along with Advanced Technologies Expanding Scope of Vibration Sensors
Adoption of New Technologies Expanding Market Growth
Players engaged in using new and advanced technologies such as fiber optic sensors and laser interferometers have created new opportunities in the global vibration sensor market. Intrinsic and extrinsic sensors have the capability to sense elements, which helps fiber optic sensors in sensing various parameters such as vibration, pressure, temperature, rotation or concentration, and displacement. Fiber optic sensing technology provides huge benefits over older fiber optic technologies such as Fiber Bragg Grating (FBG), as this new technology is based on white light polarization interferometry (WLPI). Other benefits of deploying fiber optic sensors include high reliability, easy deployment and adoption, increased safety for data transmission, increased stability, low maintenance, immune to high voltages and EMI, and lightweight and miniature. Additionally, fiber optical sensors are explosion-proof, as they are nonelectrical. Thus, this technology is gaining pace and is being widely accepted by various manufacturers while developing vibration sensors.
Recently, MTI Instruments Inc. adopted fiber optic sensor technology to manufacture fotonic sensors. Fotonic sensors are non-contact instruments that use the fiber optics lever principle to perform vibration, displacement, and surface-condition measurements.
Predictive Maintenance and Innovative Products – Two Promising Strategies for Growth
With growing technological advancements, maintenance engineers are now taking extra efforts to assess problems with assets before they have an adverse impact on productivity. Therefore, various manufacturers are adopting predictive maintenance, specifically towards vibration monitoring, to enhance the life of machines. In 2016, the American Conference of Governmental Industrial Hygienists (ACGIH) developed Threshold Limit Values (TLVs) for hand-arm and full-body vibration exposure. According to the standard, the vibration range in an industry must be within specified threshold limits to prevent effects of vibration on the health of workers.
Players developing vibration sensors are also making significant efforts in developing innovative products. The growing use of vibration sensors in the manufacturing sector has encouraged players to use innovate technologies while developing vibration sensors. For instance, in 2018, Hansford Sensors Ltd designed advanced triaxial accelerometers for measuring vibration in two or three axes. This device helps in providing a single integrated output for quick and accurate phase analysis.
Additionally, the demand for prognostic health management (PHM) systems has also increased considerably, as it helps in reducing mechanical failure that leads to turbine engine failure, and minimizes maintenance costs. For example, in 2015, Ridgetop Group, Inc. introduced an effective 3-axis wireless rotational sensor to be used in a helicopter gear box. This was carried under contract to NASA. These advanced rotational vibration sensors (RVS) allow the extraction of hi-res acoustic signatures at greater ease from rotating components, especially in harsh environments.
Fragmented Competitive Landscape
In the global vibration sensor market, emerging players hold ~ 50% share in the market, which makes the market moderately fragmented. Leading players including TE Connectivity Ltd., Honeywell International, Inc., Analog Devices, Inc., and Robert Bosch GmbH hold ~ 33% share in the global market. Product innovation, increasing investments in research and development, and mergers and acquisitions are the major strategies used by leading players in the global vibration sensor market. In 2018, TE Connectivity Ltd invested US$ 680 Mn in R&D activities to deliver innovative and enhanced products and solutions to its customers.
Moreover, the level of competition among the players is also expected to increase in the coming years, as they are highly engaged in R&D activities. Leading companies are also making huge investments in acquiring technologically-advanced enterprises, as this plays a crucial role while developing vibration sensors. In 2018, Honeywell International Inc. fully acquired Ortloff Engineers, Ltd. and Transnorm, a deal worth ~ US$ 500 million. Transnorm was acquired to enhance the company's warehouse automation platform and give them a beachhead in Europe. Ortloff was acquired as it develops highly proprietary technology that enables maximum separation of gas and gas liquids.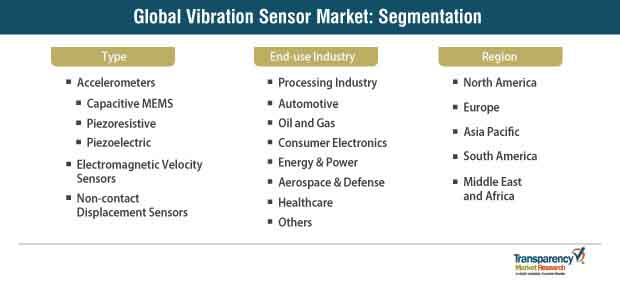 Analysts' Assessment on Market Growth

After thoroughly analyzing the global vibration sensor market, analysts believe that, this market will experience substantial growth in the coming years. Competition among players is expected to intensify, as they are engaged in extensive research and development activities, and are developing new products by using advanced technologies. Reducing the prices of MEMS accelerometers is also expected to have a positive impact on market growth. For new entrants, analysts believe that they can engage in collaborative development and innovation to further innovate vibration sensors. They can also improve the design and quality of their product and services. Moreover, to sustain in the mature vibration sensor market, new players can focus on developing highly reliable, accurate, and small-sized wireless vibration sensors with high real-time data transfer capacity based on IIoT technology.
Vibration Sensor: Definition/Overview
The term 'vibration sensor' refers to a smart sensing product designed for measuring, displaying, and analyzing linear velocity, displacement and proximity, or acceleration.
These vibration sensors are increasingly being used for multiple applications in different industry verticals, including the processing industry, automotive, oil & gas, consumer electronics, energy & power, aerospace & defense, healthcare, and others.
The global vibration sensor market is projected to expand at a CAGR of ~ 5% during the forecast period, and reach a value of ~ US$ 4.5 Bn by 2027.
Global Vibration Sensor Market: Regional Overview
Asia Pacific is likely to be the most attractive region in the vibration sensor market during the forecast period.
Growth of the vibration sensor market in the Asia Pacific region is attributable to the rising demand for vibration sensors used in a wide range of applications in the region. The most common applications include medical instrumentation, condition monitoring, sports diagnostic equipment, machine monitoring, industrial monitoring, and military applications, where wide bandwidth, small form factor, low power, and high performance are critical.
As compared to other regions, the Middle East & Africa and South America vibration sensor markets are expected to experience slower growth rates during the forecast period.
Global Vibration Sensor Market: Market Trends
Rising adoption of industrial IoT (IIoT), increasing adoption of wireless sensor network technology in various industries, and drop in the costs of MEMS accelerometers are the key trends that impact the growth of the vibration sensor market.
Rapid developments in sensor technology indicate very less signs of slowing down in the coming years, leading to an increasing demand for markers for various measurement and monitoring applications. As a result, vibration sensor manufacturers have been focusing on sensor designs and development that can adapt to these varying demands.
Global Vibration Sensor Market: Market Drivers, Opportunities, and Restraints
The global vibration sensor market has witnessed strong growth over the last decade. One of the major drivers of the global vibration sensor market is increasing awareness about predictive maintenance across industries.
Vibration sensors are used to monitor machine health by measuring several parameters such as linear velocity, displacement, and acceleration. An abnormal vibration symptomatic of problems with an industrial machines can be detected early and repaired before the event of machine failure; because such a failure is potentially costly in terms of time, cost, and productivity. Vibration measurement allows industrial plants to increase efficiency and save money.
Vibration sensors would be increasingly used in processing industries, because they are used for machine condition monitoring. Condition monitoring helps improve the machine's performance as well as productivity, which indirectly affects the growth of the vibration sensor market in a positive manner.
However, these sensors fail to detect minute vibrations that are critical for machines to operate safely due to heavy load, and this can reduce the response time of these sensors. Therefore, this could lead to delays in production. This factor can hamper the growth of the vibration sensor market.
Global Vibration Sensor Market: Key Market Segments
The global vibration sensor market has been segmented based on type, end-use industry, and region.
Type

In terms of type, the global market has been classified into accelerometers, electromagnetic velocity sensors, and non-contact displacement sensors. The accelerometers segment has been further sub-segmented into capacitive MEMS, piezoresistive, and

End-use Industry

Based on end-use industry, the vibration sensor market has been divided into processing industry, automotive, oil & gas, consumer electronics, energy & power, aerospace & defense, healthcare, and others.

Region

Based on region, the market is classified into North America (U.S, Canada, and Rest of North America), Europe (U.K, France, Russia, Germany, and Rest of Europe), Asia Pacific (India, China, Japan, and Rest of Asia Pacific), the Middle East & Africa ( GCC, South Africa and Rest of Middle East & Africa), and South America (Brazil and Rest of South America).
Global Vibration Sensor Market: Competition Landscape
The vibration sensor market is fragmented in nature due to the presence of several players. Competition is expected to intensify in the coming years with the entry of several local players. Key companies profiled in the research report on the vibration sensor market include
Honeywell International, Inc.
TE Connectivity Ltd
Robert Bosch GmbH
ASC GmBH
MTI Instruments Inc.
Keyence Corporation
Safran Colibrys SA
Hansford Sensors Ltd
National Instruments Corporation
Analog Devices, Inc.
Companies operating in the global vibration sensor market are focusing on expanding their businesses through strategic acquisitions and partnerships.
Vibration Sensor Market - Segmentation
In this section, analysts have categorized the global vibration sensor market on the basis of type, end-use industry, and region. A detailed analysis of all the segments in relation to geographical growth is also presented systematically in the vibration sensor market report. Initiatives taken by various players in the vibration sensor market have also been discussed.
Type

Accelerometers

Capacitive MEMS
Piezoresistive
Piezoelectric

Electromagnetic Velocity Sensors
Non-contact Displacement Sensors

End-use Industry

Processing Industry
Automotive
Oil and Gas
Consumer Electronics
Energy & Power
Aerospace & Defense
Healthcare
Others

Region

North America
Europe
Asia Pacific
Middle East and Africa
South America
Interested in this report?
Get a FREE sample now!