Vials Market
Vials Market (Capacity: Up to 2 ml, 3 ml - 5 ml, 5 ml - 7 ml, 8 ml and above); Material: Glass, Plastic (Thermoplastics, Thermosets); End Use: Personal Care, Chemicals, Healthcare (Research Laboratories & Clinical Research, Drug & Manufacturing, Hospitals)) - Global Industry Analysis, Size, Share, Growth, Trends, and Forecast 2019 - 2027
Packaging
TMRGL73260
2019-09-27
195

Pages
Tamper-evident Packaging and Increased Offerings in Ophthalmic Packaging Boost Market Growth
The global packaging industry was valued at ~US$ 908 billion in 2017. Constant advancements and innovations are shaping the future of pharmaceutical packaging technology. The vials market is estimated to reach ~US$ 9.6 billion by the year 2027. With high growth potential of the market, manufacturers are innovating on blow fill seal (BFS) vials, adopting measures that tackle counterfeit products, and developing two-in-one prefilled vial designs. Nano-printing allows invisible printing on vials that provide excellent security to combat counterfeiting. Two-in-one vials enable less chances of contamination, and serve as a cost-effective option as compared to traditional glass vials.
Manufacturers are driving innovation in the space of ophthalmic packaging. They are developing two-color injection-molded vials with a luer-lock closure and rubber stopper for ophthalmic liquids that require a calibrated dose. With advancements in the materials and equipment in this landscape, manufacturers are developing child-resistant and tamper-evident packaging that is well-suited for preservative-free formulations. These attributes of vials ensure seal integrity with the help of hot blowing, hot crimping, and cold crimping methods.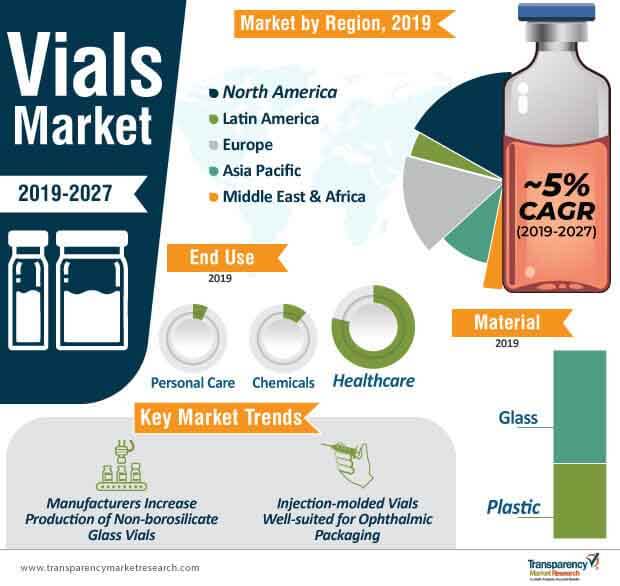 To understand how our report can bring difference to your business strategy, Ask for a brochure
Market Players Increase Expertise for Superior Chemical Resistance with Modular Product Offerings
There has been increasing demand for improved recovery and sensitivity of high- and low-concentrated biological and chemical formulations. This demand is rising as biomolecule sample loss is a problem at low concentrations. Also, non-specific binding and ionic interactions in formulations lead to loss at high concentrations. This is why, manufacturers are developing vials that protect these formulations, which aid in improved analytical results for healthcare providers.
Request a sample to get extensive insights into the Vials Market
The concept of ready-to-use products is surfacing in many pharmacies across the globe. This concept primarily caters to ready-to-mix formulations that do not require traditional compounding with a syringe and needle. Manufacturers are also leveraging drug stability in vials without the need for coatings in low-fill applications. This serves as an efficient and cost-competitive fill and finish for consumers, which is achieved through process optimization and improved dimensions for excellent quality and strength in vials.
Boron-free Glass and Efficient Supply Chain Measures Solve Production Limitations
Closed-vial technology has aided in helping to meet the increasing demand for sterile vial fillings. However, certain limitations in this technology are restraining health providers from adopting the same.
Closed vial-fillings bring about many changes to workflow and supply chains that cannot be easily adopted by CMOs (Chief Medical Officers). Closed vials need to be held still during piercing and laser sealing. This leads to high investment costs for the installation of new equipment that supports these closed vials. Closed-vial fillings also require different validation from regulatory authorities as compared sterile filling. Thus, manufacturers must take into account efficacy, quality, and patient safety to develop efficacious closed vials.
Another challenge that manufacturers face is the delamination of glass in vials. Manufacturers use borosilicate glass compositions to support sterile injectables due to their hydrolytic performance. However, the delamination of borosilicate glass leads to visible flakes and glass lamellae, which has led to many product recalls by companies. This is why manufacturers are introducing boron-free glass to develop vials. For instance, Corning - an American pharmaceutical technology company, announced the launch of Valor® Glass, which eliminates delamination with its aluminosilicate formulation in vials.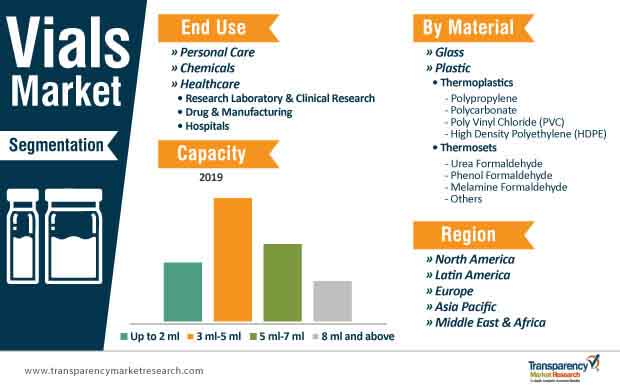 Stuck in a neck-to-neck competition with other brands? Request a custom report on Vials Market
Analysts' Viewpoint

Analysts of the vials market have a positive outlook for the growth of the market, with revenue expansion estimated to be ~1.5x during the forecast period. Innovation in the pharmaceutical packaging landscape is leading to the emergence of novel injectable kits that include gamma-sterilized vials and stoppers, which provide a one-stop solution for healthcare providers. Manufacturers are serving the needs of consumers for small-volume fillings of high-value formulations involving various sizes and configurations of vials that are better in quality, flexibility, and speed. However, manufacturers are finding ways to overcome delamination in glass vials due to sodium-borate volatization, by manufacturing vials using non-borosilicate glass. As such, manufacturers should increase product offerings with modular approach by ensuring efficient chemical resistance for biologic drugs and other sensitive formulations.
According to Transparency Market Research's latest market report on the vials market for the historical period of 2014-2018 and forecast period of 2019-2027, the high adoption of glass vials as compared to alternative containers is propelling the growth of the global vials market.
Globally, revenue generated by the vials market has been estimated to be ~6.5 Bn in 2019, and is expected to expand at a CAGR of ~5% in terms of value during the forecast period.
Prominence of Vials for Parenteral Packaging
The demand for glass vials has gained momentum in the last two to three years, due to several advantages offered by these products over conventional packaging products. Vials are used for accurate dosing, are user-friendly, and can be easily used at homes too.
Vials can be used very easily, and this increases patient compliance. Therefore, the vials market is poised to experience significant growth to meet the growing demand.
Owing to their manufacturing and formulation design, vials can be stored easily due to their crack-resistant covering shield, in which the product is stored and transported. The need for ease of storage has led to advancements in prefilled vial materials.
Introduction of Biosimilars in the Market
With rapid advancements in the biologics and biosimilars market, the demand for vials is expected to rise in the coming years. More number of new therapeutic drugs are being approved to be administrated in the form of vials. Patent expirations of several biologics have led to the introduction of biosimilars in the market. This is likely to enhance the growth of the global vials market.
Vial manufacturers are investing in research & development so that they can create sustainable solutions for the pharmaceutical industry. Pharmaceutical packaging manufacturers are investing in recovery and recycling facilities in order to support recyclable materials and recycled packaging solutions.
Cost-effective and Ease of Availability through Multiple Supply Sources
Although the development of materials such as plastic, over the last few years, has created an alternative to conventional glass, factors such as ease of availability through multiple supply chains as well as high cost-effectiveness are responsible for creating huge demand for glass vials as compared to plastic vials.
Furthermore, the ease of manufacturing as well as supplying of various types of glass such, as type-1, type-2, type-3, and type 4 glass, are the key factors driving the growth of the global vials market.
Prominent vial manufacturers are continuously focusing on design and product innovation according to the needs of consumers.
The growing inclination of various end users such as drug manufacturers towards glass vials is boosting the growth of the vials across the globe. Moreover, glass vials are easily recyclable, and thus, are considered as an eco-friendly material, which eventually propels their popularity. This shifting focus of end users from conventional containers and vials to glass vials is significantly driving market growth.
Availability of Standard Containers with Superior Protective Cases
One of the major benefits of glass vials is the ready availability standard containers of different sizes and shapes. Less investment is needed by end users and manufacturers on research and development for the proper design and compatibility of suitable containers while choosing glass vials for their packaging needs. The above factor is anticipated to fuel the demand for vials from consumers. Overall, the global outlook of the vials market is expected to remain positive during the forecast period.
Vials Market: Competition Landscape
Some of the key players in the global vials market that are included in the report are

Gerresheimer AG.
Schott AG
Berry Global, Inc.
Adelphi Healthcare Packaging
Nipro Corporation.
West Pharmaceutical Services, Inc.
Bormioli Pharma S.p.a.
Pacific Vial Manufacturing Inc.
APG Pharma Packaging,
Stevanato Group.

Key manufacturers in the global vials market are focusing on expansion through acquisitions and partnerships. In recent years, it has also been observed that, key participants in the vials market are increasing their popularity around the globe by expanding their product portfolios and introducing innovative technologies.
In July 2019, Schott AG acquired Australian micro fluidic expert MINIFAB.
On 11 July 2018, Gerresheimer AG acquired Sensile Medical. Through this, the company is extending its business model in the direction of original equipment manufacturers (OEMs) for drug delivery platforms.
Gerresheimer expanded its pharmaceutical plastic operations in Southern Europe and South America. It acquired the Spanish company - EDP S.A.
In October 2017, Schott AG, in collaboration with Xinkang, started a new manufacturing facility in China. This new plant will produce ~two billion pieces of primary pharmaceutical glass packaging containers a year.
Vials Market - Scope of the Report
Transparency Market Research (TMR) recently published a market study on the global market for vials. The study provides detailed assessment on key market dynamics, including the drivers, trends, opportunities restraints, and detailed information about the structure of the vials market. The market study presents exclusive information about how the vials market is likely to grow during the forecast period of 2019-2027.
Key indicators of market growth, which include Year-on-Year (Y-o-Y) growth of the market, value chain, supply chain analysis, and compounded annual growth rate (CAGR) are explained in TMR's study in a comprehensive manner. This information can help readers understand the quantitative growth prospects of the vials market during the forecast period.
The study is relevant for stakeholders in the vials market, including vial manufacturers, suppliers, distributors, and investors, and can help them in developing appropriate strategies to grow in the market. Stakeholders, investors, industry experts, researchers, and journalists, as well as business researchers in the vials market can leverage the information and data presented in TMR's study.
The study also includes statistics as well as facts related to the macro as well as microeconomic factors that are impacting developments in the market. It also offers actionable insights based on the future trends in the vials market. Furthermore, small businesses and new entrants in the vials market can make use of the information presented in this study, based on which, they can make appropriate business decisions in order to gain momentum in the market.
Key Questions Answered in TMR's Vials Market Report
Which regions will continue to remain as the most profitable for vial market players?
Which factors will induce a change in the demand for vials during the assessment period?
How will changing trends impact the vials market?
How can market players capture the low-hanging opportunities in the vials market in developed regions?
Which companies are leading the vials market?
What are the winning strategies of stakeholders in the vials market to upscale their position in this landscape?
Vials Market: Research Methodology
In TMR's study, a unique research methodology is utilized to conduct extensive research on the growth of the vials market, and reach conclusions on the future growth parameters of the market. This research methodology is a combination of primary and secondary research, which helps analysts ensure the accuracy and reliability of the conclusions.
Secondary resources referred to by analysts during the production of the vials market study include statistics from governmental organizations, trade journals, white papers, and internal and external proprietary databases. Analysts have interviewed senior managers, product portfolio managers, CEOs, VPs, marketing/product managers, and market intelligence managers who have contributed to the development of this report as a primary resource.
Comprehensive information acquired from primary resources and secondary resources acts as a validation from companies in the vials market, and makes TMR's projection on the growth prospects of the vials market more accurate and reliable.
Key Segments of the Vials Market
TMR's study on the vials market offers information divided into four important segments—capacity, material, end use, and region. This report offers comprehensive data and information about important market dynamics and growth parameters that are associated with these categories.
By Capacity

Up to 2 ml

3 ml – 5 ml

5 ml – 7 ml

8 ml and above

By Material

Glass

Plastic

Thermoplastics

Polypropylene
Polycarbonate
Poly Vinyl Chloride (PVC)
High Density Polyethylene (HDPE)

Thermosets

Urea Formaldehyde
Phenol Formaldehyde
Melamine Formaldehyde
Others

By End Use

Personal Care

Chemicals

Healthcare

Research Laboratory & Clinical Research
Drug & Manufacturing
Hospitals

Region

North America

Latin America

Europe

Asia Pacific (APAC)

Middle East & Africa
Custom Market Research Services
TMR offers custom market research services that help clients to get information on their business scenario required where syndicated solutions are not enough.
REQUEST CUSTOMIZATION