Global Veterinary Vaccines Market: Snapshot
The global veterinary vaccines market is rising at a healthy pace on the back of rising incidence of animal diseases. Climate changes and rising global warming have been related to outbreak of animal diseases, some of which are transmissible to humans. Zoonotic diseases that originate in wildlife account for 61% of animal diseases. Also, most zoonotic infections in humans are transmitted through livestock.
Apart from this, increasing spending on companion animals due to growing bonding between pet owners and their pets is stoking demand for animal healthcare products. In addition, awareness programs organized by animal welfare groups have also been instrumental to raise awareness about animal diseases among pet and livestock owners. This is boosting the veterinary vaccines market.
However, high R&D costs that are increasing every year are preventing development of novel products. This poses as a bottleneck to the market's growth. Considering a host of positive factors, the global veterinary vaccines market is forecasted to clock a healthy 6.9% CAGR between 2017 and 2024.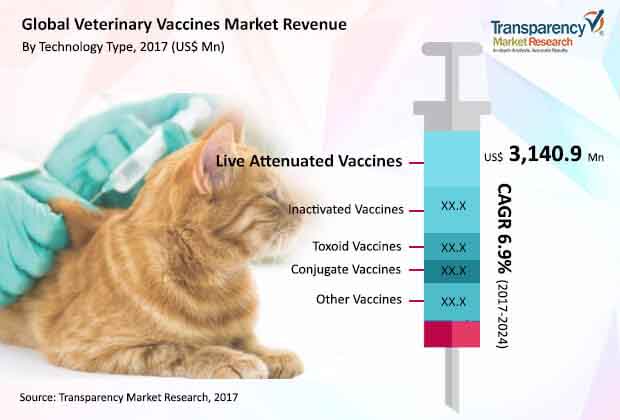 Demand for Animal Protein Foods Makes Livestock Vaccines Segment Rank Higher
The global veterinary vaccines market is segmented depending upon technology, animal type, and region. In terms of technology, inactivated vaccines, conjugate vaccines, live attenuated vaccines, toxoid vaccines, and other vaccines are the key segments into which the veterinary vaccines market is divided. Out of these, live attenuated vaccines segment holds dominance in the veterinary vaccines market; going ahead, the segment is anticipated to witness strong growth. The growth of live attenuated vaccines segment is predominantly because of rising number of farm and companion animals and due to their widespread use for poultry.
The segment of inactivated vaccines, on the other hand, is a prominent one due to outbreaks of animal diseases, and rise in incidence of zoonotic diseases; the inactivated vaccines segment is anticipated to be worth US$3,951.1 mn by 2024.
The DNA vaccines segment displays the leading growth rate amongst other technology type segments in the veterinary vaccines market.
In terms of animal type, livestock vaccines segment dominates the veterinary vaccines market. Within livestock segment, poultry vaccines hold the leading share of the overall market followed by porcine vaccines. Diseases among pigs such as porcine reproductive and respiratory syndrome (PRRS) and growing public awareness are key factors driving the poultry vaccines segment. The bovine vaccines segment within livestock vaccines segment holds significant share as bovine respiratory disease and foot-and-mouth disease are common among cattle.
On the other hand companion animal vaccines segment witnessed rapid growth in the recent past. This is mainly because of increasing number of pet owners, increasing awareness among pet owners about importance of vaccination for pets, and rising prevalence of zoonotic diseases among humans.
Government Mandates for Vaccination of Animals in U.S. Makes North America Leader
Geography-wise, the key regions into which the veterinary vaccines market is classified are North America, Europe, Asia Pacific, Latin America, and the Middle East and Africa. Among them, North America holds supremacy in the veterinary vaccines market owing to organized nature of livestock farms and highest number of pets in the U.S. globally. Strict government mandates for vaccinating animals against diseases accounts for high demand for veterinary vaccines in the U.S.
Some of the companies operating in the worldwide veterinary vaccines market are Zoetis Inc., Merck and Co., Bayer AG, Bimeda Inc., Boehringer Ingelheim GmbH, Ceva Sante Animale, Eli Lily and Company, and Sanofi S.A. among others.
Global Veterinary Vaccines Market: Overview
Transparency Market Research's new report on the global veterinary vaccines market provides detailed insights on the future growth scenario of the said market based on past performance and current scenario. The report offers an exclusive analysis of the global market and also presents insights on key regions and key segments under different category that have been covered in the executive summary section.
The report offers a summary of the global market including a synopsis that highlights the core trends that come to the fore in the market. It also discusses vital indicators such as drivers, challenges, and trends prevalent in the global veterinary vaccines market. The report aspires to serve as a useful guide providing figures related to volume, value, and the development rate of the market from a growth point of view. The report thoroughly looks into each segment and provides estimates based on historic and current values. The evaluation of the veterinary vaccines market presented in the report is in the light of market conditions, including value chain analysis of key technology and animal type under study.
Global Veterinary Vaccines Market: Research Methodology
The making of the report involved an elaborate primary and secondary research phase. The primary research phase involved reaching out to opinion leaders and industry experts via e-mail, face-to-face interviews, and telephonic interviews. Primary interviews were conducted with industry experts on an ongoing basis to endorse data and research analysis. The secondary research phase involved reaching out to accredited industry sources and gathering data.
Global Veterinary Vaccines Market: Competitive Dashboard
The report includes a detailed profile of the key companies currently operating in the veterinary vaccines market. The companies are profiled on the basis of key parameters such as company and financial overview, latest developments, product portfolio, and long-term and short-term growth strategies. The competition matrix covered in the report is likely to assist the existing players to boost their market shares and new entrants in the market to establish a foothold in the veterinary vaccines market.
The report also sheds light on government mandates and regulations pertaining to veterinary vaccines in different countries which is a highlight of the report. The report talks about the manufacturing and sales of veterinary vaccines along with the new research and key development initiatives underway in the global veterinary vaccines market.
Key companies in the veterinary vaccines market, namely Zoetis Inc., Bayer AG, Boehringer Ingelheim GmbH, Merck and Co., Bimeda Inc., Ceva Sante Animale, Sanofi S.A., and Eli Lily and company have been profiled in this report.
What does our report offer?
The report is the outcome of meticulous research work carried out by market analysts employing reliable industry-best analytical tools. The information collated has been validated by seasoned market researchers.