Global Valves Market: Snapshot
The global valves market is treading growth with industrial expansion and automation of industrial units in developing economies. Valves are used to control the flow of fluids and gases in number of industries. They control the flow of fluids and gases to prevent them escaping or leaking from pipes or pipeline systems.
The increasing need for workplace safety is expected to fuel the demand for valves. This is because the flow of flammable gases and fluids produced in industrial processes can be controlled using valves.
The global valves market is expected to rise at a CAGR of 6.8% between 2017 and 2025. This will result in the market to reach a valuation of US$108,950.3 mn by 2025 increasing from US$60,906.3 mn in 2016.
The global valves market has been studied on the basis of product type, industry, and geography in this report. The product type segments into which the valves market is divided are pressure reducing valves, control valves, plug valves, ball valves, diaphragm valves, safety/relief valves, globe valves, gate valves, butterfly valves, and other valves. In 2016, ball valves held the leading share thus contributing the leading revenue to the overall valves market. However, butterfly valves is expected to display the leading CAGR of 8.3% from 2017 to 2025.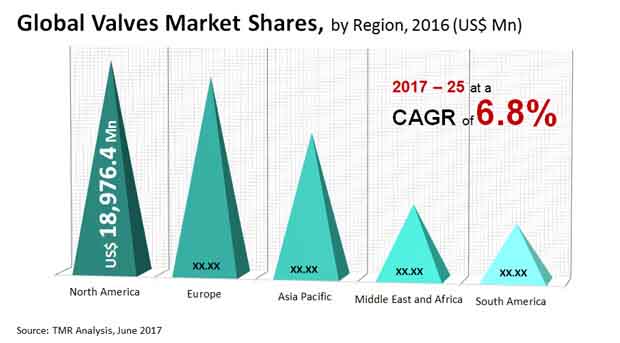 Waste and Waste Water Treatment held Significant Share in 2016
On the basis of industry, the global valves market is segmented into oil and gas, power, chemicals, marine, construction, pulp and paper, waste and wastewater treatment, mining, and others. Valves are integral component of these industries, thus expanding industrial activities is expected to boost the demand for different types of valves. In 2016, waste and waste water treatment industry contributed the leading revenue of almost 21% to the global market. With the rising number of water treatment plants across the world, the demand for different types of valves is on the rise. Valves are used in water treatment plants for several applications such as water faucets control, water flow control, and water flow distribution.
On the other hand, oil and gas industry is expected to expand at a CAGR of 6.68% for the forecast period between 2017 and 2025. However, with increasing application of valves in areas such as fluid and gas pressure control, and temperature control among others, the demand for valves is expected to be on the rise in mining, chemicals, and pulp and paper industries.
Rise in Natural Gas Production Boosts Demand for Valves in North America
The global valves market has been segmented into the regional segments of North America, Asia Pacific, Europe, the Middle East and Africa, and South America. The regional market of North America, among these, is primarily driven by increasing demand for pipeline infrastructure. The rising natural gas production in the region from shale formations has spurred the growth of pipeline construction thus propelling the growth of the North America valves market. In addition, trends of mergers and acquisitions among manufacturers and suppliers of valves in the region is having a positive impact on the valves market in this region.
The valves market in Europe receives ample growth opportunities from the mining industry. Product innovation and design improvements in existing products is presenting favorable growth opportunities to the valves market in Europe. This is because several governments in the region are taking initiatives to help small and medium-sized businesses in the development of newer products.
Asia Pacific valves market is mainly driven by the rising demand for valves in manufacturing sector.
Some of the key players operating in the global valves market include AVK Holding, Cameron- Schlumberger, Emerson, Forbes Marshall, IMI Plc., Samson AG, Rotork Plc, General Electric Company, Flowserve Corporation, Goodwin International Ltd, and KITZ Corporation.
Global Valves Market: Overview
This report provides an analysis of the global valves market for the period from 2015 to 2025, wherein the period from 2017 to 2025 comprises the forecast period and 2016 is the base year. Data for 2015 is provided as historical information. The report covers all the major trends playing a major role in the growth of the valves market over the forecast period. It also highlights various drivers, restraints, and opportunities expected to influence the market's growth during this period. The study provides a complete perspective on the valves market growth in terms of revenue in US$ Mn and volume in Mn units, across different geographical regions namely North America, Europe, Asia Pacific, Middle East & Africa and South America.
The market overview section of the report showcases the market dynamics and trends such as the drivers, restraints, and opportunities that influence the current nature and future status of this market. The report also provides the value chain analysis for the valves market. The valves market data estimates are the result of our in-depth secondary research, primary interviews and in-house expert panel reviews. These market estimates have been analyzed by taking into account the impact of different political, social, economic, technological, and legal factors along with the current market dynamics affecting the market growth.
Global Valves Market: Market Dynamics
Global valves market is experiencing growth owing to the factors such as increase in investments in industrial infrastructure projects around the globe, particularly in emerging economies. In addition, rise in pipeline sector has fueled the growth of global valves market. Usage of valves in water and wastewater management plants has increased in the recent past, thus, increasing the adoption of valves.
Global Valves Market: Market Segmentation
Valves market is segmented by product type and industry. By product type, global valves market is categorized into pressure reducing valves, safety/relief valves, control valves, globe valves, plug valves, gate valves, ball valves, butterfly valves, diaphragm valves and other valves. Control valves is further segmented on the basis actuation technology. Gate valves, globe valve, ball valves, butterfly valves and diaphragm valves are further segmented based on valve type. Furthermore, the industry segment is categorized into oil & gas, power, chemicals, marine, construction, pulp & paper, mining, water and wastewater treatment and others. Oil and gas industry is segmented into LNG (Liquefied natural gas) and petroleum. Petroleum sector is further categorized as upstream, midstream and downstream. The power industry is segmented as fossil, nuclear power and other power. Fossil segment of power is further sub segmented as coal & oil and natural gas. Further the report includes estimation of valves market by product type by industry for various sectors such as oil & gas, fossil, petrochemical, nuclear power and other sectors. Revenue as well as volume data is estimated for all above mentioned segments.
Global Valves Market: Competitive Landscape
The report also includes competitive profiling of the key players associated with the valves market around the globe. The important business strategies adopted by leading players, their market positioning, financials, SWOT analysis, and recent developments have also been identified in the research report. The competitive landscape section of the report also gives an overview about the major contributing regions/countries by these key players in order to strengthen their market position in the future.
Rising demand for valves and growing emphasis on efficient quality of valves has made companies to develop advanced valves to continue the profitability of the market. Honeywell International Inc., Emerson Electric Co., KITZ Corporation, Bürkert Fluid Control Systems, Schlumberger Limited, Flowserve Corporation, AVK Holding A/S, Rotork Plc, General Electric Company and Goodwin International Ltd are a few key players which have been profiled in this study. Details such as financials, business strategies, SWOT analysis, recent developments, and other such as strategic information pertaining to these players has been duly provided as part of company profiling.
Market Segmentation: Global Valves Market
By Product Type
Pressure Reducing Valves
Safety/Relief Valves
Control Valves
Globe Valves
Plug Valves
Gate Valves
Ball Valves
Butterfly Valves
Diaphragm Valves
Other Valves
By Industry
Oil & Gas

LNG
Petroleum

Upstream
Midstream
Downstream

Power

Fossils
Nuclear Power
Other Power

Chemicals
Marine
Construction
Pulp & Paper
Mining
Water & Waste Water Treatment
Others
In addition, the report provides analysis of the valves market with respect to the following geographic segments:
North America

The U.S.
Canada
Rest of North America

Europe

The U.K.
Germany
France
Italy
Rest of Europe

Asia Pacific (APAC)

China
India
Japan
Rest of Asia Pacific

Middle East and Africa (MEA)

United Arab Emirates (U.A.E.)
Saudi Arabia
South Africa
Rest of MEA

South America

Brazil
Rest of South America