Video Telemedicine Market
Video Telemedicine Market (Communication Technology: 3G, 4G, 5G, Asymmetric Digital Subscriber Line [ADSL], Broadband Integrated Services Digital Network [ISDN], and Satellite Communication; Application: Oncology, Cardiology, Dermatology, Gynecology, Orthopedics, Neurology, and Others; Component: Hardware, Software, and Services; and End User: Hospitals, Clinics, Home Care Services, and Others) - Industry Analysis, Size, Share, Growth, Trends, and Forecast, 2020 - 2030
Category :

Healthcare

Format :
Video Telemedicine Emerges as First Option for Diagnosis amidst COVID-19 Pandemic
The ongoing COVID-19 (coronavirus) pandemic has emerged as one of the key drivers fueling the expansion of the video telemedicine market. Since most individuals are preferring remote healthcare advices due to self-isolation norms, the growth of the video telemedicine market has skyrocketed in the past couple of months. However, individuals belonging to lower income groups are unable to avail the benefits of video telemedicine, thus creating a significant gap in the fulfillment of individual expectations. Since, individuals from low income groups are unable to use video telemedicine services, the risk of individuals acquiring the novel infection is predicted to increase in the upcoming months.
Stress and social isolation are fueling the demand for remote behavioral and mental health diagnosis. Most individuals have satisfactory responses toward telehealth services; however, the elderly population is still reluctant to adopt telehealth services during the COVID-19 era. The novel coronavirus has changed the common perception of telehealth services being the distant second form of the diagnosis option to being one of the most preferred alternative to in-person consultation.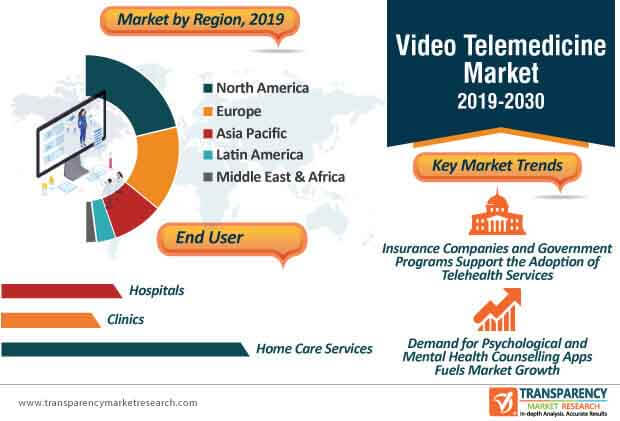 To know the scope of our report Get a Sample on Video Telemedicine Market
Insurance Companies Cover Video Telemedicine Services to Improve Patient Outcomes
With growing digital influx, individual physicians are increasingly adopting video telemedicine practices. Since most patients are living in the online and on-demand network, it has become imperative for clinicians to practice video telemedicine. Likewise, insurance companies and government-administered healthcare programs are also supporting telehealth services and technology solutions.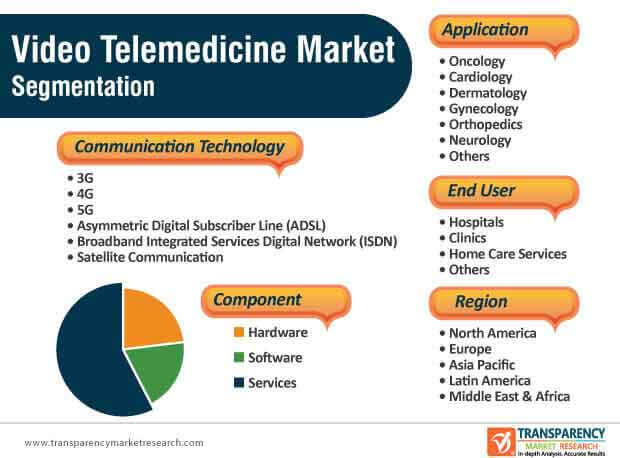 Get a glimpse of the in-depth analysis through our Report Brochure
The video telemedicine market is estimated to cross the revenue ~US$ 4 Bn by the end of 2030. This is evident since hospitals are capitalizing on the trend of telehealth services to provide remote monitoring of the patient's heart. Currently, cardiology applications generate the third-highest revenue in the video telemedicine market. Moreover, robust healthcare infrastructure of the U.S. has laws, which mandate insurance companies to cover telemedicine services in the same manner in which in-person services are handled.
Video Call Tools and Software Highly Preferred by Business Class Individuals
HIPAA (Health Insurance Portability and Accountability Act)-complaint video call tools and telemedicine software are bolstering the credibility of companies in the video telemedicine market. Innovative tools and software are favoring robust growth of the video telemedicine market, which is estimated to expand at a robust CAGR of ~13% during the forecast period. Thus, the trend of video telemedicine is eliminating the need to wait in long queues for obtaining medical test results or seek consultation from doctors.
The advantages of video telemedicine tools and software are being combined with smart devices that help to track pulse, temperature, and other measurements of patients. The video telemedicine market is advancing at a rapid pace since increasing number of businessmen and women are opting for telehealth services. Companies are keeping in mind the comfort and convenience of elderly patients, while innovating in video call tools and software.
Healthcare Systems in Developing Countries Demand Clarity for Guidelines in Video Telemedicine Services
Patients in remote locations now have the privilege to connect with best clinicians and doctors to seek advice for their ailments with the help of video telemedicine. However, patients in developing economies are facing inequalities in the delivery of care. Such challenging factors are anticipated to inhibit the growth for the video telemedicine market. The revenue of Asia Pacific is projected for aggressive growth in the video telemedicine market; however, lack of guidelines and legislative norms in India are hampering market growth. Thus, a greater clarity in the regulatory environment will help ensure safe data transfer and also improve connectivity in healthcare settings.
Artificial intelligence (AI) is also playing a major role in the digitization of healthcare services. AI helps patients to click pictures and upload them on video telemedicine platforms that can further be assessed by healthcare practitioners. Companies in the video telemedicine market are using Big Data to assess the percentage of individuals who are at the risk of diabetes and cardiovascular conditions in order to build new software.
Increased Awareness about Video Telemedicine Helps Transform Remote Healthcare Facilities
Telehealth services have stirred a revolution in the remote healthcare sector. However, several individuals still prefer visiting doctors physically in order to be sure about their diagnosis. Moreover, many individuals lack the awareness about telehealth services, which acts as a roadblock for growth of the video telemedicine market. Hence, companies in the market should invest in advertising and marketing strategies to increase awareness about telehealth services among individuals.
Furthermore, governments are increasing efforts to implement awareness policies and are allotting funds to make video telemedicine services more accessible to individuals. For instance, in September 2019, the Dubai Health Authority (DHA) adopted new telehealth services that involve online consultations and the use of e-medical files to review the patient's medical history. The idea of obtaining information in real-time is playing an instrumental role in triggering the growth of the market.
Video Chat Apps Acquire Popularity among Patients in Need for Urgent Care
Companies in the video telemedicine market are targeting the millennial population who is more inclined toward telehealth services. This has led to the popularity of MDBox— a telemedicine app that connects doctors and patients through video chat. On the other hand, mental health apps, such as Woebot are being highly publicized in the video telemedicine market. As such, neurology applications are predicted to dictate the third-highest revenue among all applications in the video telemedicine market. There is a growing demand for apps that can offer talk therapy to patients with mental health conditions.
Expanding operations in future? To get the perfect launch ask for a custom report
Analysts' Viewpoint
Video telemedicine has helped to avoid putting healthcare professionals in the harm's way but individuals belonging to low income groups are unable to receive full benefits of telehealth services amidst the COVID-19 pandemic. Telehealth services are offering great value for patients with chronic conditions that demand frequent follow-ups.

The trend of psychological counselling is acquiring prominence in the video telemedicine market. However, issues in the safety and privacy of patient data are anticipated to impede market growth. Hence, companies should introduce regulatory-complaint video call tools and software that eliminate data transfer issues. They should use AI and machine learning to develop new apps and software that are tailored according to the convenience of users.
Video Telemedicine Market: Overview
According to Transparency Market Research's latest market report on the global video telemedicine market for the historical period 2018–2019 and forecast period 2020–2030, increase in developments in the healthcare industry, rise in prevalence of chronic disorders, and surge in geriatric population are projected to augment the global video telemedicine market. Additionally, initiatives to provide healthcare services in remote areas is a critical factor anticipated to propel the global telemedicine market during the forecast period.
Induction of seamless communication technology is also a major factor expected to boost the growth of the global video telemedicine market from 2020 to 2030
According to the report, the global video telemedicine market was valued at US$ 1.2 Bn in 2019 and is likely to expand at a CAGR of ~13% from 2020 to 2030
Rise in Prevalence of Chronic Diseases and Improved Cost and Time Efficiencies: Key Drivers in Video Telemedicine Market
Chronic health conditions create a burden on health system in a country. Managing these conditions becomes difficult if a lack of well-equipped health care facilities and experienced workforce has been seen. Prevalence of various chronic diseases such as diabetes and cardiovascular diseases is rising in developing countries, which is leading to significant demand for technologically advanced platforms. Video telemedicine makes doctors available to the patients in case of emergencies for managing chronic health conditions. Therefore, video telemedicine is an effective way to address increase in incidence and prevalence of various illnesses.
Telemedicine as a communication tool saves time for consultation, diagnosis, and monitoring of a patient. Similarly, from the patient's perspective, video telemedicine saves long waiting hours for physician visits. Furthermore, video telemedicine services are reimbursed by the insurance coverage. Hence, it also saves the medical cost for the patient and the operational and visit cost for the physician. Moreover, convenience of using video telemedicine tool fuels the market.
Introducing Cost-effective Video Telemedicine Integrated Solutions
Telemedicine products are usually standalone solutions tailor-made for customer needs. However, standalone products incur high purchase and maintenance costs. Moreover, one needs to establish a dedicated space for video telemedicine at their location. Therefore, developing a solution that can be embedded in the present operating system of the organization appears to be a more viable solution.
Companies are focusing on developing and commercializing video conferencing software that can be easily integrated in the web-based systems of healthcare facilities. For instance, Vidyo, Inc. and AMD Global Telemedicine, Inc. collaborated to improve the web-based video telemedicine solution by integrating Vidyo's browser-based video conferencing client VidyoWeb in AMD Global Telemedicine's AGNES interactive software.
Lack of Reliable Internet Services and Disparity in Internet Quality to Hamper Video Telemedicine Market
Video telemedicine service providers focus on providing remote medicine verification and review services in rural areas. However, in rural areas, access to good Internet or broadband services is limited or mostly unavailable. Hence, unavailability of broadband services is an ongoing barrier to access healthcare services in these areas.
Often, remote communities have inadequate Internet connectivity. Due to these problems, connecting to the doctors can be difficult, especially in case of emergency. Additionally, power cuts are major problems in rural areas in developing or underdeveloped countries across the globe.
Therefore, lack of reliable Internet connection is likely to restrain the video telemedicine market during the forecast period
Video Telemedicine Market: Competition Landscape
This report profiles major players in the global video telemedicine market based on various attributes such as company overview, financial overview, product portfolio, business strategies, and recent developments in video telemedicine market
The global video telemedicine market is highly consolidated, with presence of small number of players
Major players in the global video telemedicine market include American Well, Siemens Healthcare GmbH, GlobalMed Inc., Amwell, Huawei Technologies Co Ltd., VSee lab Inc., Cisco Systems, Inc., Vidyo Inc., and LIFESIZE, INC.
Video Telemedicine Market: Key Developments
Key players in the global video telemedicine market are engaged in product specification and pricing, which are the major contributing factors in determining the market position of the companies. Several market players are following the growth strategy adopted by Cisco Systems, Inc. and Huawei's Telemedicine Solution of focusing on diversification and updating of the product portfolio, acquisitions, and geographical expansion of the business in order to gain market share and profits.
The report on the global video telemedicine market discussed individual strategies, followed by company profiles of manufacturers of video telemedicine products. The competition landscape section has been included in the video telemedicine market report to provide readers with a dashboard view and a company market share analysis of key players operating in the global market.
Video Telemedicine Market – Scope of the Report
TMR's report on the global video telemedicine market studies past as well as current growth trends and opportunities to gain valuable insights of the same indicators for the market during the forecast period from 2020 to 2030. The report provides revenue of the global video telemedicine market for the period 2018–2030, considering 2019 as the base year and 2030 as the forecast year. The report also provides the compound annual growth rate (CAGR) for the global video telemedicine market during the forecast period.
The report has been prepared after an extensive primary and secondary research. Primary research involved bulk of research efforts, wherein analysts carried out interviews with industry leaders and opinion makers. Extensive secondary research involved referring to key players' product literature, annual reports, press releases, and relevant documents to understand the global video telemedicine market.
Secondary research also includes Internet sources, statistical data from government agencies, websites, companies' presentations, sales data, and trade associations. Analysts have employed a combination of top-down and bottom-up approaches to study various phenomenon in the global video telemedicine market.
The report includes an elaborate executive summary, along with a snapshot of the growth behavior of various segments included in the scope of the study. Furthermore, the report sheds light on changing competitive dynamics in the global video telemedicine market. These indices serve as valuable tools for existing market players as well as for entities interested in entering the global video telemedicine market.
The report delves into the competitive landscape of the global video telemedicine market. Key players operating in the global video telemedicine market have been identified, and each one of these has been profiled for distinguishing business attributes. Company overview, financial standings, recent developments, and SWOT are some of the attributes of players in the global video telemedicine market that have been profiled in this report.
Key Questions Answered in Video Telemedicine Market Report
What is the scope of growth of 4G and 5G in the video telemedicine market?
What will be the Y-o-Y growth of the video telemedicine market between 2020 and 2030?
What is the influence of changing trends in telemedicine on the global video telemedicine market?
Will North America continue to remain the most profitable regional market for video telemedicine providers?
Which factors are anticipated to impede the growth of the global video telemedicine market during the forecast period?
Which are the leading companies in the global video telemedicine market?
Research Methodology
A unique research methodology has been utilized by TMR to conduct comprehensive research on the growth of the global video telemedicine market and arrive at conclusions on its growth prospects. This research methodology is a combination of primary and secondary research, which helps analysts warrant the accuracy and reliability of the drawn conclusions.
Secondary methods referred to by analysts during the production of the global video telemedicine market report include statistics from company annual reports, SEC filings, company websites, investor presentations, regulatory databases, government publications, and industry white papers. Analysts have also interviewed senior managers, product portfolio managers, CEOs, VPs, market intelligence managers, providers, payers, patients, employer groups, and corporate bodies, who contributed to the production of TMR's study on the video telemedicine market as primary methods.
These primary and secondary methods have provided exclusive information during interviews, which serves as a validation from the video telemedicine market leaders. Access to an extensive internal repository and external proprietary databases enabled this report to address specific details and questions about the global video telemedicine market with accuracy. The study also uses the top-down approach to assess the revenue for each segment and the bottom-up approach to counter-validate them. This has helped in reaching TMR's estimates on future prospects of the global video telemedicine market more reliably and accurately.
Video Telemedicine Market – Segmentation
Communication Technology

3G
4G
5G
Asymmetric Digital Subscriber Line (ADSL)
Broadband Integrated Services Digital Network (ISDN)
Satellite Communication

Application

Oncology
Cardiology
Dermatology
Gynecology
Orthopedics
Neurology
Others

Component

Hardware
Software
Services

End User

Hospitals
Clinics
Home Care Services
Others

Region

North America
Europe
Asia Pacific
Latin America
Middle East & Africa
Custom Market Research Services
TMR offers custom market research services that help clients to get information on their business scenario required where syndicated solutions are not enough.
REQUEST CUSTOMIZATION