Underwater Connectors Market
Underwater Connectors Market (Application: Oil & Gas, Military & Defense, Telecommunications, ROVs/AUVs, Oceanographic, and Others; Connection: Electrical, Optical Fiber, and Hybrid; and Type: Rubber Molded, Rigid Shell/Bulkhead, Inductive Coupling, and Fluid Filled Underwater Mateable Connector) – Global Industry Analysis, Size, Share, Growth, Trends, and Forecast 2019 - 2027
Category :

Electronics & Semiconductors

Format :
Underwater Connectors – Key Component in Marine Equipment
As the offshore oil and gas industry and marine markets continue to evolve at a rapid pace, testing and demonstrating surveillance systems such as Permanent Reservoir Monitoring (PRM) systems bring more focus on the technologies required for such systems to perform with high reliability. Several underwater connectors – an important connectivity solution for most marine markets – have been developed over the years, making it easier to manage cable assemblies and conduct offshore testing.
Recent developments influencing subsea systems in general, and underwater connectors in particular, warrant an in-depth understanding and unbiased analysis. Transparency Market Research, in its new offering, draws attention to credible insights on the growth prospects of the underwater connectors market, which can assist stakeholders with value-creation and data-driven decision making.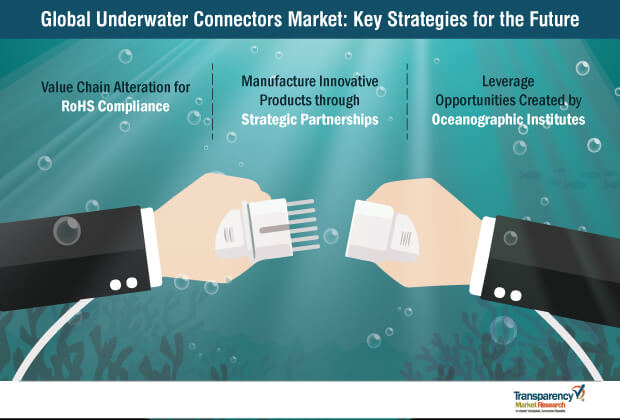 Planning to lay down future strategy? Perfect your plan with our report brochure here
Past, Present, and Future Prospects of the Underwater Connectors Market
Underwater connectors have come a long way since their first use in the 1950s for connecting power cables to facilitate SONAR networks. Developments quickly moved ahead to ensure that underwater connection technologies were ready for the market, and patents began to appear. In 2018, the global sales of underwater connectors were valued at ~ US$ 1.8 Bn, and the establishment of technologically-advanced manufacturing facilities and distribution networks by key players continued to facilitate market growth.
Underwater connectors have enabled significant progress in the modularization of multiple systems in oil & gas, defense, and oceanographic industries. However, incorrect metal selection and installation could lead to connector corrosion, which continues to challenge manufacturers. Their capabilities have also been put to test, as certain limitations in the life cycle and design range of underwater connectors could result in operational challenges.
Trends Reforming the Underwater Connectors Landscape
The demand for underwater connectors is based on the growing dependence of subsea equipment - ranging from simple sonar to wave energy converters - on connectors for use, deployment, and maintenance. While the industry-wide prevalence of rubber molded connectors continues to influence growth strategies, manufacturers are focusing on boosting the production of underwater connectors based on inductive coupling to capitalize on data transfer-based applications and telecommunication industry. In addition, product development and innovation strategies are highly influenced by specific requirements for military systems and equipment.
With fiber optic cables replacing copper cables in the transatlantic subsea transmission conduits, product penetration – as far as underwater or subsea optical fiber connections are concerned – is likely to grow. TMR's study also finds that, increasing investments in deep submergence science and research projects to collect and comprehend critical information about the ocean ecology will create potential business opportunities for the manufacturers of underwater connectors.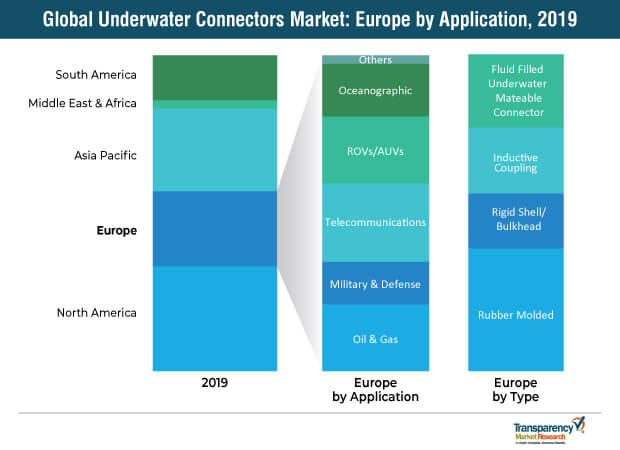 Want to know the obstructions to your company's growth in future? Request a PDF sample here
Product Innovation and Development – Key Strategies
As the demand for rubber molded underwater connectors persists across a wide range of industry verticals due to their cost-effectiveness, much focus is placed on their development and new launches. Suitable for underwater lights and cameras, ROV systems, diver communication, and towed-array cable systems, rubber molded connectors have also witnessed relatively high innovations and investments. These factors played an important role in SEACON's decision to launch rubber-molded connectors that can be used for all types of underwater applications. Further, in May 2019, Hydro Group plc launched a new range of rubber-molded subsea connectors with five variants, which are suitable for a wide array of seawater as well as freshwater applications. Such strategic moves are likely to influence other stakeholders to follow suit and invest in product innovation.
Considering the increasing stringency of RoHS (Restriction of Hazardous Substances), which impacts electronic products and equipment, underwater connector manufacturers are focusing on manufacturing products that are lead-free and fully compliant with RoHS industry standards. For instance, in 2018, SEACON announced that all TE Connectivity MOG (Marine, Oil & Gas) Rubber Molded Series will be manufactured complying with RoHS guidelines and requirements.
Marine products that demonstrate high performance under extreme temperature and pressure have been observing significant demand. Therefore, a number of underwater connector manufacturers are launching new precision testing capabilities for deep submergence connectors and cable assemblies used in high-depth pressure. For example, BIRNS, Inc.'s new test system allows more than 48 hours continuous testing of cable assemblies and connectors at 6 km depth in a controlled environment.
The Competitive Landscape
The underwater connectors market shows a fair level of consolidation, with Eaton Corporation, LEMO, Souriau, Teledyne Marine, and SEACON operating as the leading players in this market space. It is also imperative to note that, the threat of new entrants and substitutes prevail in the underwater connectors market.
Considering the nature of the product, high performance and quality continue to be influencing factors. In addition to robust product innovations, key manufacturers are focusing on expanding their businesses through strategic collaborations with other companies. For instance, in 2018, Eaton Corporation entered into a partnership with Aberdeen-based Subsea Supplies to manufacture products, especially connectors and cable assemblies, using its internationally-recognized – Burton Subsea Product Line.
Delivering their products through a wide network of distributors across multiple regions also remains a key focus area of manufacturers. Further, to expand their targeted customer base, many market players are focusing on improving their advertorial strategies and showcasing their products at trade shows and events to create brand awareness.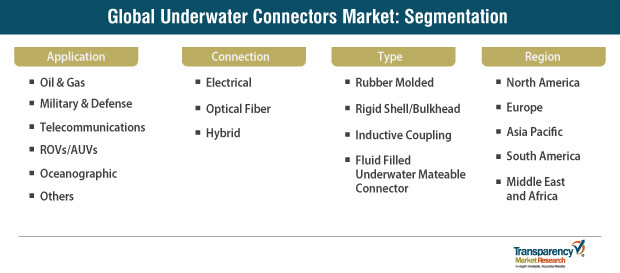 Looking for exclusive market insights from business experts? Request a Custom Report here
The Analyst Viewpoint
Report authors predict that the underwater connectors market will continue to witness steady growth, registering a CARG of ~ 4% during the forecast period. Sensing the drawbacks pertaining to rigid shell underwater connectors, manufacturers will need to increase their efforts to resolve issues such as high corrosion. According to the analysts, manufacturers should focus on leveraging opportunities created by 'the blue economy', not only to expand their business capabilities but also to align with recent trends such as sustainability. Further, collaborating with oceanographic research institutes to understand their specific requirements will also improve profitability.
According to Transparency Market Research's latest research report on the global underwater connectors market for the historical period of 2014–2018 and the forecast period of 2019–2027, the global underwater connectors market is expected to be driven by the rising trend of fish farming, worldwide, and increasing oil and gas exploration activities during the forecast period.
In terms of revenue, the global underwater connectors market is estimated to reach a value of ~ US$ 1.8 Bn by 2019, and is expected to expand at a CAGR of ~ 4% throughout the forecast period.
Increasing Oil & Gas Exploration Activities Worldwide: A Key Driver
Energy demand is on the rise across the world, with the constant economic growth of several countries, worldwide. In order to fill the gap between demand and supply, companies are engaging in oil and gas exploration activities across several countries.
North America, Europe, and the Middle East have witnessed remarkable increase in offshore oil & gas exploration activities, which has led to a rise in the demand for underwater connectors that enable the efficient working of various subsea systems.
Oil exploration involves a significant amount of power and data transmission from under the water to the shore. Underwater connectors are manufactured to withstand the harsh underwater environment. They help in data and power transmission via fiber optic or electric cables.
Moreover, underwater connectors provide high level of connectivity to achieve high performance in oil & gas exploration. Additionally, they are used in inspection and surveying systems to attain superior performance at a high sea depth. They also resist high pressure, seismic risks, and harsh environments, which are required in case of oil and gas exploration.
Novel Product Development the Latest Trend being Adopted by Key Market Players
The global underwater connectors market is expanding continuously, with the increasing number of applications that require underwater connectors. Furthermore, the market is highly competitive, with several players providing underwater connectors all over the world.
Several well-established and emerging players that design and manufacture underwater connectors are trying to compete with one another to gain a higher market share. Additionally, these players are innovating new underwater connectors with a variety of features to attract more customers.

For instance, in May 2019, Hydra Group Plc., a designer and manufacturer of underwater connectors, launched new rubber-molded subsea connectors.
Drawbacks of Rigid-shell Underwater Connectors and Limitations of Certain Types of Underwater Connectors to Pose a Major Challenge for Underwater Connectors Market
In spite of the optimistic viewpoint about the benefits of underwater connectors across the world, some types of connectors have certain limitations. This restrains the global underwater connectors market.
Rigid-shell underwater connectors provide significant stability and strength, and they are capable of performing well even in harsh environments. Furthermore, they can be used across various industry verticals. However, a key issue with rigid-shell connectors is variation in the pressure between the inner surface and the outer surface of the shell. This pressure variation can result in early breaking.
Moreover, rigid-shell underwater connectors are susceptible to high corrosion, which affects their performance in various offshore applications.
Furthermore, inductive-coupling underwater connectors have certain limitations, as they are generally used in the low-power scenario and largely used for data transfer applications, worldwide.
Global Underwater Connectors Market: Competition Landscape
Detailed profiles of the manufacturers of underwater connectors have been provided in the report to evaluate their financials, key product offerings, recent developments, and strategies.
Key players operating in the global underwater connectors market
Eaton Corporation
LEMO, Souriau
Teledyne Marine
SEACON
BIRNS AQUAMATE LLC
BIRNS, Inc.
Fischer Connectors SA
Hydro Group Plc.
Marshall Underwater Industries, Inc
Global Underwater Connectors Market: Key Developments
Key players operating in the global underwater connectors market are focusing on strategic collaborations with well-established players for product innovations. Some other key developments pertaining to the underwater connectors market are as follows:
In 2018, Souriau launched a novel underwater connector called SWIM, which is designed for use in marine applications with a depth of 300 meters. Furthermore, SWIM is used in multiple applications such as oil exploration, maritime surveillance, commercial diving, and weather buoys.
In 2018, Eaton Corporation partnered with Subsea Supplies, a supplier of connectors, tethers, submersible motors, etc. With this partnership, the former has granted a license to the latter to manufacture products by using its Burton subsea product line.
In the global underwater connectors market report, we have discussed the individual strategies of manufacturers of underwater connectors, followed by their company profiles. The 'Competitive Landscape' section is included in the report to provide readers with a dashboard view and the company market share analysis of key players operating in the global underwater connectors market.
Underwater Connectors Market – Thorough Analysis and Opportunity Assessment
Transparency Market Research (TMR), in its new publication, provides detailed analysis on various aspects and nuances of the 'Underwater Connectors Market' for the period between 2019 and 2027. The study includes comprehensive insights on the impact of the historical and current trends on the future development of the underwater connectors market.
TMR's report details drivers, restraints, opportunities, and challenges in the underwater connectors market, which can arm stakeholders with necessary information to enhance their decision-making and build effective growth strategies. The study also covers a key indicator assessment to define the potential growth prospects of the underwater connectors market, along with forecast statistics in terms of value (US$ million) and volume (thousand units).
In the report, readers can avail a detailed taxonomy and forecast statistics of the underwater connectors market, along with an elaborate analysis of the competitive landscape. The report profiles a list of leading companies and new entrants in the underwater connectors market, and provides all-inclusive information regarding the product portfolios, new innovations and launches, and business development strategies of these market players.
What are the Key Questions Answered in the Underwater Connectors Market Report?
TMR's study analyzes the underwater connectors market at macroscopic and microscopic levels to gain deeper understanding of the market and provide exclusive data on its future prospects. Detailed information featured in the report answers several key questions for companies operating in the underwater connectors market to take critical decisions with clarity.
What are the key changes in the dynamics and developments of the underwater connectors market?
Which segments of the underwater connectors market are expected to grow at a faster rate during the forecast period?
What are the changing customer demands in the underwater connectors market?
What are the development risks and competitive threats faced by key players in the underwater connectors market?
Which industrial trends and challenges are manipulating the growth of the underwater connectors market?
What are the important strategies adopted by key players to strengthen their position in the market?
What are the key outcomes of five forces analysis of the underwater connectors market?
Research Methodology
Report authors adopted a unique approach and two-step research methodology to conduct an in-depth analysis of the underwater connectors market and reach conclusions about market size-related information. Industry-validated insights obtained from secondary resources were verified through primary resources to obtain exclusive data on how the underwater connectors market will grow and expand during the forecast period.
For the primary phase, analysts have conducted interviews and discussions with C-level executives, key opinion leaders, regional officers, product managers, brand managers, and marketing managers of companies in the supply chain of the underwater connectors market. Information gathered through these interviews have contributed to the development of the report.
Secondary resources referred to by the analysts for the report compilation are company annual and financial reports, research publications, white papers and industry association publications. Other resources include National Marine Electronics Association (NMEA), International Marine Electronics Alliance, British Marine Electrical & Electronics Association, and CIRM.
Underwater Connectors Market – Segmentation
TMR's study provides a segment-wise analysis of the underwater connectors market on the basis of application, connection, type, and region. Key information provided in this section of the report includes pricing analysis, y-o-y growth analysis, and market value share analysis of each segment across different geographical regions. The study also assesses how different dynamics and trends associated with each segment will impact the growth of the underwater connectors market.
Application

Oil & Gas

Military & Defense

Telecommunications

ROVs/AUVs

Oceanographic

Others

Connection

Electrical

Optical Fiber

Hybrid

Type

Rubber Molded

Rigid Shell/Bulkhead

Inductive Coupling

Fluid Filled Underwater Mateable Connector

Region

North America

Europe

Asia Pacific

Middle East & Africa

South America
Custom Market Research Services
TMR offers custom market research services that help clients to get information on their business scenario required where syndicated solutions are not enough.
REQUEST CUSTOMIZATION

Underwater Connectors Systems Market