Tumor Ablation Market
Tumor Ablation Market - Global Industry Analysis, Size, Share, Growth, Trends, and Forecast 2017 – 2024
Healthcare
TMRGL18656
2018-03-22
165

Pages
The current Covid-19 pandemic has considerably influenced the microeconomic environments of several industries around the world to varying degrees. Tumor ablation market's contours have heavily relied on the dynamics of the laboratory equipment market. Regulatory agencies, notably the WHO, are striving to bridge any scarcity of lab equipment so as not to hinder research and development activities. With the support of governments in various countries, they are coming with policy frameworks that support the healthcare sector in these difficult times of Covid-19. This will also have a profound effect on the growth of the tumor ablation market.
Several new, improved ablation techniques and staging systems have propelled the strides in the tumor ablation market. The growing preference of image-guided percutaneous ablation therapies over invasive surgeries is one of the key trends in the tumor ablation market. A promising application in the therapeutics is use of the modalities in hepatocellular carcinoma (HCC), one of the most common liver malignancies. The need for early staging of HCC is one of the accelerators of technological advances in the modalities such as the advent of high-end image-guided tumor ablation therapies. These trends have been supported by concomitant progress in diagnostic imaging and contrast agents. There is a need for detecting difficult to-detect HCC lesions. Advances in magnetic resonance imaging (MRI) and computed tomography (CT) techniques also play a role. This has helped in the prognosis of HCC. This has spurred the demand for RF ablations. Another area attracting research interest is MW ablation where a number of ex vivo and in vivo studies have been conducted. These have been looking at the underlying biological mechanisms. Real-time CT/MRI systems will expand the avenue for treatment avenues where tumor ablation is used. Another area which is gathering some traction is the use of devices in targeted drug research and gene therapy studies.
Global Tumor Ablation Market: Snapshot
The market is anticipated to exhibit an exponential growth in the years to come. Rapid adoption of new type of treatment to fight cancer with better efficiency of tumor ablation against traditional therapies is favoring the tumor ablation market. Apart from this, increasing public awareness programs in order to detect cancer at a very first step along with funds provided by government of various countries for cancer research, particularly in developed countries is stoking the tumor ablation market.
However, it has been noticed that the exorbitant cost of tumor ablation techniques coupled with constraint subsidy scenarios is deterring the growth of the global tumor ablation market.
The global tumor ablation market, riding on multiple benefits is prognosticated to expand at 12.2% of CAGR during the forecast period 2017 – 2024.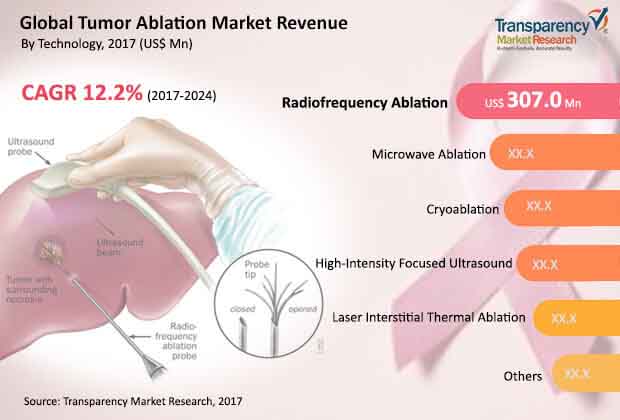 Rising Case of Liver Cancer to Augment Radiofrequency Technology
The global tumor ablation market is classified on the basis of disease indication, technology, geography, and end user. On the basis of technology, the market is segregated into high-intensity focused ultrasound, radiofrequency ablation, microwave ablation, laser interstitial thermal, cryoablation, and others. Amongst them microwave ablation is the most popularized technology among the healthcare sector. Minimal side effects and less duration of therapy has made microwave ablation more favored technology. Cryoablation technology is the second most used technology after cryoablation. However, it has been noticed radiofrequency ablation technology is at present leading the market owing to the prolonged rise in liver cancer cases among population all over the world. Radiofrequency ablation technology held a whopping 35.6% of the market share in recent years.
On the basis of disease the, the global tumor ablation market is bifurcated into lung cancer, kidney cancer, breast cancer, bone cancer, prostate cancer, liver cancer, and others. Out of these, case of lung cancer is likely to grow at a staggering rate owing to rise in pollution and cigarette smoking level. It is predicted that this segment is likely to be valued at US$373.7mn by the end of the forecasts period. However, on the flip side, liver cancer registered 23.8% share in the overall market. According to WHO, in 2012, liver cancer became the primary reason of death for 745000 individual worldwide.
On the basis of end user, the global tumor ablation market can be split into cancer specialty clinics, hospitals, and others. Hospitals is known to record the highest number of footfalls owing to rising practices of visiting hospitals for well-being, coupled with presence of advanced facilities in hospitals. On the other hand, cancer specialty clinics is expected to beat hospitals on the base of growth rate due to rising preference towards cancer specialty clinics.
Rising Disposable Income to Catapult Asia Pacific Market
On the basis of geography, the market is segregated into Asia Pacific, Middle East and Africa, Latin America, Europe, and North America. Contribution by the U.S made North America to hold a staggering 34% of share in the overall market in recent years. Advanced healthcare facilities along with substantial awareness regarding the upcoming technologies for cancer has helped the market to grow in the region.
However, in coming years, Asia Pacific due to rapid urbanization, expansion of healthcare facilities, accompanied with rising disposable income is likely to provide better opportunities to the players in the market.
Some of the major players in the market are BVM Medical Limited, Sonacare Medical LLC, BTG Internation LET., and Medtronic plc.
Global Tumor Ablation Market: Overview
The research report on the global tumor ablation market is a valuable guide for its many offerings. It analyzes the tumor ablation market for the forecast period between 2017 and 2024 both regionally and globally. The report looks into each and every aspect that could influence the growth of the said market between 2017 and 2024.
The report discusses vital market indicators such as growth trends and demand drivers at length. Going ahead, key segments under each category are discussed at length in this report. This includes market share and revenue contribution estimations of key segments between 2017 and 2024 considering 2016 as the base year. Market share values and revenue contribution of key segments are also provided for 2015 for reference.
The report begins with an extensive executive summary covering terms and terminologies, conventions, and notations generally relevant for medical devices industry. Industry statutes and industry policies that players in this market need to adhere to are included in this section. The executive summary section serves to provide the gist of the entire report. The section provides a snapshot of market attractiveness that market stakeholders can leverage to ascertain growth spaces.
Going ahead, the report discusses value chain and market dynamics. This includes valuable insights into demand-supply dynamics and qualitative insights on industry value chain. The analysis presented for each aspect is supported by proper logic. The section concludes with a bird's eye view of competitive outlook throwing light on feasibility and profitability of new investments between 2017 and 2024.
Global Tumor Ablation Market: Research Methodology
The making of the report involved an extensive research phase. Analysts employed industry-best analytical tools and proven research methodologies to chart the growth trajectory of the tumor ablation market between for the aforementioned forecast period. The research phase comprises both secondary and primary research. Primary research constituted the greater portion of research phase, which involved e-mail interactions, face-to-face interviews, and telephonic interviews to obtain valuable inputs on each category, segment, and sub-segment across geographies. Primary research phase typically involves reaching out but is not limited to industry participants such as CEOs, marketing/product managers, VPs, market intelligence managers, national sales managers, etc. Outside experts reached out during primary research phase include investment bankers, research analysts, and valuation experts.
Secondary research phase involves tapping into industry-centric databases such as company websites, annual reports, investor presentations, stock analysis, government websites, online paid databases, and national and international databases.
Employing multi-dimensional approach, the report evaluates embryonic growth of key regional markets. This helps to comprehend key growth trends to come to the fore in the tumor ablation market in the near future. The report projections provided in (US$ Mn) can help market stakeholders gauge growth opportunities that they can look up to.
Global Tumor Ablation Market: Competitive Dashboard
The report provides a detailed competitive dashboard of the tumor ablation market. The section mentions and profiles key companies that have significant presence in the tumor ablation market. Each of the companies is profiled for their business attributes of company overview, product portfolio, recent advancements, and long-term and short-term growth objectives. The competition matrix provided in this report is likely to aid market stakeholders formulate growth strategies.
Custom Market Research Services
TMR offers custom market research services that help clients to get information on their business scenario required where syndicated solutions are not enough.
REQUEST CUSTOMIZATION