Thermochromic Materials Market
Thermochromic Materials Market (Type - Reversible and Irreversible) - Global Industry Analysis, Size, Share, Growth, Trends and Forecast 2017 - 2025
Category :

Chemicals & Materials

Format :
Global Thermochromic Materials Market: Snapshot
The global thermochromic materials market is prognosticated to be driven by the rising demand for innovation and development of products that utilize the color-changing abilities of substances due to changes in temperature. There are anticipated to be a plethora of functional and recreation applications of the property found in these materials. Liquid crystals (LC) and leuco dyes are the primary substances used in this industry. The thyemrochromic materials are increasingly used in the production of coatings, inks, polymers, and paper sheets, to manufacture products, which could offer convenience and amusement to consumers. A good example is a forehead strip thermometer that utilizes printed liquid crystals, which change color indicate body temperature during medical procedures such as surgery.
While having a number of applications, thermochromic substances are known to degrade in the presence of ultraviolet (UV) rays. They are priced higher than traditional ink owing to their complicated manufacture process. Nonetheless, due to rising demand from smart textile sector, such as color changing table cloths on contact with hot items, ski apparels and chairs indicating the position of last user, may aid in overcoming the minor challenges faced by the market.
The worldwide thermochromic materials market is expected to exhibit a 9.3% CAGR between 2017 and 2025. The market, which stood at an estimate of US$0.998 bn in 2016, is prognosticated to achieve market value up to US$2.174 bn by the end of the forecast period.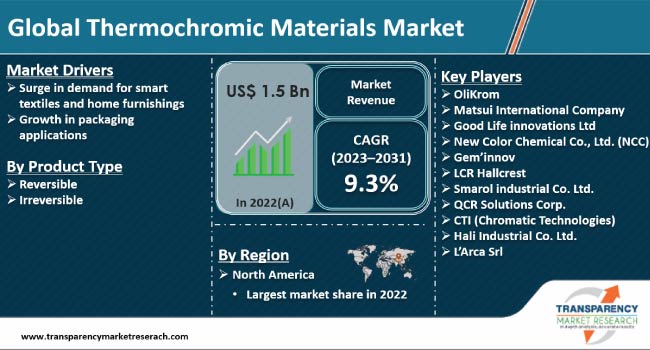 Smart Packaging and Textiles to Lead to Higher Market Demand
On the basis of product type, the global tehrmochromic materials market is classified into reversible and irreversible materials. Of these, the segment of reversible thermochromic materials dominate the industry, accounting to about sixty percent of the market share. They are known to be used in baby diapers, textiles, bath toys, and battery gauges. Reversible thermochromic materials do not possess the ability to return to their original state, and hence are not preferred over reversible materials.
Thermochromic substances are also witnessing rising use in security or camouflaging applications, and sensors for functional operations. They are printed on plastic films over conventional dyes due to their consistency and longevity. The advances in technological innovations have led to the introduction of energy management films, OLED devices and flexible electronics. The thermochromic materials find applications in these sectors as well and these factors are also responsible for proving an impetus to the market growth.
North America Predicted to Be Leading Region On Account of Expanding Packaging Market
North America is predicted to witness high demand for the thermochromic materials, which could be driven by the rising interest for use of pigments in printing. Thermochromic pigments usage in inks for screen printing and flexographic printing is foretold to be a primary factor for the market upswing in the region, along with applications in packaging. Europe is predicted to be a significant region in terms of market revenue owing to growing use of smart textiles and packaging materials. Germany and France are slated to be the fundamental contributors toward this growth.
However, in terms of growth rate, Asia Pacific is prognosticate to be the rapidest growing region for the thermochromic materials market. The advances in awareness of the applications of the materials in textiles, footwear, decoratives, and consumables is to be charged to be the factors behind the motivating the market, with Japan and China being the focal points of the driving forces.
The leading players of the international market for thermochromic materials are New Color Chemical Co., QCR Solutions, OilKrom, Hali Industrial Co. Ltd., and LCR Hallcrest.
Global Thermochromic Materials Market: Overview
Thermochromic materials are materials which can change its original color when exposed to temperature. These type of materials are used in various temperature sensing or indicating applications such as in baby spoons, decorative items, packaging for food & beverages, labelling, in textile as aesthetic appearances and other consumer goods. Thermo chromic materials are majorly comes under two types: Reversible and Irreversible.
This report provides detailed analysis and forecast of the thermochromic materials market on a global and regional level from 2017 to 2025. On the global level, the market has been segmented based on volume (Tons) and revenue (US$ Mn) from 2017 to 2025.Demand for thermochromic materials has been forecast in terms of volume (Tons) and revenue (US$ Mn) from 2017 to 2025 to provide in-depth understanding of the market at the regional level. The report includes drivers and restraints coupled with their impact on the market growth during the forecast period. Furthermore, the study encompasses various opportunities for growth of the market at the global and regional and country level.
The report thoroughly analyzes the value chain to provide detailed understanding of the market. Additionally, it covers Porter's Five Forces Model, which offers an insight into the intensity of competition in the market. The study also comprises market attractiveness analysis, wherein various types are benchmarked based on their market size, growth rate, and general attractiveness.
Global Thermochromic Materials Market: Research Methodology
We conducted in-depth interviews and discussions with numerous key industry participants and opinion leaders for the research report. Primary research represents the bulk of our research efforts coupled with extensive secondary research. We reviewed key players' annual reports, product portfolio, press releases, and relevant documents for competitive analysis and better understanding of the market. Secondary research includes in-depth research on current trends, technical writing, recent trade, Internet sources, and statistical data from government websites as well as associated and authorized agency websites. This proved to be the most successful, effective, and reliable approach for obtaining concise data, capturing industry participants' insights, and recognizing opportunities and growth.
Global Thermochromic Materials Market: Market Size and Segmentation
Inflation is not a part of pricing in this report. This report provides the size of the thermochromic materials market for 2016 and forecast for the next eight years. The global market size of thermochromic materials is presented in terms of volume and revenue. Market volume and revenue have been estimated and forecast in Tons and US$ Mn, respectively. Various key technologies and applications are taken into consideration to estimate market numbers.
Market size and forecast for each segment are provided in the context of global and regional markets. The market has been segmented based on various types. Each segment has been analyzed and forecast based on volume (Tons) and revenue (US$ Mn) from 2017 to 2025. Additionally, segments have been analyzed and forecast based on current trends at the global and regional level. Geographically, the market has been segmented into North America, Europe, Asia Pacific, Latin America, and the Middle East & Africa (MEA). Demand has been analyzed and forecast based on current trends for the next eight years.
Global Thermochromic Materials Market: Key Players
The report includes profiles of leading companies such as OliKrom, Matsui International Company, Good Life Innovations Ltd., New Color Chemical Co., Ltd (NCC), Gem'innov, LCR Hallcrest, Smarol Industrial Co. Ltd, QCR Solutions Corp., CTI (Chromatic Technologies), Hali Industrial Co. Ltd., L'Arca Srl.
The report segments the global thermochromic materials market as follows:
Thermochromic Materials Market: Type Analysis
Thermochromic Materials Market: Regional Analysis
North America
Europe

U.K.
Germany
France
Italy
Spain
Rest of Europe

Asia Pacific

China
India
Japan
ASEAN
Rest of Asia Pacific

Latin America

Brazil
Mexico
Rest of Latin America

Middle East & Africa (MEA)

GCC
South Africa
Rest of Middle East & Africa
Custom Market Research Services
TMR offers custom market research services that help clients to get information on their business scenario required where syndicated solutions are not enough.
REQUEST CUSTOMIZATION

Thermochromic Materials Market