Global Textile Chemicals Market: Snapshot
The chemical used for textiles comprise of essential blends such as surfactants, starch, sulfonated oils, oils, and a few surfactants to very particular chemicals, for instance, fire retardants, biocides, and water repelling chemicals. Textile chemicals are a component of basic textile procedures such as formation of yarn, material overlaying and covering, pretreatment of fabric, and textile finishing. The capacity of textile chemicals to make materials more grounded, adaptable, and better that their unique make has collected a decent amount of income for this market. The market is likewise being driven by the advancement of specialized materials that have complex qualities when contrasted with their traditional partners.
The textile chemicals are in immense demand inferable from the colossal manufacture of clothes as well as rising interest for home furniture, floor covers, and specialized textiles internationally. With new and inventive material and textures being produced, the textile chemical producers comprehensively are manufacturing materials for the future textures utilized extraordinarily for therapeutic, construction, and interior materials. With the textile and clothing business holding hands to create and process practical and environmentally sustainable items, the possibilities of bio-based chemicals is gradually rising within the market.
The global market for textile chemicals market that stood at an estimation of US$21.02 bn in 2015 is prognosticated to achieve a value of US29.15 by the end of 2024. At this rate, the market is expected to exhibit a decent 3.7% CAGR over the forecast period, 2016-2024.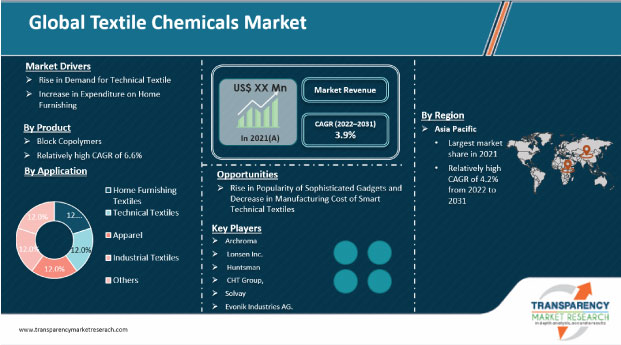 Growth of Residential Spaces Contributes to Growth of Home Furnishings Segment
The segment of home furnishings held a dominant share in the worldwide textile chemicals market in 2015. It represented almost 38.62% of the market in the mentioned year. The perpetual rise of the home interior furnishing business could be on account of the rapid growth of the residential construction in various emerging nations. The developing economies will likewise contribute towards the growing demand for home furniture that will require new developments and additionally revamping the older ones. Over the forecast period, the interest for textile chemicals in this segment is expected to exhibit a 3.1% CAGR. The different products sold under this segment will be window shades, towels, toilet and kitchen linen, coverings, mats, rugs, and textile floors.
In spite of the fact that the development prospects of the worldwide textile chemicals market appear to be highly favorable, the market faces intense difficulties, for instance, increasing pressures from environmentalists over hurtful impacts of textile chemicals on nature. The chemicals utilized for bleaching materials are particularly destructive to human wellbeing. Attributable to these reasons, nations such as Germany and Netherlands have restricted the use of a few textile chemicals.
Increased Urbanization Propels Asia Pacific to Top Market Share Holder
As far as topographical analysis is concerned, Asia Pacific is driving the worldwide textile chemicals market with the largest market share overall. The home interior furnishings section will be the largest end client segment in this region, supplemented by the rise of new construction spaces, rising urbanization and growing expendable salaries to redo residences. The segment of apparels is additionally expected to lead in Asia Pacific, boosting the textile chemicals market with a CAGR of 4.5% over the forecast duration.
Some of the significant players in the worldwide textile chemicals market are The DyStar Group, Archroma, The Dow Chemical Company, Pulcra Chemicals GmbH, Huntsman International LLC, OMNOVA Solutions Inc., and The Lubrizol Corporation. These organizations have a plenty of chances in the worldwide market that is perpetually in need of innovative materials and textiles that take into account the extensive variety of utilizations. Rise of innovative work for presenting eco-accommodating colors and chemicals to add to the nature of the material will give these organizations an edge in the market.
This report analyzes and forecasts the market for textile chemicals at the global and regional level. The market has been forecast based on volume (kilo tons) and revenue (US$ Mn) from 2016 to 2024. The study includes drivers and restraints of the global textile chemicals market. It also covers the impact of these drivers and restraints on demand for textile chemicals during the forecast period. The report also highlights opportunities in the textile chemicals market at the global and regional level.
The report includes detailed value chain analysis, which provides a comprehensive view of the global textile chemicals market. Porter's Five Forces Model for the textile chemicals market has also been included to help understand the competitive landscape. The study encompasses market attractiveness analysis, wherein applications are benchmarked based on market size, growth rate, and general attractiveness.
The study provides a decisive view of the global textile chemicals market by segmenting it in terms of applications. These segments have been analyzed based on present and future trends. Regional segmentation includes current and forecast demand for textile chemicals in North America, Europe, Asia Pacific, Latin America, and Middle East & Africa. The report also covers demand for textile chemicals in application segments in all the regions.
The study includes profiles of major companies operating in the global textile chemicals market. Key players in the textile chemicals market include The DyStar Group, Lonsen Inc., The Dow Chemical Company, Kiri Industries Limited, Huntsman International LLC, Archroma, Solvay SA, Covestro AG, Pulcra Chemicals GmbH, OMNOVA Solutions Inc., and The Lubrizol Corporation. Market players are profiled in terms of attributes such as company overview, financial overview, business strategies, and recent developments.
The report provides the estimated market size of textile chemicals for 2015 and forecast for the next eight years. The global market size of textile chemicals is provided in terms of both volume and revenue. Market numbers are estimated based on applications of textile chemicals. Market size and forecast for each major applications and products are provided in terms of global and regional markets.
In order to compile the research report, we conducted in-depth interviews and discussions with a number of key industry participants and opinion leaders. Primary research represents the bulk of research efforts, supplemented by extensive secondary research. We reviewed key players' product literature, annual reports, press releases, and relevant documents for competitive analysis and market understanding. Secondary research includes a search of recent trade, technical writing, Internet sources, and statistical data from government websites, trade associations, and agencies. This has proven to be the most reliable, effective, and successful approach for obtaining precise market data, capturing industry participants' insights, and recognizing business opportunities.
Secondary research sources that are typically referred to include, but are not limited to company websites, annual reports, financial reports, broker reports, investor presentations, SEC filings, internal and external proprietary databases, and relevant patent and regulatory databases such as ICIS, Hoover's, oneSOURCE, Factiva, and Bloomberg, national government documents, statistical databases, trade journals, market reports, news articles, press releases, and webcasts specific to companies operating in the market.
Primary research involves e-mail interactions, telephonic interviews for each market, category, segment, and sub-segment across geographies. We conduct primary interviews on an ongoing basis with industry participants and commentators to validate data and analysis. Primary interviews provide first-hand information on market size, market trends, growth trends, competitive landscape, outlook, etc. These help validate and strengthen secondary research findings. These also help develop the analysis team's expertise and market understanding.
The report segments the global textile chemicals market as follows:
Textile Chemicals Market - Product Segment Analysis
Coating & Sizing Chemicals
Colorants & Auxiliaries
Finishing Agents
Surfactants
Desizing Agents
Bleaching Agents
Yarn Lubricants
Textile Chemicals Market - Application Analysis
Home Furnishing
Apparel
Industrial & Other
Textile Chemicals Market - Regional Analysis
North America

U.S.
Rest of North America

Europe

France
U.K.
Spain
Germany
Italy
Rest of Europe

Asia Pacific

China
India
ASEAN
Rest of Asia Pacific

Latin America

Brazil
Rest of Latin America

Middle East & Africa (MEA)

GCC
South Africa
Rest of MEA