Higher Affordability of Synthetic Diamonds over Natural Diamonds Increases Sales
The peculiar characteristics of synthetic diamonds such as high mechanical strength and low toxicity have increased its utility across a wide range of industrial applications in the recent years. Currently, synthetic diamonds are used in machinery production, construction, chip production, mining activities, and oil and gas exploration amongst others. The ability of these diamonds to weather harsh conditions is one of the key reasons supporting their growing importance in a wide range of industrial activities. Furthermore, the affordability of synthetic diamonds over naturally mined diamonds has also propelled the sales of the synthetic products.
Analysts predict that the opportunity in the global synthetic diamonds market will be worth US$28.83 bn by 2023 as against US$15.73 bn in 2014. Between 2015 and 2023, the overall market is expected to progress at a CAGR of 7.0%. The demand for synthetic diamonds will also increase due to their increasing adoption in jewelry making. Availability of colorful synthetic diamonds is adding aesthetic value to jewelry as well as improving the affordability of these ornamental items. Currently, synthetic diamonds hold 1% share in the global diamond jewelry market, which is expected to increase due to the increasing research and development to deliver improved products in the near future. However, the time-consuming process of making synthetic diamonds is likely to hamper the growth of this market in the coming years.
Rough Diamond Segment to Continue Leading Global Market
The two types of diamonds available in the global synthetic diamond market are polished and rough. The rough synthetic diamond accounted for a share of 98.8% in the overall market as of 2014, while polished diamond held a meager share of 1.2% in the same year. The demand for polished synthetic diamonds in jewelry will continue to remain sluggish all throughout the forecast period. On the other hand, the rough synthetic diamond segment will surge at an impressive CAGR of 6.8% between 2015 and 2023. The primary growth driver for this segment will be the increasing usage of rough diamonds in sectors such as healthcare, electronics, and construction amongst others.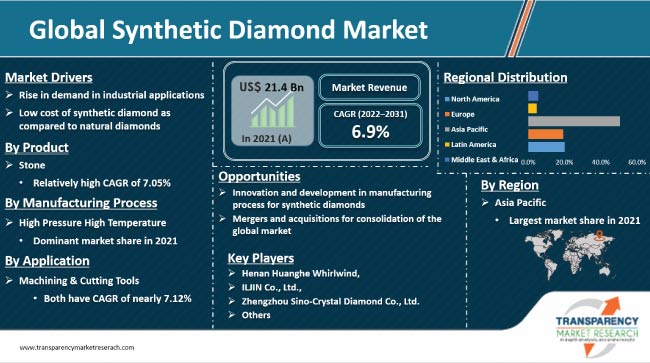 Consistent Industrial Expansion in Asia Pacific Keeps Demand for Synthetic Diamonds High
In terms of revenue, the Asia Pacific synthetic diamond market is expected to expand at a CAGR of 7.7% between 2015 and 2023. The growing demand for jewelry and the increasing usage of synthetic diamonds in making jewelry will be the prime growth driver for this regional market. The robust pace of industrialization and increasing construction activities in Asia Pacific will also be responsible for the growth of this market in this specific region. Additionally, as leading players are setting up manufacturing units in emerging economies of China and India, this move too, will contribute generously towards the progress of this regional market.
The key companies operating in the global synthetic diamond market Applied Diamond Inc., Pure Grown Diamonds, Element Six, New Diamond Technology, LLC, Scio Diamond Technology Corporation, Washington Diamonds Corporation, and ILJIN. The consolidated competitive landscape of this market is being led by forward integration of business by top players. In the coming years, overcoming the challenge of manufacturing large-sized synthetic diamonds with desired specific will prove to be a game-changer for the players.
This report analyzes and forecasts the market for synthetic diamond at the global and regional level. The market has been forecast based on volume (million carats) and revenue (US$ Mn) from 2015 to 2023. The study includes drivers and restraints of the global synthetic diamond market. It also covers the impact of these drivers and restraints on demand for synthetic diamond during the forecast period. The report also highlights opportunities in the synthetic diamond market at the global and regional level.
The report includes a detailed value chain analysis, which provides a comprehensive view of the global synthetic diamond market. Porter's Five Forces Model for the synthetic diamond market has also been included to help understand the competitive landscape in the market. The study encompasses market attractiveness analysis, wherein end-users are benchmarked based on market size, growth rate, and general attractiveness.
The study provides a decisive view of the global synthetic diamond market by segmenting it in terms of products, type, manufacturing process, and end-users. These segments have been analyzed based on present and future trends. Regional segmentation includes current and forecast demand for North America, Europe, Asia Pacific, Latin America, and Middle East & Africa. The report also covers demand for individual products, type, manufacturing process, and end-user segments in all regions.
The study includes profiles of major companies operating in the global synthetic diamond market. Key players profiled in the report include Element Six, Applied Diamond Inc., Scio Diamond Technology Corporation, Tomei Diamond Co., Ltd., Pure Grown Diamonds, New Diamond Technology, LLC, Washington Diamonds Corporation, Centaurus Technologies, Inc., Crystallume, Sandvik AB, and ILJIN. Market players are profiled in terms of attributes such as company overview, financial overview, business strategies, and recent developments.
The report provides the estimated market size of synthetic diamond for 2015 and forecast for the next eight years. The global market size of synthetic diamond is provided in terms of both volume and revenue. Market volume is defined in million carats, while market revenue is in US$ Mn. Market numbers are estimated based on key products, type, manufacturing process, and end-users of synthetic diamond. Market size and forecast for each major product, type, manufacturing process, and end-users are provided in terms of global and regional markets.
In order to compile the research report, we conducted in-depth interviews and discussions with a number of key industry participants and opinion leaders. Primary research represents the bulk of research efforts, supplemented by extensive secondary research. We reviewed key players' product literature, annual reports, press releases, and relevant documents for competitive analysis and market understanding. Secondary research includes a search of recent trade, technical writing, Internet sources, and statistical data from government websites, trade associations, and agencies. This has proven to be the most reliable, effective, and successful approach for obtaining precise market data, capturing industry participants' insights, and recognizing business opportunities.
Secondary research sources that are typically referred to include, but are not limited to company websites, annual reports, financial reports, broker reports, investor presentations, SEC filings, Plastemart magazine, TPE magazine, internal and external proprietary databases, and relevant patent and regulatory databases such as ICIS, Hoover's, oneSOURCE, Factiva, and Bloomberg, national government documents, statistical databases, trade journals, market reports, news articles, press releases, and webcasts specific to companies operating in the market.
Primary research involves e-mail interactions, telephonic interviews, and face-to-face interviews for each market, category, segment, and sub-segment across geographies. We conduct primary interviews on an ongoing basis with industry participants and commentators to validate data and analysis. Primary interviews provide first-hand information on market size, market trends, growth trends, competitive landscape, outlook, etc. These help validate and strengthen secondary research findings. These also help develop the analysis team's expertise and market understanding.
The report segments the global synthetic diamond market as follows:
Synthetic Diamond Market: Manufacturing Process Analysis
High Pressure High Temperature (HPHT)
Chemical Vapor Deposition (CVD)
Synthetic Diamond Market: Type Analysis
Synthetic Diamond Market: Product Segment Analysis
Bort
Dust
Grit
Powder
Stone
Synthetic Diamond Market: End-user Analysis
Construction and Mining
Electronics
Jewelry
Healthcare
Others
Synthetic Diamond Market: Regional Analysis
North America

U.S.
Rest of North America

Europe

France
U.K.
Spain
Germany
Italy
Rest of Europe

Asia Pacific

China
Japan
ASEAN
Rest of Asia Pacific

Latin America

Brazil
Rest of Latin America

Middle East & Africa (MEA)

GCC
South Africa
Rest of MEA