Soft Tissue Market
Soft Tissue Market (Product Type: Cartilage Allografts, Tendon Allografts, Meniscus, Ligament Allografts, Artificial Cornea, Dental Allografts, Collagen Allografts, and Amniotic Allografts; and End User: Hospitals, Orthopedic Clinics, and Others) - Global Industry Analysis, Size, Share, Growth, Trends, and Forecast, 2021-2031
Category :

Healthcare

Format :
Optimized Manufacturing Protocols Being Considered by Stakeholders during COVID-19 Outbreak
The logistical considerations surrounding COVID-19 testing has become a part of the weekly routine for orthopedic surgeons. Although it is rare for patients to become COVID-19 positive, owing to scheduled osteochondral allograft (OCA) or the second stage of autologous chondrocyte implantation (ACI), it poses a problem when considering delivery of the expensive tissues. Mass vaccination drives are anticipated to reduce the burden of logistical and other regulatory restrictions.
Preventive measures, optimized manufacturing protocols, and post-graft release management options are growing popular in the soft tissue market. Stakeholders in the soft tissue market are increasing their communication between the surgical team and graft providers as a part of their optimized manufacturing protocols. Safe return of grafts, alternative options before wasting graft, and knowledge of liability for cost of grafts are being taken into consideration.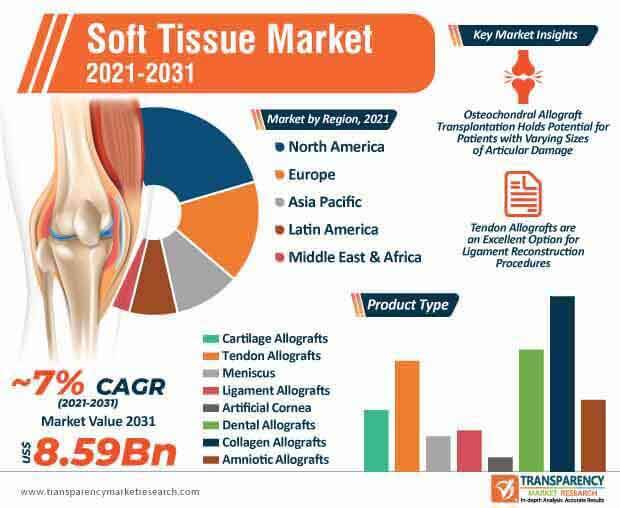 Request a sample to get extensive insights into the Soft Tissue Market
Companies Diverting Production Activities toward Artificial Scaffolds Due to Allograft Limitations
Allografts and xenografts are overcoming the limitations of autografts where the latter is subject to limited availability and donor-site morbidity. However, even allografts are prone to trigger immune rejection and disease transmission. Moreover, their osteoinductive potential is frequently impaired due to disruptive processing. Hence, companies in the soft tissue market are now increasing their research in alternative approaches with the help of artificial scaffolds that are specifically-designed to maintain physical integrity and promote bone ingrowth at the defect site.
Despite promising results in research for smart formulations to support improved control over growth factor release to bone regeneration sites, several of these ambitious materials are found to be limited only up to the animal study stage. As such, most of the activated devices that are being commercialized in clinics are based in allografts or collagen/tricalcium phosphate scaffolds. This is evident since collagen allografts are predicted to dominate the highest revenue share among all product types in the market during the assessment period.
To understand how our report can bring difference to your business strategy, Ask for a brochure
Digital Technologies Augmenting Adoption of Custom 3D Bone Allografts
The soft tissue market is expected to reach US$ 8.6 Bn by 2031. The custom 3D bone allograft block fabrication is a fast growing phenomenon in the market, as the digital technology has drastically improved all areas of modern medicine and will continue to do so in the upcoming decade. Growing demand for accurate treatment planning, decline in patient chair-side time, and greater surgical accuracy have fueled the demand for custom 3D bone allografts in the modern implant dentistry. Companies in the soft tissue market are taking advantage of such developments to gain a strong research base in platelet-rich fibrin (PRF), which is being favored in regenerative dentistry.
Bone & BTB Tendon Allografts Help Deliver Ligament Reconstructions
Tendon allografts hold promising potentials in ligament reconstruction procedures. Companies in the soft tissue market are increasing their production capacities in tendon allografts, since they simplify the surgical technique by negating the need to harvest autograft, whilst eliminating issues associated with donor site morbidity. Allograft tissue specialists, Hospital Innovations, are building their product portfolio in bone & BTB (bone–patellar tendon–bone) tendon allografts that help to accommodate multiple techniques and fixation options in primary & revision ligament reconstructions.
Manufacturers in the soft tissue market are also innovating in non-bone tendon allografts that are an excellent alternative to autograft for any ligament reconstruction procedure. High quality non-bone tendon allografts have the ability to accurately size match and allows the surgeon with flexibility to perform a variety of surgical techniques.
Dehydrated Amniotic Membrane Sheets Pose Benefits in Regenerative Medicine
Apart from tendon and collagen allografts, companies in the soft tissue market are innovating in amniotic allografts. Surgenex® is gaining recognition as a producer and distributor of the highest quality of amniotic membrane tissue allograft in the healthcare industry. Manufacturers are taking cues from such innovations to increase the availability of amniotic allografts that are lightweight and flexible. This helps to provide a protective covering, offer ease of use, and reduce bulk at the site.
Unparalleled quality standards and serological testing are helping manufacturers in the soft tissue market to gain the FDA approval for products. Manufacturers are adopting processes that extract the membrane from the placental tissue, leaving only the amniotic membrane layer, which is dehydrated into a sheet-like product. Immunological properties in amniotic membranes help to offer benefits in regenerative medicine.
Regenerative Biomimetic Grafts Useful for Osteochondral Lesions in Outpatient Settings
Osteochondral lesions are a tear or a fracture that involve damage to both the cartilage and underlying bone. Locate Bio - an orthobiologics-focused regenerative medicine company, has received the Breakthrough Device Designation from the U.S. FDA (Food and Drug Administration) for its biomimetic graft Chondro3 meant for osteochondral lesions.
The increasing number of knee arthroscopies performed in the U.S. each year involves a chondral lesion, which is translating into revenue opportunities for manufacturers in the global soft tissue market. Regenerative biomimetic grafts are being designed to address this growing unmet clinical need. Proprietary designs involving three-layered collagen-based biodegradable matrix that can be delivered in a single procedure are being preferred by clinicians. Manufacturers are increasing the availability of affordable biomimetic grafts that can be useful in outpatient settings.
Increase in Production of New Cellular, Tissue Allografts for Healing of Burns
Companies in the soft tissue market are bolstering their output capabilities in innovative cellular and tissue allografts to help surgeons heal their patients. AlloSource® - an allografts provider in the U.S. has announced that it is naming its new cellular and tissue allografts under the new brand AlloConnex™.
Tendon and ligament transplantation is being carried out through skilled hands of surgeons. Manufacturers in the soft tissue market are building their portfolio in tendon and ligament allografts to support a multitude of procedures that surgeons perform to connect patients back to their active lifestyles. They are increasing the availability of single strand, double strand double bundle, and pre-shaped configurations in tendon and ligament allografts that help to heal severe burns.
Stuck in a neck-to-neck competition with other brands? Request a custom report on Soft Tissue Market
Analysts' Viewpoint

The optimization of the logistical aspects of autologous cultured chondrocytes on porcine collagen membrane (MACI) and osteochondral allograft (OCA) surgery is becoming paramount amid the COVID-19 outbreak to avoid graft wastage. Implant surgeons are adopting custom printing 3D surgical guides in-office, following a plethora of growing courses available on the topic. The soft tissue market is slated to clock a favorable CAGR of ~7% during the forecast period. However, raw materials for tissue grafts require extensive screening to reduce the risk of disease transmission. Thus, to achieve this, stakeholders should process materials under strict cGMP (Current Good Manufacturing Practice) or ISO standards to ensure the safety, reproducibility, and scalability of the process.
Soft Tissue Market: Overview
Soft tissue connects, surrounds, or supports internal organs and bones, and includes muscle, tendons, ligaments, fat, fibrous tissue, lymph & blood vessels, fasciae, and synovial membranes
Soft tissue allografts are substitute tissues used for reconstruction of deficient ligaments, torn menisci, spinal surgery, and osteochondral defects during knee surgery. Soft tissue is also used for wound care, dental surgery, aesthetics, etc.
Increase in clinical application in medical procedures & sports injuries and rise in prevalence of degenerative joint diseases are projected to drive the global soft tissue market
Clinical application of soft tissue in medical procedures and sports injuries is gradually increasing across the globe. Diabetic foot ulcer is a leading cause for hospitalization and is associated with significant morbidity and mortality. According to a report by the Transplant Department of Cleveland Clinic, nearly 30,000 surgeries with allograft tissue are performed every year in Cleveland Clinic, including meniscal transplants and anterior cruciate ligament procedures.
Rise in prevalence of degenerative joint diseases is projected to drive the demand for soft tissue products. According to World Health Organization statistics, degenerative joint diseases affect 9.6% men and 18% women aged over 60 having symptomatic osteoarthritis.
Market Segmentation: Soft Tissue Market
In terms of product type, the global soft tissue market has been classified into cartilage allografts, tendon allografts, meniscus, ligament allografts, artificial cornea, dental allografts, collagen allografts, and amniotic allografts. The tendon allografts segment has been split into Achilles tendon, patellar tendon, and others. The ligament allografts segment has been bifurcated into anterior cruciate ligament and medial collateral ligament.
Based on end user, the global soft tissue market has been divided into hospitals, orthopedic clinics, and others
Each of the segments has been analyzed in detail for soft tissue trends, recent trends & developments, drivers, restraints, opportunities, and useful insights. The soft tissue market report provides current and future revenue (US$ Mn) for each of these segments for the period from 2017 to 2031, considering 2020 as the base year. The compound annual growth rate (% CAGR) has been provided for each segment and market from 2021 to 2031 along with market size estimations.
Regional Overview: Soft Tissue Market
In terms of region, the global soft tissue market has been segmented into North America, Europe, Asia Pacific, Latin America, and Middle East & Africa. The regions have been divided into major countries and sub-regions.
North America accounted for the largest share of the global soft tissue market in 2020 and the trend is projected to continue during the forecast period. Growth of the soft tissue market in North America can be primarily ascribed to presence of major players, significant healthcare expenditure, early availability of new techniques, and increase in research activities across the country.
Asia Pacific is anticipated to gain market share during the forecast period. Product launches, acquisitions, distribution agreements, alliances, and geographical expansion by local players, especially in China and India, are expected to propel the soft tissue market in the region.
The current and future market sizes in terms of value (US$ Mn) of these regional markets and major countries have been provided in the report for the period from 2017 to 2031 along with CAGRs for the period from 2021 to 2031
The study also offers a list of recommendations, highlights, and useful insights of the market, which are estimated to help new companies willing to enter the market and existing companies to increase market share and in the decision-making process
Major Players
The report concludes with the company profiles section that includes key information about the major players in the global soft tissue market
Leading players analyzed in the report are

Corneat Vision
LinkoCare Life Sciences AB
Presbia plc
Bone Bank Allografts
MTF Biologics
CONMED Corporation
AlloSource
Arthrex, Inc.
Zimmer Biomet Holdings, Inc.
RTI Surgical, Inc.

Each of these players has been profiled in the report based on parameters such as company overview, financial overview, business strategies, product portfolio, business segments, and recent developments
Soft Tissue Market – Scope of Report
TMR's report on the global soft tissue market studies the past as well as the current growth trends and opportunities to gain valuable insights of the indicators of the market during the forecast period from 2021 to 2031. The report provides revenue of the global soft tissue market for the period 2017–2031, considering 2020 as the base year and 2031 as the forecast year. The report also provides the compound annual growth rate (CAGR %) of the global soft tissue market from 2021 to 2031.
The report has been prepared after an extensive research. Primary research involved bulk of the research efforts, wherein analysts carried out interviews with key opinion leaders, industry leaders, and opinion makers. Secondary research involved referring to key players' product literature, annual reports, press releases, and relevant documents to understand the soft tissue market.
Secondary research also included Internet sources, statistical data from government agencies, websites, and trade associations. Analysts employed a combination of top-down and bottom-up approaches to study various attributes of the global soft tissue market.
The report includes an elaborate executive summary, along with a snapshot of the growth behavior of various segments included in the scope of the study. Moreover, the report sheds light on the changing competitive dynamics in the global soft tissue market. These serve as valuable tools for existing market players as well as for entities interested in participating in the global soft tissue market.
The report delves into the competitive landscape of the global soft tissue market. Key players operating in the global soft tissue market have been identified and each one of these has been profiled in terms of various attributes. Company overview, financial standings, recent developments, and SWOT are the attributes of players in the global soft tissue market profiled in this report.
Key Questions Answered in Soft Tissue Market Report
What is the sales/revenue generated by soft tissue allografts across all regions during the forecast period?
What are the opportunities in the global soft tissue market?
What are the major drivers, restraints, opportunities, and threats in the market?
Which regional market is set to expand at the fastest CAGR during the forecast period?
Which product type is expected to generate the highest revenue globally in 2031? Which segment is projected to expand at the highest CAGR during the forecast period?
What is the market position of different companies operating in the global market?
Soft Tissue Market – Research Objectives and Research Approach
The comprehensive report on the global soft tissue market begins with an overview, followed by the scope and objectives of the study. The report provides detailed explanation of the objectives behind this study and key vendors and distributors operating in the market and regulatory scenario for approval of products.
For reading comprehensibility, the report has been compiled in a chapter-wise layout, with each section divided into smaller ones. The report comprises an exhaustive collection of graphs and tables that are appropriately interspersed. Pictorial representation of actual and projected values of key segments is visually appealing to readers. This also allows comparison of the market shares of key segments in the past and at the end of the forecast period.
The report analyzes the global soft tissue market in terms of product type, end user, and region. Key segments under each criteria are studied at length, and the market share for each of these at the end of 2031 has been provided. Such valuable insights enable market stakeholders in making informed business decisions for investment in the global soft tissue market.
Soft Tissue Market – Segmentation
TMR's study on the global soft tissue market includes information divided into three segments: product type, end user, and region. Changing industry trends and other crucial market dynamics associated with these segments of the global soft tissue market are discussed in detail.
Product Type

Cartilage Allografts
Tendon Allografts

Achilles Tendon
Patellar Tendon
Others

Meniscus
Ligament Allografts

Anterior Cruciate Ligament
Medial Collateral Ligament

Artificial Cornea
Dental Allografts
Collagen Allografts
Amniotic Allografts

End User

Hospitals
Orthopedic Clinics
Others

Region

North America
Europe
Asia Pacific
Latin America
Middle East & Africa
Custom Market Research Services
TMR offers custom market research services that help clients to get information on their business scenario required where syndicated solutions are not enough.
REQUEST CUSTOMIZATION