Smart Airport Market
Smart Airport Market [Infrastructure(Endpoint devices, communications systems, Passenger, Cargo & Baggage Ground Handling Control, Air/Ground Traffic Control, Security Systems and Others) Solutions(Terminal Side, Airside and Landside), Application(Core Applications and Business Applications), and Services(Smart Transport & Parking Services, Smart Retail, Hospitality, & Entertainment Services, Smart Workplace Service, Smart Airport Processes and Smart Business-to-Business Services] - Global Industry Analysis, Size, Share, Growth, Trends, and Forecast, 2019 - 2027
IT & Telecom
TMRGL1041
2020-03-16
293

Pages
The smart airport market has risen in prominence with new innovative technologies that have helped personalize customer experiences. Rising IT spending on airports is anticipated to propel the market's expansion as these solutions ease the burden on airport infrastructure and workforce. Emerging countries are showing dramatic traffic growth, diversity, and choice of airlines. Moreover, the rising penetration of smartphones and tablets is playing a key role in changing the outlook of global smart airports. In 2019, the global smart airport market was valued at US$ 28.69 Bn and is expected to reach US$ 76.52 Bn by 2027, expanding at a CAGR of 13.0% during the forecast period.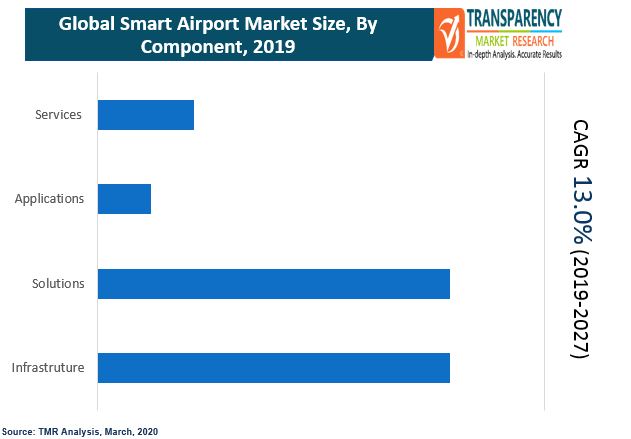 Request a sample to get extensive insights into the Smart Airport Market
Among the various digital technologies used at airports these days, self-service kiosks, baggage tracking, and flight information using social media channels such as Twitter are gaining momentum rapidly. Airports are increasing adoption of advanced technology to offer customers enhanced experiences. Many airports are focused on introducing greater personalization of their existing services by delivering a number of technology-based options for their passengers. This is due to the extensive use of smartphones by people for various flight-related queries. Flight discovery is already a well-known mobile-based service. However, information updates related to customer service and baggage are also expected to play a major role in resolving most travel related issues at airports. Beacons and kiosks are also expected to play a vital role in the future, providing a personalized experience to passengers.
To understand how our report can bring difference to your business strategy, Ask for a brochure
Smart airport services include smart parking and transport, hospitality, smart retail and entertainment, smart workplace, smart business-to-business, and smart airport processes services. Smart business-to-business services for airports has been a rapidly expanding segment of the global smart airport services market in terms of revenue. This is due to the rise in demand for continuously updating passengers with real-time travel services such as route switching and valet parking.
Geographically, in terms of infrastructure, North America is expected to remain a dominant region of the market for smart airports due to improvements in existing solutions and services and presence of large number of airport solution and service providers. Emerging regions such as Asia Pacific are witnessing government initiatives for the expansion of airports and implementing advanced solutions at airports aimed at higher capacity utilization. Rising demand for self-service and automated processes are leading factors driving the smart airports market worldwide. This is further complemented by the rise in IT spending on airports across the globe to enhance passenger experience.
Stuck in a neck-to-neck competition with other brands? Request a custom report on Smart Airport Market
Key players operating in the global smart airport market are
Amadeus IT Group SA
IBM Corporation
Vision-Box
Siemens AG
Honeywell International, Inc.
CISCO System, Inc.
Thales Group
ITA
RESA
S.A.S., and Lufthansa Systems GmbH & Co. KG.
The smart airport market is anticipated to expand in the near future as many players are driven to invest in advanced technology. Some of the players such as SITA, Amadeus, and IBM Corporation are investing in technologies such as mixed reality, Internet of Things (IoT), artificial intelligence, and others to introduce advanced solutions and systems for airports to manage operations. Further, companies are signing agreements with various airports. For instance, in 2017, Honeywell International, Inc. signed an agreement with IGA Airports Construction to offer advanced visual docking guidance systems for IGA's Istanbul New Airport. Leading players are currently focusing on integrating products to create a new customer base. The companies are also engaging in various strategic partnerships and acquisitions.
Smart Airport Market: Overview
This comprehensive report by Transparency Market Research analyzes and forecasts the smart airport market at the global and regional levels. The report provides an analysis of the industry trends in each of the segments over the period 2019–2027, wherein 2019 to 2027 is the forecast period and the base year is 2018. The global smart airport market report provides an in-depth and accurate analysis of market investment across solutions covered in the scope. It also highlights various drivers, restraints, and opportunities expected to influence the market's expansion during the said period. The study provides a complete perspective about the smart airport market expansion throughout the research study in terms of value (in US$ Mn) across geographies, segmented as North America, Asia Pacific (APAC), Latin America, Middle East & Africa (MEA), and Europe. Moreover, the study explains the penetration of each market segment within various geographies and how these segments have accelerated the expansion of the market as a whole.
The report includes a study of macro-economic factors at the global level through sections that include ecosystem analysis, Porters five forces analysis, infrastructure/product roadmap, and key global and regional trends. The detailed ecosystem analysis is focused on providing a widespread view of the global smart airport market. The market's Porter's five forces analysis helps to understand the competitive scenario in the global smart airport market. The study incorporates smart airport market attractiveness analysis, wherein the market segments for instance, infrastructure, solutions, application, and services are benchmarked based on their market size, growth rate, and attractiveness in terms of opportunity.
Key Questions Answered in This Report on the Global Smart Airport Market
How much revenue will the global smart airport market generate by the end of the forecast period?
What type of application is likely to have the maximum market share by 2027?
What regions currently contribute the maximum share to the global smart airport market?
What are the indicators expected to drive the global smart airport market?
What region is likely to be a lucrative market during the forecast period?
What are the essential strategies incorporated by key stakeholders in the global smart airport market to expand their geographical presence?
What are the major advancements witnessed in the global smart airport market?
This report answers these questions and more about the global smart airport market, aiding major stakeholders and key players in making the right decisions and strategizing for the advancement of their business.
Global Smart Airport Market: Research Methodology
The research methodology is a perfect combination of primary research, secondary research, and expert panel reviews. Secondary sources such as annual reports, company websites, SEC filings and investor presentations, national government documents, internal and external proprietary databases, statistical databases, relevant patent and regulatory databases, market reports, government publications, statistical databases, and industry white papers are usually referred. Further, for this report we have specifically focused on data from the American Association of Airport Executives, National Airport Associations, Wyoming Airport Operators Association, International Air Transport Association, and other publications.
Primary Validation
Primary research involves telephonic interviews, e-mail interactions, and face-to-face interviews to validate our assumptions, findings and review on the smart airport market across geographies. Primary interviews are usually conducted on an ongoing basis with industry experts and participants in order to get latest market insights and validate the existing data and analysis. Primary interviews provide critical insights into aspects of the market such as market dynamics, competitive landscape, growth trends, market size, etc. These factors help to validate and strengthen secondary research findings. Moreover, the data collected and analyzed from secondary and primary research is again discussed and examined by our expert panel.
Global Smart Airport Market: Competitive Dynamics
The research study includes profiles of leading companies operating in the global smart airport market. Market players have been profiled in terms of attributes such as company overview, financial overview, SWOT analysis, business strategies, and recent developments. Parameters such as IT investment and spending and developments by major players of the market are tracked. Key market participants profiled in the smart airport market are Amadeus IT Group SA, IBM Corporation, Vision-Box, Siemens AG, Honeywell International, Inc., CISCO System, Inc., Thales Group, SITA, RESA, S.A.S., and Lufthansa Systems GmbH & Co. KG.
Global Smart Airport Market: Segmentation
This report on the smart airport market provides information on the basis of infrastructure, solution, application, services, and region.
Infrastructure

Endpoint Devices

Sensors
Tags
IP Phone
Video Conferencing

Communication Systems

Wireless Airports
Smart Phones
Near Field Communication
Social Media

Passenger, Cargo and Baggage Ground Handling Control

IoT Enabled Beacons
Robots for Passenger and Baggage Movement
Common-use Self-service (CUSS) Kiosks
RFID Baggage Reconciliation System
E-gates

Air/Ground Traffic Control

Smart Systems & Scalable Air Traffic Management Solutions (ATM)
Automated Passport Control

Security Systems

Biometrics
Alerts & Cyber Security
E-Fence & Ground Surveillance Radar
E-Tag System

Others (Navigational, Landing Aids, Digital Signage, Airport Management Software)

Solutions

Terminal Side

HVAC
Lighting Control
Digital Video Surveillance and Management (DVM)
Fire and Life Safety Solutions
Energy Management
Life Cycle Services
Building Management and Automation Systems

Airside

Advanced Visual Docking Guidance System (A-VDGS)
Airfield Ground Lighting (AGL)
Surface Movement Guidance
Runway Improvement and Apron Management
Digital and Radar Video Surveillance

Landside

Parking
Access Roads
Perimeter Security
Car Rental
Mass Transit

Airport City

Applications

Core Applications

Content Management
Business Intelligence
Next-Generation Web
Collaboration
Integration

Business Applications

Noise Abatement
Fee Management
Performance Management
Gate Management

Services

Smart Transport and Parking Services

Real-time Travel Services
Intelligent Transport Services
Trip Concierge

Smart Retail, Hospitality, and Entertainment Services

Passenger-Specific Retail and Hospitality
Intelligent Advertising
Lean Retail Solutions
Telepresence Rooms

Smart Workplace Service

Equipment Telematics Solutions
Mobile Worker and Expert Locator

Smart Airport Processes

Location-Based Services
RFID Baggage Tagging
No-queue Check-in Solutions

Smart Business-to-Business Services

Traffic and Facilities Management
Smart Supply-Chain and MRO Services

Geography

North America

U.S.
Rest of North America

Europe

Germany
The U.K.
France
Rest of Europe

Asia Pacific

China
Japan
India
Australia
Rest of Asia Pacific

Middle East and Africa (MEA)

GCC Countries
South Africa
Rest of Middle East and Africa

South America

Brazil
Rest of South America
Custom Market Research Services
TMR offers custom market research services that help clients to get information on their business scenario required where syndicated solutions are not enough.
REQUEST CUSTOMIZATION