Semiconductor IP Market
Semiconductor IP Market (Type: Verification IP, ASIC, Memory IP, Interface IP, and Processor IP; Architecture Design: Hard IP Core and Soft IP Core; and End User: Healthcare, Telecommunications, Automotive, Consumer Electronics, and Others [Industrial Equipment, etc.]) - Global Industry Analysis, Size, Share, Growth, Trends, and Forecast, 2020 - 2030
Category :

IT & Telecom

Format :
Semiconductor IP Production Slumps with COVID-19 Outbreak
The tech industry has been facing difficulties with the outbreak of the novel coronavirus (COVID-19), particularly delayed shipments that are anticipated to slow down the growth for the semiconductor IP market. Daily volatile changes pose unique challenges for semiconductor IP companies. Hence, manufacturers are carefully assessing different sectors of the semiconductor IP field to optimize costs and streamline shipments throughout supply chains. On the other hand, the growing number of unemployed individuals worldwide is another restraining factor directly affecting consumer spending.
Semiconductor IP companies are strategizing on optimizing production activities in the upcoming months. However, the volume of semiconductor IP products is anticipated to fall in the near future, which may affect the revenue generation of companies. As such, companies in the semiconductor IP market are increasing their focus on design activities in order to maintain cash flow in the market landscape.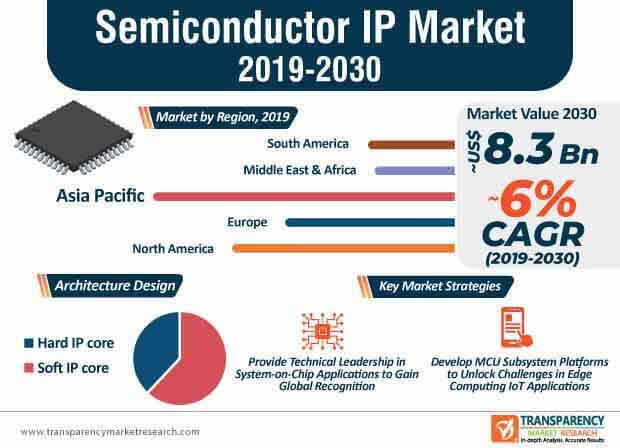 Request a sample to get extensive insights into the Semiconductor IP Market
Data Converter IPs Gaining Prominence in Wireless & IoT Products
Semiconductor IPs (Intellectual Property) are being used to improve the functionality of IoT (Internet of Things) products. For instance, Palma Ceia SemiDesign-a semiconductor company providing modem chips has joined forces with Agile Analog, a provider of semiconductor analog IP, to acquire proficiency in next-gen Wi-Fi and cellular IoT products. This is being achieved with the help of data converter and power management IP that helps to deploy optimum performance in IoT products, whilst minimizing time and cost to the market.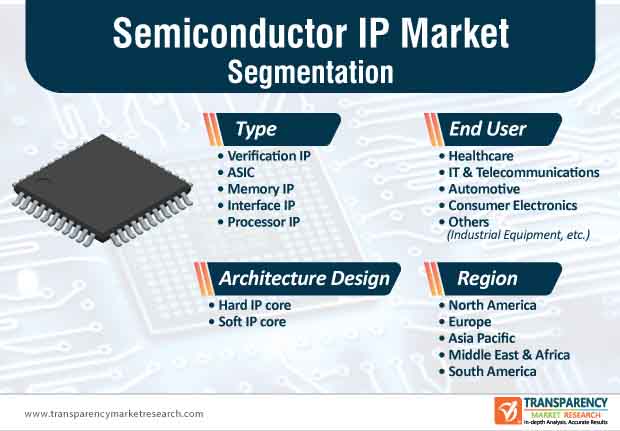 To understand how our report can bring a difference to your business strategy, Ask for a brochure
Companies in the semiconductor IP market are increasing their production capabilities for data convertor IPs, as these IPs connect the real world with the digital world. High performance and low power data conversion in configurable analog-to-digital (ADC) and digital-to-analog (DAC) environments has been made possible with data convertor IPs. As such, companies in the semiconductor IP market are casting their interest in wireless products that are being integrated with power supply management functionalities.
Companies Focus on On-chip Interconnect IP Sector
Technological innovations and world-class product quality are helping manufacturers in the semiconductor IP market to gain global recognition. For instance, in June 2020, Arteris IP-a leading supplier of silicon-proven network-on-chip (NoC) interconnect IP, announced that the company is gaining world recognition by achieving a significant rank in the 2020 IPnest Semiconductor Design IP Report. Companies are providing the semiconductor industry with technical leadership by offering sophisticated and important systems-on-chip.
Companies in the semiconductor IP market are broadening their revenue streams by tapping into leading applications, such as the automotive, machine learning (ML), and 5G infrastructure. This explains why the market is estimated to expand at a favorable CAGR of ~6% during the assessment period. Manufacturers are acquiring proficiency in the on-chip interconnect IP sector to support the management of on-chip dataflows.
Open Alliance Programs Give Rise to Comprehensive Design Technology Infrastructures
The semiconductor IP market is witnessing significant changes with a growing number of strategic alliance programs. For instance, Omni Design Technologies-a provider of high-performance, low-power mixed-signal IP solutions, has joined the TSMC's (Taiwan Semiconductor Manufacturing Company) Open Innovation Alliance program, which involves the participation of leading IP companies. As such, manufacturers are innovating in silicon-verified and foundry-specific IP solutions. Increasing demand for ultra-low power ADC and DAC solutions has catalyzed the demand for semiconductor IPs.
The semiconductor IP market is expected to reach a revenue of US$ 8.3 Bn by 2030. However, challenges in the 5G, automotive, and IoT segments are likely to inhibit the market growth. Hence, companies should introduce alliance programs to give rise to more comprehensive design technology infrastructures that help to reduce design barriers.
MCU Subsystem Platforms Help Overcome Limitations in Edge Computing IoT Applications
Companies in the semiconductor IP market are increasing efforts to address the challenges of data processing for edge computing IoT applications. For instance, in June 2020, Dolphin Design-a provider of semiconductor IP and design platforms unveiled CHAMELEON, an event-based MCU (Microcontroller Unit) subsystem platform, which helps to unlock the limitations associated with edge computing IoT applications. This is due to several limitations of traditional MCU architectures. Thus, in order to keep pace with the rapid growth of edge computing, semiconductor IP companies are innovating in MCU subsystem platforms.
In addition, manufacturers are adopting the CPU-less and event-based data management system approach to overcome limitations in edge computing IoT applications. Companies in the semiconductor IP market are developing MCU subsystem platforms that are compatible with any CPU, DSP (Digital Signal Processor), and NPU (Neural Processing Unit).
Collaborations Lead to Improvement in Quality and Reliability of Microchips
Semiconductor analog IP providers are collaborating with other market players to improve the quality and reliability of microchips. Companies in the semiconductor IP market are teaming up with providers of custom ASIC (Application-specific Integrated Circuit) designs to fabricate and test analog IP products. This helps manufacturers to validate their product delivery processes for end customers. System on a chip (SOC) development holds promising potentials to speed up the process of proving and qualifying analog IPs, which helps to reduce the time-to-market.
The integration of analog IP onto complex silicon chips is a potentially time-consuming process and may be further exacerbated by the variable quality of analog IP products. Hence, companies in the semiconductor IP market are developing in-house systems that automatically generate analog IP product deliverables, while maintaining the highest quality in products.
Stuck in a neck-to-neck competition with other brands? Request a custom report on Semiconductor IP Market
Analysts' Viewpoint
Long-term trends such as digitalization across industries, such as healthcare, automotive, and telecom are anticipated to keep companies in business during and post the COVID-19 pandemic. Fast-growing IP vendors in the semiconductor IP market are providing high-quality products that are being used in complex SoC designs. However, limitations in traditional MCU subsystems are restraining manufacturers from advancing in edge computing IoT applications. Hence, companies should develop advanced MCU subsystems with high bandwidth access and data processing capabilities to innovate in the fast-growing edge computing IoT sector. They should introduce alliance programs to increase the availability of foundry-specific IPs.
Semiconductor IP Market: Overview
The semiconductor IP market is expected to register a CAGR of ~6% between 2020 and 2030. The market is projected to be driven by advancements in multicore technology in the consumer electronics sector across the globe.
The global semiconductor IP market is expected to reach US$ 8.3 Bn by 2030 from US$ 4.8 Bn in 2020. Increasing adoption of digitized technology and IoT connected devices is expected to drive the growth of the semiconductor IP market.
The semiconductor IP market in Asia Pacific and Europe is anticipated to expand at a rapid pace during the forecast period, followed by South America, North America, and Middle East & Africa
Asia Pacific remained the dominant leader in the global semiconductor IP market in year 2019, primarily due to mass manufacturing of semiconductor devices and products in South Korea, China, and Japan
North America is projected to witness significant growth in the global semiconductor IP market during the forecast period. Increasing adoption of connected and IoT devices is expected to drive the consistent growth of the North America semiconductor IP market.
Semiconductor IP Market: Definition
The semiconductor IP market report provides analysis of the global semiconductor IP market for the period 2018 - 2030, wherein 2019 is the base year and 2020 to 2030 is the forecast period. Data for 2018 has been included as historical information.
The report studies the semiconductor IP market from the perspective of different components and industry verticals
Semiconductor IP Market Snapshot
Asia Pacific is expected to witness the highest opportunity addition in the semiconductor IP market globally, with Europe being the next closest region
Key Growth Drivers of Semiconductor IP Market
Growing Adoption of Modern System on Chip (SOC) Designs: Semiconductor IP is a key component in platform-based design, which enables incremental improvements and differentiation in a variety of products. The platform allows designers to reuse pre-qualified IP-based, foundational SoC, which helps in reducing time to market. SoCs allow cost efficient manufacturing of devices due to which, the demand for SoCs is increasing rapidly. SoC IP cores provide base platforms to be optimized differently according to required designs. Some of the recent developments in system-on-chip (SoC) by prominent players are as follows:

In June 2020, Qualcomm Incorporated launched its new product "Snapdragon 690 System-on-chip," to support its Snapdragon 6-series processors. The Snapdragon 690 is specifically designed for 5G connectivity and supports both standalone (SA) and non-standalone (NSA) modes.
In February 2019, Intel Corporation declared that "Telefonaktiebolaget LM Ericsson" is focusing on deploying its 10nm system-on-chip (SoC) product, specifically for 5G and edge computing
Proprietary IP blocks can be security practices, wireless designs, alternatives on USB modules, and re-spins on memory controllers. These are used in consumer electronics prominently where primary components are SoC designs and can be availed by procuring a license. Thus, increasing need for SoC designs in consumer electronics is expected to drive the semiconductor IP market during the forecast period.
Increasing Adoption of Multi-core Technologies in Connecting Devices: Multicore technologies enable integration of more than one processor embedded in a single physical package. An increase in the use of multicore processors such as quad cores and octa cores in desktops, mobile PCs, smartphones, and servers are being witnessed, besides a shift toward the use of heterogeneous multicore system-on-chips (SoCs), which features a range of processor cores with various architectures and instruction-sets. These are optimized for various applications or application-specific instruction-set processors (ASIPs) for connecting devices. For instance, the radio base-band in smartphones is based on ASICs. The focus has shifted to embedded multicore processors in mobile, automotive, and communication markets to perform intensive computations. For instance, Recore Systems' multi-core processor subsystem IP has been licensed to develop Europe's multi-core DSP payload processor for future space missions.
Moreover, processor IP core reduces power consumption and optimizes hardware performance. Hardware performance increases as the space captured by a single processor is reduced due to use of multicore processors. In line with the same, Synopsys Inc. is in partnership with Broadcom to deliver ARC processor IP Cores which enable them to provide advanced video compression capabilities in SoCs for high-volume consumer devices. Thus, multicore processor IPs are being adopted rapidly to improve the efficiency of hardware and to optimize performance of end-products. Hence, various processor IP cores are needed to develop embedded multiprocessor core technologies, which are used in a wide range of applications such as connected devices that include smartphones, wearable devices, and desktops.
Key Challenges Faced by Semiconductor IP Market Players
Detection of patented technology is facing ever-increasing challenges as the device is composed of integrated patented components. It is difficult to disintegrate components and detect which patent belongs to whom. The shrinking feature sizes of present semiconductor fabrication processes require more advanced analysis tools for circuit detection and extraction. This has a direct impact on licensing activities and on the value of patent portfolio of various companies. Along with these, various infringement encounters in patenting particular technology is expected to restrain the market growth.
Semiconductor IP Market: Company Profile Snapshot
The research study includes profiles of leading companies operating in the global semiconductor IP market. Key players profiled in the report include

Avery Design Systems
Altera (Intel Corporation)
Arm Limited
Cadence Design Systems, Inc.
CAST, Inc.
CEVA, Inc.
eSilicon Corporation (an Inphi Corporation Company)
Imagination Technologies Limited Mentor (a Siemens Business)
Kilopass Technology Inc. (a Synopsys Inc. Company)
Open-Silicon, Inc.
Rambus Inc.
Silabtech
Synopsys, Inc.

Companies are shifting toward advanced technology to gain a competitive advantage in the semiconductor IP market apart from maintaining their position in the market.
Semiconductor IP Market – Scope of the Report
A new study on the global semiconductor IP market was published by Transparency Market Research (TMR). It presents a wealth of information on key market dynamics, including drivers, market trends, and challenges, as well as the structure of the semiconductor IP market. TMR's study offers valuable information about the semiconductor IP market, to illustrate how growth will discern during the forecast period 2020-2030.
Key indicators of market growth, which include value chain as well as supply chain analysis, and Compound Annual Growth Rate (CAGR) have been elucidated in TMR's study in a comprehensive manner. This data can help readers interpret the quantitative growth aspects of the semiconductor IP market during the forecast period.
An extensive analysis of leading market players' business strategies has been featured in TMR's study on the semiconductor IP market. This can help readers understand principal factors to foresee growth in the semiconductor IP market. In this study, readers can also find specific data on the qualitative and quantitative growth avenues for the semiconductor IP market, which will guide market players in making apt decisions in the future.
Key Questions Answered in TMR's Semiconductor IP Market Study
What is the scope of growth of semiconductor IP providing companies across the globe?
What will be the Y-o-Y growth of the semiconductor IP market between 2020 and 2030?
What is the influence of the changing trends in technologies on the semiconductor IP market?
Will North America continue to dominate the market for semiconductor IP?
Which factors will impede the growth of the semiconductor IP market during the forecast period?
Which are the leading companies in the global semiconductor IP market?
Research Methodology
A unique research methodology has been utilized by TMR to conduct comprehensive research on the growth of the semiconductor IP market, and arrive at conclusions on the future growth prospects of the market. This research methodology is a combination of primary and secondary research, which helps analysts warrant the accuracy and reliability of the drawn conclusions.
Secondary resources referred to by analysts during the production of the semiconductor IP market report include statistics from company annual reports, SEC filings, company websites, World Bank database, investor presentations, regulatory databases, government publications, and industry white papers. Analysts have also interviewed senior managers, product portfolio managers, CEOs, VPs, and market intelligence managers, who contributed to the production of TMR's study on the semiconductor IP market, as a primary resource.
These primary and secondary resources provided exclusive information during the interviews, which serves as validation from semiconductor IP industry leaders. Access to an extensive internal repository and external proprietary databases allows this report to address specific details and questions about the semiconductor IP market with accuracy. The study also uses a top-down approach to assess the numbers for each segment, and a bottom-up approach to counter-validate them. This has helped in making TMR's estimates on the future prospects of the semiconductor IP market more reliable and accurate.
Semiconductor IP Market – Segmentation
TMR's study on the semiconductor IP market includes information divided into four sections - type, architecture design, end-user, and region. Changing industry trends and other crucial market dynamics associated with these sections of the semiconductor IP market have been discussed in detail.
Type

Verification IP
ASIC
Memory IP
Interface IP
Processor IP

Architecture Design

Hard IP Core
Soft IP Core

End User

Healthcare
Telecommunications
Automotive
Consumer Electronics
Others (Industrial Equipment, etc.)

Region

North America
Europe

Germany
U.K.
France
Russia
Spain
Rest of Europe

Asia Pacific

China
India
Japan
ASEAN
Rest of Asia Pacific

Middle East & Africa

Saudi Arabia
Kuwait
UAE
Qatar
South Africa
Rest of Middle East & Africa

South America
Rest of South America
Custom Market Research Services
TMR offers custom market research services that help clients to get information on their business scenario required where syndicated solutions are not enough.
REQUEST CUSTOMIZATION