Radiation Dermatitis Market
Radiation Dermatitis Market (Product: Oral Medication, Topical, and Dressings; and Distribution Channel: Hospital Pharmacies, Retail Pharmacies, Online Pharmacies, and Retail Pharmacies) - Global Industry Analysis, Size, Share, Growth, Trends, and Forecast, 2020-2030
Category :

Pharmaceutical

Format :
Contingency Plans Drive Production Activities amid Coronavirus Uncertainties
Rapid development and testing of COVID-19 vaccines from India have reduced the stress on healthcare companies to innovate in therapeutics that treat the novel infection. However, bottom lines in the healthcare industry are gradually reviving with growth in consumer spend. Companies in the radiation dermatitis market are becoming aware about special policies reserved for healthcare as an essential industry amid the ongoing coronavirus era.
Due to a decline in consumer spending, stakeholders in the value chain are being affected due to delayed shipment of raw materials and disruptions in supply chains. Hence, companies in the radiation dermatitis market are adopting contingency plans to stay flexible in production and distribution activities. They are maintaining high inventory levels to avoid supply shocks for essential medications required for radiation dermatitis.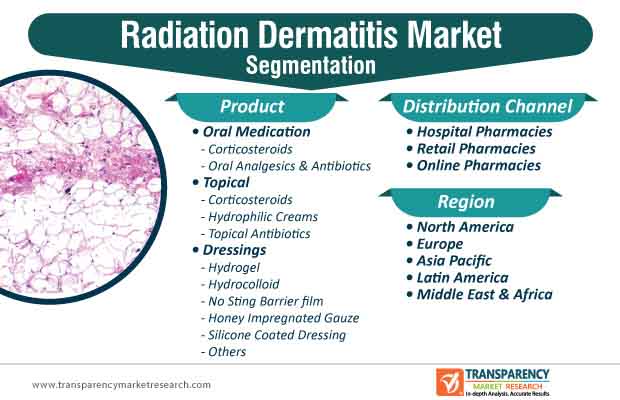 To know the scope of our report Get a Sample on Radiation Dermatitis Market
New Biocompatible, Biodegradable Nanomaterials Pave Way for Innovations in Dressings
The radiation dermatitis market is expected to reach a valuation of ~US$ 700 Mn by the end of 2030. Manufacturers are boosting their output capacities in wound dressings that are highly elastic and flexible in nature. However, it has been found that these dressings in some cases may damage fragile skin and may not prevent maceration. This has created a need for new biocompatible and biodegradable nanomaterials that help in regulating all phases of wound healing.
Companies in the radiation dermatitis market are increasing their R&D capabilities to develop dressings that incorporate antibacterial and self-healing properties.
Get a glimpse of the in-depth analysis through our Report Brochure
Non-steroidal Ingredients in Creams Ameliorate Radiation Dermatitis Symptoms
Adverse effects of any radiation therapy, such as in the case of breast cancer, may lead to issues such as skin irritation, tenderness in treated area, and changes in skin color. In order to minimize these adverse effects, manufacturers in the radiation dermatitis market are innovating in corticosteroid creams and ointments. Topical sucralfate or hyaluronic acid hold promising potentials in ameliorating the symptoms of patients suffering from radiation dermatitis.
Herbal ingredients such as extracts from the calendula plant are gaining prominence in corticosteroid creams and ointments for topical applications. Patients are preferring non-steroidal ingredients in creams. This explains why the radiation dermatitis market is projected to expand at a modest CAGR of ~5% during the assessment period.
Traditional Chinese Medicine Holds Potential in Treatment of Carbuncles Post Radiotherapy
Traditional Chinese medicine (TCM), Jiawei Simiao Yongan Gao, holds promising potentials in minimizing the impact of radio-dermatitis in patients with neck and head cancer. Companies in the radiation dermatitis market are capitalizing on this opportunity to innovate in pastes that improve the symptoms of skin reaction caused due to radiotherapy. They are improving their production capabilities in clear and light drugs that can enter the lung meridian directly.
Honeysuckle is emerging as one of the key ingredients in TCM for the treatment of carbuncles. Manufacturers in the radiation dermatitis market are experimenting with medicines containing angelica sinensis, which appears to nourish and activate the blood and relieve pain by promoting coronary circulation.
Film-forming Gel a Breakthrough Innovation for Enabling Faster Wound Healing
Innovations in wound dressings are creating value grab opportunities for companies in the radiation dermatitis market. Stratpharma - a pharmaceutical company in Basel, Switzerland, has introduced its StrataXRT® innovative and film-forming wound dressing gel that easily spreads with only a small amount applied on the affected area of the skin. Companies in the radiation dermatitis market are taking cues from such companies to develop film-forming gels that provide symptomatic relief from acute inflammatory response, discomfort, and itching.
Film-forming gels are a game changer in the class of wound dressings that reduce redness and swelling post exposure toward radiotherapy. Such gels are being used to protect the compromised skin from microbial invasion and prevent bacterial growth. Thus, film-forming wound dressing gels are creating an optimum environment for reducing downtime and enable faster wound healing.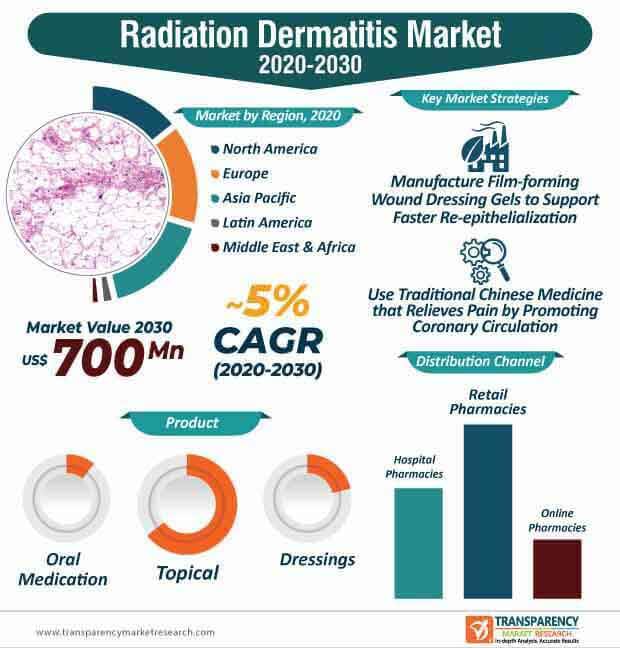 Expanding operations in future? To get the perfect launch ask for a custom report
Analysts' Viewpoint

Companies in the radiation dermatitis market are focusing on continuous R&D innovations to grab the attention of consumers and offer alternate treatment options during the ongoing coronavirus pandemic. Film-forming wound dressing gels are bringing a significant change in the market landscape, since they reduce downtime and enable fast re-epithelialization. However, manufacturers are learning about side effects such as infection and skin atrophy after the application of topical steroids. Hence, companies should adopt traditional Chinese medicine ingredients such as raw astragalus and herbal extracts of the calendula plant to minimize adverse events after the application of creams and ointments. New biocompatible and biodegradable materials are being used to innovate in advanced wound dressings.
Radiation Dermatitis Market: Overview
According to Transparency Market Research's latest report on the global radiation dermatitis market for the historical year 2018 and forecast period 2020-2030, rise in prevalence of cancer and increase in adoption of radiation therapy for cancer treatment are projected to drive the global radiation dermatitis market during the forecast period
According to the report, the global radiation dermatitis market was valued at ~US$ 400 Mn in 2019 and is anticipated to expand at a CAGR of ~5% from 2020 to 2030
Rise in Prevalence of Cancer: Key Driver
According to the International Agency for Research on Cancer (IARC) estimates on the global cancer burden (December 2020), the number of new cancer cases is likely to rise to 19.3 million, with 10 million cancer deaths in 2020. This depicts 1 in 5 people develop cancer during their lifetime, and 1 in 8 men and 1 in 11 women succumb to the disease.
By 2040, the number of new cancer cases per year is expected to rise to 29.5 million and the number of cancer-related deaths to 16.4 million
Generally, cancer rates are the highest in countries whose populations have the highest life expectancy, education level, and standard of living. However, for some cancer types, such as cervical cancer, the reverse is true, and the incidence rate is highest in countries in which the population ranks low on these measures.
According to the Union for International Cancer Control (UICC), for the first time in 2020, breast cancer has become the most commonly diagnosed cancer surpassing lung cancer, in particular due to high prevalence in low- and middle-income countries (LMICs). Lung cancer is the leading cause of cancer deaths, not only in many LMICs, but also in most higher-income regions such as North America, Europe, and Australia.
According to the World Cancer Research Fund International, breast cancer is the most commonly occurring cancer overall. There were over 2 million new cases globally in 2018. Belgium, Luxembourg, and the Netherlands are the top three countries with highest rate of breast cancer in women globally.
According to the National Cancer Institute at the National Institutes of Health (NIH), an estimated 1,806,590 new cases of cancer will be diagnosed in the U.S. and 606,520 people will succumb to the disease in 2020
According to the World Cancer Research Fund International (WCRF), top 12 countries in the world with highest cancer rate in 2018 were Australia, New Zealand, Ireland, Hungary, the U.S., Belgium, France (metropolitan), Denmark, Norway, the Netherlands, Canada, and New Caledonia (France); of these, Australia is at the top with the highest cancer rate of 468 people per 100,000.
Surge in Adoption of Radiation Therapy to Boost Market Growth
Radiation therapy (also called radiotherapy) is a highly effective cancer treatment with wide-ranging uses. Radiation therapy cures cancer in patients (either alone or with other treatments) and relieves symptoms or prolongs survival in more advanced cancers.
Radiation therapy contributes to 40% of all cancer cures globally as well as improving the quality of life for many others
Increase in utilization of radiation therapy, owing to targeted treatment for controlling cancer and consistency in treatment protocols across multiple centers have resulted in rise in prevalence of radiation dermatitis
According to statistics presented by the American Society for Radiation Oncology, nearly 95% of patients receiving radiation therapy suffer from some degree of radiation dermatitis, whereas 85% of the total patient base experiences severe to moderate radiation dermatitis that requires intensive treatment. This is expected to propel the global radiation dermatitis market over the next few years.
Not all cancers can be treated with a single type of therapy, and hence, a combination of chemotherapy and radiation is often used in situations where the intent is curative and not palliative care. Patients who receive chemotherapy as well as radiation therapy have higher chance of developing radiation dermatitis.
The plausible upsurge in combination therapy clinical trials and treatments in future is anticipated to lead to rise in patients suffering from radiation dermatitis. This, in turn, is likely to drive the market.
For some cancers that are too advanced to be cured, radiation therapy is quite effective for pain and other problems, such as bleeding from the lung or bladder. For instance, pain in the bones from the spread of cancer can be improved significantly or be completely removed in around 75% of patients. This is projected to augment the global radiation dermatitis market.
Introduction of Better Radiation Therapy Equipment to Hamper Market
Severity and likeliness to develop radiation dermatitis can be either patient-related or treatment-related. Treatment-related factors include the type and quality of radiation beam and the location and size of the treatment field.
Modern radiotherapy techniques, which include intensity-modulated radiation therapy (IMRT) and proton therapy, can diminish the risk for radiation dermatitis by more accurately targeting tumor, thereby saving the normal tissue from repeated assault
Higher adoption of these techniques, especially in developed regions such as the U.S. and Europe, can lead to fewer severe rated cases of radiation dermatitis. This is likely to restrain the global market.
Radiation Dermatitis Market: Competition Landscape
This report profiles major players in the global radiation dermatitis market based on various attributes such as company overview, financial overview, product portfolio, business strategies, and recent developments
Leading players operating in the global radiation dermatitis market are

3M Company
Mölnlycke Health Care AB
Smith & Nephew plc
Integra Lifesciences Holdings Corporation
Intermed S.A.
ConvaTec Group plc
BMG PHARMA S.p.A.
Radiation Dermatitis Market: Key Developments
Key players in the global radiation dermatitis market are engaged in regulatory approvals, development of new products, and acquisition & collaborative agreements with other companies. These strategies are likely to fuel the growth of the global radiation dermatitis market over the next few year. A few expansion strategies adopted by players operating in the global radiation dermatitis market are:

In January 2021, Integra LifeSciences Holdings Corporation completed the acquisition of ACell, Inc. This acquisition will enable Integra to provide more comprehensive complex wound management solutions.
In February 2020, Integra LifeSciences launched AmnioExcel Plus Placental Allograft Membrane, its latest wound care offering to support soft tissue repair. AmnioExcel Plus is a next generation, thicker, tri-layer, non-side specific allograft consisting of amnion-chorion-amnion layers that aids in creating an environment to help close complex wounds.
In June 2019, Mölnlycke and Zuellig Pharma announced a partnership to focus on providing more advanced wound care products and solutions to patients and healthcare practitioners across Southeast Asia. This strategic partnership follows Mölnlycke's acquisition of SastoMed in July 2018, augmenting Mölnlycke's range of wound care solutions with SastoMed's ground-breaking, oxygen-therapy-based solutions for chronic wounds (via its products Granulox and Granudacyn).
In November 2018, the company launched Mepilex Border Flex at the Symposium on Advanced Wound Care Fall meeting in Las Vegas. The Mepilex Border Flex dressing was specifically engineered to support fewer dressing changes, reducing dressing cost and waste, while creating an optimal healing environment.
In July 2018, ConvaTec received the U.S. Food and Drug Administration (FDA) 510(k) clearance for its AQUACEL Ag Advantage dressing for wound management

The report on the global radiation dermatitis market discussed individual strategies, followed by company profiles of treatment providers of radiation dermatitis. The competition landscape section has been included in the report to provide readers with a dashboard view and a company market share analysis of key players operating in the global radiation dermatitis market.
Radiation Dermatitis Market – Scope of the Report
TMR's report on the global radiation dermatitis market studies past as well as current growth trends and opportunities to gain valuable insights of these indicators of the market during the forecast period from 2020 to 2030. The report provides revenue of the global radiation dermatitis market for the period 2018–2030, considering 2019 as the base year and 2030 as the forecast year. The report also provides the compound annual growth rate (CAGR) for the global radiation dermatitis market during the forecast period.
The report has been prepared after extensive primary and secondary researches. Primary research involved bulk of research efforts, wherein analysts carried out interviews with industry leaders and opinion makers. Secondary research involved referring to key players' product literature, annual reports, press releases, and relevant documents to understand the global radiation dermatitis market.
Secondary research also included Internet sources, statistical data from government agencies, websites, company presentations, sales data, and trade associations. Analysts have employed a combination of top-down and bottom-up approaches to study various phenomenon in the global radiation dermatitis market.
The report includes an elaborate executive summary, along with a snapshot of the growth behavior of various segments included in the scope of the study. Furthermore, the report sheds light on the changing competitive dynamics in the global radiation dermatitis market. These indices serve as valuable tools for existing market players as well as for entities interested in entering the global radiation dermatitis market.
The report delves into the competition landscape of the global radiation dermatitis market. Key players operating in the global radiation dermatitis market have been identified, and each one of these has been profiled for distinguishing business attributes. Company overview, financial standings, recent developments, and SWOT are some of the attributes of players in the global radiation dermatitis market that have been profiled in this report.
Key Questions Answered in Radiation Dermatitis Market Report
What is the scope of growth of companies present in the global radiation dermatitis market?
What will be the Y-o-Y growth of the global radiation dermatitis market between 2020 and 2030?
What is the influence of changing trends in technologies on the global radiation dermatitis market?
Will Asia Pacific continue to be the most profitable market for radiation dermatitis market?
Which factors are anticipated to hamper the growth of the global radiation dermatitis market during the forecast period?
Which are the leading companies in the global radiation dermatitis market?
Research Methodology
TMR has utilized a unique research methodology to conduct comprehensive research on the growth of the global radiation dermatitis market and arrive at conclusions on its growth prospects. This research methodology is a combination of primary and secondary research, which helps analysts warrant the accuracy and reliability of the drawn conclusions.
Secondary methods referred to by analysts during the production of the global radiation dermatitis market report include statistics from company annual reports, SEC filings, company websites, investor presentations, regulatory databases, government publications, and industry white papers. Analysts have also interviewed senior managers, product portfolio managers, CEOs, VPs, and market intelligence managers, who contributed to the production of TMR's study on the radiation dermatitis market as primary methods.
These primary and secondary methods have provided exclusive information during interviews, which serves as a validation from the radiation dermatitis market leaders. Access to an extensive internal repository and external proprietary databases enabled this report to address specific details and questions about the global radiation dermatitis market with accuracy. The study also uses the top-down approach to assess the revenues for each segment and the bottom-up approach to counter-validate them. This has helped in reaching TMR's estimates on future prospects of the global radiation dermatitis market more reliably and accurately.
Radiation Dermatitis Market – Segmentation
Product

Oral Medication

Corticosteroids
Oral analgesics & Antibiotics

Topical

Corticosteroids
Hydrophilic Creams
Topical Antibiotics

Dressings

Hydrogel
Hydrocolloid
No Sting Barrier film
Honey Impregnated Gauze
Silicone Coated Dressing
Others

Distribution Channel

Hospital Pharmacies
Retail Pharmacies
Online Pharmacies
Retail Pharmacies

Region

North America
Europe
Asia Pacific
Latin America
Middle East & Africa
Custom Market Research Services
TMR offers custom market research services that help clients to get information on their business scenario required where syndicated solutions are not enough.
REQUEST CUSTOMIZATION

Radiation Dermatitis Market