Vials Market: Introduction
Transparency Market Research delivers key insights for the vials market in its published report, which include global industry analysis, size, share, growth, trends, and forecast for 2015–2029. In terms of revenue, the global vials market is projected to grow at a CAGR of 5.4% during the forecast period, owing to several factors, about which TMR offers detailed insights and forecasts in the vials market report.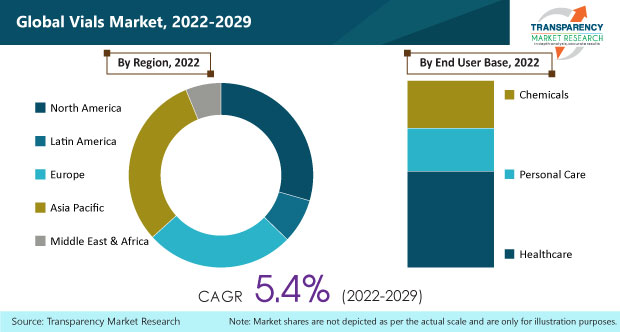 Vials are packaging containers used to store and dispense the medicine in solid, powder or liquid dosage form with high convenience, safety, and for monitoring purpose. The ability of vials to store respective material without contaminating it makes vials efficient and popular. The frequent need of vials in end user base such as healthcare, personal care, and chemicals to store various products without degrading the quality is boosting the global vials market.
The growing demand for storing sensitive medicines according to the highest safety and sterilization standards will propel the demand for vials in the pharmaceutical segment. Sterile and antiviral vial packaging has emerged as an effective packaging solution during the ongoing pandemic due to increased demand for biologics and vaccines to continue to dominate the global vials market. The latest trend of vials being used in cosmetics packaging due to prevailing beauty trends globally is expected to bolster the growth of the vials market in the upcoming years.
Rapidly Growing Medical, Healthcare, and Medical Support Service Industries to Generate Substantial Opportunities for Vial Manufacturers and Suppliers
Vials are commonly associated with the medical industry, as they prevent dosing errors and offer efficiency & correctness while considering the patient's safety and health. Glass vials are preferred as they support container closure integrity (CCI), while plastic vials are unbreakable and easy to handle. Vials are used for swabs, specimen collection, biopsies, and fluid specimens. The increasing awareness about healthcare and the growing demand for diagnostic centers & medical support services contribute remarkably to the growth of the vials market. Factors such as growing population, rapidly increasing healthcare facilities, and rising trend of health check-ups due to the increasing prevalence of illnesses will enhance the demand for vials.
Vials are extensively used in medical laboratories and diagnostic centers for specimen collections. Therefore, the increasing demand for medical packaging solutions to store sensitive drugs and general laboratory applications is creating noteworthy opportunities for manufacturers and suppliers to capture major share of the vials market in the near future.
Glass Vial Packaging Solutions Enhance Safety, Secure Storage, and Delivery
The design and development of appropriate pharmaceutical product packaging are essential for safe and secure storage, transportation, and administration of medicines. The packaging of vials is a crucial aspect, as they contain life-saving drugs. Pharmaceutical packaging is primarily constructed of glass or plastic materials. Glass is often preferred due to its inherent properties that allow easy sterilization, vaccination, and visibility of contents. Glass vials are widely used for packaging generic parenteral drugs due to their high chemical resistance, which limits interactions between the product and its container.
Glass vials are extremely strong and impermeable. They prevent the glass from interacting with the content by preserving medical effectiveness of stored drugs. Glass vials protect light-sensitive medicines, extend their shelf life, and provide long-term stability to drugs. They provide high barrier protection to the ingredients from evaporating and escaping outside. Glass vials also give tightness, strength, and durability to the contents inside the vials. Glass vial packaging is eco-friendly and sustainable, as glass vials are easy to recycle and do not harm the environment. With the growing demand for pharmaceutical and medicine packaging, glass vials are expected to gain significant demand due to their unique features and attributes.
Rising Popularity and Trend of Staple Skin, Hair, and Personal Care Products to Propel Demand for Vials
The growing popularity of beauty, hair, and personal care products among the young generation has created a massive demand for vials. Selecting the right packaging materials and colors for beauty products is a crucial factor in the cosmetics industry. Vials play a vital role in the cosmetic industry, as they offer transparency, safety, and lightweight characteristics suited as per the application. The dominant market position of vials can be attributed to their durability and barrier protection of contents from external influences.
In order to make cosmetic brands more visible and popular, manufacturers adopt the sampling strategy to showcase their products. Companies choose vials as promotional sampling solutions to reach consumers and advertise their products such as perfumes, gels, creams, and moisturizers. Vials are small bottles made of glass or plastic. They can store products in virtually any state, such as liquid or solid. They are small in size, which makes them perfect for use during travel, since they are easy to carry and handle. They are delightfully portable and offer on-the-go glow. The rising demand for wellness and hair, skin, and personal care, especially among the youth population, swift changes in lifestyles, and buying patterns of branded cosmetic products will generate a significant opportunity for vials.
Vials Market: Competition Landscape
Key players in the global vials market are focusing on strategies such as innovative product launch, expansions, partnerships, and acquisitions to capture maximum market share and enhance their global footprint in the target market. For instance:
In October 2021, Gerresheimer AG launched its new depyrogenated and sterile Gx RTF vials
In May 2021, Corning Incorporated announced the opening of its new glass plant in Wuhan, China, to build its presence in China
In January 2021, Gerresheimer AG built a new production plant in India. The company is concentrating on the production of pharmaceutical packaging made from tubular glass, molded glass, and plastic.
In February 2020, West Pharmaceutical Services, Inc. introduced several new, innovative pharmaceutical containment, and closure offerings at Pharmapack 2020
The tier structure is formulated on the basis of segmental revenue and market share of the company. As per tier structure, Gerresheimer AG, West Pharmaceutical Services, Inc, and Berry Global, Inc. are Tier 1 players in the vials market. These leading companies are adopting key strategies such as innovative product launch, expansion, partnerships to strengthen their position in the vials market. Moreover, Tier 2 players are Amcor Plc, Corning Incorporated, and Schott AG, among others.
Global Vials Market Segmentation
Vials Market by Material Type
Glass
Plastic

Polyethylene (PE)
Polypropylene (PP)
Poly Vinyl Chloride (PVC)
Others (PET, PA, etc.)

Cyclic Olefin Polymer (COP)
Cyclic Olefin Copolymer (COC)
Vials Market by Vial Type
Vials Market by Capacity
Up to 10 ml
11-50 ml
51-100 ml
Above 100 ml
Vials Market by End User Base
Healthcare

Research Laboratories & Clinical Research
Drug & Manufacturing
Hospitals

Personal Care
Chemicals
Vials Market by Region
North America
Latin America
Europe
Asia Pacific
Middle East & Africa
About Packaging Industry at Transparency Market Research
Experts at TMR dive deep into the evolution of the packaging sector starting from ancient times. The highlight of our reports is the proliferation of the eCommerce sector, which today is significant for the growth of the packaging sector and is setting novel trends.
Economic growth in several parts of the world that has deeply influenced consumer behavior toward food, healthcare, and consumer goods and has had a solid impact on the packaging sector is well-covered in our reports.
About Us
Transparency Market Research (TMR) is a global market intelligence company providing business information reports and services. The company's exclusive blend of quantitative forecasting and trend analysis provides forward-looking insights to thousands of decision makers. TMR's experienced team of analysts, researchers, and consultants use proprietary data sources and various tools and techniques to gather and analyse information.
TMR's data repository is continuously updated and revised by a team of research experts so that it always reflects the latest trends and information. With extensive research and analysis capabilities, Transparency Market Research employs rigorous primary and secondary research techniques to develop distinctive data sets and research material for business reports.
Contact
Transparency Market Research
90 State Street, Suite 700
Albany, NY 12207
Tel: +1-518-618-1030
USA - Canada Toll Free: 866-552-3453
Email: sales@transparencymarketresearch.com
7 of 10 large enterprizes view our Report to take the right decision.
View Report