The Europe driving apparel market is highly fragmented, as there is low entry barrier, as per the recent business intelligence publication by Transparency Market Research (TMR). As there is rise in number of motorsports riders is increasing rapidly across the globe. Leading automobile manufacturers, such as Alpinestars S.p.A., Dainese S.p.A., Fox Head, Inc., Scott Sports SA and ThorMX etc. also plays a very significant role in the success of the sport through dealer promotion, advertising, and also by offering financial and technological support to teams, drivers, and track operators. The report identifies PUMA SE, Adidas AG, Alpinestars S.p.A, Scott Sports SA, Fox Head Inc., Dainese S.p.A., ThorMX, and as a few players which holds major market share in the Europe driving apparel market. Companies are undertaking mergers and acquisitions, and joint ventures with local players to expand their product portfolio. Producers in developing countries are focusing on reducing their cost of production and increase profitability for the sustainable growth of their business.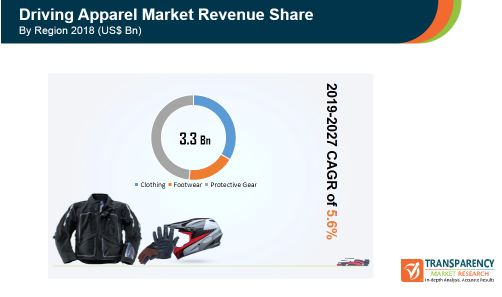 The market of driving apparel to be worth US$ 5.3 Bn by 2027
The market of driving apparel is projected to expand at a CAGR of 5.6% during the forecast period of 2019 to 2027. On the basis of value, the Europe market of driving apparel market is around 3.3 Bn in the year 2018 and projected to reach around US$ 5.3 Bn by the end of 2027. Major brands are likely to focus on innovation of new products and research & development activities to strengthen their foothold in the Europe driving apparel market.
In terms of product type, the driving apparel market has been divided on the basis of clothing, footwear, and protection gear. Based on vehicle type, the driving apparel market on the basis two wheeler and four wheeler. On the basis of geography, Germany held the dominant share of the overall market in the year 2018. While the country is expected to remain the lead through the forecast period, the U.K., market will exhibit viable growth opportunities as well in the near future.
Strict rules & regulations imposed by the federal governments regarding safety is projected to create new opportunities for the market
Stringent safety rules & regulations imposed by the federal governments of various countries across the European region is projected to create significant opportunities for the manufacturers and distributors of driving apparel market in the forecast period.
Increasing number of driving enthusiasts is also considered as one the major factor for the growth of Europe driving apparel market. Professional riders also requires to follow strict safety measures while participating in any motor sporting events. Regulatory authorities across the world are enforcing stringent traffic safety regulations regarding the usage of helmets, jackets, and other protection clothing. Consequently, the demand for elbow caps, gloves, knee cap, and protective jackets etc. is also expanding rapidly. Thus, there has been a rise in acceptance of protection gear and other safety accessories to prevent fatal injuries. The impact of this driver on the driving apparel market is expected to be high during the forecast period. Additionally, manufacturers are continuously focused on integration of electronics in protection gear and development of helmets with head up displays, which is likely to increase the demand for these accessories even further in the future.
The information presented in this review is based on a Transparency Market Research report, titled, "Driving Apparel Market (Product Type – Clothing, Footwear, and Protection Gear; Vehicle – Two Wheeler and Four Wheeler) –Europe Industry Analysis, Trend, Size, Share and Forecast, 2017 – 2027."
Key Segments of the Europe Driving Apparel Market
Europe Driving Apparel Market, By Product Type
Clothing
Footwear
Protection Gear
Europe Driving Apparel Market, By Vehicle Type
Europe Driving Apparel Market, By Geography
Europe

U.K.
Germany
Italy
France
Rest of Europe
7 of 10 large enterprizes view our Report to take the right decision.
View Report