Potato Protein Market
Potato Protein Market (Product Type - Isolates and Concentrates; Application - Meat Products, Dairy Products, Bakery & Confectionery, Processed Food, Beverages, Sports Nutrition, Animal Feed and Other Applications) - Global Industry Analysis, Size, Share, Growth, Trends and Forecast 2017-2026
Category :

Food & Beverages

Format :
Predominant use of potato in the global food industry has prompted several food investigators and biotech scientists in studying its nutritional value. The arrival of potato protein has been instrumented by advancements in food technology and a soaring demand for protein-rich foods. Increasing inclination of consumers toward plant-based proteins has further propelled the consumption of potato protein. New production techniques and experimental trials are being conducted to enhance the production of potato proteins for large-scale production. However, low awareness among consumers and complexities in techniques involved with production of potato proteins has deterred the growth of the global potato protein market.
Transparency Market Research observes that these factors will continue to inhibit the growth of the global potato protein market for the foreseeable future. According to the report, the global market for potato proteins is expected to witness a moderate growth at 3.6% CAGR in terms of value, during the forecast period, 2017-2026. It has been estimated that by the end of 2026, more than US$ 150 Mn worth of potato protein will be consumed across the globe.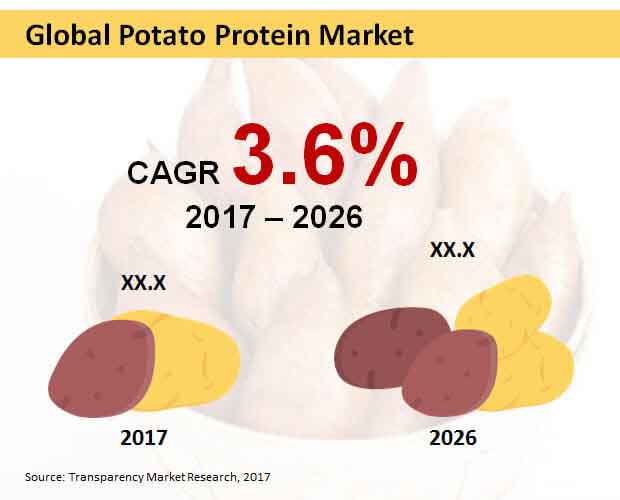 High Demand for Protein Concentrates to Spearhead Market Growth
The report estimates that throughout the forecast period, the sales of potato protein concentrates will outpace the sales of potato protein isolates. High demand for dietary consumption of protein concentrates is expected to drive the demand for potato protein concentrates in the near future. The report estimates that by the end of 2026, over US$ 86 Mn worth of potato protein concentrates will be consumed globally. In addition, the report also reveals that potato protein concentrates will register a healthy value CAGR compared to potato protein isolates.
Animal Feed Applications to Register Impressive Traction in terms of Value during 2017-2026
On the basis of applications, the report has observed that potato protein will be predominantly used to make animal feed in the future. Animal feed production is expected to account for more than 20% of the market value throughout the forecast period. The report also observes that potato proteins will find lucrative application in production of dairy products. Their nutritional value enables diary product manufacturers in extending the energy content of their products. In addition, low prices of potato protein make them suitable for large-scale dairy product manufacturing. Over the forecast period, diary product applications of potato protein are expected to translate a revenue growth at 4.8% CAGR.
Europe to Remain Key Consumer Marketplace for Potato Proteins
European consumers will continue to adopt potato protein in their dietary lifestyles. In addition, several potato protein market players are based in the UK, Spain and other parts of the Europe. Through 2026, Europe will represent the largest consumer marketplace for potato proteins. By the end of the forecast period, Europe's potato protein market is expected to touch a valuation of US$ 50 Mn.
Key Producers
Roquette, Solanic BV (AVEBE Group), Omega Protein Corporation, Agrana, Kerry Group plc., E. I. du Pont de Nemours and Company, Cargill, Archer Daniels Midland Company, Südstärke, KMC Ingredients, Peppes Group, AKV Langholt, Meelunie, and Emsland Group have been identified as the global leaders in production of potato protein. These companies have been extensively profiled in the report, and are expected to instrument the market's growth through 2026. Adopting latest product techniques will be prioritized by these companies. Several potato protein market participants are also expected to work towards making the procurement of raw potatoes and ingredients more cost-effective in the near future.
Global Potato Protein Market Benefits from Changing Consumer Food Habit
Many biotech scientists and food investigators have taken up a study on the nutritional value of potatoes because potatoes are a key ingredient in our daily meals. Potato protein made its way to our plates due to the progression of food technology coupled with escalated demand for food items that are rich in protein.
The growing tendency of customers shifting their preference toward plant-based proteins is likely to boost the global potato protein market during the forecast period. New techniques of potato protein production along with experimental trials are carried out to augment output of potato protein on a large-scale production.
Use of Potato Protein in Animal Feed to Spur Demand in the Market
In the last few years, many interested companies in the global potato protein market are making massive investments. The market has benefitted substantially from the use of potato protein in feed of the animals, which has helped in the generation of considerable revenue on a regular basis. The animal feed, thus produced, find application across a wide variety of sectors that are related to the breeding and domestication of animals. As such, it is expected that the global potato protein market will witness growth in years to come.
In addition to that, the presence of seamlessly functioning animal-care industry supports the growth of the global potato protein market. Easy digestion of potato protein is likely to further boost the market.
Many people follow strict protein-rich diets to stay fit and healthy as proteins help in the building of bones, tissues, muscles, skin, and blood. This is an important consideration for the study on the global potato protein market. Russet potato is a storehouse of protein and consumption of russet potato is enough to meet the requirements of a protein diet. Besides, russet potato is a rich source of Vitamin C. Thus, the global potato proteins market reaps substantial benefits from the nutrient value of potatoes.
On the flip side, complicated techniques of production and low awareness about its benefits are likely to hamper growth of the market to some extent.
Global Potato Protein Market: Overview
Prevalent use of potato in the global food industry has served the dietary needs of generations of consumers. Food investigators have explored the nutritive value of potatoes, and these findings have been incorporated by food making companies towards development of specialized potatoes, enriched in key nutrients such as proteins. Functional properties of potato proteins are finding lucrative applications in production of functional foods. Moreover, increasing demand for protein isolates among health-conscious consumers continues to propel the uptake for potato proteins. As more consumers opt for plant-based protein products, companies partaking in the global potato protein market are extending their capacities. New production techniques are replacing the conventional methods of producing potato protein products. In addition, feeding experiments are being carried out to test the edibility and digestibility of potato proteins with distinct mix of nutrients through animal trials.
Transparency Market Research has developed an exclusive forecast study tracing the expansion of the global potato protein market till date and towards near future. Assessing the information that can support the growth of the global potato protein market during 2017-2026 period, this report caters to all the aspects encompassing the production and consumption of potato proteins. This study has been developed by analyzing the information procured from exclusive dialogues with market participants and industry leaders. By providing objective information on the key qualms in production of potato proteins, this report serves as a credible business document for global potato protein market players.
Market Segmentation & Analysis
Analytical standpoint of this report justifies the present backdrop of the global potato protein market, and reveals the influences for future market growth precisely. Supply chain characteristics of potato protein at a global perspective have been detailed in the report. The forecast market growth reflects that influence of latest industry trends, while the study has also addressed the key factors driving the demand for potato proteins. From increasing demand for plant-based proteins to high profit margins associated with sales of potato protein, several factors that have shaped up the demand-side and supply-side growth of the market have been analyzed in the report.
Key sections of the report provide segmental analysis on the expansion of the global potato protein market. For the purpose of in-depth analysis, the report has segmented the global potato protein market on the basis of product type, application and region. Furthermore, the report also provides cross-segmental analysis on the market, wherein expansion of country-specific potato protein markets has been forecasted as well.

Leading manufacturers in the global potato protein market have been identified. Evaluation of their latest and notable strategies of each market player have been studied. New production techniques have been analyzed on the basis of their cost-effectiveness. Moreover, strengths and weaknesses of the competitors have been revealed to extend the scope of competitor analysis developed in the report. From raw material procurement strategies to cost structure and distribution framework, several key aspects of the global potato protein production landscape have been premeditated in this report. Key inferences provided in this study are aimed at increasing the understanding of market players and enabling them to plan their future strategies prudently. Comprehensive Assessment of Market Players
Region

North America
Latin America
Europe
Japan
APEJ
MEA

Product Type

Application

Meat Products
Dairy Products
Bakery & Confectionery
Processed Food
Beverages
Sports Nutrition
Animal Feed
Other Applications
Custom Market Research Services
TMR offers custom market research services that help clients to get information on their business scenario required where syndicated solutions are not enough.
REQUEST CUSTOMIZATION