Pneumatic Cylinder Market
Pneumatic Cylinder Market (Type: Single-acting Cylinder and Double-acting Cylinder; Movement: Linear and Rotary; and End-use Industry: Construction, Manufacturing, Robotics, Automotive, Aerospace, and Others) - Global Industry Analysis, Size, Share, Growth, Trends, and Forecast, 2019 – 2027
Electronics & Semiconductors
TMRGL59364
2019-06-05
224

Pages
Introduction - Pneumatic Cylinders
If there's one word that aptly describes the story of the pneumatic cylinder market, it is diversification. Traditionally, demand for pneumatic cylinders has remained limited to construction, automotive, manufacturing, and aerospace. However, in the recent past, new opportunities have emerged. Pneumatic cylinder manufacturers are now eyeing opportunities across a wide range of sectors. The foray into the uncharted has been enabled by consistent advances in technology, notably, automation and robotics. Transparency Market Research (TMR), in its new offering, lays bare the overt and the covert, the subtle and the obvious, and the niche and the holistic, to present a comprehensive, 360 degree analysis of the pneumatic cylinder market.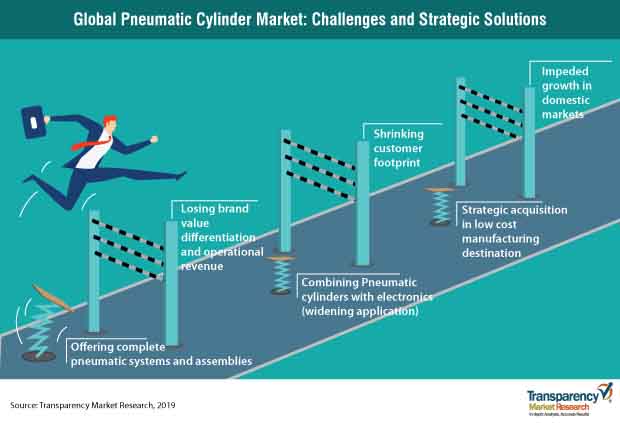 Planning to lay down future strategy? Perfect your plan with our report brochure here
Evolution in Pneumatic Cylinders
Single-action cylinders are quickly being replaced by double-action pneumatic cylinders, as the requirements of end-users have witnessed a sea change over the years. Single-action cylinders, known for their easy operational method, fail-safe mechanism, and low operational costs are proving to be incongruous with the shifting demand. Double-action cylinders have catered to these limitations, and today, they remain the pneumatic cylinder of choice in a range of industries.
According to TMR's research, over 11,000 units of pneumatic cylinders were sold in 2017. Buoyed by growing applications in novel avenues, global sales are likely to reach nearly 12,700 units in 2019. Transparency Market Research (TMR) maintains a bullish outlook on the pneumatic cylinder market, and opines that global sales will grow at over 5% consistently throughout the course of the forecast period (2019-2027).
Want to know the obstructions to your company's growth in future? Request a PDF sample here
Pneumatic Cylinder Market: The Impact of Undercurrents
The broader advances in robotics and automation has rubbed off on the demand for pneumatic cylinders. To power the robotics of tomorrow, pneumatic cylinder manufacturers are investing in R&D and collaborative development activities. The ubiquity of pneumatic cylinders is likely to create new growth opportunities for pneumatic cylinder manufacturers. Although advances in robotics will augment market growth, it will be the traditional stalwarts—manufacturing and automotive—that will hold sway in terms of total sales and revenues.
Pneumatic cylinders coupled with sensors enable higher productivity and efficiency. These can record and transmit important information regarding temperature, cycle counts, cycle speed, and travel in real-time. Additionally, the manufacturing industry is adopting trends such as automation 4.0. The automation trend is expected to have a large impact on manufacturing industries as it makes way for various cost-effective and highly productive innovation. Hence, automation is likely to fuel growth of the pneumatic cylinder market in the near future and create opportunities for high-value sensor-laden pneumatic cylinders.
Pneumatic cylinder market is already witnessing a rise in demand for high-end products in futuristic applications. Space exploration is increasingly being undertaken by emerging countries as well. Recent space exploration programs have resulted in advanced GPS navigation, reliable weather information, creating significant opportunities. However, electric and hydraulic technology cannot be used in space shuttle automated door technology, due to high levels of radiation in space. Pneumatic cylinders have proven to be a feasible solution as their operations are not restrained due to radiations.
Pneumatic cylinders are experiencing robust demand due to widespread industry-use in applications such as rotary-valve actuators, slide-gate actuators, material handling services. Additionally, their deployment in ATVs, earth moving equipment, and motorcycles is also expanding as the growth of the automobile sector picks up in North America.
TMR recommends all manufacturers of the pneumatic cylinders to consider catering to increasing demand for energy efficiency. The demand for energy-efficient solutions has witnessed a steady rise in recent years. Additionally, growing regulations regarding carbon emissions are expected to bring about a dynamic shift in the demand from a key end-use sector, automotive. Furthermore, pneumatic cylinders often use compressed air as a medium. Due to high costs associated with this energy mediums, energy efficiency is expected to become a definitive trend which will shape operations for end-users and change business operations to align with innovative mediums of energy efficiency.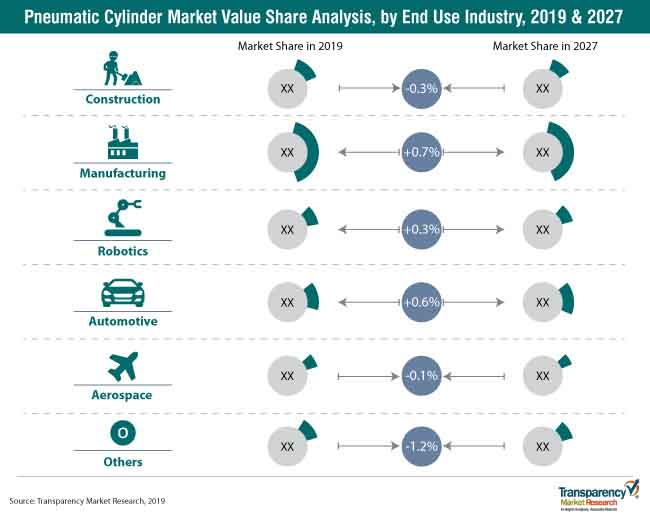 Looking for exclusive market insights from business experts? Request a Custom Report
The Competitive Landscape
Considering the buyer focus on competitive pricing, many pneumatic cylinder players have a manufacturing plant in regions where labor costs are relatively lower. Also, it is a strategic move by market players to set up plants in countries where compliance costs do not add up to the final product cost.
Although China and India may have lost some of their sheen as global manufacturing hubs, as labor costs have shot up in recent years, these countries continue to serve as manufacturing hubs for pneumatic cylinder companies. Among the players that have manufacturing centers in India and China, the prominent ones include Parker Hannifin Corporation, Camozzi Group, AirTAC International Group, The Emerson Electric Co., SMC Corp, and Festo Corp.
Mergers and acquisitions have been the norm rather than the exception in pneumatic cylinder market. The spate of M&As has been especially heightened since 2016, with many top-line players making strategic moves to acquire other companies. Of notable prominence has been the acquisition spree of IMI plc, and it has got Bimba Manufacturing and Analytical Flow Products (AFP).
In addition to mergers and acquisitions, expansion and new product development remain the other key focus areas. SMC Corp, Festo, and Parker Hannifin Corporation are among the key names that have invested significantly in new product development.
The pneumatic cylinder market is also witnessing a phase where unmet end-user needs are quickly passed on to the R&D and innovation labs, and a new product is in the market to gain first-mover advantage. For instance, to meet the space-related limitations, Festo rolled out inch series pancake cylinders. Further, to offer end-users greater flexibility and application-specific customization, IMI Norgen launched the MC Series magnetically coupled Rodless cylinders earlier this year.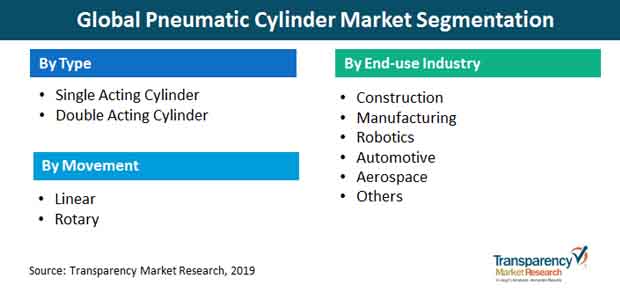 The Analyst Viewpoint

Innovation and extinction – these two words may adequately sum up the future for many players in the pneumatic cylinders market. Companies who are able to fully understand the opportunities created by Industrial Internet of Things (IIoT) and scale up by developing cost-effective, yet innovative products, will have a better shot at success. The massive investments in factory automation, combined with a renewed focus on operational efficiency are there for all to be exploited. Players who are able to meet the evolving needs emerging from non-traditional sectors, especially in aerospace and defense, can have a wider canvas to play with.
Pneumatic Cylinder: Definition/Overview
Pneumatic cylinder, also referred as air cylinder, is a mechanical device designed to use compressed air to produce a force in a reciprocating linear motion.
These works quite similar to hydraulic cylinders, a force is applied into the piston, which pushes it to the desired direction.
Pneumatics holds many advantages that make it more suitable for many applications. Because pneumatic pressures are lower, components can be made of thinner and lighter weight materials, such as aluminum and engineered plastics, whereas hydraulic components are generally made of steel and ductile or cast iron.
Global Pneumatic Cylinder Market: Regional Overview
The pneumatic cylinder market in different regions across the world is undergoing a diverse phase. North America and Europe are mature regions of the global market, due to presence of major end-use industries in these regions.
On the other hand, developing countries in Asia Pacific and Middle East & Africa, which are undergoing modernization and adopting industrial automation, are also witnessing increase in the demand for pneumatic cylinders. This, in turn, is driving the global pneumatic cylinder market. (Image 1)
Global Pneumatic Cylinder Market: Market Trends
Introduction of smart pneumatic cylinders is becoming popular owing to its various advantages, such as system optimization, which links the networking machinery, sensors, and control systems together.
Moreover, use of the technology allows manufacturing companies to track real-time data of cylinder pressure, temperature, travel, cycle speed, and cycle counts of pneumatic systems.
Global Pneumatic Cylinder Market: Market Driver, Opportunities and Restraints
Adoption of industrial automation has increased in recent years, owing to its advantages such as increased productivity, reduced direct human labor costs, delivery of high-quality products, and enhanced consistency of processes or products is generating the demand for pneumatic cylinders.
Moreover, low-cost availability, minimum maintenance, and ability of pneumatic cylinders to work at extreme temperatures make them a popular choice for use in industrial automation applications.
Pneumatic cylinder robots are used in industrial automation to speed up the work flow. These robots are controlled with compressed air. This factor is likely to continue to drive the global pneumatic cylinder market during the forecast period.
However, the pneumatic cylinder market faces some challenges, due to low energy efficiency of pneumatic cylinders.
Global Pneumatic Cylinder Market: Key Market Segment
The global pneumatic cylinder market has been segmented based on type, movement, end use industry, and region.
Type:

In terms of type the global pneumatic cylinder market has been segregated into single-acting cylinder and double-acting cylinder.
Double-acting cylinder was the dominant segment in global pneumatic cylinder market in 2018.
The double-acting cylinders are faster, stronger, and require less energy to complete the task as compared to single acting cylinder, resulting in the growing demand. (Image 3)

Movement:

By movement the global pneumatic cylinder market has been bifurcated into linear and rotary movement.
Linear pneumatic cylinders are one of the most common types of pneumatic cylinder, and are found in everything and mostly used in motion control for industrial machinery. Hence, linear movement segment is expected to dominate the pneumatic cylinder market.

End-use industry:

In terms of end-user industry, the pneumatic cylinder market has been classified into construction, manufacturing, robotics, automotive, aerospace and others.
Manufacturing segment is expected to dominate the global pneumatic cylinder market during the forecast period, owing to high demand for pneumatic cylinders for use in industrial automation and processes.
Automotive is the most rapidly expanding end-use industry segment of the global market for pneumatic cylinders, followed by the others segment. (Image 2)
Global Pneumatic Cylinder Market: Competition Dynamics
Attracted by growth of the market and the underlying latent demand for pneumatic cylinders, several players operating in the global pneumatic cylinder market are expanding their business through new product development, strategic mergers and acquisitions, and partnerships.
In July 2018, Emerson Electric Co. acquired Aventics, a provider of smart pneumatic cylinder technologies for various industries. The acquisition is expected to expand product lines of the company and expand its business in Europe.
Some of the prominent players operating in the global pneumatic cylinder market are Bosch Rexroth AG, SMC Corporation, Emerson Electric Co., Parker Hannifin Corporation, AirTAC International Group, Sheffer Corporation, IMI Precision Engineering, Eaton Corporation, Metal Work Pneumatic, Univer Group, Hafner-Pneumatik Krämer KG, FESTO, Ingersoll-Rand Plc, CMB Srl, Pneumax S.p.a., Vesta Automation Srl, Aignep S.p.A., Waircom MBS SpA, Megliani Luigi Srl, Bonesi Pneumatik Srl, AirWork Pneumatic Equipment, CY.PAG. Srl, KPM Srl, Nexoil, and Aircomp Stampotecnica.
This report offers an incisive analysis on the pneumatic cylinder market for the forecast period during 2019-2027. A comprehensive assessment of all the factors influencing this landscape has been compiled, with crucial information on drivers, trends, restraints, and opportunities curated to give readers a 360 degree view of the market.
The pneumatic cylinder market research study offers readers a comprehensive analysis on the key factors that are likely to shape up future growth. The drivers, restraints, opportunities, and threats (DROT) influencing the pneumatic cylinder market have been studied in detail, and their impact on the market has been assessed for the perusal of the readers.
The pneumatic cylinder market report presents an original and independent inquiry in the pneumatic cylinder market. Furthermore, the market evaluation in terms of value and volume (US$ mn and thousand units) consists of data from across all five regions of the globe including: North America, Asia Pacific, South America, Middle East & Africa, and Europe.
Pneumatic Cylinder Market: Key Questions Answered in the Report
How will the pneumatic cylinder landscape evolve over the course of the assessment period
What strategies will incumbents and new entrants adopt to consolidate their position?
How is automation expected to impact the growth of pneumatic cylinder market?
Why are polymer materials the next-big-thing in the pneumatic cylinder market?
Why is the packaging industry a vital sector for future growth of the pneumatic cylinder market?
What are the features driving the growth of pneumatic cylinders in the automated packaging industry?
Why do the next-generation battery operated vehicles promise to be a boon for the pneumatic cylinder market?
How does portability features of ventilators impact the growth of the pneumatic cylinder market in the healthcare sector?
Pneumatic Cylinder Market: Research Methodology
The report on pneumatic cylinder market is the result of an extensive and meticulous research methodology, which comprises of a plethora of intuitive inquiries, factual checks, and strict oversight. The research methodology of pneumatic cylinder market report was divided into primary and secondary research phases, which became instrumental in estimating the market growth, evolution of the overall landscape, and competitive analysis.
In the primary phase of the research methodology for pneumatic cylinder market, 183 industry experts were interviewed for obtaining deeper insights into ground realities and the information gathered proved to be an excellent tool. These industry experts included product managers, team of engineers, salesmen of small and large companies, and various other key stakeholders. Among the 183 industry experts interviewed, 76 provided a deep insight into the demand side of the pneumatic cylinder market. While the others, provided a critical look at the supply equation of the pneumatic cylinder market. The key insights learned during the making of pneumatic cylinder market are available to our clients through the report.
For secondary phase, various sources relevant to the pneumatic cylinder market landscape have been analyzed in detail, which forms the basis of various key insights presented in the report. Some of these sources include trade organizations, academic publications, white papers, company annual reports, investor presentations, company websites, and other sources. Some of the prominent players profiled in the pneumatic cylinder market report are-
AVENTICS, SMC Corporation, AIRTEC Pneumatic, Emerson Electric, PARKER HANNIFIN, Ashun Fluid Power Co., Sheffer Corporation, FESTO, Bimba Manufacturing, Univer, and Bansbach, Metal Work.
Pneumatic Cylinder Market: Segmentation
Type

Single-Acting Cylinder

Double- Acting Cylinder

Movement

Linear

Rotary

End-Use

Construction

Manufacturing

Robotics

Automotive

Region

North America

Europe

Asia Pacific

Latin America

US, Canada & Rest of North America

Germany, France, UK, and Rest of Europe

China, Japan, India, Australia, and Rest of Asia Pacific

Brazil and Rest of Latin America
Custom Market Research Services
TMR offers custom market research services that help clients to get information on their business scenario required where syndicated solutions are not enough.
REQUEST CUSTOMIZATION

Pneumatic Cylinder Market