Global Photopheresis Products Market: Snapshot
Photopheresis has emerged as one of the most effective treatment options for a number of autoimmune diseases, chronic graft versus host disease, solid organ transplant rejections, and advanced cutaneous T-cell lymphoma in the past few years. The therapy, which was approved by FDA in 1988, is being largely considered as the first line of treatment for a number of diseases owing to benefits such as low rate of side effects, better safety, and efficacy as compared to other drug treatments. With the growing demand for blood derived products, the photopheresis product market is expected to gain significant traction during the forecast period.
Transparency Market Research estimates that the global photopheresis products market will exhibit a 5.9% CAGR over the period between 2016 and 2024. At this pace, the market, which had a valuation of US$223.1 mn in 2015, is expected to rise to US$ 371.1 mn by 2024.
Closed System Photopheresis Products to Account for Bulk of Revenues
The key varieties of photopheresis systems currently available in the market fall in two main categories: open system and closed system. Of these, the products falling under the category of closed systems are widely used by the healthcare practitioners as these products offer advantages such as less risk of infection and contamination, reduced treatment time, and easy treatment procedure over open systems. Moreover, closed system photopheresis devices are the only devices approved by the FDA for the treatment of CTL conditions. Around 70-80% of the overall photopheresis devices in the global market presently are closed systems and the rest of open system photopheresis devices.
The segment of closed systems, hence, accounted for the dominant 81.1% of the overall market in 2015, in terms of contribution of revenue to the global market. The segment is also expected to expand at a higher rate that the segment of open systems over the forecast period. The technologically advanced system and one-step procedure are some of the key reason for the higher adoption of these systems. However, high cost of these system could hinder the market growth during the forecast period.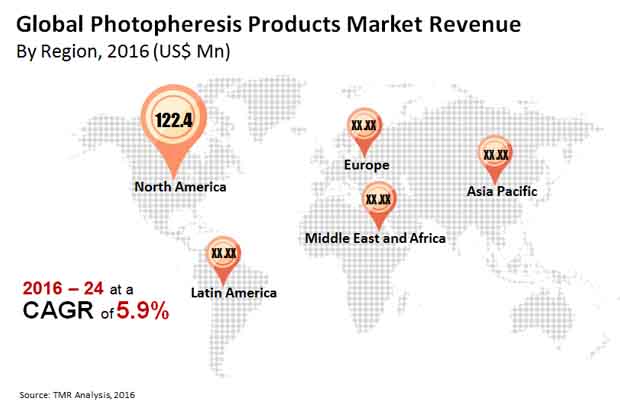 Accounting for More than Half the Global Market, North America to Continue to Remain Dominant
North America leads the global photopheresis products market, accounting for over half of the market in 2015. The region is projected to retain its dominance during the forecast period as well. The vast reimbursement provided by governments for various disease indications such as GVHD, CTL, and lung transplantations treated by ECP therapy is a key factor contributing to the region's leading position in the global market.
In 2012, Medicare extended reimbursement coverage for ECP therapy to treat bronchiolitis obliterans syndrome (BOS), a chronic lung allograft transplant dysfunction. Despite having vast growth opportunities, the lack of sufficient treatment centers for ECP therapy is expected to slow down the photopheresis products market in North America. Nevertheless, the comparatively more positive factors will grant favorable growth opportunities and the North America photopheresis market will exhibit a remarkable 5.8% CAGR over the period between 2016 and 2024.
However, Asia Pacific will overtake North America to take the lead in terms of rate of expansion of the photopheresis products market over the forecast period. The Asia Pacific market for photopheresis products, which held only about 4% of the global market in 2015, is expected to exhibit the leading 6.6% CAGR from 2016 through 2024. Expanding photopheresis centers in the region will be the key driving force of the market over the said period. Some of the other contributing factors are the faster regulatory approvals, increased acceptance of advanced photopheresis devices, and corporate entities boosting research activities in the ECP sector.
Key players in the global photopheresis market include Macopharma, Med Tech Solutions GmbH, Haemonetics Corporation, Fresenius Kabi AG, Terumo Corporation, and Mallinckrodt Pharmaceuticals.
Global Photopheresis Products Market: Overview
The photopheresis products market is mainly driven by growing Graft versus host disease conditions globally. Furthermore the rising coverage of healthcare and increasing in transplantations expected to grow photopheresis products market growth. However, the market growth is hindered by lack of many photopheresis treatment centers and high cost involved in therapy. In the U.S., ECP therapy costs around US$8000/treatment and every individual has to take the treatment for every two weeks and continue the same procedure for one year to complete the treatment. According to research article, globally, around 26% to 36% recipients of full matched sibling donor grafts suffer from acute graft versus host disease conditions. Photopheresis therapy is a U.S FDA approved treatment to treat cutaneous T-cell lymphoma conditions.
However, it is most commonly used in treating graft versus host disease conditions. Furthermore, in 2016, Swedish government has given reimbursement for lung transplantations by using photopheresis therapy. Currently few clinical trials are undergoing on photopheresis therapy to explore its benefits to treat autoimmune disease conditions. Treatment of autoimmune diseases using photopheresis therapy is still in nascent phase. Mallinckrodt pharmaceuticals is actively conducting clinical trials on novel therapeutic indications like Cohn's disease, multiple sclerosis conditions and more over. In 2015, Therakos Inc., was acquired by Mallinckrodt to strengthen its revenue generation from hospital segment. Based on the product type, photopheresis products are segmented into open systems and closed systems. Closed systems are mostly used globally to treat various disease conditions and these are technologically advanced systems than the open systems. In USA, closed systems dominates the market and they are approved by U.S FDA to treat cutaneous T-cell lymphoma conditions. In Europe, both closed systems and open systems are commonly preferred to treat various disease conditions.
Global Photopheresis Products Market: Scope of the Report
The report is a combination of primary and secondary research. Primary research formed the bulk of our research efforts, with information collected from telephonic interviews and interactions via e-mail. Secondary research involved study of company websites, annual reports, press releases, stock analysis presentations, and various national and international databases. The report provides market size in terms of US$ Mn for each segment for the period from 2016 to 2024, considering the macro and micro-environmental factors. Growth rates for each segment within the photopheresis products market have been determined after a thorough analysis of past trends, demographics, future trends, technological developments, vaccination expenditure, and regulatory requirements.
The market overview section of the report includes qualitative analysis of the photopheresis products market including the determining factors and market dynamics such as drivers, restraints, market trends and opportunities, along with white space analysis. In addition, market attractiveness analysis by country, isotopic application and end-user along with competitive landscape by key players have been provided which explain the intensity of competition in the market considering different geographical locations. The competitive scenario between market players has been evaluated through market share analysis. These factors would help the market players take strategic decisions in order to strengthen their positions and increase their shares in the global market.
Global Photopheresis Products Market: Geographical and Competitive Dynamics
The market is driven by increase in graft versus host disease conditions and novel benefits of photopheresis therapy in different therapeutic indications. The market is expected to grow due to favorable reimbursement scenario in various countries for photopheresis therapy. In terms of End user, specialty clinics are less preferred when compared with hospitals. This is mainly due to the high cost of the photopheresis products which can only afford by the hospitals.
Geographically, the global photopheresis products market has been segmented into five regions with North America leading the market in 2015 followed by Europe and Asia Pacific. The requirement for photopheresis products are rapidly growing in Asia Pacific due to increase in transplantations and penetration of key market players entering into this geography are expected to drive the growth of this market during the forecast period.
Key companies profiled in the report include Macopharma, Med Tech Solutions GmbH, Haemonetics Corporation, Fresenius Kabi AG, Terumo Corporation, and Mallinckrodt Pharmaceuticals
The photopheresis products market has been segmented as follows:
Global Photopheresis products Market, by Product
Open system
Closed system
Global photopheresis products market, by Therapeutic Area
Graft versus host disease
Transplant rejections
Autoimmune diseases
Cutaneous T-cell lymphoma
Global photopheresis products market, by End User
Hospitals
Specialty clinics
Global photopheresis products market, by Geography
North America
Europe
Asia Pacific
Latin America
MEA (Middle East & Africa)