Phosphorescent Pigments Market
Phosphorescent Pigments Market (Product - Zinc Sulphide and Strontium Aluminate; Applications - Paints and Coatings, Plastics, Printing Inks, and Textiles) - Global Industry Analysis, Size, Share, Growth, Trends, and Forecast 2017 - 2025
Category :

Chemicals & Materials

Format :
Global Phosphorescent Pigments Market: Snapshot
Phosphorescence is a type of photoluminescence. Phosphorescent pigments crystal absorbs the radiations falling on them and thus e-emit the radiation it absorbs. The main characteristics of the phosphorescent pigments is the particular structure of its crystal with the strong capacity of absorbing-storing-emitting light. After absorbing varieties of visible lights, it can glow for more than twelve hours in the dark. Due to this property of glowing, they are also referred to as the glow-in-dark pigments. Phosphorescent pigment are used for many very different technical and artistic purposes due to its characteristics. It can be used in manufacturing paint; ink; plastic; rubber and films etc. It is completely safe for the application in consumer products such as clothing; shoes; caps; toys; stationery goods; watch; switch; novelties; fishing tools and sporting goods. It has good effects in the fields of building; decoration; traffic vehicle; military installations; fire emergency system. It is especially suitable for the production of long afterglow safety products such as warning; mandatory and escape-route signs.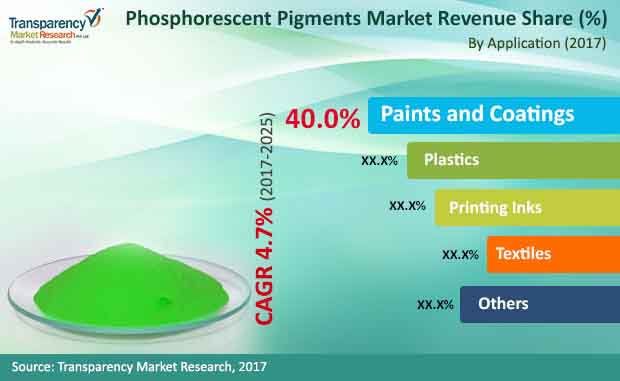 Paints and Coatings Make One of the Leading Shareholding Segments Based on Application
On the basis of the products, phosphorescent pigments are classified according to the Zinc Sulphide and Strontium Aluminate. Strontium Aluminate is a class of newly developed phosphorescent (glow-in-the-dark) pigments which are based on Strontium Oxide Aluminate Chemistry. They are drastically different from conventional phosphorescent pigments which are either based on Zinc Sulfide or on radioisotopes for their self-luminous properties. Strontium aluminate can emit the light for about 12 hours which is not the case with the zinc sulphide. Strontium aluminate phosphorescent pigments are higher in prices than the zinc sulphide phosphorescent pigments. Strontium aluminate is doped with the Europium or Dysprosium so as to enhance the brightness and the duration of the glow. Zinc sulphide is the traditional phosphorescent pigment which is doped with copper to enhance the properties.
Based on the applications, paints and coatings is amongst the largest shareholding segments. Paints and coatings are then followed by the plastics industry. Phosphorescent pigments are used as fishing lures, glow in dark toys, paints, concrete, carpets, light-switches, handrails, stair well markers, luminaire reflectors, high visibility jackets, hard hats, directional indicators, arrows, highlighting signs for the position of fire extinguishers and especially the internationally standardized phosphorescent safety signs are nowadays widely in use. The main application of all kinds of well-defined phosphorescent safety products are egress pass marking purposes as of high rise buildings, of public buildings, railway stations, underground trains, passenger ships, underground parking areas and areas with high foot traffic.
Asia Pacific Reports High Consumption, with China Accounting for Nearly Half of Regional Market
In terms of consumption, Asia Pacific was the largest market for Phosphorescent Pigments in 2016, China alone contributes to more than 50% of the Asia Pacific Phosphorescent Pigments market. The Phosphorescent Pigments market in Asia Pacific is very fragmented as most of the production is done by small scale manufacturers. Asia Pacific produces and exports Phosphorescent Pigments due to high availability of raw materials, developed technologies; and cheap labor. Europe is also a substantial market for Phosphorescent Pigments market, the region consumes more than 1/5th of the total volume of the global Phosphorescent Pigments market. Europe and North America have strong and developed construction industry thus the demand for Phosphorescent Pigments is anticipated to increase over the forecast period.
Major companies operating in the Phosphorescent Pigments market include Nemoto Lumi-Materials Co. Ltd., GloTech International Ltd., Allureglow International, LuminoChem Ltd., Honeywell International Inc., Kremer Pigmente GmbH & Co. KG, and Badger Color Concentrates Inc.
Global Phosphorescent Pigments Market: Overview
Phosphorescence is a process in which energy absorbed by a substance is released slowly in the form of light. Phosphorescent pigments are of the two types: zinc sulphide and strontium aluminate. Zinc sulphide phosphorescent pigments consist of very fine crystals of zinc sulfide; copper is then added to the zinc sulfide as an activator. This allows the crystals to absorb light and slowly emit it over time. Strontium aluminate is the latest Application pigments which is doped with Europium or Dysprosium in order to improve the brightness and the duration of the glow. The main characteristic of phosphorescent pigments is their capacity to absorb, store and emit light. After absorbing light they can glow in the dark for up to twelve hours. In addition the material is stable, non-toxic, has no radioactive additives and has good weatherability.
Global Phosphorescent Pigments Market: Scope of the Study
The report estimates and forecasts the Phosphorescent Pigments market on the global, regional, and country levels. The study provides forecast between 2017 and 2025 based on volume (tons) and revenue (US$ Mn) with 2016 as the base year. The report comprises an exhaustive value chain analysis for each of the Product segments. It provides a comprehensive view of the market. Value chain analysis also offers detailed information about value addition at each stage. The study includes drivers and restraints for the Phosphorescent Pigments market along with their impact on demand during the forecast period. The study also provides key market indicators affecting the growth of the market. The report analyzes opportunities in the Phosphorescent Pigments market on the global and regional level. Drivers, restraints, and opportunities mentioned in the report are justified through quantitative and qualitative data. These have been verified through primary and secondary resources. Furthermore, the report analyzes substitute analysis of Phosphorescent Pigments market and global average price trend analysis.
The report includes Porter's Five Forces Model to determine the degree of competition in the Phosphorescent Pigments market. It comprises qualitative write-up on market attractiveness analysis, wherein products, processes, applications and countries have been analyzed based on attractiveness for each region. Growth rate, market size, raw Process availability, profit margin, impact strength, Application, competition, and other factors (such as environmental and legal) have been evaluated in order to derive the general attractiveness of the market. The report comprises price trend analysis for Phosphorescent Pigments between 2017 and 2025.
Global Phosphorescent Pigments Market: Research Methodology
The study provides comprehensive view of the Phosphorescent Pigments market by dividing it into product, application and geography. The Phosphorescent Pigments market has been segmented by application into paints and coatings, plastics, printing inks, textiles, and others.
Secondary research sources that were typically referred to include, but were not limited to company websites, financial reports, annual reports, investor presentations, broker reports, and SEC filings. Other sources such as internal and external proprietary databases, statistical databases and market reports, news articles, national government documents, and webcasts specific to companies operating in the market have also been referred for the report.
In-depth interviews and discussions with wide range of key opinion leaders and industry participants were conducted to compile this research report. Primary research represents the bulk of research efforts, supplemented by extensive secondary research. Key players' product literature, annual reports, press releases, and relevant documents were reviewed for competitive analysis and market understanding. This helped in validating and strengthening secondary research findings. Primary research further helped in developing the analysis team's expertise and market understanding.
Global Phosphorescent Pigments Market: Regional Outlook
Regional segmentation includes the current and forecast of Phosphorescent Pigments in North America, Europe, Asia Pacific, Latin America, and Middle East & Africa (MEA). Key countries such as the U.S., France, Germany, the U.K., China, India, ASEAN, South Africa, Mexico, and Brazil have been included in the study. Market segmentation includes amount of phosphorescent pigment consumed by product, process, and application in all the regions and countries.
Global Phosphorescent Pigments Market: Competitive Outlook
The report covers detailed competitive outlook that includes market share and profiles of key players operating in the global market. Major players profiled in the report include Nemoto Lumi-Materials Co. Ltd., GloTech International Ltd., Allureglow International, LuminoChem Ltd., Honeywell International Inc., Kremer Pigmente GmbH & Co. KG, and Badger Color Concentrates Inc. etc. Company profiles include attributes such as company overview, number of employees, brand overview, key competitors, business overview, business strategies, recent/key developments, acquisitions, and financial overview (wherever applicable).
The Phosphorescent Pigments market has been divided into the following segments.
Product Analysis

Zinc Sulphide
Strontium Aluminate

Application Analysis

Paints and Coatings
Plastics
Printing Inks
Textiles
Others (Construction materials, toys, glassware)

Regional Analysis

North America
Europe

Germany
France
Italy
U.K.
Spain
Rest of Europe

Asia Pacific

China
India
Japan
ASEAN
Rest of Asia Pacific

Latin America

Brazil
Mexico
Rest of Latin America

Middle East & Africa

South Africa
GCC
Rest of Middle East & Africa
Custom Market Research Services
TMR offers custom market research services that help clients to get information on their business scenario required where syndicated solutions are not enough.
REQUEST CUSTOMIZATION

Phosphorescent Pigments Market