Polyethylene Terephthalate Market
Polyethylene Terephthalate Market (Beverages (Bottled Water, Carbonated Drinks, Juices, and LDP), Films, Food Packaging, Cosmetic Bottles, and Household Products) - Global Industry Analysis, Size, Share, Growth, Trends and Forecast 2016 - 2024
Category :

Chemicals & Materials

Format :
The polyethylene terephthalate market is anticipated to grow at a steady rate during the forecast period due to the plethora of benefits polyethylene terephthalate offers. PET polymer is the most frequently used polymer in the world. It is prominently used as a fiber for clothing and also for packaging and bottling on a large scale. Growing demand for packaging food is expected to boost the polyethylene terephthalate market to a great extent. Also, a shift towards flexible packaging will likely benefit the polyethylene terephthalate market. Other advantages like cost-effectiveness, high strength and weight ratio, shatterproof, and easy recycling prove as growth generators for the polyethylene terephthalate market.
A niche application of PET bottles is eco-bricks. In this, PET bottles are filled with soil, fly-ash, or other material that can be used as a building material. This can replace traditional bricks. In addition, eco-bricks have a high sound reduction index and less light penetration. These eco-bricks also help to reduce strain on centralized waste management systems. Therefore, these aspects can prove to a great growth opportunity for the polyethylene terephthalate market.
Research and development activities are generating breakthroughs and paving way for innovations that can propel the growth rate of the polyethylene terephthalate market. For instance, a team of researchers from Tufts University and Purdue University along with the Indian Institute of Technology is in the process of transforming polyethylene terephthalate into battery components. The researchers used an ultrafast microwave irradiation process to convert polyethylene terephthalate into disodium terephthalate and use it as a battery anode material.
The use of polyethylene terephthalate in other applications such as 3D printing, plastic injection molding, and CNC machining may increase the growth rate of the polyethylene terephthalate market. The COVID-19 outbreak has increased the demand for injections. Therefore, this aspect can support the increase in growth rate for the polyethylene terephthalate market.
Global Polyethylene Terephthalate Market: Snapshot
The global polyethylene terephthalate (PET) market is witnessing significant growth in its valuation, thanks to the increasing trend of replacing conventional glass packaging with PET packaging. The enhanced recyclability of PET is also driving this market substantially. Going forward, polyethylene terephthalate is experiencing a high demand in developing economies, which is likely to boost this market remarkably in the near future. However, the market may be hampered to some extent over the next few years due to the volatility in prices of crude oil and the increasing implementation of strict government norms and regulations regarding the application of polyethylene terephthalate.
The global polyethylene terephthalate (PET) market was worth US$23.73 bn in 2015. Rising at a 5.80% CAGR between 2016 and 2024, the market's opportunity is expected to reach US$39.16 bn by the end of 2024. The high demand for packaged food is likely to create lucrative opportunities for the market players over the forthcoming years.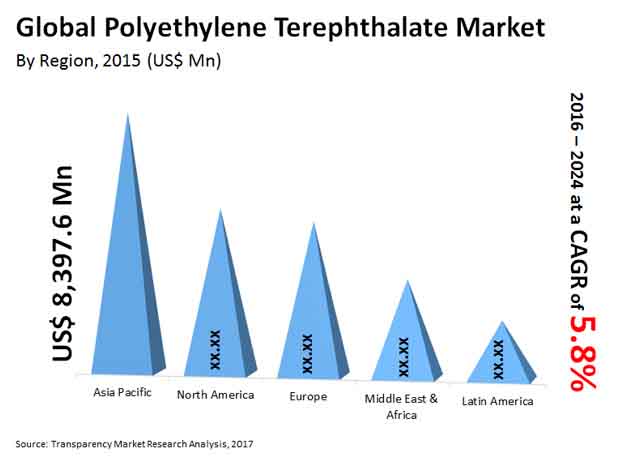 Beverage Packaging to Remain Key Contributing Application Segment
Polyethylene terephthalate is predominantly utilized in beverage packaging, films, food packaging, and various other applications, such as cosmetic bottles and household products. The demand for polyethylene terephthalate is greater in the beverage packaging segment and is expected to remain so over the next few years due to its extensive usage in the manufacturing of water bottles, soft drink bottles, juice bottles, and bottles for liquid dairy products.
Films are another prominent application area of polyethylene terephthalate. In this segment, it is used for the production of boil-in bags and lids of yogurt and the packaging of frozen meat, snacks, and jars. In food packaging, polyethylene terephthalate is utilized to manufacture egg trays, trays for vegetable packaging, biscuit packing, and microwave safe packaging.
Leadership to Remain With Asia Pacific through 2024
Regionally, the worldwide market for Polyethylene terephthalate has been classified into Asia Pacific, North America, the Middle East and Africa, Europe, and Latin America. Asia Pacific, among these, dominated the overall market with a share of more than 35% in 2015 due to the busy lifestyle and the rising disposable income of consumers hailing from the middle class in Asian economies. The regional market is likely to remain on top over the forthcoming years, thanks to the lucrative opportunities it will be offering to market players. In Asia Pacific, China is likely to take the lead and closely followed by India, Japan and ASEAN countries in the near future.
Amongst other regional markets, the Middle East and Africa is anticipated to witness a significant rise in its market share, thanks to the increasing footfall of tourists in the Middle East, surging consumption of packaged food and beverages, advancements in the retail infrastructure and the growth of the formal retail in Africa. The Latin America market for polyethylene terephthalate is projected to be driven by the soaring demand for soft drinks and packaged drinking water in the region, whereas, the markets in Europe and North America are predicted to exhibit sluggish growth in the years to come due to maturation.
The global polyethylene terephthalate market is highly fragmented and competitive in nature. Far Eastern New Century, SK Chemicals, Neo Group, Octal, M&G Chemicals, DAK Americas, Egyptian Indian Polyester Co., Jiangsu Sanfanxiang Group Co., Reliance Industries Ltd., Dhunseri Petrochem Ltd., and Indorama Ventures Public Co. are some of leading players in this market.
Global Polyethylene Terephthalate Market: Overview
Polyethylene terephthalate resin is a petrochemical compound which is derived from polycondensation reaction of purified terephthalic acid (PTA) and monoethylene glycol (MEG). PET resin is widely used in food and beverages packaging industry for packaging water, soft drinks, juices, ready-to-cook food and other products. The PET packaging has replaced conventional glass packaging owing to features like its flexibility, lightweight, low cost, and easy handling. Beverages is an important precursor of PET, utilized for packaging water, soft drinks, juices, and similar other products.
PET is used widely in making films and sheets (jars, trays). These films and sheets can bear high temperatures without deforming and can be used for hot fill and microwave applications. The typical uses of PET films includes boil-in-bag, roasted bags, peelable PET films, hot sealable PET films. PET sheet is widely used in making trays for food packaging such as vegetables, meals, biscuits, chocolates and manufacturing jars for packaging butter, jams, edible oil, etc. The added advantage of PET is that it is fully recyclable and can be utilized for making carpets and other non-food applications.
Global Polyethylene Terephthalate Market: Scope of the Study
This study analyzes, estimates, and forecasts the global polyethylene terephthalate market in terms of volume (kilo tons) and revenue (US$ Mn) from 2015 to 2024. Market numbers given in the report describe the demand for global polyethylene terephthalate, but not production or supply. The global polyethylene terephthalate report also analyzes several driving and restraining factors and their impact on the market during the forecast period.
The report provides comprehensive analysis of the global polyethylene terephthalate by applications and regions. It segments the market into applications such as beverages (bottle water, carbonated drinks, others), films, food packaging, and others (cosmetic bottles, household products). The report also segments the polyethylene terephthalate market based on major geographies into North America, Europe, Asia Pacific, Latin America, and Middle East & Africa. Besides the report comprises 12 unique country-specific analysis.
Based on the application and country, the report analyzes the attractiveness of each segment and country with the help of an attractiveness tool. The study consist of value chain analysis, which offers a better understanding of key companies in the supply chain from raw material manufacturers to end-users. Additionally, the study examines market competition through Porter's Five Forces Analysis.
Global Polyethylene Terephthalate Market: Competitive Analysis
The report includes an overview of the market share of key companies in the global polyethylene terephthalate market. Market share of companies has been derived on the basis of production by manufacturers of polyethylene terephthalate. Key market players profiled in the study are Indorama Ventures Public Limited Company, Jiangsu Sanfanxiang Group Co. Ltd., Far Eastern New Century, Egyptian Indian Polyester Company, M&G Chemicals, Neo Group, Dhunseri Petrochem Limited, DAK Americas, Reliance Industries Limited, OCTAL, and SK Chemical.
Global Polyethylene Terephthalate Market: Research Methodology
Primary research represents the majority of our research efforts, complemented by extensive secondary research. We reviewed key players' product literature, annual reports, press releases, and relevant documents for competitive analysis and market understanding. Secondary research also includes a search of technical writing, recent trade, Internet sources, and statistical data from government websites, trade associations, and agencies. This has proven to be the most consistent, effective, and productive approach for procuring precise market data, recognizing business opportunities, and understanding industry participants' perceptions.
Secondary research sources that are typically referred to include broker reports, corporation websites, external patented databases, financial reports, stockholder presentations, Securities & Exchange Commission filings, proprietary databases and relevant patent and regulatory databases, national government documents, statistical databases, and market reports, news articles, press releases, and webcasts specific to companies operating in the market. Secondary sources referred for this study include Chemical Week Magazine, ICIS Chemical Business Magazine, Hoover's, Factiva, and company presentations.
The report segments the global polyethylene terephthalate market as:
By Application

Beverages

Bottled water
Carbonated drinks
Others (Juices, LDP)

Films
Food Packaging

Others (Cosmetic Bottles, Household Products)

By Region

North America
Europe

Germany
France
U.K.
Italy
Russia
Spain
Rest of Europe

Asia Pacific

China
India
Japan
Australia & New Zealand
Rest of Asia Pacific

Latin America

Brazil
Mexico
Rest of Latin America
Southern Global

Middle East & Africa

GCC countries
South Africa
Rest of Middle East & Africa
Custom Market Research Services
TMR offers custom market research services that help clients to get information on their business scenario required where syndicated solutions are not enough.
REQUEST CUSTOMIZATION

Pet Polyethylene Terephthalate And Pet Packaging Market