Industrial Packaging Market
Industrial Packaging Market (Materials - Metal, Plastic Paper, and Wood; Products - Drums, IBCs, Sacks, Pails, Crates, Tubes, and Bulk Boxes; Packaging - Rigid and Flexible; End Users - Agriculture And Horticulture, Automotive, Building & Construction, Chemicals And Pharmaceuticals, Engineering, Food & Beverages, Metal Products, Oil & Lubricants, Plastics And Rubber, Furniture, Electronics, and Tobacco) - Global Industry Analysis, Size, Share, Growth, Trends and Forecast 2016 - 2024
Packaging
TMRGL14417
2016-12-14
125

Pages
Industrial Packaging Market - Snapshot
Industrial packaging refers to the process of storing, shipping, and protecting a wide range of goods. Industrial packaging is utilized in the site of production, just straight after the production process. However, this packaging solution can be utilized at any point of time along the supply chain. The growth of the global industrial packaging market is estimated to be driven by its extensive use in the packaging of sensitive products or bulky or hazardous products.
Several end use industries such as machinery manufacturers, technology industry, automotive industry, and manufacturers of highly sensitive equipment manufactures often utilize this type of packaging. Such wide use is estimated to bolster growth of the global industrial packaging market in the years to come. This type of packaging is used in providing protection of products from vibrations to moisture.
Growth of the Market to be Driven by Increased Demand by Several End Use Industries
This type of packaging makes abundant use of plastics. Different types of plastic that are used in industrial packaging are mentioned as below
polyethylene terephthalate (PET)
high-density polyethylene (HDPE)
low-density polyethylene (LDPE)
polyvinyl chloride (PVC, vinyl)
polypropylene (PP)
polystyrene
Increased demand of this type of packaging in food and beverage, oil and gas, chemical and pharmaceutical, agriculture, and electronics industry is estimated to amplify growth of the global industrial packaging market in the years to come.
Industrial packaging is packaging for the manufacturers, for the big producers in businesses. Sometimes, standard packaging isn't enough for the product, and need more protection to makes sure product stays safe, lasts longer, and makes it to the customer in the right condition.
Standard wraps and papers can't protect from the harsh conditions, long shelf times, and environmental damage that industry products face, so having the right protection for the products is essential to maintaining quality and consistency. There are many different types of industrial packaging wraps, papers, fluids, and sprays.
Rising globalization and international trade are supporting the industry growth. Growing commercial industries such as chemical, pharmaceutical, construction, and electronics sector further propels the demand. The developed economies are the highest producers and consumers of these products. Whereas increasing demand in emerging economies will further drive the industry growth.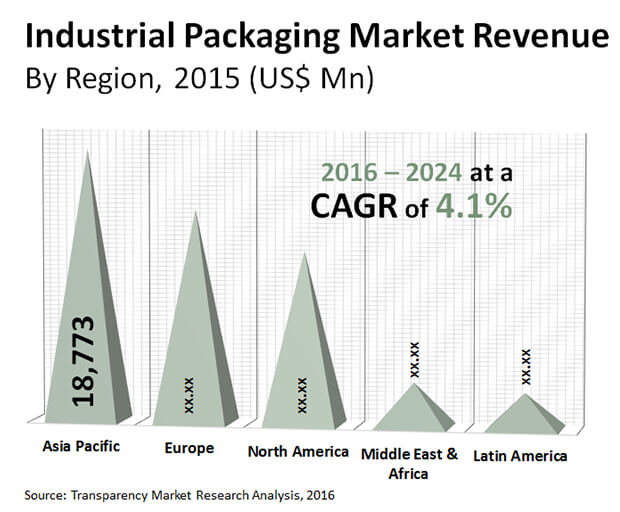 The market for industrial packaging is growing due to increasing trends in end-use industries. The market growth due to increasing trend in the chemical industry output combined with the increasing healthcare needs of drugs and medicines for the aging U.S. population, coupled with continuing innovations in drug development. The global industrial packaging market had reached to reach US$53.03 bn by the end of 2016.
Industrial Packaging See Swift Uptake Due To Increase Use of Polyethylene Terephthalate
The industrial packaging market segments the product into drums, intermediate bulk container (IBC), crates, sacks, pails, tubes, and bulk boxes. IBCs are the leading packaging type in terms of popularity. Plastic sacks are replacing paper & jute sacks owing to its benefits such as low cost, lightweight, durability etc.
The industry segments the material into metal, plastic, paper and wood, and fiber. The plastic material segment is the most preferred type by the manufacturers owing to its various properties such as cost effective than other materials, can be molded in to specific shape and size, and durability.
By type, the industry segments as rigid and flexible packing. Flexible segment includes paper & plastic whereas rigid sub-segment includes wooden, metal, and plastic. Increased use of polyethylene terephthalate (PET) in place of heavy metal cans will influence positively on the market. The flexible segment, plastic has a higher growth rate owing to technological advancements.
By end use or application, industrial packaging market cater to various industries such as agriculture & horticulture, building & construction, automotive, chemicals & pharmaceuticals, food & beverage, engineering, metal products, plastic & rubber, electronics, and furniture. Of these, flexible packaging is expected to gain tremendous popularity over the coming years, due to the improvements in flexible packaging in terms of toughness and spatial minimization.
North America, Powered by U.S., Leads Market
Geographically, the global industrial packaging market is classified as North America, Asia-Pacific, Europe, Latin America, and Middle East and Africa. The rise in the demand for the industrial packaging from the industry is the main factors that are boosting the global market in Asia Pacific region. Use of advanced technology in the production of the industrial packaging has boosted the global market in North America. Europe, Latin America, and Middle East and Africa are likely to witness a slow growth in the global market.
Some of the key players in the global market for industrial packaging are Smurfit Kappa Group, Sonoco, Nefab Group, International Paper, Grief Inc., and Sealed Air Corporation, AmeriGlobe, Tekni Films Inc., and B.A.G. Corp among others
Industrial Packaging Market: Overview
Industrial packaging helps in protecting products from any kind of environmental damage, vibration, harsh condition, moisture, and provide long shelf times. Industrial packaging is an advanced version of standard packaging and it is widely used in automotive industry and technology industry. It is also used by machinery manufacturers, and manufacturers of highly sensitive commodities. This type of packaging is usually used at production site or right after production. It ensures added protection to sensitive products.
The industrial packaging market is bifurcated on the basis of material, which includes papers, sprays, wraps, and fluids. In terms of end users, industrial packaging industry is segmented into construction, chemical, pharmaceutical, and electronics. On the basis of product, the industrial market is categorized as bulk boxes, drums, IBCs, crates, sacks, and pails.
The research report provides insights about the growth tends prevailing in the industrial packaging market. It also gives detailed analysis about demand drivers and challenges that could impact the industrial packaging market over the forecast period between 2019 and 2027. The geographical distribution along with analysis of competition in the industrial packaging market are some other highlights of this report.
Industrial Packaging Market: Key Trends
First and foremost, investment in research and development across various sectors such as pharmaceutical, electronics, chemicals and construction is resulting in demand for industrial packaging material. Accounting the growth in aforementioned industries, the industrial packaging market is also likely to grow in the coming future.
Interactive packaging is another factor which will propel the growth of industrial packaging market. The technology helps in easy tracking of the products and provides the provision of high level of consumer engagement.
To satisfy new-age customers, packaging services that use industrial packaging use digital content, in the form of augmented reality or videos for customer engagement. Such add-ons that are next gen packaging solution is indirectly influencing industrial packaging market.
Another new trend witnessed in the industrial packaging market is the use of biodegradable packaging market. Majority of manufacturing companies produce huge amount of toxic as well as non-toxic waste. This includes significant amount of packaging waste. To avoid packaging waste, companies are trying to use recyclable packaging materials such as wooden boxes, specialized pallets, and fiber drums. This, in turn, will decrease the overall cost and will not produce any negative impact on environment as well.
All these factors cumulatively are going to drive the industrial packaging market in the coming years.
Industrial Packaging Market: Geographical Analysis
North America is projected to witness notable growth owing to technological advancement in industrial packaging techniques. Emergence of manufacturing industries in countries of Asia Pacific will contribute in expansion of global industrial packaging market. Other factors that would influence industrial packaging market in Asia Pacific include low labor costs and industrialization. Furthermore, drug production and rise in OEM are expected to drive the market in the region.
The U.S. expected to lead the market in terms of manufacturing.
Industrial Packaging Market: Competitive Analysis
Some of the key players in the industrial packaging market are Sealed Air Corporation, Smurfit Kappa Group, Tekni Films Inc., Nefab Group, Grief Inc., B.A.G. Corp, International Paper, Sonoco, and AmeriGlobe
Market segmentation based on geography:
North America
Latin America
Europe
Asia Pacific
Middle East and Africa
This report gives access to decisive data, such as:
Market growth drivers
Factors limiting market growth
Current market trends
Market structure
Market projections for the coming years
Key highlights of this report include:
Overview of key market forces propelling and restraining market growth
Up-to-date analyses of market trends and technological improvements
Pin-point analyses of market competition dynamics to offer you a competitive edge
An analysis of strategies of major competitors
An array of graphics and SWOT analysis of major industry segments
Detailed analyses of industry trends
A well-defined technological growth map with an impact-analysis
Offers a clear understanding of the competitive landscape and key product segments
Custom Market Research Services
TMR offers custom market research services that help clients to get information on their business scenario required where syndicated solutions are not enough.
REQUEST CUSTOMIZATION

Industrial Packaging Market