Outdoor Furniture Market
Outdoor Furniture Market (Type: Benches, Chairs, Tables, Sofas, Bistro Sets, Gazebos & Pergola Furniture, Outdoor Dining Sets, and Others; Material: Metal, Resin & Plastic, Wood, and Others; Price: Low, Medium, and High; Application: Residential and Commercial; and Distribution Channel: Online and Offline) - Global Industry Analysis, Size, Share, Growth, Trends, and Forecast, 2021-2031
Category :

Consumer Goods & Services

Format :
Rising Trends of Outside Socializing Fuel Demand for Outdoor Furniture
Outdoor furniture often known as patio furniture is a type of fittings specially designed for outdoor use. They are mostly designed as weather-resistant by using materials such as rustproof aluminum. The range of materials used to create this furniture varies according to the region and cost. As the furniture is designed for outdoor spaces, outdoor factors such as sun, rain, and cold should be taken into account, while designing outdoor furniture. Outdoor furniture is primarily bought to increase comfort and features in the outdoor spaces. Most popular furniture includes spacious tables and comfortable chairs. Moreover, a basic stone patio can be transformed into an open-air dining destination. Besides, outdoor furniture comes with the potential to make outside gardens or terraces efficiently pleasing for customers. Due to its characteristics to withstand different climatic conditions, the global outdoor furniture market is expected to grow during the forecast period.
Manufacturers of outdoor furniture are focusing to enhance their products with varied colors, textures, and accessories. The early phase of using indoor furniture outside is being replaced with furniture, specially designed for outdoor conditions. Some of the popular material options include solution-dyed acrylic and spun polyester, as they resist moisture, mildew, and staining. Most products designed for outdoor use will also resist fading using such materials. Moreover, homes with backyards and restaurants with outdoor spaces can create an extra cozy lounging spot with the addition of a carpet made for outdoor use. Several key companies allow personal style and preference reign supreme when selecting colors palates. In addition, if complemented with the right outdoor furniture, even small spaces such as balconies and pocket gardens can increase people's interest to enjoy outside. Furthermore, the rise in outdoor activities such as social get-together, family meetings, evening parties, socializing, and barbeques are contributing to the increase in the demand for the global outdoor furniture market in the upcoming future.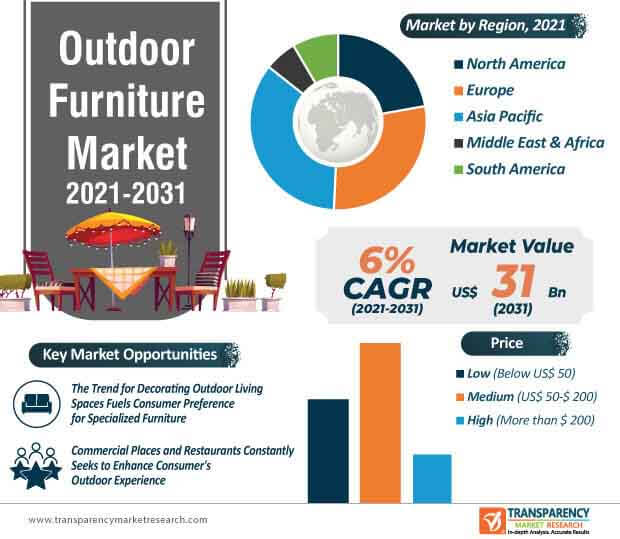 Request a sample to get extensive insights into the Outdoor Furniture Market
Pandemic Provides Lucrative Opportunities for Global Furniture Industry
The impact of the coronavirus disease of 2019 (COVID-19) on buyer behavior and production trends has emphasized the significance of digitalization and automation for the outdoor furniture industry. Increasing presence of consumers seeking personalized buying experiences and competitive prices are pushing outdoor furniture manufacturers to innovate on their existing workflows. Advancements in digital technology and information tools are allowing outdoor furniture businesses to respond faster to the changes in consumer demand, gain cost-saving benefits, and boost their operational efficiency. The pandemic is augmenting consumer demand for ethically dynamic brands that share their values and for products that respect the environment. In response to the COVID-19's influence on personal well-being and its association with pollution and environmental habitat destruction, many consumers are shifting their preference toward better lifestyle habits, careful consumption, and the betterment of society through self-improvement. Major hindrances in the supply chain that led to a decline of overall sales during the start of the pandemic are expected to resume sooner. This is likely to resume the growth rate of the outdoor furniture market during the forecast period.
The ongoing sustainability trends coupled with a growing focus on the importance of the home is one of the main reasons keeping the outdoor furniture market in place. However, the post-COVID-19 era is anticipated to increase consumer desire to improve their living space. The COVID-19 pandemic forced almost half of the population to stay at home, leading to several employees working from home, and students learning online. In order to complete work and educational activities at home conveniently, more people are opting to redesign the outdoor spaces, terraces, and backyard for more comfort. In addition, with social distancing being the new normal, a rise in consumer spending on outdoor furniture and home furnishings is expected shortly.
To understand how our report can bring difference to your business strategy, Ask for a brochure
Outdoor Furniture to Witness Increased Demand from Hotels, Restaurants, Offices
Consumer spending on leisure activities such as traveling has increased tremendously. The trends for visiting seaside areas, hill stations, picturesque places, and ancient monuments are leading to the rising number of hotels, resorts, open spaces, and public gardens. This is encouraging procurement of outdoor furniture by hotels and restaurants that is likely to drive the outdoor furniture market during the forecast period. Moreover, the growing financial ability to spend on recreation and adventures is boosting consumer spending on outdoor furniture in the residential sector. Numerous homeowners are centering on improving the garden and balcony look with the delightful appealing sitting areas. The selection of furniture is highly reliant upon outside climatic conditions. Thus, weather resistance, crack proofing, insect protection, and excellent tensile strength are among the key factors that are considered while selecting outdoor furniture. Majority of the businesses is shifting their interest in designing eco-friendly fixtures. This is likely to drive the global outdoor furniture market during the forecast period.
People across the world are frequently seeking to enhance the outer appearance of outdoor spaces to signify matching structural themes, and the fashion of living spaces and gardens of houses plays a major role in the buyer purchase decision. Manufacturing companies are focusing on designing outdoor furniture beach resorts and hotels, owing to the higher profitability achieved from these sectors. Moreover, several market players are expanding their catering toward construction and real estate industries. Furthermore, manufacturers can undertake contracts from them and decorate the increasing number of homes and high-rise apartments. In addition, the premium range of collections of outdoor furniture to design outdoor restaurant spaces, office spaces, and terraces are creating huge customer space. The growing need to redesign restaurants and offices as a part of social distancing measures is likely to boost the global outdoor furniture market.
Asia Pacific Region Holds Major Share of Outdoor Furniture Market
The increasing popularity of innovative furniture products among consumers in the Asia Pacific is expecting the region to dominate the regional market during the forecast period. Moreover, factors such as increasing construction projects, growing urbanization, and rising disposable income of the consumers in the APAC region are some major factors contributing to the growth of the outdoor furniture market. Moreover, increasing tourism in countries such as Singapore, India, Malaysia, and other countries is one of the significant reasons to propel the market growth in this region. The global outdoor furniture market is expected to cross US$ 31 Bn by 2031, at a CAGR of 6% during the forecast period.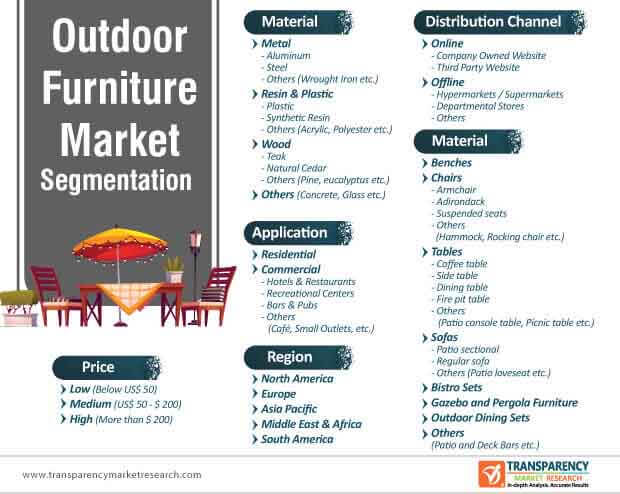 Stuck in a neck-to-neck competition with other brands? Request a custom report on Outdoor Furniture Market
Analysts' Viewpoint

Key players in the outdoor furniture market are adopting merger & acquisition strategies to expand their footprint worldwide. Manufacturers are investing in research and development to innovate new products to influence new consumers. Businesses should focus on developing effective long-term strategies to grow in progressive industry trends. Moreover, the trend of family functions, along with dinners in residential gardens, is anticipated to stimulate growth of the global market, especially in the Asia Pacific. Aging population and increased disposable income, along with the eagerness to spend on luxury furniture is strongly supporting the outdoor furniture industry growth through the residential segment.
Outdoor Furniture Market: Overview
According to a latest market report published by Transparency Market Research on the outdoor furniture market for the period of 2021–2031 (wherein 2021 to 2031 is the forecast period and 2020 is the base year), growing preference for outdoor furniture at commercial arenas with consumer preference for outdoor seating are key factors responsible for the growth of the outdoor furniture market
Globally, revenue generated by the outdoor furniture market accounted over US$ 17 Bn in 2020, which is expected to expand at a CAGR of 6% in terms of value during the forecast period
Increasing Preference for Outdoor Furniture to Decorate Outdoor Living Spaces: Key Driver of Outdoor Furniture Market
Demand for outdoor furniture is increasing, owing to its characteristics to withstand different climatic conditions. Outdoor furniture is designed to withstand hot and humid temperatures and gives a new style and furnishing to outdoor living spaces. Its potential to be used in outside gardens or terraces and make outdoor living spaces aesthetically pleasing is driving consumer demand.
The ability of outdoor furniture to be exposed to environmental conditions such as rain; protection against dust and solid particles, and insects; and their capability to endure cold temperatures have led to increasing purchase of outdoor furniture. This has resulted in demand for furnishing outdoor spaces with good material. Furthermore, outdoor furniture made of upholstery materials, teak wood, eucalyptus, and high quality metals is generating significant demand in the market to beautify outdoor areas.
Manufacturers Focusing on Developing Versatile Outdoor Furniture: Key Trend of Global market
Manufacturers are catering to customer needs and are thus designing outdoor furniture, which have resistance to decaying, termites, and acids. The wood used and the abundance of natural oils in it repel unwanted insects and moisture from damaging the integrity of the timber. Manufacturers use teak wood to produce outdoor furniture, which requires little maintenance even if left uncovered outdoors. Teak outdoor furniture can be brought back to its natural warm brown tones with light sand and a polish, which is driving consumer demand.
Furthermore, acacia wood is used by manufacturers for a more sustainable and eco-friendly environment. It protects the environment from harmful chemicals and is durable. Demand for outdoor furniture is generated by manufacturers who make durable outdoor furniture, which offers protection against seasonal wear & tear, including scratches, bumps, and water exposure.
Worldwide Economic Slowdown, Presence of Several Alternatives to Hamper Growth of Outdoor Furniture Market
The outbreak of coronavirus has resulted in economic slowdown in almost all countries, besides lockdown in many countries, thus affecting consumer spending power. The lockdown has led to shutdown of restaurants, offices, factories, production plants, gyms, and other social places. The decline in production activities across various industries around the world is a restraint to the global outdoor furniture market.
Another factor that might act as a restraint to the market is the high setting up cost. The set-up outside should be conducive to the environment and work well for human factors as well. Moreover, due to the current pandemic situation, many shopping malls that have eating outlets, hotels, bars & cafes are closed and not using outdoor furniture for a long time, which could result in their wear and tear. In addition, it is not easy for small manufacturers to enter the market, as the cost of the product is high and requires a sophisticated warehousing system to store the outdoor furniture. These factors are projected to restrain the growth of the market in the long-run. Additionally, the steep cost of high- quality raw materials as outdoor furniture needs to be weatherproof, restricts the growth of the market.
Outdoor Furniture Market: Competition Landscape
Detailed profiles of manufacturers of outdoor furniture have been provided in the report to evaluate their financials, key product offerings, recent developments, and strategies.
Key players operating in the global outdoor furniture market include

Agio International Company
Barbeque Galore
Brown Jordan
Century Furniture LLC.
Herman Miller, Inc.
La-Z-Boy Incorporated
Outdoor Furniture Market: Key Developments
Prominent players in the outdoor furniture market are increasing investment on innovative products to fulfill the needs of end users and offer them customized solutions. Manufacturers are also planning to expand their product range and presence in various geographies through mergers & acquisitions and offer customized solutions to end users.
Some key developments in the outdoor furniture market are highlighted below:

In 2020, Barbeque Galore opened a new store at Hornsby, New South Wales, Australia. The company has a new range of outdoor furniture, wood heating products, and a broad selection of outdoor furniture accessories to cater to the huge demand. Significant investments have been made on opening stores and extending the eCommerce platform.
Brown Jordan in April 2019 launched a new collection of outdoor furniture. The collection was made by famous designers, Annie Marie Vering and Richard Frinier. The material used is brass and copper to provide utmost comfort to users. The collection consists of chaise, benches (two sizes), rectangular dining tables (three sizes), and coffee table (three sizes), among others.
Outdoor Furniture Market – Scope of Report
A new study on the global outdoor furniture market has been published by Transparency Market Research (TMR). It presents a wealth of information on key market dynamics, including drivers, market trends, and challenges, as well as the structure of the global outdoor furniture market. TMR's study offers valuable information about the global outdoor furniture market to illustrate how the market would grow during the forecast period of 2021 - 2031.
Key indicators of market growth, which include value chain as well as supply chain analyses, and Compound Annual Growth Rate (CAGR), are elucidated in TMR's study in a comprehensive manner. This data can help readers interpret quantitative growth aspects of the global outdoor furniture market during the forecast period.
An extensive analysis on business strategies of leading market players is also featured in TMR's study on the global outdoor furniture market. This can help readers understand principal factors to foresee growth in the global outdoor furniture market. In this study, readers can also find specific data on the qualitative and quantitative growth avenues for the global outdoor furniture market, which is expected to guide market players in making apt decisions in the future.
Key Questions Answered in TMR's Outdoor Furniture Market Study
What are the key factors influencing the outdoor furniture market in each region?
What will be the CAGR of the global outdoor furniture market between 2021 and 2031?
What is the future scope and changing trends in processing and packaging of the global outdoor furniture market?
Which factors will impede the growth of the global outdoor furniture market during the forecast period?
Which are the leading companies in the global outdoor furniture market?
Research Methodology – Outdoor Furniture Market
A unique research methodology has been utilized by TMR to conduct a comprehensive research on the growth of the global outdoor furniture market and arrive at conclusions on the future growth prospects of the market. This research methodology is a combination of primary and secondary research, which helps analysts warrant the accuracy and reliability of the drawn conclusions.
Secondary sources referred to by analysts during the production of the global outdoor furniture market report include statistics from company annual reports, SEC filings, company websites, World Bank database, investor presentations, regulatory databases, government publications, and industry white papers. Analysts have also interviewed senior managers, product portfolio managers, CEOs, VPs, and market intelligence managers, who contributed to the production of TMR's study on the outdoor furniture market as a primary source.
These primary and secondary sources provided exclusive information during interviews, which serves as a validation from outdoor furniture industry leaders. Access to an extensive internal repository and external proprietary databases allows this report to address specific details and questions about the global outdoor furniture market with accuracy. The study also uses the top-down approach to assess the numbers for each segment and the bottom-up approach to counter-validate them. This has helped in making TMR's estimates on the future prospects of the global outdoor furniture market more reliable and accurate.
Outdoor Furniture Market – Segmentation
TMR's study on the global outdoor furniture market includes information categorized into six sections - type, material, price, application, distribution channel, and region. Changing industry trends and other crucial market dynamics associated with these sections of the outdoor furniture market are discussed in detail.
Type

Benches
Chairs

Armchair
Adirondack
Suspended Seats
Others (Hammock, Rocking Chair, etc.)

Tables

Coffee Table
Side Table
Dining Table
Fire Pit Table
Others (Patio Console Table, Picnic Table, etc.)

Sofas

Patio Sectional
Regular Sofa
Others (Patio Loveseat, etc.)

Bistro Sets
Gazebo & Pergola Furniture
Outdoor Dining Sets
Others (Patio and Deck Bars etc.)

Material

Metal

Aluminum
Steel
Others (Wrought Iron, etc.)

Resin & Plastic

Plastic
Synthetic Resin
Others (Acrylic, Polyester etc.)

Wood

Teak
Natural Cedar
Others (Pine, Eucalyptus etc.)

Others (Concrete, Glass, etc.)

Price

Low (Below US$ 50)
Medium (US$ 50 - $ 200)
High (More than $ 200)

Distribution Channel

Online

Company Owned Website
Third Party Website

Offline

Hypermarkets / Supermarkets
Departmental Stores
Others

Application

Residential
Commercial

Hotels & Restaurants
Recreational Centers
Bars & Pubs
Others (Café, Small Outlets, etc.)

Region

North America

U.S.
Canada
Rest of North America

Europe

U.K.
Germany
France
Rest of Europe

Asia Pacific

India
China
Japan
Rest of Asia Pacific

Middle East & Africa

GCC Countries
South Africa
Rest of Middle East & Africa

South America

Brazil
Rest of South America
Custom Market Research Services
TMR offers custom market research services that help clients to get information on their business scenario required where syndicated solutions are not enough.
REQUEST CUSTOMIZATION