Orphan Drugs Market
Orphan Drugs Market (Disease Type - Oncology, Gastrointestinal, Pulmonary, Neurology, Hematology, Cardiovascular, Metabolic disorders, Endocrinology, and Infectious diseases; Product Type - Biologic and Non-biologic; Distribution Channel - Hospital Pharmacies, Specialty Pharmacies, Retail Pharmacies, and others) - Global Industry Analysis, Size, Share, Volume, Growth, Trends, and Forecast 2017 - 2025
Pharmaceutical
TMRGL1254
2017-09-21
199

Pages
Global Orphan Drugs Market: Overview
Orphan drug products are medicines for the therapy of life-threating or extremely severe illnesses or disorders which are uncommon for diagnosis, prevention or therapy. The pharmaceutical industry is little interested in the development and marketing of products designed for a tiny amount of patients under ordinary market circumstances. These medicines are called orphans. In 1983, the Orphan Drug Act was enacted to encourage drug companies to create rare disease therapy. The FDA Office for the Development of Orphan Products determines whether a drug is an orphan.
The incredibly high costs of placing a medicinal product on the market in drug companies would not be recovered from anticipated product revenues. This also leads to a small market potential for fresh drug use and an economic loss for the drug companies sector.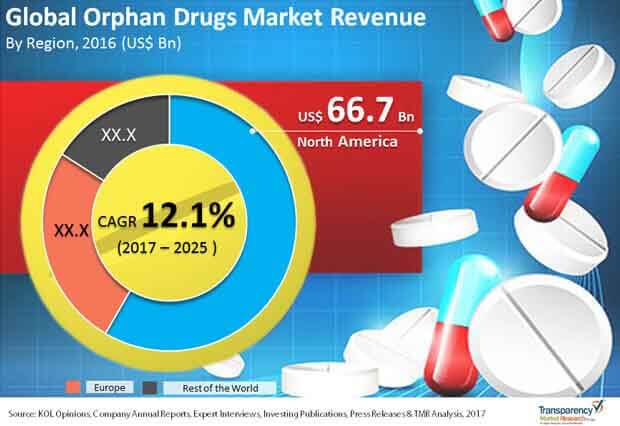 The worldwide orphan medicinal products market is expected to swell during the forecast period to give increasing significance to research and development operations. Over the forecast period 2017 to 2025 the international market for orphan drugs is expected to improve by 12.10 percent at CAGR. By the end of 2025, the worldwide market for orphan drugs should reach a net estimate of 318,5 billion US dollars.
The global orphan drugs market is segmented by the disease type, by indicator, and by technology for study. Further, the market is considered in terms of different geographical regions in the report.
Rising Prevalence of Rare Diseases to Strengthen Orphan Drugs Market
Recurring, chronic and rare illnesses and the elevated demand for significant amounts of orphan drug production are currently forecast to affect around 300 million people worldwide. Rare disease medicines, such as Yellow Fever, von Willebrand Disease, Waardenburg Syndrome, Diabetes Macular Edema, Abetalypoproteinemia, ASD, Yellow Nail Syndrome or Von Hippel Lindau Syndrome and others, are increasing in demand for medicinal products that help increase the market. In addition, FDA free exemptions, public R&D grants, favourable reimbursement policies and premium pricing for business development.
In 2019, it is likely that the U.S. will see around 1,762,450 new cancer cases, according to the National Center for Health Statistics. The demand for orphan medicines is likely to rise in the coming years as these figures are motivated. As a result, there have been a total of 4,171 drugs in the US as orphan drugs. Such Government initiatives encourage drug manufacturers to invest more in the said industry.
Although the market for orphan medicines is developing at a decent rate, certain variables can impede its development. The elevated price of orphan medicines, inadequate data on rare illnesses and the absence of competent health experts are factors that reduce development in the worldwide market for orphan medicines. Furthermore, increasing competition from generic sectors can seriously threaten market growth.
Global Orphan Drugs Market: Regional Outlook
The global orphan drugs market is segmented for study into North America, Europe, and Rest of the World. Among these, North America is expected to register for high growth in the global market.
There are several factors contributing to the development of the industry, including promoting laws that enable rapid approval of such drugs, drug status exclusivity for such drugs and a solid medical infrastructure.
Global Orphan Drugs Market: Companies Mentioned
Key vendors profiled in our report on the global orphan drugs market include Novartis AG, F. Hoffmann-La Roche Ltd., Bristol-Myers Squibb Company, GlaxoSmithKline plc., Daiichi Sankyo Company Limited, Novo Nordisk A/S, Bayer AG, AstraZeneca plc., and Amgen Inc., among several others.
Orphan Drugs Market will Gain Significant Revenues from Growing Prevalence of Rare Diseases
Orphan drug items are medications for the treatment of life-threating or amazingly extreme ailments or problems which are phenomenal for conclusion, counteraction or treatment. The drug business is minimal keen on the turn of events and showcasing of items intended for a small measure of patients under conventional market conditions. These medications are called orphan drugs. The staggeringly significant expenses of setting a restorative item available in drug organizations would not be recuperated from expected item incomes. This additionally prompts a little market potential for new medication use and a financial misfortune for the medication organizations area.
Orphan medication can be characterized as a drug specialist explicitly intended to treat uncommon (orphaned) illnesses. These sicknesses contrast from regular illnesses as their predominance rate is low and consequently appeal to a little tolerant populace. Subsequently, when contrasted with non-orphan drugs, these drugs don't ensure achievable profits from speculation. Nonetheless, different government specialists urge to create and market such drugs. Cost related with the advancement of these drugs is higher when contrasted and non-orphan drugs. The various signs for which orphan drugs are utilized incorporate lymphoma, leukemia, cystic fibrosis, and others.
The rising mindfulness activities are projected to push the interest for orphan drugs. Moreover, expanding instances of metabolic problem and cardiovascular illnesses to support the worldwide orphan drug market towards an amazing development in the impending years. The oncology division of drugs runs over rising number of malignancy patients with different sorts of disease, every year. The number is by all accounts just expanding measurably, to battle the circumstance, there is developing need and interest for the powerful drugs in the medication advancement region. Consequently, the worldwide orphan drug market is projected to see development openings in the approaching years.
The growing geriatric rate of elderly population with constant conditions calls for viable drugs to treat the condition or keep them in charge. Along these lines, the interest for orphan drug builds, inferable from considerable development in the worldwide orphan drug market during the conjecture time frame.
Orphan Drugs Market: Overview
The underlying reasons that are fuelling demand for orphan drugs are the increasing occurrences of rare diseases. During forecast timeframe of 2017 to 2025, the world market for orphan drugs is prognosticated to register a robust rate of growth, and the same is supported by several factors like sound research and development for orphan drugs especially in the developed economies, growing incidences of rare diseases, and high return on investments (ROI) that can be obtained for the invention and development of these drugs.
Considering the vendor landscape, the market for orphan drugs is considered to be reasonably fragmented and the market players emphasize on strategically important acquisitions. The companies are also more focused on taking advantage of the various incentives that are been provided by the governments to encourage research and development work on orphan drugs.
Orphan Drugs Market: Trends and Opportunities
In many developed economies such as the United States, the United Kingdom (the U.K.) intense focus on research and development work on orphan drugs begets fee waivers, government benefits, and tax credits and are as such contributing towards market growth. According to Research Office Legislative Council Secretariat, around 30 million people are suffering from some form of rare diseases or the other in the United States. As such, a total number of 4171 drugs have been given the status of orphan drug in the United States. Such initiatives by the government are encouraging the manufacturers of such drugs to make more investments in the said market.
In addition to that, soaring incidences of many types of unusual illness that are associated with various genetic reasons result in investments for drug development for these uncommon diseases. Such investments are proving to be advantageous for the market for orphan drugs. As per the data of a non-profit organization, Global Genes, more than 7,000 kinds of uncommon diseases have been detected worldwide. Presently, around 300 million individuals across the globe are forecasted to be attacked by some rare diseases and such high figures demand for substantial amount of manufacturing of orphan drugs.
Orphan Drugs Market: Geography
Taking geographical segmentations into consideration, the international market for orphan drugs is divided into Europe, North America, and Rest of the World. In the year 2016, the region of North America accounted for lion's share of the said market owing to several factors that such as encouraging regulations that facilitate speedy approval of such drugs, exclusivity of the drug status that are meant for such drugs, and prevailing robust medical infrastructure all contribute towards the growth of the market.
The country of United States, North America, makes substantial contribution towards this market since around 30 million American people are reportedly affected with some form rare disease of the other. Such high occurrences of rare diseases demand sound research and development work for the purpose of development of better orphan drugs.
Orphan Drugs Market: Company Profiling
Amgen Inc., Bayer AG, F. Hoffmann-La Roche Ltd., Alexion Pharmaceuticals Inc., Novo Nordisk A/S, Novartis AG, Bristol-Myers Squibb Company, AstraZeneca plc., Daiichi Sankyo Company Limited, GlaxoSmithKline plc. are some of the topnotch players of this market. The leading companies account a major share of the market, making it very difficult for new players to enter the market.
For the purpose of this study, the market has been segmented as follows:
by Disease Type

Oncology
Gastrointestinal
Pulmonary
Neurology
Hematology
Cardio-vascular
Metabolic disorders
Endocrinology
Infectious diseases
Others

by Indicator

by Technology

Hospital Pharmacies
Specialty Pharmacies
Retail pharmacies
Others

by Geography

North America
Europe

U.K.
Germany
Spain
France
Italy
Rest of Europe

Rest of the World

Japan
Australia
China
Brazil
South Korea
Others
Custom Market Research Services
TMR offers custom market research services that help clients to get information on their business scenario required where syndicated solutions are not enough.
REQUEST CUSTOMIZATION