Organic Wine Market
Organic Wine Market (Packaging: Plastic Bottles, Glass Bottles, Cans, and Others; Product Type: Red Organic Wine and White Organic Wine; and Distribution Channel: B2B and B2C [Store-based Retailing, HoReCa, and Online Retailing]) - Global Industry Analysis, Size, Share, Growth, Trends, and Forecast, 2020 - 2030
Food & Beverages
TMRGL34391
2020-06-08
250

Pages
Modifications in Wine Making Techniques to Drive Global Market
There are evolving consumer trends and rising awareness pertaining to niche product categories, such as organic and natural within the food & beverages sector. Over the past decade, organic and natural food products have gained considerable popularity across the world, particularly among millennials. The natural food & beverage movement across the world is primarily driven by the dwindling interest in chemical-based agricultural techniques. In the current scenario, organic wine is a growing trend in the beverages industry, particularly in wine-drinking countries such as Australia, New Zealand, France, Italy, Argentina, etc. Apart from being driven by sustainable vineyard practices, other factors that are expected to positively influence the growth of the organic wine market include minimalistic and manipulative approaches in wine making techniques.
In addition, as organic wines are free from additives such as sulfur, yeast nutrients, and fining, and produced by using indigenous yeasts, the demand is witnessing considerable growth. The consumer demand for vegan-friendly, preservative-free, biodynamic, carbon-neutral, and certified organic wines have set the ball rolling for the growth of the organic wine market during the forecast period. The organic wine market is currently a niche market that is likely to transition into a mainstream market over the upcoming years. Another factor that is projected to play a key role in the development of the organic wine market is the impressive rise in the number of health-conscious consumers who are largely inclined toward purchasing organic food & beverage products.
At the back of these factors, along with an array of potential benefits associated with organic products, the global organic wine market is expected to reach a value of ~US$ 30 Bn by the end of 2030.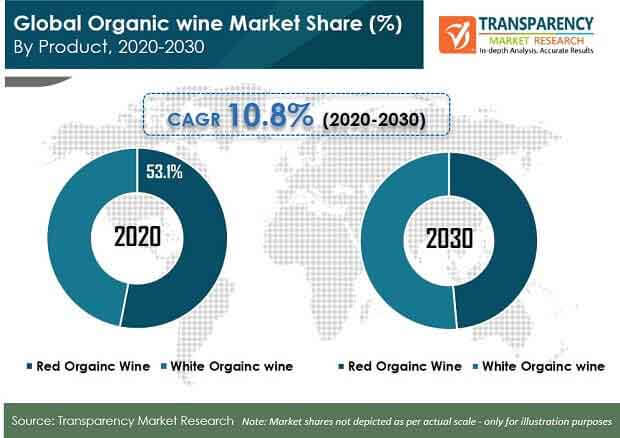 Request a sample to get extensive insights into the Organic Wine Market
Organic Wine Sales in Europe on Rise
The European region, which has, for decades, remained a hotspot for wine enthusiasts, owing to the vibrant wine culture across Spain, Italy, and even in the Nordic countries, is expected to provide abundant opportunities for manufacturers operating in the current organic wine market landscape. Organic wine, also known as ecological wine, is free from synthetic fertilizers, weed killers, and pesticides. The 'free-from' trend has gained considerable momentum across the European region, as consumers continue to demand transparency from the food & beverage makers pertaining to ingredients, production or manufacturing processes, nutritional content, etc.
To understand how our report can bring difference to your business strategy, Ask for a brochure
The production of organic wines in the European region is regulated by the European Union Commission Regulation 203/2012, wherein guidelines are provided regarding the oenological processes and other practices that are permitted during the production of organic wine. Several players involved in the organic wine market are increasingly focusing on research and development activities to assess the composition of the ground and evaluate nitrogen, potassium, and phosphorous content in the ground. The evaluation of different samples of soil is essential to develop an optimal vegetal cover in which, autochthonous wild species are also included for efficient growth of the vine. Several other strategies are being studied to enhance the fertility of the soil without spraying insecticides. In addition, several other companies are investing resources to develop an ideal ecosystem that will enable the growth of vines without any chemical intervention. In the past few years, European winemakers are increasingly focusing on the production of wine using the autochtone yeast. In addition, a number of projects has been launched to make vineyard production more sustainable to minimize the ecological footprint.
Demand for Organic and Biodynamic Wine across Restaurants and Retail Sector to Propel Market Growth
As consumers continue to sway toward organic products, the prospects of the organic wine market continue to look bright during the forecast period. The demand for organic wine from retail and restaurant sectors around the world has witnessed consistent growth due to which, the organic wine market is expected to flourish during the assessment period. As per current trends, the consumption of organic wine is increasing at a rapid pace, particularly in Germany and France. The switch to organic wines is largely influenced by the adoption of sustainable winemaking techniques and the trend is expected to continue over the course of the forecast period. In addition, a significant rise in the number of wine shows and expos is another factor that is likely to play a key role in increasing the sales of organic wine in the forthcoming decade.
The growing emphasis on biodynamic agricultural practices is likely to provide a boost to the expansion of the global organic wine market, as academics, retailers, government agencies, winemakers, and farmers are increasingly focusing on enhancing soil health and minimizing the overall carbon footprint.
Wine Consumption Witnesses Growth amid COVID-19 Pandemic
The COVID-19 pandemic has had a catastrophic impact on several major core industrial sectors. As restaurant and hospitality segments around the world have more or less come to a standstill due to stringent containment measures enforced by governments, the demand for organic wine has taken a major hit amid the COVID-19 pandemic. While sales of organic wine are likely to remain sluggish in the near future, the demand is expected to witness steady growth in certain regions where lockdown restrictions have been relaxed. The global import and export of organic wine are likely to be back on track in the last quarter of 2020, as restrictions on trade and transportation are likely to be lifted.
While offline sales are estimated to witness a dip, market players should focus on increasing sales via online distribution channels amid the ongoing health crisis.
Stuck in a neck-to-neck competition with other brands? Request a custom report on Organic Wine Market
Analysts' Viewpoint
The organic wine market is expected to grow at an impressive CAGR of 10.8% during the forecast period. The market growth can be primarily attributed to the soaring demand from health-conscious consumers, high demand for organic and natural products, focus on improving soil health, rise in the number of wine exhibitions, and growing vegan trends. Europe is expected to dominate the global organic wine market, owing to the strong presence of tier 1 and tier 2 winemaking companies and favorable climatic conditions. Despite sluggish sales during the COVID-19 pandemic, the market is expected to recover in the last quarter of 2020 and beyond.
Organic Wine Market: Overview
The global market value for the organic wine stood at ~US$ 11 Bn in 2020, finds Transparency Market Research (TMR) in a recent study. According to the report, the market is expected to reach ~US$ 30 Bn by 2030, at a CAGR of ~10.8% during the forecast period.
Organic wine will continue to trend due to the increasing demand from various industries, including nutraceuticals, pharmaceuticals, confectionery, and bakery goods. Organic wine is used for medical purposes, due to the presence of resveratrol, as it helps in preventing diseases and ageing; improves immunity, body warmth; and helps in better metabolism. Furthermore, the global organic wine is driven by the growing consumer inclination toward low and no alcohol wine option backed by increasing health and wellness awareness.
Organic Wine: Market Frontrunners
Organically grown grapes and diverse flowers are among the key ingredients used in the organic wine industry
Red organic wine is the leading segment in the global organic wine in terms of product type. The red organic wine segment accounts for 53.1% of the market in terms of value.
Based on packaging, the global organic wine has been classified into glass bottles, plastic bottles, cans, and others. Among these, the cans segment holds a dominant share of ~90.2% of the market in terms of value, owing to consumer preference toward cans as they are lightweight and relatively unbreakable.
In terms of distribution channel, the market has been categorized into direct B2B and B2C. Currently, the B2B segment holds ~65.9% of the market share.
Based on region, Europe holds a leading market share, which is ~48.5%, as rising number of vineyard manufacturers is increasing and the focus is on better quality of wine production. The Europe is followed by Asia Pacific Excl. Japan (APEJ) and North America.
Organic Wine Market: Trends
Organic wine converted into mainstream from niche
Environmental and health concerns are driving the demand for organic wine and this factor boosts its sales worldwide, especially in Europe. People are gradually choosing organic products as compared to conventional beverages and wines. Furthermore, primarily small businesses and boutique wineries have turned their conventional production to organic production to cater to health conscious population.
Innovation in packaging: Boxed wine gaining popularity among consumers
Traditionally, glass bottles are the preferred means of packaging for wine manufacturers, where today's innovation in packaging is changing the minds of manufacturers. New packaging such as tetra pack and boxes are trending nowadays due to convenience offered to consumers and protection of wine quality for a long time. In comparison, plastic wine packaging is much lighter in weight compared to glass bottles and thus, can be shipped with less fuel. In addition, boxes are also recyclable and increase the shelf life of open wine, thus there is no wine wastage. Besides, boxed wine supports the 'eco-friendliness' quality of organic wines focusing on improved versatility with convenience and popularity.
Organic Wine Market: Strategies
Key manufacturers in the global organic wine are introducing various products suiting consumers evolving demand and off-premises retailer brands. Suppliers are taking initiatives to introduce more eco-friendly options, and offering concession with e-Commerce platform to boost the sales. They are also focusing on offerings organic wines with premium range.
Product Launches and Key Innovations: Market players have started introducing products with various health benefits

In June 2019, Bonterra Organic has launched internationally available canned organic wine available in 250 ml cans. This product range features Bonterra Young, Bonterra Rosé, and Red Bonterra Sauvignon Blanc made with organically farmed grapes.
Target Region for Organic Wine Market
Europe holds a leading market share, as the number of manufacturers for organic wine is increasing and consumer awareness about the health benefits of organic wine, and is anticipated to lead the global organic wine market during the forecast period. Developing nations are likely to offer greater growth potential in the organic wine industry in these regions.
Organic Wine Market: Players
Some of the leading companies operating in the global organic wine, as profiled in the study, include Ingredients by

Avondale
Elgin Ridge Wines
Kendall-Jackon Winery
The Organic Wine Company
Bronco Wine Company
King Estate Winery
Grgich Hills Estate
Xinjiang Tiansai WineryCo., Ltds
Emiliana Organic Vineyards
Societa Agricola Querciabella SpA
Frey Wine
La Cantina Pizzolato,
Organic Wine Market – Scope of the Report
Transparency Market Research (TMR) has recently published a market study on the organic wine market. It provides a detailed assessment of key market dynamics, including the drivers, trends, opportunities & restraints, and detailed information about the organic wine market structure. The market study presents exclusive information about how the organic wine market will grow during the forecast period of 2020-2030.
Key indicators of market growth, which include year-on-year (Y-o-Y) growth of the market, value chain, supply chain analysis, and compounded annual growth rate (CAGR) are elaborated in the study in a comprehensive manner. This information is intended to help readers understand the quantitative growth prospects of the organic wine market during the forecast period.
The study is intended to offer a holistic market overview to stakeholders in the organic wine, including manufacturers, suppliers, distributors, and investors, and to help them develop winning growth strategies. Stakeholders in the organic wine market, which include investors, industry experts, researchers, and journalists, and business researchers, can leverage the information and data presented in TMR's study.
The study also includes statistics and facts related to the macro as well as microeconomic factors that are impacting expansion of the market. It also offers actionable insights into the future trends in the organic wine market. Furthermore, small businesses and new entrants in the organic wine market can make use of the information presented in this study based on which, they can make appropriate business decisions in order to gain momentum in the market.
Key Questions Answered in TMR's Organic Wine Market Report
Which region will continue to remain the most profitable regional market for organic wine market players?
Which factors will induce a change in the demand for organic wine during the assessment period?
How will the changing trends impact the organic wine market?
How can market players capitalize on the low-hanging opportunities in the organic wine market in developed regions?
Which companies are leading the organic wine market?
What are the winning strategies of stakeholders in the organic wine market to catapult their position in the forefront?
Organic Wine Market: Research Methodology
In this TMR's study, a unique research methodology is used to conduct extensive research on the growth of the organic wine market and identify future growth parameters. This research methodology is a combination of primary and secondary research, to help analysts ensure the accuracy and reliability of the conclusions.
Secondary resources referred to by analysts for compiling the organic wine market study include statistics from governmental organizations, trade journals, white papers, and internal and external proprietary databases. Analysts have interviewed senior managers, product portfolio managers, CEOs, VPs, marketing/product managers, and market intelligence managers, who contributed to the development of this report as a primary resource.
Information acquired from primary resources and secondary resources is compiled in a comprehensive manner. This also acts as a validation from companies in the organic wine market, which makes TMR's projections more accurate and reliable.
Organic Wine Market – Segmentation
TMR's study on the organic wine market offers information divided into important segments — packaging, product type, distribution channel, and region. This report offers comprehensive data and information about the important market dynamics and growth parameters associated with these categories.
Packaging

Plastic Bottles
Glass Bottles
Cans
Others

Product Type

Red Organic Wine
White Organic Wine

Distribution Channel

B2B
B2C

Store-based Retailing

Hypermarkets/Supermarkets
Convenience Stores
Specialty Stores
Discount Stores
Grocery Stores
Convenience Stores

HoReCa

Online Retailing

Region

North America
Latin America
Europe
Asia Pacific Excl. Japan(APEJ)
Japan
Middle East & Africa (MEA)
Oceania
Custom Market Research Services
TMR offers custom market research services that help clients to get information on their business scenario required where syndicated solutions are not enough.
REQUEST CUSTOMIZATION