Neodymium Market
Neodymium Market (Application: Permanent Magnets, Catalysts, Laser Crystals, Neodymium Glasses, Electric Capacitors, Metallurgy, Phosphors & Luminescence, and Others) - Global Industry Analysis, Size, Share, Growth, Trends, and Forecast, 2021-2031
Chemicals & Materials
TMRGL11477
2021-08-30
156

Pages
Economic Shifts, Changing Consumer Demands Affect Bottom Lines During COVID-19 Pandemic
Value chains in the chemicals sector are being reconfigured due to complexities created by the COVID-19 pandemic. Companies in the neodymium market are witnessing economic and geopolitical shifts due to the pandemic. Changing consumer demands are affecting bottom lines and profitability. Hence, stakeholders are focusing on mission critical projects in key revenue generating sectors such as permanent magnets, phosphors & luminescence, and metallurgy.
Companies in the neodymium market are prioritizing opportunities to ride the crest of popularity through sustainability & circular economy, alternative material processes, and partner integrations across chemical value chains. They are marching toward digitalizing operations and related technologies due to the onset of the coronavirus. Databased services are being preferred by stakeholders to efficiently allocate budget into new technologies and business models.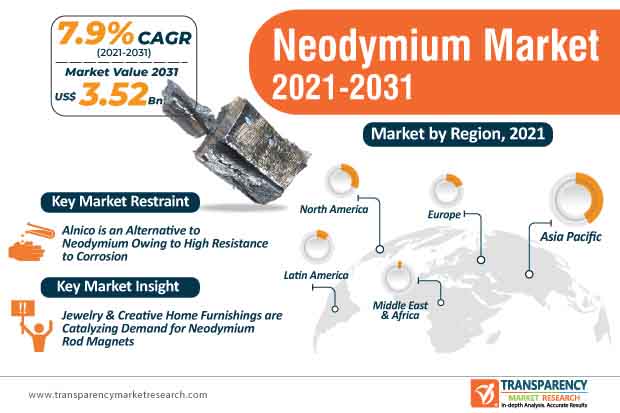 To gauge the scope of customization in our reports Ask for a Sample
Extreme Susceptibility to Corrosion in Neodymium Resolved with Coated Resistant Materials
Neodymium is being extensively used as rare earth magnet in many industrial products and capital assets. Magnetic bearings, jet engines, and automatic door locks are fueling the demand for neodymium. However, neodymium is associated with physical disadvantages, since it is found that this metal is extremely susceptible to corrosion and must be coated with resistant materials. These materials need to be maintained to prevent degradation.
Despite physical disadvantages of neodymium, manufacturers in the neodymium market are using rare earth metals for the production of audio speakers, headphones, smart bombs, and the likes. They are establishing stable revenue streams via linear actuators, DC motors for automobiles and particle accelerators.
Get an idea about the offerings of our report from Report Brochure
Alnico V/S Neodymium: Which is Better?
The neodymium market is expected to reach a volume of 80,293.8 tons by 2031. Though neodymium is gaining popularity as one of the strongest magnets, alnico is emerging as an alternative option and is being publicized as a wonder magnet. Alnico is likely to affect the prices for neodymium, as alnico is highly resistant to corrosion as compared to neodymium.
Companies in the neodymium market are gaining awareness about the advantages of alnico, since alnico is relatively cost efficient. Nevertheless, neodymium is being preferred in low temperature applications. Neodymium offers better performance than alnico in the sector of miniaturization of electronic devices. Benefits of neodymium magnets can far outweigh its disadvantages, mostly due to its strength in relation to size, which make it an ideal option for compact applications.
Small Neodymium Rod Magnets Enhance Convenience, Elegance in Jewelry
Manufacturers in the neodymium market are increasing their output capacities in rod magnets that are being used to design clasp for fine jewelry. Creative home furnishings, experiments in schools and sculptures are catalyzing the demand for neodymium rod magnets.
Since complicated closures of a chain or a bracelet can affect consumer experience, manufacturers in the neodymium market are boosting their production for rod magnets in the form of precious metals to meet convenience of users. Manufacturers are applying nickel coating on small magnetic rods, which ensures an elegant look for the jewelry.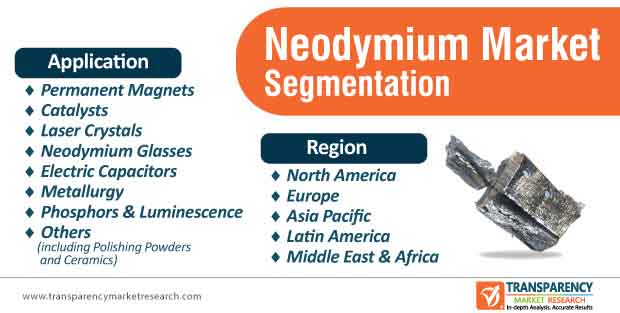 Looking for Regional Analysis or Competitive Landscape in Neodymium Market for Performance OEM , ask for a customized report
Analysts' Viewpoint

Due to the shifting demand and supply sentiments amid ongoing COVID-19 pandemic, companies in the neodymium market are taking this opportunity to help their employees and staff to upskill for adopting new business models. The market is slated to clock a favorable CAGR of 8% in terms of value during the forecast period. However, the National Health Service (NHS) has called for a ban on toy neodymium magnets linked with child safety concerns. Hence, manufacturers should consider changes in toy designs to ensure magnets are covered by a casing too large to swallow by children. Manufacturers should expand income sources via neodymium rod magnets used in experiments by inquisitive youngsters in schools.
Neodymium Market: Overview
Neodymium is present in large quantities in various ore minerals such as monazite and bastnäsite. The element is not present naturally in metal form and is always refined for general use. Neodymium is referred to as a rare-earth metal, but it is a common element that is largely found in the earth's crust. The original color of neodymium is reddish purple.
Neodymium can be refined by separating neodymium salts from other rare-earths by ion-exchange or solvent extraction. Alternatively, it can be obtained by the reduction of anhydrous halides such as NdF3 using calcium metal.
Neodymium compounds are employed commercially in glass dyes. They are also used as additives in the manufacture of glass. Furthermore, neodymium is employed in lasers, which emit infrared light with wavelengths that range from 1047 nanometers to 1062 nanometers. These lasers are used largely in a variety of high power applications. Additionally, neodymium is employed as one of the components in alloys, which are used in the manufacture of powerful permanent magnets. These magnets are used in various electrical and electronic products including microphones, in-ear headphones, loudspeakers, and computer hard disks.
According to Transparency Market Research's latest research report on the global neodymium market for the historical year 2020 and the forecast period 2021 to 2031, increase in usage of neodymium in green energy technologies and permanent magnets are key factors that are expected to boost the global neodymium market during the forecast period
In terms of revenue, the global neodymium market is expected to reach US$ 3.4 Bn by 2031, at a CAGR of 8% during the forecast period
Rise in Usage of Neodymium in Permanent Magnets: Key Driver
Neodymium magnets are particularly used in hard disk drives, mobile phones, and video and audio systems of televisions. Neodymium magnets are also commonly used in magnetic separators, filters, and ionizers. They are also employed in the production of on-off buttons and security systems. Grease filter producers use neodymium magnets in metal separators to effectively filter out iron powder in oil. Additionally, they are beneficial in covering machines, cars with awning, and in the production of magnetic tool belts. They are also used in jewelry clips and identification badges. Furthermore, they are used in the production of baby strollers, which are attached to carriers via magnets.
The healthcare sector is another field wherein neodymium magnets are incorporated in medical devices due to their ability to generate a static magnetic field. They are used in magnetic resonance imaging devices to diagnose and treat chronic pain syndrome, wound healing, insomnia, arthritis, headache, and several other diseases. NASA uses neodymium magnets to maintain the muscular tonus of astronauts during space flights. Neodymium magnets have push-pull forces. They are used as motion generating devices in orthodontic treatments, molar distillation, and palatal expansion.
Neodymium magnets are widely used in satellite communications, remote control telemetry, radar technology, electronic countermeasures, and electronic tracking. These magnets are also used in magnetron tubes, magnetron traveling wave tubes, cathode ray tubes, and circulators. Neodymium magnets have also been widely used in several transportation applications such as magnetic suspension trains and permanent magnet devices for luxury cars.
Thus, increase in usage of neodymium in permanent magnets is projected to drive the global neodymium market during the forecast period
Increase in Demand for Neodymium in Green Energy Technologies
Neodymium is extensively used for generating energy. As a result of global warming, many countries are striving to cater to their energy requirements using green energy sources. Thus, solar energy and wind energy have gained momentum. Wind energy is recognized as the most effective method available to generate energy. In order to generate this energy, large-scale wind farms need to have efficient turbines. These wind mills have in-built motors that are made of a special rare-earth magnet called neodymium. Special properties that exist in this rare-earth magnet have encouraged the use of the magnet in motors that are employed in wind turbines.
Neodymium is also used in windmills to develop magnetic mounting systems that securely attach ladders and other equipment to steel tower walls. This method allows equipment to be secured to the tower without the need to drill holes or weld brackets to the tower wall. This progressive mounting solution reduces construction time and costs. The use of several strong neodymium magnets strategically placed along the entire length of the ladder, thereby increasing worker safety by securing the ladder in a manner that prevents swaying or other lateral movement that could cause a worker to slip and fall, causing physical harm to individuals as well as operational and financial harm to the company and industry at large. Thus, increase in usage of neodymium in windmills for energy generation is anticipated to drive the market during the forecast period.
Neodymium Market: Competition Landscape
Detailed profiles of providers of neodymium have been included in the report to evaluate their financials, key product offerings, recent developments, and strategies
Key players operating in the global neodymium market are

Lynas Rare Earth Ltd.
Arafura Resources
Metall Rare Earth Limited
HEFA Rare Earth Canada Co. Ltd.
Alkane Resources Ltd
Neo Performance Materials Inc.
China Minmetals Rare Earth Co. Ltd.
Lenntech Water Treatment Solutions
Australian Strategic Materials Ltd.
American Elements
Noah Technologies Corporation
Neodymium Market – Scope of Report
The latest study collated and published by Transparency Market Research (TMR) analyzes the historical and present-day scenario of the global neodymium market in order to accurately gauge its future growth. The study presents detailed information about the important growth factors, restraints, and trends that are creating a landscape for the growth of the global neodymium market so as to identify growth opportunities for market stakeholders. The report also provides insightful information about how the global neodymium market would expand during the forecast period of 2021 to 2031.
The report offers intricate dynamics about different aspects of the global neodymium market, which aid companies operating in the market in making strategic development decisions. TMR's study also elaborates on significant changes that are highly anticipated to configure growth of the global neodymium market during the forecast period. It also includes a key indicator assessment that highlights growth prospects of the global neodymium market and estimates statistics related to growth of the market in terms of value (US$ Mn) and volume (tons).
This study covers a detailed segmentation of the global neodymium market, along with key information and a competition outlook. The report mentions company profiles of players that are currently dominating the global neodymium market, wherein various development, expansion, and winning strategies practiced and implemented by leading players have been presented in detail.
Key Questions Answered in TMR's Report on Neodymium Market
The report provides detailed information about the global neodymium market on the basis of comprehensive research on various factors that are playing a key role in accelerating the growth potential of the global market. Information mentioned in the report answers path-breaking questions for companies that are currently operating in the market and are looking for innovative methods to create a unique benchmark in the global neodymium market, so as to help them design successful strategies and make target-driven decisions.
Which application segment of the global neodymium market would emerge as major revenue generator during the forecast period?
How are key market players successfully earning revenue out of advantages of microcrystalline cellulose?
What would be the Y-o-Y growth trend of the global neodymium market between 2021 and 2031?
What are the winning imperatives of leading players operating in the global neodymium market?
Which application segment is expected to create lucrative opportunities for the global neodymium market during the forecast period?
Which are leading companies operating in the global neodymium market?
Research Methodology – Neodymium Market
The research methodology adopted by analysts for compiling the global neodymium market report is based on detailed primary as well as secondary research. With the help of in-depth insights of the market-affiliated information that is obtained and legitimated by market-admissible sources, analysts have offered riveting observations and authentic forecasts for the global neodymium market.
During the primary research phase, analysts interviewed market stakeholders, investors, brand managers, vice presidents, and sales and marketing managers. Based on data obtained through interviews of genuine sources, analysts have emphasized the changing scenario of the global neodymium market.
For secondary research, analysts scrutinized numerous annual report publications, white papers, market association publications, and company websites to obtain the necessary understanding of the global neodymium market.
Neodymium Market – Segmentation
TMR's research study assesses the global neodymium market in terms of application and region. This report presents extensive market dynamics and trends associated with different segments of the market and how they are influencing growth prospects for the global neodymium market.
Application

Permanent Magnets
Catalysts
Laser Crystals
Neodymium Glasses
Electric Capacitors
Metallurgy
Phosphors & Luminescence
Others (including Polishing Powders and Ceramics)

Region

North America
Europe

Germany
France
U.K.
Italy
Spain
Russia & CIS
Rest of Europe

Asia Pacific

China
Japan
India
ASEAN
Rest of Asia Pacific

Latin America

Brazil
Mexico
Rest of Latin America

Middle East & Africa

GCC Countries
South Africa
Rest of Middle East & Africa
Custom Market Research Services
TMR offers custom market research services that help clients to get information on their business scenario required where syndicated solutions are not enough.
REQUEST CUSTOMIZATION