Methanol Market: Snapshot
The global methanol market has undergone several changes over the past decade or so, brought on by the development of new application areas, a shift in the dominance of regional demand, and the establishment of several new production facilities.
Over a decade ago, China played a rather small role in the development of the methanol industry, with North America and Europe enjoying the top spot as far as demand was concerned. However, thanks to rapid economic growth in the country, China has now surpassed both Europe and North America in the consumption of methanol. The primary feedstock for methanol has almost always been natural gas. But with China now in the picture, its rich coal reserves and surge in demand for methanol have resulted in a sharp rise in the production of coal-based methanol. This has had a considerable impact on the global methanol market.
The methanol market is projected to witness moderate growth in the coming years, as forecast by Transparency Market Research. In 2015, the global methanol market was valued at US$ 101.4 bn and is likely to reach US$145.6 bn by 2024, expanding at a CAGR of 4.2% therein.
Formaldehyde Top Application Area of Methanol
The growth observed in the methanol applications such as formaldehyde and acetic acid is expected to be slow over the coming years. Nevertheless, formaldehyde accounted for the leading share of 29.6% in the global methanol market in 2015, followed by acetic acid.
Formaldehyde is used in the manufacturing of building materials and certain household products. It is also employed in making wood products such as particleboards, plywood, and fiberboards. Acetic acid finds application in the manufacturing of terephthalic acid and vinyl acetate monomer.
DME and gasoline are identified as highly lucrative application segments and both are projected to register a 4.8% CAGR from 2016 to 2024. While gasoline is primarily used as fuel in internal combustion engines, DME is used as an automotive fuel, in electric power generation, and in domestic appliances.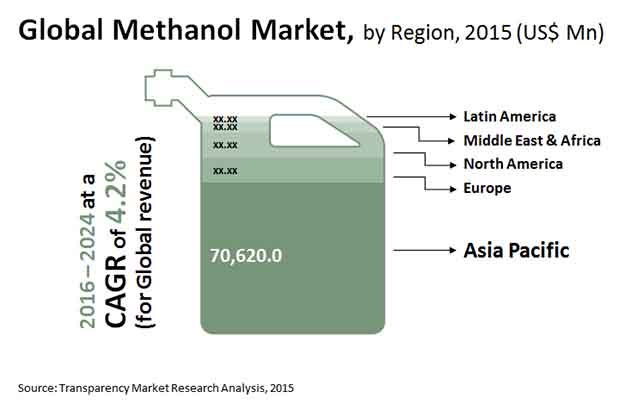 U.S. and China Emerge as Leading Contributors to Global Methanol Market
From a geographical standpoint, Asia Pacific dominates the global methanol market and accounted for a share of more than 65% in 2015. The increasing demand for methanol is attributed to its widespread application in formaldehyde, acetic acid, MTBE, DME, gasoline and other industries. China has been a major producer and consumer of methanol, which is driven by rising population and the soaring demand for fuel. India and ASEAN are forecast to offer considerable growth opportunities for the methanol market in the coming years.
North America and Europe together accounted for more than 20% of the total consumption of methanol in 2015. The methanol market in these regions is anticipated to exhibit stable growth during the forecast period. In terms of country, the U.S. constituted a significant share in the global methanol market in 2015. Although formaldehyde and acetic acid have been the primary applications of methanol in the U.S. over the years, it has also been majorly used as a raw material for the manufacturing of various other products.
The methanol market in Latin America and the Middle East and Africa is expected to grow at a steady pace over the coming years due to the easy availability of raw materials in these regions. Latin America is projected to be a beneficial market for methanol by 2024 since it is a major exporter of methanol, primarily to North America and Europe.
Key players operating in the global methanol market include Methanex Corporation, Petroliam Nasional Berhad (PETRONAS), Reliance Industries Limited, AR-RAZI Saudi Methanol Company, RAMA Petrochemicals Ltd., and Gujarat Narmada Valley Fertilisers & Chemicals Limited.
Methanol Market: Scope of the Study
Methanol is primarily used as an antifreeze solution in automobiles and as fuel in vehicles. It is also used in manufacturing of many products such as formaldehyde, acetic acid, MTBE, DME, MTO/MTP and others. It is a volatile, colorless, toxic, and flammable liquid manufactured through oxidization of methane or through synthesis of carbon monoxide and hydrogen.
The report estimates and forecasts the methanol market on the global, regional, and country levels. The study provides forecast between 2016 and 2024 based on volume (Kilo Tons) and revenue (US$ Mn) with 2015 as the base year. The report comprises an exhaustive value chain analysis for each of the product segments. It provides a comprehensive view of the market. Value chain analysis also offers detailed information about value addition at each stage. The study includes drivers and restraints for the methanol market along with their impact on demand during the forecast period. The study also provides key market indicators affecting the growth of the market. The report analyzes opportunities in the methanol market on the global and regional level. Drivers, restraints, and opportunities mentioned in the report are justified through quantitative and qualitative data. These have been verified through primary and secondary resources. Furthermore, the report analyzes substitute analysis of methanol and global average price trend analysis.
The report includes Porter's Five Forces Model to determine the degree of competition in the methanol market. The report comprises a qualitative write-up on market attractiveness analysis, wherein end-users and countries have been analyzed based on attractiveness for each region. Growth rate, market size, raw material availability, profit margin, impact strength, technology, competition, and other factors (such as environmental and legal) have been evaluated in order to derive the general attractiveness of the market. The report comprises price trend analysis for methanol between 2016 and 2024.
Methanol Market: Segmentation
The study provides a comprehensive view of the methanol market by dividing it into end-user and geography segments. The methanol market has been segmented into formaldehyde, acetic acid, MTBE, DME, gasoline and others based on application. Application segment have been analyzed based on historic, present, and future trends.
Regional segmentation includes the current and forecast demand for methanol in North America, Europe, Asia Pacific, Latin America, and Middle East & Africa (MEA). Additionally, the report comprises country-level analysis in terms of volume and revenue for application segment. Key countries such as the U.S., Germany, France, the U.K., Spain, Italy, India, China, South Africa, Mexico, Brazil, etc. have been included in the study. Market segmentation includes demand for individual applications in all the regions and countries.
Methanol Market: Research Methodology
Secondary research sources that were typically referred to include, but were not limited to company websites, financial reports, annual reports, investor presentations, broker reports, and SEC filings. Other sources such as internal and external proprietary databases, statistical databases and market reports, news articles, national government documents, and webcasts specific to companies operating in the market have also been referred for the report.
In-depth interviews and discussions with a wide range of key opinion leaders and industry participants were conducted to compile this research report. Primary research represents the bulk of research efforts, supplemented by extensive secondary research. Key players' product literature, annual reports, press releases, and relevant documents were reviewed for competitive analysis and market understanding. This helped in validating and strengthening secondary research findings. Primary research further helped in developing the analysis team's expertise and market understanding.
Methanol Market: Competitive Landscape
The report covers detailed competitive outlook that includes market share and profiles of key players operating in the global market. Key players profiled in the report include Methanex Corporation, Petroliam Nasional Berhad (PETRONAS), Reliance Industries Limited, AR-RAZI Saudi Methanol Company, RAMA Petrochemicals Ltd., Gujarat Narmada Valley Fertilisers & Chemicals Limited, and Others. Company profiles include attributes such as company overview, number of employees, brand overview, key competitors, business overview, business strategies, recent/key developments, acquisitions, and financial overview (wherever applicable).
The global methanol market has been segmented as follows:
Methanol Market - Application Analysis
Formaldehyde
Acetic Acid
MTBE
DME
Gasoline
Others
Methanol Market - Regional Analysis
North America
Europe

Germany
France
U.K.
Italy
Spain
Rest of Europe

Asia Pacific

China
India
Japan
ASEAN
Rest of Asia Pacific

Middle East & Africa

GCC
Egypt
South Africa
Rest of Middle East & Africa

Latin America

Brazil
Mexico
Rest of Latin America