Maqui Berries Market
Maqui Berries Market (Nature - Organic, Conventional; Form - Fresh, Processed; End user - Food & Beverages, Nutraceuticals, Personal Care; Distribution Channel – B2B, B2C) - Global Industry, Size, Share, Growth, Trends, Forecast, 2018-2028
Food & Beverages
TMRGL51207
2019-04-26
284

Pages
Maqui Berries Market: Increased Consumer Spending on Organic & Clean-Label Nutrition to Favor Gains
Maqui berries, in line with the superfast success of pomegranate products, are receiving their share of limelight, with consumers curious to leave old and try something new, particularly products that are perceived to offer more health value. From being spawned as weight support aids, to immune supporters, and energy providers, maqui berries have already gained significant hype and popularity – our research finds sales of maqui berries reached US$ 863.7 Mn in 2018.
The paradigm consumer shift towards healthy foods, coupled with growing recognition of health benefits of maqui berries among them continues to create significant opportunities for manufacturers. Though the high cost constraint of maqui berries triggers reluctance to adoption among customers, alike, high nutritional profile of this fruit continues to keep the sales flowing.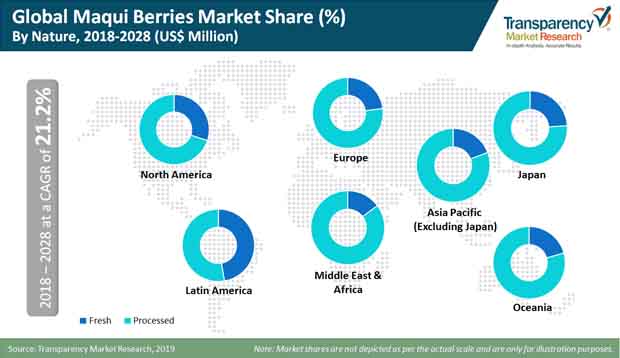 Maqui Berries Market – Buoyed by Consumer Preference for Naturally-derived Functional Foods
A growing number of health conscious consumers has propelled leading Maqui berries growers to target end use sectors, such as dietary supplements and nutraceuticals by strategizing and developing superfood application-driven innovative products. Companies are spending more on adding value to their products by adopting ingredients that are rich in antioxidants, and demonstrate promising anti-inflammatory effects. With high content of anthocyanins, indole alkaloids and flavonoids, maqui berries - particularly in processed form - have emerged as an attractive resource for companies to produce antioxidant extracts for use in nutraceuticals or functional foods.
The proliferating trend of clean-label organic products has also created a wide array of opportunities for manufacturers eying portfolio expansion, with companies adopting rich-in taste, organic and nutritional ingredients, such as maqui berries. Though, maqui berries haven't garnered much popularity so far, it is highly likely that the future will favor their uptake with companies developing new portfolios. Furthermore, the growing preference for ready-to-eat options has paced up the sales of dried maqui berries among proactive health-conscious consumers, who are seeking convenience in consumption. Maqui berries have also gained momentum in personal care industry with companies replacing acai berry as an ingredient in their products with antioxidant powerhouse - maqui berries, which demonstrate impressive anti-aging properties.
Maqui Berries Market – Limited Production Capacity to Propel Import in Europe & The US
The F&B industry in Europe and North America is accelerating at a steady pitch, with growing willingness of consumers for spending on premium products. Higher traction for healthy snacks and savory products in these regions have captured the eye-balls of manufacturers, thereby, leading to stronger penetration of high in nutrition products on shelves. However, the production of high value maqui berries is confined to a particular part of the world.
Cognizant about health benefits of maqui berries, companies in Europe and U.S. are taking pain to import this fruit, while they eye to appeal the growing base of health-conscious consumers. A transition in trends related to healthy, organic, and natural products is also gaining momentum in APEJ's F&B, nutraceuticals, and personal care sector, which is expected to make this region lucrative for maqui berries' manufacturers.
Maqui Berries Market Remains Fairly Consolidated
The lack of consumer awareness about the potential benefits of maqui berries in line with the fruit's recent emergence as a healthy food has led to a sluggish penetration of companies in the market in recent past. However, the tables are likely to turn for maqui berries, with more companies adopting this fruit in their products after realizing its potential in maintaining wellness.
Emphasis on product innovation along with a focus on sales through direct distribution (B2C) are two key differentiating factors that are enabling leading players to hold slightly higher share over others in maqui berries market. While leading market companies are adopting alternative distribution channels, such as online retailing to further strengthen their market presence globally, high cost of maqui berries are impeding small-scale companies' growth avenues.
The companies profiled in this study on maqui berries market include Maqui New Life S.A., Neorganika, Sevenhills Wholefoods, Navitas Organics, Mountain Rose Herbs, Kiva Health Food, NürnbergMesse GmbH, Terrasoul Superfoods, Herbal Zest Organics, and HP Ingredients.
Research into Plant-based Therapeutics Drive Maqui Berries Market
Maqui berries (Aristotelia chilensis) are usually native to Chile and Argentina are a type of berries rich in anthocyanins. The maqui berries market is making strides on the back of a growing body of studies exploring their remedial properties for various disease indications. These research pieces have gained momentum over the years from growing interest in plant-based therapeutics for chronic diseases, and are supported by findings from bioavailability study of their extracts. Such studies highlight various pharmacokinetic parameters that help supplement industry attract target consumers with the anti-oxidative and anti-inflammatory properties of products in maqui berries market. Further, several studies in maqui berries market have demonstrated the glucose lowering effects these berries have, which might help functional food companies to pitch the ingredient beneficial for diabetics. Their purported benefits in managing coronary heart diseases, strokes, and dietary unbalanced metabolic diseases, including obesity is driving the demand for these in supplement industry. The growing demand for antioxidants for improving overall health has also favoured the expansion avenues in the marqui berries market. Researchers are keen on improving the bioavailability of anthocyanins with the aim of boosting the antioxidant activity of the berries.
The Covid-19 pandemic caused by novel human coronavirus, SARS-CoV-2, has caused wide-ranging disruption in economies around the world. Concurrently, the pandemic also raised awareness about the general health concerns in populations. This spurred interest in functional and supplement food products that can help them ward off disease conditions. Thus, research into plant-extracts gained momentum, benefitting the maqui berry market. Further, there has been an influx of investments in supplement food sector, expanding the horizon for players in the market. In the coming months, such plant extracts will also attract stringent regulatory scrutiny. Also, the popularity of food with amazing properties will be more intensively advertised for the target consumer. Unique brand positioning strategies by manufacturers of maqui berry extracts will play a crucial role in shaping the contours of the market.
Transparency Market Research in its report titled "Maqui Berries Market: Global Industry Analysis and Opportunity Assessment, 2018–2028" provides actionable insights and information on the global maqui berries market over the forecast period 2018 – 2028. The report encompasses the main factors shaping the growth of the global maqui berries market, untapped opportunities for leading players, latest trends and market developments.
The report provides detailed analysis on the primary drivers and challenges that are shaping the growth of the maqui berries market. Rapidly altering trends are also analyzed in a detailed manner, presented in an easy to understand way in the report on maqui berries market Macroeconomic factors that are influencing the growth of the maqui berries market are also encompassed in the report.
The report enumerates comprehensive market share analysis of the global maqui berries market in terms of leading key manufacturers. A section of the report on maqui berries market highlights country-wise status if the industry, and gives a succinct market perspective for 2018–2028 and provides the forecast within the context of the report. The report on maqui berries market exhibits key developments and activities formulated and implemented by the leading maqui berries manufacturers.
The TMR report has been categorized into an array of sections based on different market segments, such as form, nature, end-user, distribution channel, and region with an aim to provide valuable insights into the maqui berries market. The report analysis the global maqui berries market and provides precise market value in US$ Mn and volume in MT.
The report on maqui berries market covers various chapters, including executive summary, market overview, market dynamics, sentiment analysis, associated industry and key indicator assessment, supply chain analysis, market pricing analysis, market analysis and forecast, and market information in terms of different segments. Impact evaluation of primary drivers, restraints, trends, and opportunities based on weighted average model are encompassed in maqui berries market report to equip and arm market enthusiasts with potent decision-making insights.
Our research methodology
The report on maqui berries market takes into account the average selling price of different forms across various geographies to calculate the market size. Addtionally, various data points, such as maqui berries market bifurcation, and regional split by forms, nature, end user, and distribution channels from primary respondents are covered to attain precise market projections. The forecast provided in the maqui berries market report studies the overall revenue that is estimated to generated in the maqui berries market over 2019–2027. At the time of developing the maqui berries market forecast, the evaluation starts with sizing up the existing market in order to form the basis of how the market is likely to take shape in the coming years.
Given the characteristics of maqui berries, the analysts at TMR have triangulated the outcome after considering the various results based on supply side and demand side. It is paramount to consider that in a highly volatile global economy, we haven't just conducted maqui berries market forecasts in CAGR, but also analyzed the industry in terms of other parameters, such as Year-on-Year (Y-o-Y) growth, to better understand the certainty of the maqui berries market and to identify and mention the lucrative opportunities prevailing in the maqui berries market.
All the segments and sub segments of maqui berries market have been analyzed in terms of Basis Point Share (BPS) to measure each segment's relative contribution to maqui berries market growth. The detailed information provided in the maqui berries market report is pivotal for identifying significant trends in the sub-segments of maqui berries market industry.
The report also assesses the revenue forecast of different segments of the maqui berries market on the basis of absolute dollar opportunity. Furthermore, Transparency Market Research formulates a market attractiveness index to help the industry enthusiasts in identifying real opportunities in the maqui berries market.
The concluding section of the report sheds light on the maqui berries market landscape to provide report audiences with a dashboard view of the leading players in the industry, along with their presence and position in the maqui berries market portfolio and primary differentiators. The report has been created after consulting varied sources, such as existing market players' annual reports, a number of analyst and investor presentations, and company press releases.
Some of the leading market players featured in the report on maqui berries market are:
Navitas Organics
Maqui New Life S.A.
Herbal Zest Organics
Neorganika
Sevenhills Wholefoods
NürnbergMesse GmbH
Kiva Health Food
Mountain Rose Herbs
HP Ingredients
Terrasoul Superfoods
Custom Market Research Services
TMR offers custom market research services that help clients to get information on their business scenario required where syndicated solutions are not enough.
REQUEST CUSTOMIZATION