Maleic Anhydride Market
Maleic Anhydride Market For Unsaturated Polyester Resins (UPR), 1, 4-Butanediol (BDO), Additives (Lubricants & Oil), Copolymers and Other Applications - Global Industry Analysis, Size, Share, Growth, Trends and Forecast 2012 - 2018
Category :

Chemicals & Materials

Format :
Maleic anhydride is an organic compound with a strong acrid odor is colorless and appears in white crystalline flakes. It is manufactured commercially by oxidation of butane or benzene. Maleic anhydride is widely used in the manufacturing of unsaturated polyester resins. These resins are used in general construction, automobile bodies, pipes and ducts, corrosion resistant tanks, paints and coatings, bathroom fixtures, furniture, radar domes, and fiberglass reinforced plastics.
Maleic anhydride is a crucial raw material for manufacturing unsaturated polyester resins. Building & construction, automotive/transportation, pipes & tanks, marine, wind energy and electrical & electronics are the key end users. Manufacturing of corrosion resistant tanks, paints and coatings, bathroom fixtures and fiberglass-reinforced plastics are the other applications. Robust growth in end user markets has resulted in an increased demand for unsaturated polyester resins. Unsaturated polyester resins are widely used in structural and decorative applications as their low cost of manufacturing, excellent service temperatures and weight advantage make them a better substitute to metals. The global maleic anhydride market was valued at USD 3.8 billion in 2011 and is expected to grow at a CAGR of 6.4% from 2012 to 2018.
Unsaturated polyester resins, BDO, additives (Lubricants and oil), copolymers, etc. are major application of maleic anhydride. In 2012, unsaturated polyester resins were the largest application segment accounting for over 49% of the global maleic anhydride market. BDO was the second largest outlet for maleic anhydride in 2012. Other key applications for maleic anhydride include the production of agricultural chemicals, lubricant additives, copolymers, malic acid, fumaric acid, surfactants and plasticizers. Maleic anhydride is also widely used as a chemical intermediate in multiple industrial processes.
The Asia Pacific region was the largest market for maleic anhydride with over 55% share of total volume consumed in 2012. Developing countries such as China, India and South Korea are the major markets for its derivatives. Growing automobile industry in emerging countries is expected to remain a key factor driving the use of maleic anhydride derivatives. The rise in disposable income, improved standards of living, strong economic conditions and growing population in China and South Korea are other factors contributing to market growth. Additives and copolymers are also gaining popularity in developing countries, and have high potential for deep market penetration. In addition, most maleic anhydride manufacturing companies are now shifting focus towards the Asia Pacific market and setting up new production plants. This would further the maleic anhydride market in this region. The per capita income of both India and China has shown an upward growth trend since 2009. With the increase in per capita income, the purchasing power of individuals has also increased resulting in the growing demand for unsaturated polyester resins and 1, 4-Butanediol.
A vital raw material used for producing maleic anhydride is butane or benzene, which is derived from natural gas or crude oil. Crude oil is highly volatile in its pricing, and this volatility can further be seen in its downstream derivatives. Instability in the prices of non-renewable resources coupled with environmental issues is expected to be major restraining factor for the production of petroleum based maleic anhydride.
BP Chemicals, Huntsman and BASF SE have established a strong presence across the maleic anhydride market value chain. Typical end user industries for maleic anhydride are construction, transportation, electrical, solvents, agricultural chemicals, synthetic fibers and roofing and other such segments. Companies such as Ashland, Huntsman, BASF SE are forward integrated companies that extract raw materials for maleic anhydride production, besides being involved in manufacturing, distribution and consumption of maleic anhydride for a few applications. Huntsman Corporation, Polynt SpA, Lanxess AG, Sasol-Huntsman, Flint Hills Resources, Ashland, DSM N.V., etc. are some of the key manufacturers of maleic anhydride and its products.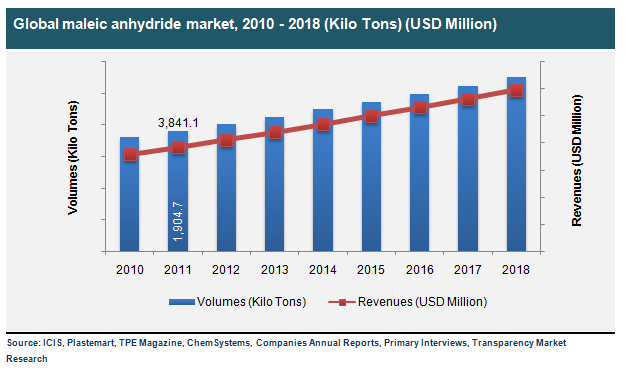 Maleic anhydride - an organic, colorless compound – is used as a chemical intermediate in different industrial procedures and in the manufacturing of copolymers, agricultural chemicals, fumaric acid, lubricant additives, plasticizers, malic acid, and surfactants. Automotive/transportation, wind energy, marine, pipes and tanks, building and construction, and electrical and electronics are some of the major end users of maleic anhydride, indicating the growth and development of the global market.
According to the research report, the US$4.11 billion-market for maleic anhydride stands to grow to US$5.96 billion by 2018, registering a 6.4% CAGR from 2012 to 2018. The report studies the structure and elements of the maleic anhydride market, together with factors influencing the growth of the global as well as regional markets.
With the help of the latest market intelligence tools such as value chain analysis, Porter's Five Forces analysis, SWOT analysis, and market attractiveness, the report highlights the drivers and challenges the maleic anhydride market faces, the major vendors and products contributing to its growth, business strategies and alliances adopted, and recent events that have steered the development of this market.
Overview of the Maleic Anhydride Market
The global maleic anhydride is propelled by the growth of the automobile and lubricants market, especially in Asia Pacific, and the strong demand for unsaturated polyester resins and 1,4-Butanediol. The commercialization of bio-based maleic anhydride holds strong possibilities over the next three years. However, volatile prices of raw material such as crude oil are likely to hinder the growth of the raw material market.
Maleic anhydride finds application in additives such as lubricants and oils, unsaturated polyester resins, copolymers, 1,4-Butanediol, and others such as alkyd resins and Tris(3-(2-hydroxybenzophenone) propyl) amine. With a share of over 49% in 2012, unsaturated polyester resins formed the largest application segment of the maleic anhydride market, with BDO following suit.
Among the four major regional markets for maleic anhydride – North America, Europe, Asia Pacific, and Rest of the World, Asia Pacific held the largest share of the global market at 55%. The flourishing automobile industry, favorable economic conditions, improved standards of living, growing population, and rise in disposable income in emerging APAC economies such as China, South Korea, and India have been driving the market over the years. In addition, companies manufacturing maleic anhydride are setting up production plants in Asia Pacific, realizing the immense potential for growth in this region.
Companies Mentioned in the Report
The top players operating in the global maleic anhydride market include DSM N.V., Ashland Inc., Flint Hills Resources, MOL Hungarian Oil and Gas PLC, Huntsman Corporation, Thirumalai Chemicals Limited, Polynt S.p.A, Nippon Shokubai Co. Ltd., Compania Espanola de Petroleos, S.A., Mitsubishi Chemical Holdings Corporation, and Lanxess AG.
Maleic Anhydride Market: Application Analysis
Unsaturated polyester resins
1, 4-Butanediol
Additives (Lubricants and Oil)
Copolymers
Others (Tris(3-(2-hydroxybenzophenone) propyl) Amine, alkyd resins, etc.)
Major geographies analyzed under this research report are:
Europe
North America
Asia-Pacific
Rest of the World
This report gives you access to decisive data such as:
Market growth drivers
Factors limiting market growth
Current market trends
Market structure
Market projections for the coming years
Key highlights of this report
Overview of key market forces propelling and restraining market growth
Up-to-date analyses of market trends and technological improvements
Pin-point analyses of market competition dynamics to offer you a competitive edge
An analysis of strategies of major competitors
An array of graphics and SWOT analysis of major industry segments
Detailed analyses of industry trends
A well-defined technological growth map with an impact-analysis
Offers a clear understanding of the competitive landscape and key product segments
Custom Market Research Services
TMR offers custom market research services that help clients to get information on their business scenario required where syndicated solutions are not enough.
REQUEST CUSTOMIZATION