Ligament Stabilizer Market
Ligament Stabilizer Market (Injury Type - Grade 1, Grade 2 and Grade 3; Sales Channel - Hospital Pharmacies, Retail Pharmacies and Online Sales; Product-Type - Knee Braces & Supports, Foot and Ankle Braces & Supports, Shoulder Braces & Supports, Spinal Orthoses, and Wrist & Hand Braces & Supports) - Global Industry Analysis, Size, Share, Growth, Trends and Forecast 2017 - 2026
Category :

Healthcare

Format :
The severity of disregarding the injuries in knees, shoulder, spine or other joints can lead to rupture of ligaments. Excessive stress applied during movements of such body parts can also damage the internal ligaments. Attending to these ligament injuries is important to avoid being crippled or handicapped for life. Medical professionals, particularly surgeons, treating these injuries are highly dependent on the effectiveness of medical devices called ligament stabilizers. Reconstruction of the injured ligament is largely at the mercy of how the patients use these stabilizers, and on how these stabilizers can perform effectively.
According to Transparency Market Research's latest forecast report, the global demand for ligament stabilizers is expected to witness a robust traction in the near future. The study has assessed that the global ligament stabilizer market will expand at an estimated CAGR of 6% during the period, 2017-2026. The report further projects that more than US$ 3.5 Bn worth of ligament stabilizers will be sold globally by the end of 2026.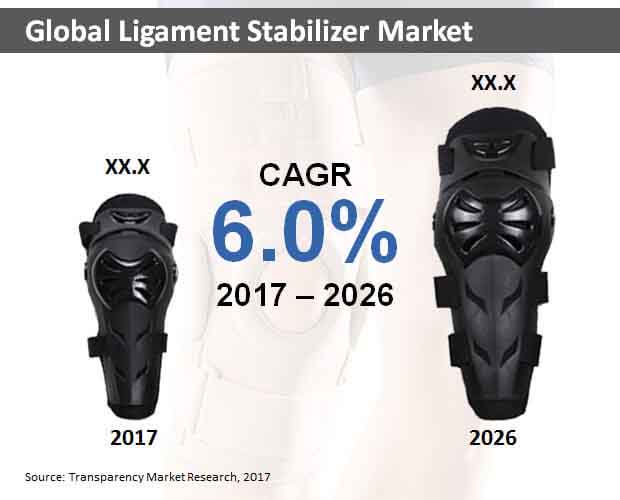 Knee Braces & Supports to Remain in Great Demand through 2026
Challenges faced by surgeons in performing curative surgeries for repairing the damaged cruciate ligaments have led to growing adoption of knee braces & supports. These devices can help surgeons overcome the biomedical disadvantage of multiple ligament injuries by allowing them to reconstruct or rehabilitate the ligament effectively. In addition, the incidence of ligament damage oriented from knee injuries continues to remain high across the globe. Leading ligament stabilizer manufacturers are considering the dominance of this body part in extending their production volumes. By the end of 2026, nearly 40% of the global ligament stabilizer market value is forecasted to be accounted by the sales of knee braces & supports. Foot and ankle braces & supports are also expected to represent leading products in the global ligament stabilizer market. The report has estimated that in 2017, more than US$ 500 Mn worth of foot and ankle braces & supports have been sold in the global ligament stabilizer market.
Retail Pharmacies to Register Fastest Sales of Ligament Stabilizers over the forecast period
In 2017, hospital pharmacies recorded the highest sales of ligament stabilizers. The report projects that throughout the forecast period, hospital pharmacies will represent the largest sales channel for ligament stabilizers. More than two-fifth of revenues procured in the global ligament stabilizer market will be brought in by hospital pharmacies. However, retail pharmacies will register fastest sales growth, reflecting a CAGR of 7.5% over the forecast period. A majority of ligament stabilizers sold through retail pharmacies will be used in treating grade 1 ligament injuries. Mild in terms of damage, grade 1 injuries will represent a considerable share on global market value through 2026. Throughout the forecast period, almost every other ligament stabilizer sold in the global market will be used for treating grade 1 ligament injuries.
Manufacturing Insights
Medical device manufacturers namely, DJO Global Inc., Breg, Inc., Bauerfeind AG, Össur hf., DeRoyal Industries, Inc., BSN Medical GmbH, 3M Company, Otto Bock Healthcare GmbH, THUASNE SA, and medi GmbH & Co. KG are observed as the key players in the global ligament stabilizer market. These companies will actively instrument the global production of ligament stabilizer over the forecast period. Understanding the anatomy of the injured body part and assessing the biomechanics of the damaged ligament will be the key factors influencing product development among these players.
Rising Number of Accidents and Sports Injuries Fuels Ligament Stabilizer Market Demand
Ligament refers to a tough fibrous connective tissue band that plays important role in holding bones together in precise articulation at the joints as well as in supporting the internal organs. Any injuries to body joints such as knees, shoulder, spine, or other joints can lead to ligament rupture. Thus, movement of such injured body parts leads to excessive stress, and thereby damage of internal ligaments. Such injuries can be severe if not given proper treatment. Therefore, medical professionals from all across the globe use various advanced tools such as ligament stabilizer during the treatment of joint injuries.
Ligament stabilizer is widely used following surgeries in order to give support to the joints. In recent few years, there is remarkable growth in the cases of accidents as well as sports injuries in all worldwide locations. This scenario has created rise in demand for ligament stabilizers.
Older population is prone to experience various ligament issues due to their weakened knee joints. This aside, ligament stabilizer is also useful for patients dealing with musculoskeletal disorders including Raynaud's syndrome and tarsal tunnel syndrome, in which patients experience ligament injury. Owing to all these factors, the global ligament stabilizer market is experiencing promising expansion avenues.
The worldwide healthcare sector has experienced extreme burden because of recent COVID-19 pandemic. Due to burgeoning number of COVID-19 patients, hospitals and other healthcare centers across the globe had to restrict their routine patient care and focus on the treatment of the patients affected by the pandemic. This scenario resulted into sudden drop in various surgeries, which caused decreased demand for ligament stabilizer. Thus, players in the global ligament stabilizer market are estimated to experience short-term losses in sales, and thereby revenues. With increasing focus of players toward taking initiatives to strategize moves to come out of this crisis, the ligament stabilizer market is expected to show fast recovery rate in the forthcoming period.
Global Ligament Stabilizer Market: Overview and Report Highlights
Increasing incidence of knee, shoulder and ankle injuries has propelled the demand for medical devices that can support these body parts effectively. Severity of the injury may lead to ligament tear, for which ligament stabilizers are recommended for use. Leading manufacturers of medical devices are partaking in the global market for ligament stabilizers, and introducing advancements to the existing product lines by considering the changing surgical aspects. Active stabilizers and passive stabilizers are being designed by closely understanding the anatomy of the body part and the biomechanics of the ligaments. These devices are being manufactured to avoid surgical implications in the treatment of injuries. Ligament stabilizers will continue to garner steady demand for playing a key role in knee reconstruction procedures.
Transparency Market Research has developed an exclusive forecast study that considers several such aspects in deriving value estimations for the global ligament stabilizer market. The study provides estimated evaluations of the global ligament stabilizer market for the forecast period, 2017-2026. Key findings presented in this study supply objective information on how medical device manufacturers in the global ligament stabilizer market can improve their businesses in the near future. These findings have been produced by a well-adjusted infusion of qualitative insights and quantitative valuations.
The research approach employed in the development of this report has effectively delivered a holistic outlook on the future of ligament stabilizers. Information compiled in the study generates a market consensus assessment with respect to size of the market, direction of market growth, and the latest relevant trends. Revenues procured from leading market players have been studied, and the data has been repurposed in creating a baseline for market size forecasting. Some of the key advantages of this report include:
a multidisciplinary approach on market size forecasting to cover all key aspects
industry expert opinions that propose a roadmap with respect to technology trends, enhancements in operability and advancements in the manufacturing of ligament stabilizers
in-depth analysis on the global ligament stabilizer supply chain
acute assessment of key companies manufacturing ligament stabilizers
In addition, the report has also analyzed multiple causative factors influencing the growth of the global ligament stabilizer market. Macroeconomics affecting the adoption and development of ligament stabilizers have been studied, while the report further offers an analysis of cost structure and pricing.
Scope of the Report
By exercising a comprehensive research methodology, analysts at Transparency Market Research have developed this report to cater to the key concerns of market players. Being in constant dialogue with these companies, the data generated by analysts has been authentically validated and the information provided through it aims at resolving the challenges faced by market players. The scope of the report is to enable ligament stabilizer manufacturers in planning informed decisions and strategic steps towards future market direction.
Market Taxonomy
Key sections in the report offer segmental analysis on the expansion of the global ligament stabilizer market. The report has analyzed the global ligament stabilizer market on the basis of type of injury, sales channel, product-type and region. Additional information on country specific market size forecast and cross-segmental analysis is also complied in the report.
Injury Type

North America
Latin America
Europe
Japan
APEJ
MEA

Injury Type

Sales Channel

Hospital Pharmacies
Retail Pharmacies
Online Sales

Product Type

Knee Braces & Supports
Foot and Ankle Braces & Supports
Shoulder Braces & Supports
Spinal Orthoses
Wrist & Hand Braces & Supports
Custom Market Research Services
TMR offers custom market research services that help clients to get information on their business scenario required where syndicated solutions are not enough.
REQUEST CUSTOMIZATION

Ligament Stabilizer Market