Lab on a chip technology enables the production and analysis of chemicals on a minute scale, and such kind of activities can be performed with the help of a portable or a handheld device. In conventional methods, such kind of synthesis and analysis of chemicals would have required an entire laboratory. Lab on a chip technology possesses many advantages. Some of them include the ability to analyze the sample in situ, or in the place where the samples are produced, instead of being transported to a laboratory facility. In addition, with the advantage of dealing with fluid dynamics on a small scale enables the easy control and movement and interaction of the samples. This process helps in transforming reactions in a much more efficient process and also helps in reduction of chemical waste. However, the major challenge in the development of this technology is the ability to design and fabricate devices on a small scale that are functional and as well as feasible cost-wise. Due to the recent advancements in materials, and in nanofabrication techniques have allowed the development of various type of lab on chip devices. Due to such advantages and potential, the global lab on chips market is exhibiting a steady growth.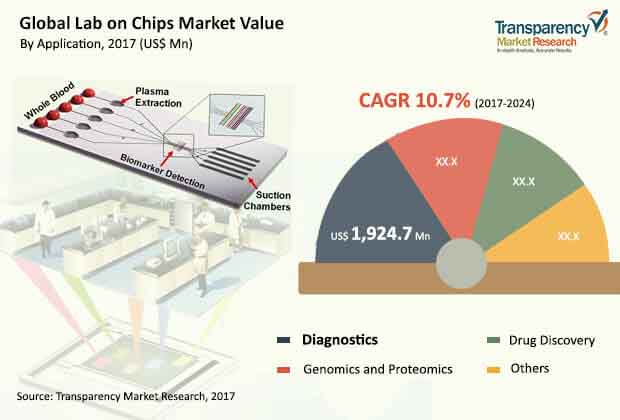 Various applications of lab on chip devices is expanding its market
One of the main uses of lab on chip devices is in the area of fast and early detection of infectious diseases, and this can be a boon to the developing world, where medical facilities are not uniformly developed in all the areas. Such type of lab on chip devices can be majorly used in studies related to epidemics that are being conducted in the developing areas as such devices can be easily adapted to the prevalent local conditions. Research is being undertaken to develop kind of lab on chip devices that can help in the discovery of microorganisms that cause diseases like dengue, diarrhea, malaria, etc. another area of application for lap on chip devices is in the realm of handheld diagnostic devices. Such kind of devices can be used to test the blood samples in a quick manner, and detect various types of HIV. This allows giving patient specific treatment plans that are more effective and also help in reducing drug wastage and combat drug resistance. Lab on chip devices are effective in the fight against diseases in the developing countries as they entail the use of diagnostic operations on a large scale that don't require any special expertise.
Lab on chip devices are economical in nature, thereby boosting their market penetration
Lab on chip devices are proving to be an economical solution, and in this procedure, only one of the sample is screened as opposed to multiple samples for toxicity testing or research. Microfluidic systems significantly reduce the per-test cost by consuming minimum amount of reagents. Top pharmaceutical companies such as Sanofi-Aventis, Pfizer, Merck, Novartis and GSK have adopted microfluidics-based micro-reactors to control the chemical reaction parameters. Due to this, the quality of the production has been enriched. Initial investment in microfluidic devices is generally high for the buyers, as these devices are priced higher than their traditional equivalents. However, the overall cost reduction caused by lower consumption of samples and re-agents makes them highly economical.
The two key applications of lab-on-chip techniques and devices are diagnostics and life sciences research. Lab-on-chip devices and products have come in to the center of attention in clinical and point-of-care diagnostics due to their advantageous such as high speed, efficiency, and sensitivity of results.
Global Labs on Chips Market: Overview
This report on lab on chips market studies the current as well as future prospects of the market globally. The stakeholders of this report include companies and intermediaries engaged in the manufacture and commercialization of various microfluidics instrument and products as well as new entrants planning to enter this market. This report comprises an elaborate executive summary along with a market snapshot providing overall information of various segments and sub-segments considered within the scope of the study. This section also provides the overall information and data analysis of the global lab on chip market with respect to the leading market segments based on major products, applications, end-users, and geographies.
Global Labs on Chips Market: Key Market Segments
The global lab on chips market is divided into four segments: by product, by applications, by end user and by geography. On the basis of product type microfluidics products are classified as instruments, reagents & consumables, software & services. On the basis of applications the lab on chips market is classified as genomics & proteomics, diagnostics, drug discovery, others. On the basis of end users the market has been classified as hospitals, diagnostic centers, academics & research institutes, biotechnology & pharmaceutical companies, others. The market for these segments has been extensively analyzed based on their utility, effectiveness, sales, and geographic presence. Market revenue in terms of US$ Mn and market volume in terms of units for the period from 2017 to 2024 along with the compound annual growth rate (CAGR %) from 2017 to 2024 are provided for all segments, considering 2016 as the base year.
Global Lab on Chips Market: Scope of the Report
The market overview section of the report explores the market dynamics such as drivers, restraints, and opportunities that currently have a strong impact on the global lab on chip market and could influence the market in the near future. Market attractiveness analysis has been provided in all the sections of the report in order to explain the intensity of competition in the market across different products/materials/applications/end-users/geographies. The competitive scenario among different market players is evaluated through market share analysis in the competition landscape section of the report. The section also includes completion matrix that analyzes the competition among some of the top global players operating in the market. All these factors would help market players to take strategic decisions in order to strengthen their positions and expand their shares in the global market.
Global Lab on Chips Market: Regional Outlook
Geographically, the lab on chips market has been segmented into five regions: North America, Europe, Asia Pacific, Europe, Middle East & Africa (MEA), and Latin America. Each regional market for microfluidics has been further categorized into major product, applications, and end-user segments considered within the scope of the study. Key country (U.S., Canada, Japan, Germany, France, U.K., China, Brazil, Mexico, India, etc.) market revenues have also been provided in different regional sections within the report. Market revenue in terms of US$ Mn and volume in terms of units for the period from 2014 to 2024 along with CAGR % from 2017 to 2024 are provided for all the regions and nations considering 2016 as the base year.
Market Taxonomy
Lab on Chips Market, by Product Type
Instruments
Reagents & Consumables
Software & Services
Lab on Chips Market, by Application
Genomics & Proteomics,
Diagnostics,
Drug Discovery,
Others,
Lab on Chips Market, by End-user
Hospitals
Academic & Research Institute
Diagnostic Lab
Homecare settings
Others
Lab on Chips Market, by Geography
North America
Europe
Asia Pacific
Latin America
Middle East & Africa