IP DECT Phones Market
IP DECT Phones Market (Component: Product [DECT Phones] and Services; Installation Type: Single Cell and Multi Cell; Distribution Channel: B2B and B2C; Enterprise Size: Small Enterprises [SOHO/Individuals], Medium Enterprises, and Large Enterprises; and Industry: Residential, BFSI, Logistics & Warehouse, Transportation, Media & Entertainment, Healthcare, Retail, Government & Utilities, Education, Hospitality, Oil & Gas, Energy & Mining, Construction, Automotive, and Others) - Global Industry Analysis, Size, Share, Growth, Trends, and Forecast, 2019 - 2027
IT & Telecom
TMRGL76920
2020-04-13
467

Pages
Coronavirus Crisis Fuels Demand for High-tech IP DECT Phones in Hospitals
Due to the surging number of COVID-19 (coronavirus) patients, especially in the U.S. and Europe, there is a growing demand for high-tech IP DECT phones in hospitals. As such, the healthcare industry is predicted to generate the second-highest revenue in the IP DECT phones market by the end of 2027, where the market is estimated to grow at a volume CAGR of ~7% during the forecast period.
Frontline healthcare workers in the current COVID-19 crisis are benefitting from the introduction of novel handsets that deliver voice communications. For instance, leading voice over internet protocol (VoIP) company, Snom Technology GmbH, offers Snom M325 DECT base station and handset, which operates on a separate frequency to deploy voice communications. Thus, by capitalizing on the urgent situation amidst the coronavirus outbreak, companies in the IP DECT phones market are increasing the availability of reliable DECT phones that eliminate the need of Wi-Fi bandwidth in order to keep voice connections running clearly.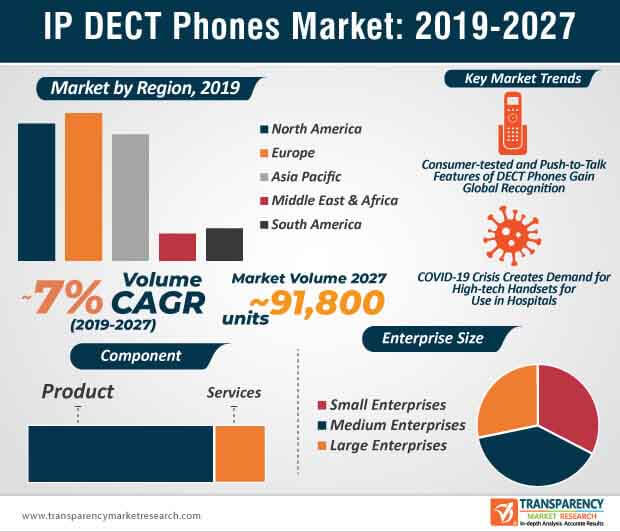 Request a sample to get extensive insights into the IP DECT Phones Market
Users Mobilize VoIP Technology in Enterprises and Retail Stores
Consumer-tested and cordless IP DECT phone solutions are gaining global recognition in the market landscape. For instance, in August 2019, TMC Labs— a technology marketing corporation announced that the new DP series of Grandstream Networks Inc., a global supplier of communication products, are being highly publicized in the IP DECT phones market, owing to the disruptive innovation in the wireless telecom sector. High-tech handsets are allowing users to mobilize their VoIP networks in small and large enterprises, warehouses, and retail stores, among others. Moreover, the revenue of small enterprises is predicted for exponential growth in the global IP DECT phones market, which is estimated to reach a volume of ~91,800 units by the end of 2027.
To understand how our report can bring difference to your business strategy, Ask for a brochure
Increase in product launches is bolstering the expansion of the IP DECT phones market. Innovative push-to-talk features for instant communication are grabbing the attention of users in residential environments. Companies in the market for IP DECT phones are increasing their R&D efforts to introduce built-in accelerometers in products to meet safety concerns.
Pre-enabled VoIP Devices Overcome Limitations of Connectivity in DECT Handsets
The IP DECT phones market is expected to reach a revenue of US$ 6.5 Bn by the end of 2027. Direct cost savings and increased accessibility due to cloud-based VoIP services are revolutionizing the market landscape. However, latency and jitter due to poor Internet connectivity are likely to inhibit market growth. Another drawback that is stalling the growth of the IP DECT phones market is insufficiency of Ethernet cables, since lower cables are unable to support high speeds.
In order to overcome these drawbacks, companies are increasing awareness about jitter buffering to solve connectivity issues. For instance, Nextiva— a supplier of high-end business phone systems in the U.S., helps users enable jitter buffering by increasing the availability of pre-enabled VoIP devices. As such, North America is estimated to dominate the highest revenue among all regions in the market for IP DECT phones. Companies are encouraging users to purchase Cat-5e or Cat-6 Ethernet cables to deploy high speeds in IP DECT phones.
Multiplatform Firmware Versions of Devices Integrated with Approved Third-party UCaaS Providers
Though the IP DECT phones market is fragmented with emerging players accounting for ~72% of the revenue stake, the market is continuously growing due to the innovations deployed by leading players. For instance, California-based market research company, Frost and Sullivan has highlighted best practices of Cisco's IP hardware communications series, namely the Cisco IP DECT 6800, which has added to the company's portfolio of six different corded and cordless models.
Leading companies in the IP DECT phones market are increasing their production capabilities to introduce headsets that integrate with phones to deliver simpler user experiences. They are increasing efforts to allow users to customize headset audio settings with novel IP DECT phones. Apart from on-premises and cloud solutions, companies are increasing their efficacy in multiplatform firmware versions of devices that can be integrated with approved third-party UCaaS (Unified Communications as a Service) providers.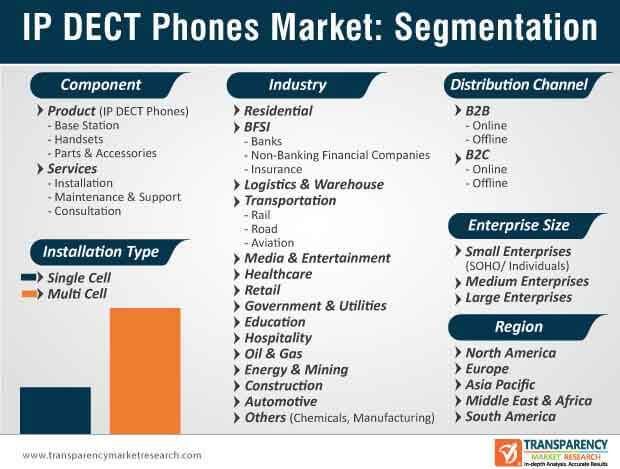 Stuck in a neck-to-neck competition with other brands? Request a custom report on IP DECT Phones Market
Analysts' Viewpoint
High-tech DECT handsets have become the need of the hour in hospitals of the U.S. and the U.K., owing to the current COVID-19 crisis. Manufacturers are increasing the availability of tabletop phones for users demanding IP connectivity. As DECT devices are becoming increasingly mainstream in various industries, increased range has enhanced call quality.

Companies in the IP DECT phones market are overcoming the barriers of conventional communication. However, the availability of reliable Internet connectivity in resource-strapped economies of Asia Pacific pose a restraint for market growth. Hence, companies should educate users to utilize VoIP devices with sufficient upload speed to improve call quality.
IP DECT Phones Market: Overview
The global IP DECT phones market is expected to expand at a CAGR of ~5% during the forecast period; volume of IP DECT phones is expected to rise at a CAGR of ~7%, primarily driven by the increasing demand for adoption of mobility solutions as users can make and take calls from anywhere with internet access
The global IP DECT phones market was valued at US$ 4.5 Bn in 2019 and expected to reach US$ 6.5 Bn by 2027. In terms of volume, the IP DECT phones market stood at 54,228 Thousand Units in 2019 and is set to reach 91,831 Thousand Units by 2027. Solution providers are offering IP DECT phones with advanced technology to improve the performance of IP telephony communications.
Single cell IP DECT phones are anticipated to account for a notable share as compared to other installation type segments of the IP DECT phones market
Europe remains a prominent market for IP DECT phones globally, and the market in the region is estimated to be valued at US$ 1,931.9 Mn by the end of 2027 with volume of 25,817 Thousand Units. Regulatory compliance, technology enhancement, design innovation, and fast service delivery processes are the major factors responsible for the expansion of the advanced IP DECT phones market in Europe. Growing competition and need for innovation are likely to drive the growth of the European IP DECT phones market.
The IP DECT phones market report provides analysis of the global IP DECT phones market for the period 2017 – 2027, wherein 2018 is the base year and 2019 to 2027 is the forecast period. Data for 2017 has been included as historical information.
In this report, we analyze the growth drivers that enhance the value of the IP DECT phones market and various opportunities prevailing in the market
IP DECT phone providers are focusing on developing innovative and unique communication solutions to serve specific requirements of end users in cordless phone systems, which is expected to drive the demand in the coming years
North America IP DECT Phones Market: Snapshot
In North America, several cloud-based companies are primarily focusing on replacing PSTN access with SIP (Session Initiation Protocol) based services in order to improve flexibility and reduce costs for call routing, disaster recovery, and mobility integration. Use of SIP trunking allows an enterprise to reduce the international calling costs. In North America, multiple cloud-based services and solution providers are teaming up to offer customers with advanced and innovative telecommunication solutions. These factors are expected to fuel the demand for IP DECT phones considerably in the near future.
Key Drivers of IP DECT Phones Market
Growing adoption of mobility solutions: Adoption of mobility solutions is increasing rapidly as users can make and take calls from anywhere with Internet access. The IP-DECT mobility solution is a combination of enterprise grade Voice over IP (VoIP) and digitally enhanced cordless telephony standards that provide a fully integrated wireless communication platform. The need to make international or long-distance calls is growing constantly due to a migrating population or moving working force, thereby increasing the adoption of IP telephony, subsequently accelerating the IP DECT market. Usage of IP telephones is also increasing rapidly among people who frequently travel overseas. IP telephones enable them to conveniently make calls on the Internet, saving the expense of roaming charges on a cell phone. Hence, adoption of IP telephony is increasing significantly, thereby boosting the growth of the IP DECT market.
Increasing demand for VoIP services: VoIP services are emerging as an attractive communication alternative for users. Various terms associated with VoIP services include IP telephony, broadband telephony, Internet telephony, and broadband phone services. VoIP-based telephone services make use of IP technologies to transmit calls over a network. IP-based communication is steadily replacing TDM (Time Division Multiplex) networks. Moreover, international VoIP rates are also lower than TDM (time-division multiplexing), thereby increasing the demand for IP phones. Demand for portable telephony devices is increasing across the corporate and individual customer segments. Rise in the number of customers of portable telephony devices is leading to demand for VoIP services.
Key Restraints of IP DECT Phones Market
No services during power outage: IP DECT services may provide low service quality due to variable latencies and dropped packets, and may also be affected by the quality and reliability of broadband Internet services, resulting in low acceptance. During a blackout, VOIP phone services are unavailable and an uninterruptible power supply or a generator must be installed on the premise. Hence, demand for IP telephony may be hampered, which also impacts the IP DECT market.
IP DECT Phones Market - Company Profile Snapshot
Cisco Systems, Inc.: Cisco Systems, Inc. is a global provider of Internet Protocol (IP)-based networking technologies. The company offers routing and switching solutions, IP telephony, optical networking, security, storage, and networking and wireless technology. Cisco Systems, Inc. provides complete solutions for networking and enterprise voice and video communication and offers a broad range of services which includes technical support and other advanced services
Grandstream Networks Inc.: Grandstream Networks Inc. is a global supplier of communication products and solutions that allow businesses to be more productive. Its solutions serve small and medium businesses and enterprise markets. Grandstream solutions aim to increase security, lower communication costs, and enhance productivity. The company provides solutions such as IP telephones, multimedia IP phones, IP video surveillance, IPPBX appliances, and Android IP videophones.
Yealink Inc.: Yealink Inc. is a global enterprise collaboration and communication solutions provider. The company offers video and voice solutions. Yealink Inc. provides voice solutions in around 140 countries and regions including the U.S., U.K., and Australia. It provides unified communication terminals, telephones, video conferencing systems, conference phones, and other voice solution accessories.
IP DECT Phones Market - Scope of the Report
A latest study collated and published by Transparency Market Research (TMR) analyzes the historical and present-day scenario of the global IP DECT phones market, to accurately gauge its potential future development. The study presents detailed information about the important growth factors, restraints, and key trends that are creating the landscape for the future growth of the IP DECT phones market, to identify the opportunistic avenues of the business potential for stakeholders. The report also provides insightful information about how the IP DECT phones market will progress during the forecast period 2019-2027.
The report offers intricate dynamics about the different aspects of the IP DECT phones market that aids companies operating in the market in making strategic development decisions. TMR's study also elaborates on the significant changes that are highly anticipated to configure the growth of the IP DECT phones market during the forecast period. It also includes a key indicator assessment to highlight the growth prospects of the IP DECT phones market, and estimate statistics related to the market progress in terms of value (US$ Mn and Thousand Units).

This study covers a detailed segmentation of the IP DECT phones market, along with key information and a competitive outlook. The report mentions the company profiles of key players that are currently dominating the IP DECT phones market, wherein various developments, expansion, and winning strategies practiced and executed by leading players have been presented in detail.
Key Questions Answered in TMR's Report on IP DECT Phones Market
The report provides detailed information about the IP DECT phones market on the basis of comprehensive research on various factors that are playing a key role in accelerating the growth potential of the market. Information mentioned in the report answers path-breaking questions for companies that are currently functioning in the market and are looking for innovative ways to create a unique benchmark in the IP DECT phones industry, so as to help them make successful strategies and take target-driven decisions.
How are key market players successfully earning revenue out of the advantages of IP DECT phones?
What will be the Y-o-Y growth of the IP DECT phones market between 2019 and 2027?
What are the winning imperatives of market frontrunners in the IP DECT phones market?
Which industry is expected to hold maximum share in the IP DECT phones market during the forecast period?
Research Methodology – IP DECT Phones Market
The research methodology adopted by analysts to combine the IP DECT phones market report is based on detailed primary as well as secondary research. With the help of in-depth insights of the industry-affiliated information that is obtained and legitimated by market-admissible resources, analysts have offered riveting observations and authentic forecasts of the IP DECT phones market.
During the primary research phase, analysts interviewed industry stakeholders, investors, brand managers, vice presidents, and sales and marketing managers. On the basis of data obtained through the interviews of genuine resources, analysts have emphasized the changing scenario of the IP DECT phones market.

For secondary research, analysts scrutinized numerous annual report publications, white papers, industry association publications, and company websites to obtain the necessary understanding of the IP DECT phones market.
IP DECT Phones Market – Segmentation
TMR's research study assesses the IP DECT phones market on the basis of component, installation type, distribution channel, enterprise size, industry, and region. The report presents extensive market dynamics and progressive trends associated with different segments, and how they are influencing the growth prospects of the IP DECT phones market.
Component

Product (DECT Phones)
Base Station
Handsets
Accessories
Services
Installation
Maintenance & Support
Consultation

Installation Type

Distribution Channel

B2B
Online
Offline
B2C
Online
Offline

Enterprise Size

Small Enterprises (SOHO/ Individuals)
Medium Enterprises
Large Enterprises

Industry

Residential
BFSI
Banks
Non-banking Financial Companies
Insurance
Logistics & Warehouse
Transportation
Rail
Road
Aviation
Media & Entertainment
Healthcare
Retail
Government & Utilities
Education
Hospitality
Oil & Gas
Energy & Mining
Construction
Automotive
Others (Chemicals and Manufacturing)

Region

North America
Europe
Asia Pacific
Middle East & Africa
South America
Custom Market Research Services
TMR offers custom market research services that help clients to get information on their business scenario required where syndicated solutions are not enough.
REQUEST CUSTOMIZATION