Insect Repellent Market - Snapshot
Growing consumer awareness related to insect-borne diseases is fueling the growth of the insect repellent market globally. Insect repellents help in protecting consumers from bites from insects such as mosquitoes, ticks, fleas, chiggers, and biting flies. Diseases such as Zika, dengue, yellow fever, malaria, and chikungunya is becoming more common in various regions especially in Southeast Asia and Pacific islands, thus fueling the insect repellent market growth over the forecast timeline.
Most of the people opting for outdoor recreational activities such as camping, trekking, adventurous sports, climbing, and those involved in defense, and environmental research & studies prefer to use insect repellent products to be safe from insect bites. People involved in outdoor recreational activities need protective aids such as insect repellent sprays/aerosol, oil & creams, coil, mat, and liquid vaporizers to remain safe from insect bites that may harm the body. People are taking more precaution about their health and are becoming aware about the use of protective aids to prevent insect bites that may cause harm to the body, especially during outdoor recreational activities.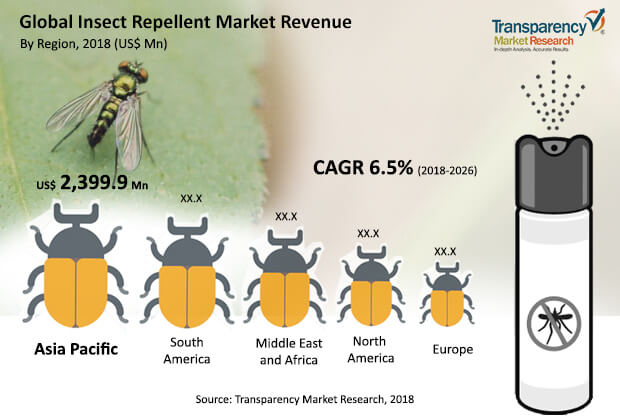 The yearly rise in insect borne diseases aids insect repellent manufacturers to produce personal care products which in turn is expected to drive the usage of insect repellent products. With the rising adoption of insect repellents, the impact would be high in the global markets in the coming years. Health consciousness is increasing amongst the urban population across the globe as the awareness regarding safety against insect bites is increasing. Furthermore, the increasing literacy rate in developing countries is aiding the rural population to focus more on health & cleanliness.
Organizations such as the European Environmental Agency and the European Medicines Agency have implemented different safety standards to conclude whether an insect repellent product is harmless for human beings and efficient enough for its intended use, thereby maintaining consumer safety. Furthermore, the United States Environmental Protection Agency lays down laws which precisely monitors these products before they are given the certified label. Moreover, owing to strict government regulations and the toxic nature of the insecticides, lesser concentration of the active ingredients are introduced in the products, which in turn reduces their overall effectiveness. This negatively impacts the insect repellent market globally and its impact is currently high. However, it is expected to reduce over the years.
Increasing demand for new and innovative insecticide products containing natural ingredients is likely to create significant growth opportunity for the insect repellent market in the coming years. Manufacturers operating in this market are constantly engaged in extensive research and development activities to develop natural and safer products rather than synthetic products. Examples include conceal candles manufactured by BioSensory Inc. and the Yankee Candle Company. These companies are focused on manufacturing conceal mosquito repellent candles instead of the standard mosquito repellent candles made from citronella. Conceal mosquito repellent candles act as inhibitors and not as an insect repellent. Thus, conceal candles made from citronella oil or eucalyptus oil are natural and have proven to be more effective.
Factors such as high levels of urbanization, favorable climate, and lack of awareness about basic sanitation in the Asia Pacific region plays a major role in insect breeding, providing potential opportunity for insect repellent manufacturers to tap the region. Liquid vaporizers are expected to have significant growth rate in terms of volume as they are effective in repelling mosquitoes, can efficiently work indoors, and do not require any body application. Moreover, these vaporizers are also smoke-free as compared to mosquito coils. This reduces the risk of breathing difficulties as long as proper precautions are being followed while using the vaporizers.
Asia Pacific region is expected to account for the highest market share in both value and volume terms owing to favorable insect breeding climate and population living in denser areas in this region. South America is expected to have the second largest CAGR followed by Asia Pacific as this region is also geographically located in the subtropical region.
Manufacturers are focusing on producing innovative insect repellent products by using natural ingredients in order to have an extensive, established product portfolio to target different consumers. Emerging players of the insect repellent market are Quantum Health, Enesis Group, and ExOfficio LLC. The prominent players of the industry are Dabur International, Jyothi Laboratories, Coghlans Ltd., and Godrej Consumer Products Ltd.
Global Insect Repellent Market: Overview
This report on the global insect repellent market provides analysis for the period 2016–2026, wherein 2017 is the base year and the period from 2018 to 2026 is the forecast period. Data for 2016 has been included as historical information. The report covers market dynamics including drivers, restraints, opportunities, and trends expected to influence the growth of the insect repellent market during the said period. The study provides a comprehensive analysis on market growth throughout the above forecast period in terms of value estimates (US$ Mn) and volume shipments (Million Units), across different geographies.
Global Insect Repellent Market: Trends and Opportunities
Insect repellent are the substances which deters insects from approaching a particular room or area. The insect repellent can be of any form such as solid, liquid, or gas. Consumers prefer these forms based on their convenience and requirements. Insect repellent products are available in coils, liquid vaporizers, sprays/aerosols, cream & oil and other forms. Large conglomerate companies are expected to undertake merging activities with companies across the value chain in the insect repellent market. For instance, Vertellus Specialties announced acquisition of the MGK(R) insect repellent business line. Additionally, Dow Chemical Company and DuPont have recently merged into a single holding group. Governments and NGOs are actively participating to spread awareness amongst the masses due to improper waste management as well as lack of knowledge among the rural population.
Global Insect Repellent Market: Key Segments
The insect repellent market has been segmented on the basis of product type, ingredient, distribution channel, and geography. Based on product type, the market has been segmented into coils, liquid vaporizers, sprays/aerosols, mats, cream & oil, and others. By ingredient, the insect repellent market is classified into natural and synthetic ingredient. Natural ingredient is further classified into oil of lemon, eucalyptus, and citronella oil, and synthetic ingredient is segmented into DEET, picaridin, IR3535, & permethrin. By distribution channel, the industry is segmented into online and offline channels. Organized and unorganized channels are the further bifurcation of the offline distribution channel.
Geographically, the report classifies the industry into North America, Europe, Asia Pacific (APAC), Middle East & Africa (MEA), and South America; the regions are analyzed in terms of value and volume shipments in the insect repellent industry. Furthermore, region wise prominent countries covered in the report include the following – the U.S, Canada, Germany, U.K., France, China, India, Japan, GCC, South Africa, and Brazil. The cross country analysis of each country has also been provided by each segment in terms of value and volume.
Global Insect Repellent Market: Scope of the Study
The report also includes key developments in the insect repellent market. Porter's Five Force analysis which identifies bargaining power of suppliers, bargaining power of buyers, threat from new entrants, threat from substitutes, and threat from competition in the insect repellent industry is also included in the report. Value chain analysis which shows the work flow in the insect repellent market and identifies raw material services providers and distribution channels of this industry is also covered in the report. Segment trends, regional trends, and country trends have also been added in the report. It also covers segment wise comparison matrix, incremental opportunity analysis, and market positioning of key players for all regions covered in the scope of the study.
Incremental opportunity analysis identifies and compares attractiveness of the segments based on CAGR and market share index across North America, Europe, Asia Pacific, Middle East & Africa, and South America along with all the countries included in it. The same has also been provided for each segment i.e. by type, application, installation, and end-use.
Global Insect Repellent Market: Competitive Landscape
The report also covers the competition landscape which includes competition matrix, market share analysis of major players in the global insect repellent industry based on their 2017 revenues, and profiles of major players. Competition matrix benchmarks leading players based on their capabilities and potential to grow. Factors including market position, offerings, and R&D focus are attributed to a company's capabilities. Top line growth, market share, segment growth, infrastructure facilities, and future outlook are attributed to a company's potential to grow. This section also identifies and includes various recent developments of leading players of the insect repellent industry.
Company profiling includes company overview, major business strategies adopted, and key developments. The companies profiled in the global insect repellent market include Avon Products Inc, Coghlan's Ltd., Dabur International, E.I. DuPont de Nemours and Company, Enesis Group, ExOfficio LLC, Godrej Consumer Products Ltd, Homs LLC, Jyothi Laboratories, PIC Corporation, Quantum Health, Reckitt Benckiser Group PLC, Spectrum Brands Holdings Inc., SC Johnson & Sons Inc., and 3M.
The global insect repellent market is segmented as below:
Global Insect Repellent market, by Product Type
Coils
Liquid Vaporizers
Sprays/Aerosol
Mats
Cream & Oil
Others (Chalk, Powder)
Global Insect Repellent market, by Ingredient
Natural Ingredient

Oil of Lemon Eucalyptus
Citronella Oil

Synthetic Ingredient

DEET
Picaridin
IR3535
Permethrin
Global Insect Repellent market, by Distribution Channel
Online
Offline

Organized Retail
Unorganized Retail
Global Insect Repellent market, by Geography
North America

Insect Repellent Market, By Product Type
Insect Repellent Market, By Ingredient
Insect Repellent Market, By Distribution Channel
Insect Repellent Market, By Country
U.S.

Insect Repellent Market, By Product Type
Insect Repellent Market, By Ingredient
Insect Repellent Market, By Distribution Channel

Canada

Insect Repellent Market, By Product Type
Insect Repellent Market, By Ingredient
Insect Repellent Market, By Distribution Channel

Rest of North America

Insect Repellent market, By Product Type
Insect Repellent Market, By Ingredient
Insect Repellent Market, By Distribution Channel

Europe

Insect Repellent Market, By Product Type
Insect Repellent Market, By Ingredient
Insect Repellent Market, By Distribution Channel
Insect Repellent Market, By Country
UK

Insect Repellent Market, By Product Type
Insect Repellent Market, By Ingredient
Insect Repellent Market, By Distribution Channel

Germany

Insect Repellent Market, By Product Type
Insect Repellent Market, By Ingredient
Insect Repellent Market, By Distribution Channel

France

Insect Repellent Market, By Product Type
Insect Repellent Market, By Ingredient
Insect Repellent Market, By Distribution Channel

Rest of Europe

Asia Pacific (APAC)

Insect Repellent Market, By Product Type
Insect Repellent Market, By Ingredient
Insect Repellent Market, By Distribution Channel
Insect Repellent Market, By Country
China

Insect Repellent Market, By Product Type
Insect Repellent Market, By Ingredient
Insect Repellent Market, By Distribution Channel

India

Insect Repellent Market, By Product Type
Insect Repellent Market, By Ingredient
Insect Repellent Market, By Distribution Channel

Japan

Insect Repellent Market, By Product Type
Insect Repellent Market, By Ingredient
Insect Repellent Market, By Distribution Channel

Rest of Asia Pacific

Middle East & Africa (MEA)

Insect Repellent Market, By Product Type
Insect Repellent Market, By Ingredient
Insect Repellent Market, By Distribution Channel
Insect Repellent Market, By Country
GCC

Insect Repellent Market, By Product Type
Insect Repellent Market, By Ingredient
Insect Repellent Market, By Distribution Channel

South Africa

Insect Repellent Market, By Product Type
Insect Repellent Market, By Ingredient
Insect Repellent Market, By Distribution Channel

Rest of MEA

South America

Insect Repellent Market, By Product Type
Insect Repellent Market, By Ingredient
Insect Repellent Market, By Distribution Channel
Insect Repellent Market, By Country
Brazil

Insect Repellent Market, By Product Type
Insect Repellent Market, By Ingredient
Insect Repellent Market, By Distribution Channel

Rest of South America