Industrial burner Market
Industrial burner Market (Burner Type - Regenerative Burner, High Velocity Burner, Thermal Radiation, Radiant Burner, Customized (Burner Boiler), Flat Flame Burner, and Line Burner; Fuel Type - Oil-based, Gas-based, and Dual fuel; Operating Temperature - High Temperature (>1400F) and Low Temp (<1400F); Automation - Monoblock and Duoblock; Application - Boilers, Furnace/Ovens/Kiln, and Air Heating/Drying; End User - Petrochemicals, Power Generation, Chemicals and Specialty Chemicals, Mining and Mineral, Metal , Pharmaceutical, Glass, Ceramics, Food Processing, Automotive, and Printing and Publishing) - Global Industry Analysis, Size, Share, Growth, Trends, and Forecast 2016 - 2024
Category :

IT & Telecom

Format :
Global Industrial Burner Market: Overview
The industrial burner market is prognosticated to witness a tremendous growth within the forecast period from 2016 to 2024 owing to the rise in the usage of BMSs or burner management system. This system efficiently deals with the protection from the boilers explosion, and this factor majorly contributes in the growth of global industrial market. The precision, superior performance and efficiency of the industrial burners are also helping in their adoption globally, resulting in an exponential market growth.
Over the next few years, the overall market for industrial burners is probably going to pick up fundamentally on the back of the momentous ascent in the interest for industrial boilers, because of the quick industrialization in developing economies and the far reaching use of these boilers in various ventures, for example, chemicals, sustenance handling, control age, and oil and gas. However, limited availability of skilled labor might have a detrimental effect on the market.
The worldwide industrial burner market was worth US$19.6 bn in year 2015. Expanding at a CAGR of 3.0% within the forecast period from 2016 to 2024, the market is expected to achieve US$25.6 bn before the finish of 2024.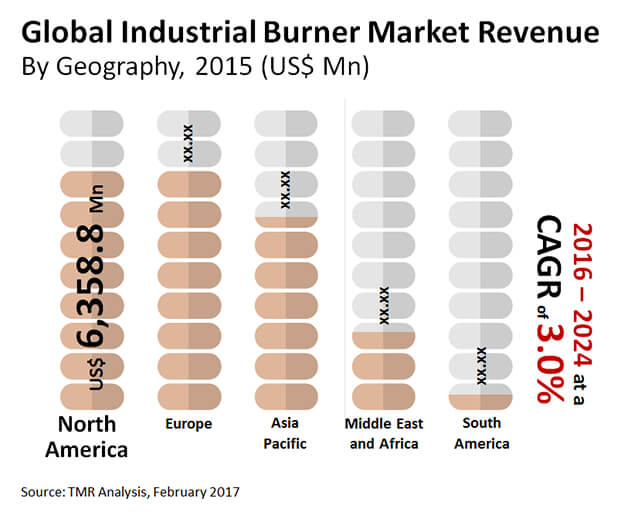 Increased Implementation of Government Policies to Fuel Market Growth
The minimal effort of work and raw materials in growing regions, for example, Asia Pacific could enable the world industrial burner to market to grandstand a speedier development within the coming years. Moreover, the rising execution of a few government strategies for lessening carbon emission and significant growth in mining and petrochemicals sector have been anticipated to promote industrial burner in Asia Pacific. Regardless of the stunning advancement of the worldwide industrial burner market, there could be some difficulties that are anticipated to hamper the growth. This is because of the cumbersome modification of industrial burners.
Emergence of New Players in China and India Makes Asia Pacific a Leading Region
Among all the regions, Asia Pacific is expected to emerge as the most important market for industrial burners in the coming years. With a substantial pool of worldwide players setting up their assembling units in India and China, lured by low cost of land and labor and also the affordability of raw materials is anticipated to boost the Asia Pacific industrial burner market in the following couple of years. Developed regions, for example, North America have been estimated to add to the global development of the world industrial burner market in terms of the accessibility of a plentitude of common assets, more prominent profitability, and complex framework. Within a reasonable time-frame, North America could be overwhelmed by Canada and the U.S. where the last is a critical maker of oil and gas over the globe. Contrasted with different nations in North America, the U.S. has been anticipated to display a bigger interest for industrial burner.
ANDRITZ, Alzeta Corp., Baltur S.p.A, Forbes Marshall, Bloom Engineering, Foster Wheeler AG, Limpsfield Combustion Engineering Ltd, Honeywell International Inc., Mitsubishi Hitachi Power Systems Ltd, Osaka Gas Co. Ltd, Oilon, QED Combustion, Wesman Group, and Selas Heat Technology Co. are some of the leading firms dominating the global industrial burner market.
Global Industrial Burner Market: Overview
This report on the global industrial burner market provides analysis for the period 2014 - 2024, wherein 2015 is the base year and the period from 2016 to 2024 is the forecast period. Data for 2014 has been included as historical information. The report covers market dynamics including drivers, restraints opportunities, and trends expected to influence the global industrial burner market growth during the said period. Factors that are playing a major role in the driving the global industrial burner market have also been covered in the study.
The study provides a comprehensive analysis on market growth throughout the above forecast period in terms of revenue estimates (in US$ Mn), along with volume estimate (in Thousand Units) across different geographies. Industrial burners are a significant part of industrial boiler system which has wide application across various industries such as chemicals, power generation, food processing, oil and gas among others. Also the demand for industrial boilers is on the rise from the emerging economies due to rapid industrialization, thus positively affecting the industrial burner market in turn.
Global Industrial Burner Market: Segmentation
The global industrial burner market has been segmented on the basis of burner type, fuel type, operating temperature, automation, application, ad end-use. Further, burner type segment has further been divided into regenerative burners, high velocity burner, thermal radiation, radiant burner, customized (burner boiler), natural draft burner, flat flame burner and line burner. The customized type burner holds the largest market share while the high velocity burner is expected to grow at the fastest rate.
On the basis of fuel type the market has been divided into oil based, gas based and dual fuel type. The operating temperature and automation segments have been sub-divided into high temperature, low temperature and monoblock, duobock respectively. The application segment has been bifurcated into boilers, furnace/oven/kiln, and air heating/drying. On the basis of end-use the market has been divided into petrochemicals, power generation, chemicals & specialty chemicals, mining and mineral, metal, pharmaceutical, glass, ceramics, food processing, automotive, printing & publishing
Geographically, the report classifies the global industrial burner market into North America, Europe, Asia Pacific, Middle East & Africa (MEA), and South America; the regions are analyzed in terms of revenue generation. Furthermore, the study also includes quantitative analysis of the competitive scenario for region wise countries covered in the report include the following - the U.S, Canada, Mexico, Germany, France, the U.K., Russia, Turkey, China, India, Japan, UAE, South Africa, Brazil and Argentina. The market size and forecast for each region has been provided for the period from 2014 to 2024 along with the CAGR (%) for the forecast period from 2016 to 2024.
The report also includes key industry developments in the industrial burner market. Porter Five Force analysis is also included in the report. The report also covers segment wise, market attractiveness analysis and market share analysis for all regions covered in the scope of study. It shows market attractiveness analysis for all the segments and for all the regions in the scope of study which identifies and compares segments market attractiveness on the basis of CAGR and market share index.
Global Industrial Burner Market: Competitive Analysis
The report further presents competition landscape which include competition matrix, market share analysis of major players in the global industrial burner market based on their 2015 revenues, and profiling of major players. Competition matrix benchmarks leading players on the basis of their capabilities and potential to grow. Factors including market position, offerings and R&D focus are attributed to company's capabilities. Factors including top line growth, market share, segment growth, infrastructure facilities and future outlook are attributed to company's potential to grow. This section also identifies and includes various recent developments carried out by the leading players.
Key players profiled in the global Industrial burner market include Alzeta Corporation, ANDRITZ, Baltur S.p.A, Bloom Engineering, Forbes Marshall, Foster Wheeler AG, Honeywell International Inc. (Maxon), Limpsfield Combustion Engineering Ltd, Mitsubishi Hitachi Power Systems, Ltd, Oilon , Osaka Gas Co., Ltd, QED Combustion, Selas Heat Technology Company, and Wesman Group.
The global industrial burner market is segmented as below:
By Fuel Type

Oil-based
Gas-based
Dual fuel

By Automation

By Burner Type

Regenerative Burners
High Velocity Burner
Thermal Radiation
Radiant Burner
Customized (Burner Boiler)
Flat Flame Burner
Line Burner
Others

By Operating Temperature

High Temperature (> 1400F)
Low Temp (< 1400F)

By Application

Boilers
Furnace/Ovens/Kiln
Air Heating/ Drying
Others

By End User

Petrochemicals
Power Generation
Chemicals & Specialty Chemicals
Mining and Mineral
Metal
Pharmaceutical
Glass
Ceramics
Food Processing
Automotive
Printing & Publishing
Others

By Geography

North America

The U.S.
Canada
Mexico
Rest of North America

Europe

The U.K
Germany
France
Russia
Turkey
Rest of Europe

Asia Pacific (APAC)

India
Japan
China
Australia
Rest of APAC

Middle East and Africa (MEA)

UAE
South Africa
Rest of MEA

South America

Brazil
Argentina
Rest of South America
Custom Market Research Services
TMR offers custom market research services that help clients to get information on their business scenario required where syndicated solutions are not enough.
REQUEST CUSTOMIZATION