Global Industrial Agitator Market: Snapshot
Industrial agitators find application in different industries and this has resulted in generating a continued demand for them. Used in mixing two or more materials – often having different viscosity – in different proportions to accomplish a desired level of uniformity in end products, industrial agitators are leveraged in various manufacturing industries such as oil and petrochemical, chemical, gas, pharmaceutical, and food and beverages. Industrial agitators are also used in water and wastewater treatment industries as they help in purging pollutants such as sulfur in water.
Swift pace of industrialization, particularly in fast-expanding developing nations in Asia Pacific and South America, namely China, India, and Brazil, has been at the forefront of driving growth in the global industrial agitators market. On account of helpful government policies, manufacturing has proliferated in the developing regions and this has bolstered demand in the market.
On account of such tailwinds the global industrial agitator market has grown at a steady pace so far. Going forward, it is predicted to register a CAGR of 5.7% from 2017 and 2025 to become worth US$3.647 bn by 2025 from US$2.245 bn in 2016, finds a report by Transparency Market Research.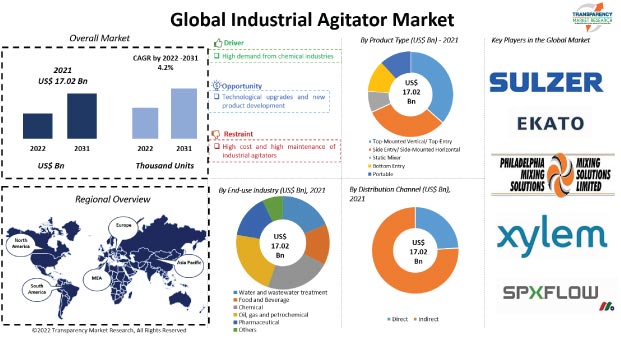 Use in Various Applications Catapults Demand for Top Entry Industrial Agitators
The various types of industrial agitators purveyed in the market are side entry, top entry, bottom entry, static, and portable. At present, the top entry industrial agitator, rakes in maximum revenue and going forward too is predicted to continue doing so. The popularity of top entry industrial agitators results from the fact that they can be used to satisfy almost any need of the end-user for mixing and homogenization and they have a long service life. Besides, top entry agitators can be used on both open and close tanks. As the name says, it is mostly deployed from the top of the tank, which allows easy access to serviceable parts. This in turn, prevents direct contact with effluent and sludge while installing or servicing the agitator, which has an obvious safety and health benefit. In addition, top entry industrial agitators also find application in manufacturing and process industries such as oil and petrochemical, chemical, and gas.
Asia Pacific to Clock Maximum Growth due to Urbanization and Industrialization
From a geographical perspective, North America leads the global industrial agitator market vis-à-vis revenue. In 2016, it accounted for over 30.0% of the total market size. The expansion of the market in the region has been driven mainly by the U.S. and Canada. The surging demand for the nutraceuticals, on the back of a growing crop of consumers opting for organic food, in the upcoming years will likely keep boosting the market.
Driving the industrial agitator market in Europe is the pulp and the paper industry which results in massive volumes of wastewater. On account of it, Europe trails North America in terms of market share. In terms of growth rate, Asia Pacific will likely surpass other regions because of high degree of pollution, acute water shortage, key regulatory changes, and swift pace of urbanization and industrialization. The region contributed more than 20.0% of the total revenue share in 2016, which is expected to increase by 2025 by rising at a CAGR of 6.2%. China and India are main markets in the region.
EKATO GROUP, Sulzer Ltd., Philadelphia Mixing Solutions, Ltd., Chemineer Inc., Xylem, Inc., Tacmina Corporation, Mixel Agitators, Dynamix Agitators Inc., Silverson Machines, Inc., and SPX Flow Inc. are to name a few prominent names operating in the global industrial agitator market.
Global Industrial Agitator Market: Overview
Industrial agitator serves the purpose of mixing two or more materials in various proportions and also of different viscosity to attain a desired level of uniformity in end products. Industrial agitators primarily serves various mixing application needs in manufacturing industries including chemical, oil, gas and petrochemical, pharmaceutical and food and beverages among others. Water and wastewater treatment industries also one of the potential application area of industrial agitators for the purpose of cleansing water by removing various pollutants such as sulfur in water.
The report also provides assessment of different drivers that is impacting the global market, along with the restraints and opportunities that has also been covered under the scope of this report. For each segment (such as type, applications), market dynamics analysis has been provided. All these factors help in determining different trends that has been impacting the overall market growth. Moreover, after taking into consideration all this factors, an extensive analysis of the region wise growth parameters of industrial agitator market along with the overall assessment for the forecast period of 2017-2025 has also been provided within this report.
Global Industrial Agitator Market: Geographical Analysis
The growth of industrial agitators market is attributed to the rapid industrialization in developing economies primarily including China, Brazil and India. Growing number of industries in these regions is expected to surge manufacturing activities, which in turn is boosting the demand for industrial agitators. North America and Europe contributed maximum market share of industrial agitators, however growth in these regions are stagnant or have reached to a stage of maturity.
Asia Pacific and MEA (Middle East and Africa) have better growth potential during the forecast period due to the rise in GDP and favorable government policies to boost manufacturing industries in these regions. The major opportunities of global industrial agitators market lies in the increasing need for customization of industrial agitators specific to end use application. Application specific customization of industrial agitators and refurbishment or replacement of traditional agitators is creating new opportunities in the market.
Global Industrial Agitator Market: Segmenation
Based on type, the market has been segmented into five types which include top entry, side entry, bottom entry, and portable, static. Top entry agitator held the largest market share in terms of revenue, followed by side entry agitator and portable agitator. The growing demand of top entry and side entry agitator in chemical, food& beverage and cosmetics industry is actually driving the market. Side entry agitator is mounted on flange on the side of a tank normally very close to the bottom of the tank. The main advantages of the side-entry agitator compared to the vertical agitator include low weight, small footprint, easy mounting on the lateral of the tank and low power consumption. The growing adoption of side entry agitator in pharmaceuticals & waste water treatment is expected to drive the market in the forecast period.
Based on application, the market is segmented into six segments which include chemical, water and wastewater treatment, oil, gas and petrochemical, food and beverages, pharmaceutical, others. Geographically, the industrial agitator market is categorized into North America, Europe, Asia Pacific, Latin America, Middle East and Africa. The market for industrial agitator has been provided in (USD million) in terms of revenue and the CAGR for the forecast period of 2017 to 2025.
Global Industrial Agitator Market: Competitive Analysis
The key players in the industrial agitator market have been competitively profiled across the five broad geographic regions. This competitive landscape is inclusive of the various business strategies adopted by these major players and their recent developments in the field of agitator. Further, the report includes the market attractiveness analysis of different applications of industrial agitator.
Some of the leading players who are operating in the industrial agitator market are EKATO GROUP (Germany), Sulzer (Switzerland), Philadelphia Mixing Solutions (The U.S.), Chemineer Inc. (The U.S.), Xylem, Inc. (The U.S.), Mixel Agitators (France), Dynamix Agitators Inc (Canada), Tacmina Corporation (Japan),Silverson Machines (The U.S.) and SPX Flow Inc. (The U.S.) among others.
The Industrial Agitator market has been segmented as follows
Global Industrial Agitator Market: By Type
Top Entry
Side Entry
Bottom Entry
Portable
Static
Global Industrial Agitator Market: By Application
Chemical
Water and wastewater treatment
Oil, gas and petrochemical
Food and beverage
Pharmaceutical
Others (Mining, Pulp and paper & Cosmetics)
Global Industrial Agitator Market: By Region
North America
Europe

U.K
Germany
France
Rest of Europe

Asia Pacific

China
Japan
India
Rest of APAC

Middle East and Africa

U.A.E
South Africa
Rest of MEA

Latin America

Brazil
Rest of Latin America