Downsizing/lightweighting of packaging solutions, increased waste recovery & recycling, robust utilization of recycled content & renewably sourced materials, and improving packaging & logistical efficiency have prevailed as key trends influencing demand for sustainable packaging, All these factors have led to the development of various sustainable packaging solutions, and pulp packaging is one of the leading solutions. Pulp is widely used for manufacturing primary and secondary packaging products, mainly because of its strong protective cushioning properties and cost-effectiveness. Facilitated reprocessing of pulp coupled with its biodegradable offerings further pave immense opportunities for use of pulp in the packaging industry.
There has been a robust consumption of chemical wood pulp for production of high-quality paper. Processes such as the semi-chemical pulping aid preparation of neutral solutions, which are utilized for cooking wood chips. In addition, semi-chemical wood pulp is relatively affordable than pulp produced from other chemical methods. Semi-chemical wood pulp seeks widespread utilization for manufacturing paperboards, magazines, cartons, fine paper, and tissue paper. Tissue paper has been witnessing tremendous adoption, particularly in the residential sector where paper towels and facial tissue papers are in high demand. In addition, fluffy pup has also witnessed a substantial rise in demand for use in the production of feminine hygiene products, pet pads, adult incontinent products, and baby diapers. All these factors elucidate importance of pulp in various application and are likely to drive demand for pulp in the near future.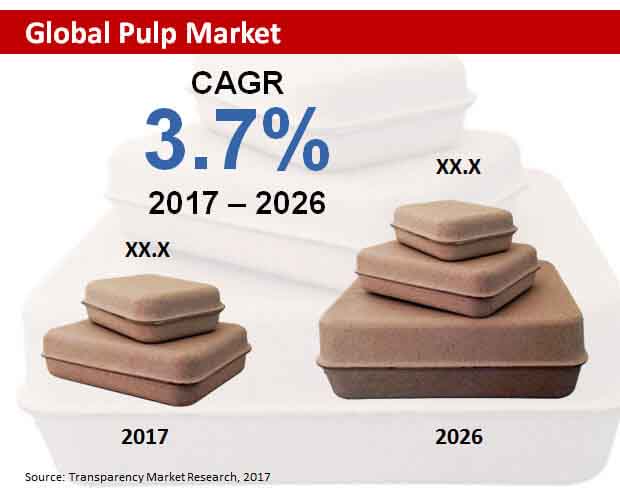 According to a recently compiled report of Transparency Market Research (TMR), an average expansion has been projected for the global pulp market over the forecast period, 2017 to 2026. More than US$ 60,000 Mn worth of pulp is estimated to be sold across the globe by 2026-end.
APEJ to Account for Lion's Share of Global Pulp Market
Asia-Pacific excluding Japan (APEJ) will continue to account for the lion's share of the global pulp market. Growing demand for paper-based products has prompted the market vendors in APEJ to focus on enhancing their pulp production capacity. In addition, high chemical pulp production and export along with soaring demand for paper will augment demand for pulp in APEJ. Europe is also expected to remain a lucrative region for the pulp market, mainly because of constant innovations in the region's paper industry and increasing pulp production capacities of the regional vendors.
Chemical pulp seek enormous applications in various end-use industries on the back of their resilience and malleability. In addition, chemical pulp enable efficient breaking down of lignin into wood chips. Chemical pulp is expected to remain leading revenue contributor to the global pulp market, based on grade type.
Pulp to Reflect Fastest Sales Growth in Printing & Writing Application
Sales of pulp are poised to reflect the fastest growth for application in printing & writing, owing to substantial demand for pigments and dies in developing nations. In addition, rapid adoption of various types of papers in nations such as Indonesia, India, and China on the back of growing literacy rate and population expansion will further create enormous demand for pulp for printing & writing applications in these countries.
Based on product type, fluff will continue to ride on the highest CAGR in the market through 2026, trailed by bleached eucalyptus kraft pulp. However the latter will remain the most lucrative product in the market
Competition Tracking
Presence of several vendors in the global pulp market has made the market's nature to be extremely competitive. Competition in the market is further likely to intensify, as vendors are increasingly competing in terms of quality, branding, price, and customer service. These vendors are concentrating on enhancing their production efficiencies, and making long-term contracts with their end-users, as little product differentiation exists in the market. In addition, competition regarding cost of products commonly prevails between vendors increasing their production efficiencies and offering low-cost products. TMR's report has tracked key players influencing expansion of the global pulp market, which include Rayonier Advanced Materials, Shandong Sun Paper Industry, Mitsubishi Paper Mills, WestRock, Packaging Corporation of America, Nippon Paper Group, Oji Paper, UPM-Kymmene, Stora Enso, and International Paper.
Over the past few years, there has been a rise in use of tissue papers worldwide, and pulp is extensively used for production of tissue papers. The residential sector is a key application of tissue papers, with high demand for facial tissue papers, paper towels and bathroom tissue papers. In addition, there has been a high demand for fluffy pulp on the back of its high fiberization efficiency, superior wicking speed, and good absorbency. Fluffy pulp seeks extensive application in products including adult incontinent products, baby diapers, feminine hygiene products, and pet pads. Transparency Market Research has composed a new exhaustive research report on global pulp market. The report engulfs present market scenario, and imparts future prospects of the global pulp market for the forecast period - 2017 to 2026. This comprehensive research report also encompasses key drivers, obstacles, trends and opportunities affecting rise of the global pulp market. An overall picture of global pulp market has been delivered by the report, in order to aid businesses that seek opportunities to make investments in the market.
Structure of the Report
The report delivers an exhaustive synopsis of global pulp market, with its first chapter titled "executive summary" that elucidates key nodes influencing the market growth. This chapter also illuminates influences that the market dynamics are likely to have on its growth in the forecast period. The report also submits figures related to CAGRs from historical as well as forecast point of view. A chapter titled "overview" in the report follows the executive summary, providing a clear picture of pulp market's scope to readers of the report. The overview imparts a concise market introduction trailed by the definition of "pulp". Chapters succeeding the overview elaborate imperative dynamics such as growth drivers, limitations and prospects observed in the market throughout the forecast period. These chapters also inundate in-depth insights associated with the global economy, bottom line of enterprises, and fiscal stimulus.
Market Taxonomy
A segmentation analysis delivered in the report submits insights on the global market for pulp. The market is characterized based on application type, grade type, raw material type, and region. Analyses on the Y-o-Y growth comparison, market share comparison, and the revenue comparison in accordance with relevant market numbers has been delivered in this chapter. The global market for pulp has been divided regionally into Asia-Pacific excluding Japan, Europe, Middle East & Africa, Japan, Latin America, and North America.
| Region | Raw Material Type | Grade Type | Application Type |
| --- | --- | --- | --- |
| North America | Northern Bleached Softwood Kraft | Chemical Pulp | Corrugating Materials |
| Latin America | Southern Bleached Softwood Kraft | Mechanical & Semi Chemical Pulp | Printing & Writing |
| Europe | Bleached Eucalyptus Kraft Pulp | Non Wood Pulp | Carton Board |
| Japan | Southern Bleached Hardwood Kraft | | Tissue |
| APEJ | Northern Bleached Hardwood Kraft | | Newsprint |
| MEA | Fluff | | Wrapping Paper |
| | Other SW/HW Kraft | | Kraft Paper |
Competition Landscape
This analytical research study on the global market for pulp is a complete package, including intelligence on active players underpinning the market growth. In this last chapter, which elucidates the market's current and future competitive scenario, strategies being implemented by the players, along with information on their product overview, company overview, key developments, key financials, and SWOT analysis is rendered exhaustively by the report. Additionally, region-wide reach of these market players, future expansion plans, revenues, mergers & acquisition activities, and market shares have been elaborated in detail in this chapter. An intensity map employed in the report profiles the market players that are located across geographies.
Research Methodology
Credibility of researched statistics & data has been backed by a unique research methodology utilized by TMR's analysts, for ensuring higher accuracy. This research report on global pulp market will assist its readers to gain detailed insights about many different aspects guiding the market across the regional segments comprised in the report. Readers of this report can further slate effective strategies for foraying the vital revenue pockets as well as gaining benefits over intensifying market competition. Information issued in the report is scrutinized as well as monitored by TMR's industry experts. The figures and numbers that are offered in this report have been validated by analysts for facilitating the report readers in making strategic decisions.