India SSP Market
India SSP Market (Form: SSP Powder, SSP Granulated, SSP Boronated, SSP Zincated Powder, SSP Zincated Granulated, and Others; and Application: Cereals & Grains, Fruits & Vegetables, Oilseed & Pulses, and Others) - Industry Analysis, Size, Share, Growth, Trends, and Forecast, 2020-2030
Category :

Chemicals & Materials

Format :
Increase in Consumption of Products to Offset Losses During COVID-19 Crisis
The COVID-19 crisis has caused a severe dip in the production of di-ammonium phosphate (DAP) fertilizers in India. Plant closures across the country led to a series of supply reductions during COVID-19. This resulted in negative effects on the India SSP market. As such, gradual increase in consumer spending and consumption of food products in 2021 are anticipated to replenish market growth.
The reopening of manufacturing plants is anticipated to boost shipments of phosphorous (P), which is one of the key raw materials used in the production of SSP (Single superphosphate). Moreover, new farm laws and the new financial budget in India are predicted to boost the growth of the India SSP market in the upcoming months of 2021.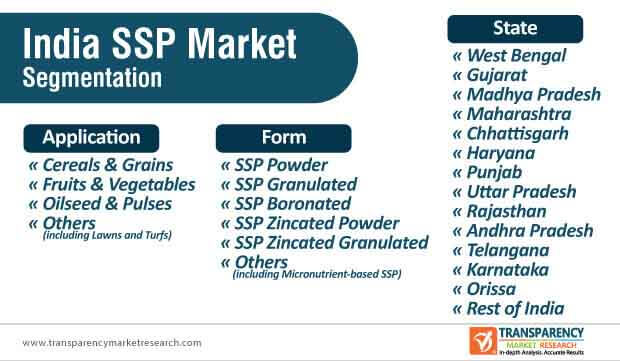 To gauge the scope of customization in our reports Ask for a Sample
Phosphorous Fertilizers Pose Stiff Competition to SSP Fertilizer
SSP is known as one of the first commercial mineral fertilizers, which led to advancements in the modern plant nutrient industry. However, phosphorous fertilizers are posing a stiff competition to the sales of SSP fertilizers, since the latter has low P content. Hence, manufacturers in the India SSP market are increasing their spending in R&D to offer innovations in fertilizers.
Companies in the India SSP market are using rock phosphate (RP) to innovate in fertilizers. This explains why the market is estimated to grow from an output of ~4,328 kilo tons in 2020 to reach ~7,270 kilo tons by 2030. Thus, rock phosphate is emerging as an efficient and economical compound for SSP production.
Get an idea about the offerings of our report from Report Brochure
Proprietary Designs in Reactors Help Maximize SSP Production
Manufacturers in the India SSP market are collaborating with other market players to increase the availability of quality SSP. For instance, Desmet Ballestra— a specialist in engineering and supply of plants and equipment has partnered with Puccioni— a chemical industry in Italy, to innovate in production equipment that boosts the manufacturing of single super phosphate powder.
Companies are using phosphate rock and sulfuric acid feedstock to advance in SSP production. As such, the India SSP market is predicted to register a favorable CAGR of 6% during the forecast period. Equipment providers are integrating proprietary designs in reactors to maximize SSP production. As such, there is a demand for reactors that make SSP in powder form and avoid the formation of granules or lumps.
New Reactor Designs Boost Efficiency, Productivity of Manufacturers
New reactor designs are providing several advantages to manufacturers in the India SSP market. Equipment providers are increasing the availability of low and high capacity reactors to suit specific needs of manufacturers. The high retention time of SSP raw materials in the reaction section enables easy operation of on downstream SSP devices.
Proprietary designs in reactors facilitate easy construction and maintenance of reaction fumes and gases, owing to robust sealing systems in reactors. Manufacturers in the India SSP market are maximizing their output capacities, as new reactor designs enable in-line inspection of the reaction section by means of manholes installed on fixed hoods.
Expansion of Export, Production Chains Fuels Market Growth
Companies in the India SSP market are complying with stringent laws and standards by adhering to guidelines issued by the government regarding environment impact control. Thus, manufacturers are utilizing reactors that facilitate triple-stage scrubbing system in order to minimize plan emissions. They are using reactors that can be fed directly with concentrated sulfuric acid, thus avoiding incidence of acid dilution.
Manufacturers in the India SSP market are increasing their export capacities in European countries, as Indian manufacturers are abiding with government regulations for SSP production. In order to boost soybean yields in India, manufacturers are offering SSP fertilizers to farmers and cultivators to help them expand their business. They should enter into tie-ups with Brazilian farmers and cultivators, as Brazil is one of the key producers of soybean in the world.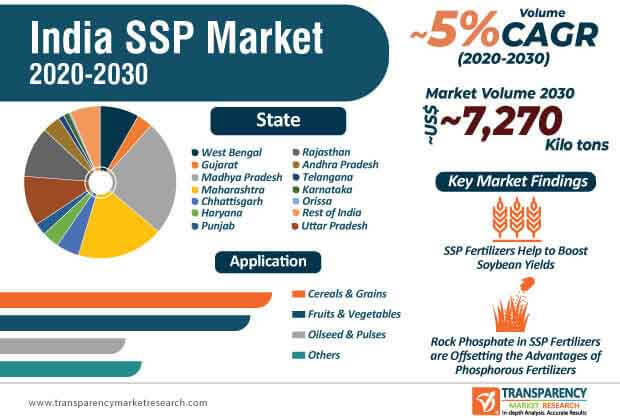 Looking for Regional Analysis or Competitive Landscape in India SSP Market for Performance OEM , ask for a customized report
Analysts' Viewpoint
Rising food consumption and advent of potential COVID-19 vaccines are projected to propel the India SSP market post pandemic. Growing crop acreage and solid expectations for monsoon in 2021 are anticipated to drive the market. However, phosphorous fertilizers are emerging as a threat to the sales of SSP fertilizers. Hence, manufacturers should increase their R&D in rock phosphate and other potential compounds that help in the making of high quality SSP fertilizers. Proprietary designs in reactors are acting as key market driver to help comply with environment impact control. Manufacturers should extend their export chains in Europe, owing to regulation compliance and in Brazil in order to boost soybean production.
India SSP Market: Overview
Single Super Phosphate (SSP) is primarily used to enhance the productivity of the soil. SSP is a straight phosphatic multi-nutrient fertilizer that contains 16% citrate soluble and 14.5% water soluble P2O5, 12% sulfur, and 21% calcium.
It exhibits excellent phosphorus replenishing ability in soil. SSP is highly preferred by farmers due to its excellent ability to impart sulfur and phosphorus than other fertilizers. SSP is produced by reacting phosphate rock with sulfuric acid.
SSP is primarily used in the agriculture sector in India to enhance the quality of soil and crop production
According to Transparency Market Research's latest research report on the SSP market in India for the historical year 2019 and the forecast period 2020 to 2030, rise in usage of SSP in the agriculture sector is a key factor that is expected to boost the SSP market in India during the forecast period
In terms of revenue, the SSP market in India is estimated to surpass US$ 900 Mn by 2030, expanding at a CAGR of 6% during the forecast period
Growth of Agriculture Sector in India: Key Driver
India possesses one of the 10 largest arable land resources across the globe. Agriculture is the major sector that contributes significantly to the growth of the country's economy. Furthermore, with presence of 20 agri-climatic regions, nearly 15 major climates around the world exist in India.
Presence of schemes to boost the production of agricultural products is a prominent factor that is likely to augment the sale of SSP in India. Some of the schemes are mentioned below:

In September 2020, the Government of India launched the PM Matsya Sampada Yojana and e-Gopala App to boost the production of fish, dairy, animal husbandry, and agriculture products across the country. The scheme will make an investment of US$ 2.7 Bn in the next 4-5 years in 21 states of the country.

Fertilizers are added to soil to supply one or more elements for the growth of a plant. They also enhance the productivity and natural fertility of the soil. This increases the average crop yield per hectare. In turn, this is likely to propel the consumption of low-cost fertilizers such as SSP in India.
Increase in Demand for SSP Powder
Based on form, the SSP powder segment dominated the SSP market in India in 2019. SSP powder is primarily used and favored fertilizer for dry land areas.
SSP is an excellent source of three plant nutrients: phosphate, sulfur, and calcium. The P component reacts in soil similarly to other soluble fertilizers.
Presence of phosphate and sulfur in SSP can offer an agronomic advantage where both of these nutrients are deficient
Zincated SSP takes care of common zinc deficiency in the agriculture field. It is primarily used for beans, corn, onion, sorghum, spinach, and sweet corn. This fertilizer is primarily employed in cereal crops.
SSP with boron fortification functions as a main source for cell development of a plant. This simultaneously helps in root and shoot development with added advantage of disease tolerance.
Rise in Applications of SSP in Cereals & Grains
Based on application, the cereals & grains segment accounted for major share of the SSP market in India in 2019. The segment is expected to maintain its dominance during the forecast period, owing to large production of cereals and grain in India.
SSP is a sulfur containing fertilizer that is essential for oil seed & pulses. The Government of India is striving to increase oilseed/pulses production to avoid import of these two commodities, which may continue for another 20 to 30 years. Therefore, SSP is anticipated to be used widely in oilseed & pulses application in the near future.
SSP is more suited for crops such as oilseeds, pulses, horticulture, vegetables, sugarcane, and paddy. SSP fertilizer is primarily used to improve root growth and chlorophyll synthesis. Thus, it improves product quality.
India SSP Market: Competition Landscape
Detailed profiles of providers of SSP have been included in the report to evaluate their financials, key product offerings, recent developments, and strategies
Key players operating in the SSP market in India are

Coromandel International Ltd.
Khaitan Chemicals & Fertilizers Ltd.
Rama Phosphates Ltd.
Ostwal Group
Bhilai Engg Cropon Ltd.
Narmada Agro Chemicals P.Ltd.
Nirma Ltd
Pragati Fertilizers Ltd.
India SSP Market: Key Developments
Key providers of SSP, such as Coromandel International Limited, Khaitan Chemicals & Fertilizers Ltd., and Rama Phosphates Ltd., are focusing on capacity expansion and cost-effective production of SSP. A few other key developments in the SSP market in India are highlighted below:

In 2013, Coromandel International Limited acquired Liberty Group, a prominent producer of powdered and granulated SSP with 14% market share. Liberty Group's super phosphate manufacturing unit is based in Ranipet, with production capacity of 1.3 lakh MT. This acquisition is expected to enable Coromandel International Limited to reach total capacity of more than 1 million MT.

In the SSP market in India report, we have discussed individual strategies, followed by company profiles of providers of SSP. The 'Competition Landscape' section has been included in the report to provide readers with a dashboard view and company market share analysis of key players operating in the SSP market in India.
India SSP Market – Scope of the Report
The latest study collated and published by Transparency Market Research (TMR) analyzes the historical and present-day scenario of the SSP market in India in order to accurately gauge its future growth. The study presents detailed information about the important growth factors, restraints, and trends that are creating a landscape for the growth of the SSP market in India so as to identify growth opportunities for market stakeholders. The report also provides insightful information about how the SSP market in India would expand during the forecast period of 2020 to 2030.
The report offers intricate dynamics about the different aspects of the SSP market in India, which aids companies operating in the market in making strategic development decisions. TMR's study also elaborates on significant changes that are highly anticipated to configure growth of the SSP market in India during the forecast period. It also includes a key indicator assessment that highlights growth prospects of the SSP market in India and estimates statistics related to growth of the market in terms of value (US$ Mn) and volume (Kilo Tons).
This study covers a detailed segmentation of the SSP market in India, along with key information and competition outlook. The report mentions company profiles of players that are currently dominating the SSP market in India, wherein various developments, expansions, and winning strategies practiced and implemented by leading players have been presented in detail.
Key Questions Answered in TMR's Report on India SSP Market
The report provides detailed information about the SSP market in India on the basis of comprehensive research on various factors that are playing a key role in accelerating the growth potential of the India market. Information mentioned in the report answers path-breaking questions for companies that are currently operating in the market and are looking for innovative methods to create a unique benchmark in the SSP market in India, so as to help them design successful strategies and make target-driven decisions.
Which application segment of the SSP market in India would emerge as a major revenue generator during the forecast period?
How are key market players successfully earning revenues out of advantages of SSP?
What would be the Y-o-Y growth trend of the SSP market in India between 2020 and 2030?
What are the winning imperatives of leading players operating in the SSP market in India?
Which form segment is expected to create lucrative opportunities for the SSP market in India during the forecast period?
Which are the leading companies operating in the SSP market in India?
Research Methodology – India SSP Market
The research methodology adopted by analysts for compiling the SSP market in India report is based on detailed primary as well as secondary research. With the help of in-depth insights of the market-affiliated information that is obtained and legitimated by market-admissible resources, analysts have offered riveting observations and authentic forecasts for the SSP market in India.
During the primary research phase, analysts interviewed market stakeholders, investors, brand managers, vice presidents, and sales and marketing managers. Based on data obtained through interviews of genuine resources, analysts have emphasized the changing scenario of the SSP market in India.
For secondary research, analysts scrutinized numerous annual report publications, white papers, market association publications, and company websites to obtain the necessary understanding of the SSP market in India.
India SSP Market – Segmentation
TMR's research study assesses the SSP market in India in terms of form, application, and state. This report presents extensive market dynamics and trends associated with different segments of the market and how they are influencing growth prospects for the SSP market in India.
Form

SSP Powder
SSP Granulated
SSP Boronated
SSP Zincated Powder
SSP Zincated Granulated
Others (including Micronutrient-based SSP)

Application

Cereals & Grains
Fruits & Vegetables
Oilseed & Pulses
Others (including Lawns and Turfs)

State

West Bengal
Gujarat
Madhya Pradesh
Maharashtra
Chhattisgarh
Haryana
Punjab
Uttar Pradesh
Rajasthan
Andhra Pradesh
Telangana
Karnataka
Orissa
Rest of India
Custom Market Research Services
TMR offers custom market research services that help clients to get information on their business scenario required where syndicated solutions are not enough.
REQUEST CUSTOMIZATION