Soybean Market
Soybean Market (Source - Conventional and Organic; End Product - Whole, Protein, Oil, and Meal; End Use - Food and Beverages, Personal Care, Dietary Supplements, Pharmaceuticals, and Animal Feed) Global Industry Analysis, Size, Share, Growth, Trends, and Forecast 2017 - 2025
Food & Beverages
TMRGL31859
2017-10-09
235

Pages
Global Soybean Market: Snapshot
The market for soybean has been steadily rising and this has led to companies expending money into research and development of new and better products to satisfy the customer demand for different food products.
Majorly fuelling demand in the global soybean market is the rising awareness among people about its health benefits. Their increasing applications in various end-use segments such as animal feed is also serving to boost demand. Serving to hamper demand in the global soybean market, on the other hand, is the dairy protein ingredients that have the first mover advantage and greater consumer acceptance.
A report by Transparency Market Research forecasts the global soybean market to rise at a CAGR of 5.0% during the period between 2017 and 2025 to become worth US$215.746 bn by 2025 from US$146.23 bn in 2017.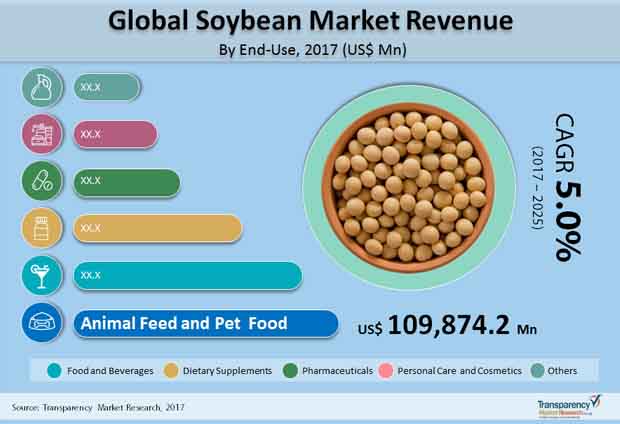 Organic Soybean to Grow at Greater Pace due to Discerning Consumers
The two main sources of soybean can be classified into conventional and organic. Of the two, the organic segment is more popular because of the increasing preference of consumers for organic stuff sans chemicals and artificial additives that are usually bad for health. In the years ahead, the segment will likely expand at a greater CAGR of 8.1% to become worth US$1.38 bn. The conventional segment is expected to rise at a CAGR of 5.0% to attain a value of US$214.366 bn.
Depending upon end use again, the soybean market can be segmented into food and beverages, personal care, dietary supplements, pharmaceuticals, animal feed, etc. Among them, the segment of animal feed accounts for maximum share in revenue at present. The report by TMR estimates the share to be around 75.1% currently. In the years ahead too, the animal feed sector is predicted expand at a healthy clip. The soy meal segment accounts for the largest share and is followed by the soy oil segment.
Some of the main end products in the global soybean market are whole, protein, oil, meal, and others namely tofu, soybean milk, fiber. The protein segment of the soybean market can be further sub-segmented into soy protein concentrates, isolates, and hydrolysates. Amongt these segments, the soybean meal segment occupies leading share in the market – about 72.9%.
Asia Pacific with Substantial Population Emerges as Major Contributor to Demand
Geographically, some of the key segments in the global soybean market are North America, Latin America, Europe, Asia Pacific, and the Middle East and Africa. Of them, Asia Pacific is expected to account for the leading share vis-à-vis demand in the years to come due to its massive population, developing economies wherein more and more people are opting for healthy food, and rising awareness about the high protein content of soybean. The animal feed industry and nutraceuticals are also stoking growth in the market in the region. Asia Pacific will most likely be trailed by Latin America and North America. Together, Asia Pacific and Latin-America are likely to account for approximately 78.1% share by the end of 2025. The demand for soybeans in the three key markets is being primarily driven by the increasing consumption of soybean as a natural alternative to meat and dairy proteins and utilization as an ingredient in sports nutrition and in clean-labelled products.
Some of the prominent companies operating in the global soybean market are Kerry Inc., Fuji Oil Group, House Foods Group Inc, The WhiteWave Foods Company, E.I. du Pont de Nemours & Co., CHS Inc., Cargill Inc, The Scoular Company, Archer-Daniels Midland Co.
High Nutrition Value of Soybean to Spell Growth for the Global Soybean Market
Over the last few years, the demand for soybean by-products such as oil cakes, soybean meal, and other similar items has increased. The high nutritional value of products has increased their popularity amongst consumers. Consumers in developed countries now have increased disposable disposable income, and augmented productivity of soybean has improved in these countries, resulting in higher demand for soybean by-products. Soybean meal comes with a special amino acid profile that makes it a good substitute for cereal proteins. As a result, soybean meal is utilized as a feed for both human beings and animals. The medical benefits of protein-enriched foods, as well as the rising number of ruminants, cattle, and livestock, and other animals are likely to support growth of the global soybean market in the years to come.
Increasing Popularity of Vegan Lifestyle to Create Plethora of Opportunities for the Market
Plant-based proteins such as soybean are likely to be in high demand across the globe as several people are steadily moving toward a vegan lifestyle. In addition to that, the world is becoming healthier and fitter, necessitating higher protein content on our plates. Soybean is a great source of protein that also happens to have a lot of health benefits. It aids in the maintenance of our digestive health and can be moulded into various shapes for use in daily dishes. Soy consumption on a daily basis has been linked to better hair and skin health. Soybean is high in amino acids and is especially advantageous to people who have lactose intolerance. These factors are likely to propel growth of the global soybean market in near future.
Soybean is considered a near-perfect dairy substitute, that's why it has become increasingly popular amongst lactose-intolerant people. Soy curd, tempeh, tofu, and soy milk are just a few of the products available in the global soybean market. These products are capable of fully substituting milk and its various products in our daily lives. As a result, in the near future, soybean dairy-like products are likely to disrupt the market and determine its course of direction.
Global Soybean Market: Overview
Soybean is broadly utilized both in creature nourishing and human utilization, with soy feed taking the bigger piece of utilization. For human utilization such items as soy milk, soy oil, soy protein, soy flour, tofu and numerous retail food items are produced.
As per the US National Library of Medicine, almost 65% capacity to process lactose is lost in about every single person post early stages. Growing old will lead to lose the capacity to digest dairy and its items which in the end prompts an insufficiency of protein in the bodies. Intolerance of lactose is a typical issue with around 10 mn cases for every year, renders customers with a sickening inclination each time they intake any item which contains lactose. Soybean market becomes the dominant focal point here as its item is progressively supplanting the dairy business by giving precisely the same supplements, while keeping up condition maintainability in the meantime.
Global Soybean Market: Notable Development
In April 2019, it's been noticed that hazardous pig illness is spreading through China that will reshape the soybean market in the forthcoming years. To dispose of the illness and modifying the herd of pig in a economy that expends a large portion of the world's pork will take three to five years to reduce the demand for soybeans utilized in feed.
Around 75% of the utilization of soybean is viewed as creature feed and the developing interest for creature feed is driving the market development. Different components augmenting the market development are intense interest for soybean oil and expanding open mindfulness about the medical advantages of soybean utilization.
Players inside the soybean market are endeavoring to create inventive soybean-based nourishments which have improved usefulness. Players are additionally trying different things with more current mixes so as to improve the application regions of soybean. Companies are House Foods Group Inc, E.I. du Pont de Nemours and Co., Fuji Oil Group, Kerry Inc., and The WhiteWave Foods Company.
Global Soybean Market: Trends & Opportunities
Soybeans are the fourth driving harvest created all inclusive, by volume. While a portion of the harvest is utilized legitimately, in excess of 85 percent is additionally prepared through smashing into soybean supper and oil. Soybean supper is ordinarily utilized as a creature feed for its protein content. Soybean oil is generally utilized for sustenance utilization and, all the more as of late, for different uses. Soybeans and their subsidiaries are the most exchanged farming ware, representing more than 10 percent of the all out estimation of worldwide horticultural exchange. Soybean market and soybean items has risen quickly since the mid-1990s and, in 2008/09, outperformed worldwide exchange of wheat and all out coarse grains.
The essential variables driving worldwide soybean market and items exchange incorporate populace and pay development, which are driving the world's expanding interest for domesticated animals' items, just as arrangements actualized by major horticultural merchants and exporters. These incorporate local and fringe approaches that apply to soybeans market and items or domesticated animals' items.
Global Soybean Market: Geographical Distribution
China's residential and exchange approaches lead soybean import request. China's strength of the soybean import market originates from its grain independence and soybean fringe arrangements, combined with its buyers' rising salaries and evolving counts calories. In 1995, the Government of China embraced a strategy of 95 percent independence for grains, focusing huge numbers of its approaches toward this objective. Numerous legislatures may create ware bolster projects to give salary to ranchers and impact their generation choices by modifying their relative monetary motivating forces.
Custom Market Research Services
TMR offers custom market research services that help clients to get information on their business scenario required where syndicated solutions are not enough.
REQUEST CUSTOMIZATION