India Biomass Market
India Biomass Market (Feedstock: Agricultural Waste, Wood & Woody Residue, Solid Waste, and Others; Product: Biodiesel, Bioethanol, Biogas, and Others; Application: Power Generation, Heating, and Others; and Technology: Thermal, Biochemical, Electrochemical, and Physical Conversion) - Industry Analysis, Size, Share, Growth, Trends, and Forecast, 2020 - 2030
Category :

Energy & Natural Resources

Format :
Schemes Supporting Biomass Cogeneration Projects Generate Export Opportunities for Companies
The launch of new schemes is anticipated to generate incremental opportunities for companies in the India biomass market. For instance, the Ministry of New and Renewable Energy (MNRE) in India announced a scheme to support biomass-based cogeneration in sugar mills and other industries. It is found that India has the capability to generate several thousands of megawatts of renewable energy from biomass available in bagasse cogeneration from sugar mills. Moreover, the Indian Government's financial assistance is projected to play an instrumental role for energy generation through biomass cogeneration projects.
With the help of the Government's financial aid, companies in the India biomass market are investing in their exports capacities to tap into revenue opportunities. Moreover, surplus biomass availability, especially from the agriculture sector, is another key driver that is fueling market growth. Launch of new schemes in the support of biomass cogeneration projects is playing a vital role to leverage capacity additions in small biogas plants located in remote and rural parts of India.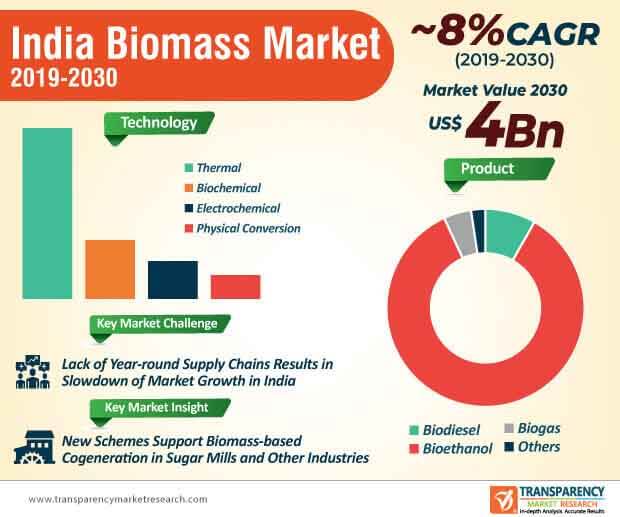 Investments by Foreign Green Energy Companies Assure Reliable Power Supply for Indian Businesses
The India biomass market is attracting investments from green energy companies outside of India to capitalize on value-grab opportunities. For instance, in October 2019, Bloom Energy-a provider of sustainable and cost-efficient on-site electricity for organizations announced a joint effort with EnergyPower, a zero carbon and net zero emissions technology company to deploy its first-of-its-kind commercial scale on-site project to power organizations in India. There is a growing demand for integrated solutions for the supply of clean and reliable power to businesses in India.
To understand how our report can bring difference to your business strategy, Ask for a brochure
Novel agricultural and municipal waste digesters are being combined with the solid oxide fuel cell technology to deploy reliable and renewable power sources to customers. Such technological advancements are powering growth of the India biomass market, which is estimated to reach a value of ~US$ 4 Bn by the end of 2030. Renewable power generation using biomass has significantly reduced methane emissions, which is relatively more harmful to the atmosphere as compared to CO2 emissions.
Storage of Biomass Plays Instrumental Role for Maintaining Strong Supply Chains
Customers in the India biomass market are assured continuous energy flow through biomass energy generation, unlike wind and solar energy, which is subject to energy fluctuations. However, poor supply chains are some of the biggest hurdles that are inhibiting market growth. This can be attributed to biomass availability is not certain during the year. For instance, biomass from agriculture is available only after the harvesting period, which indicates that the raw material can only last up to a few months. Hence, companies in the India biomass market are procuring and storing the required volume of biomass to avoid supply chain fluctuations.
Among all agriculture-intensive states in India, companies in Uttar Pradesh are utilizing their biomass up to its full potential, due to the abundance of sugarcane industries. The India biomass market is flourishing due to increased availability of co-generation power plants in North Indian states, where the market is estimated to expand at a CAGR of ~8% during the forecast period.
Nationwide Lockdown Curtails Energy Generation Activities Until Coronavirus Pandemic Lasts
The Punjab State Transmission Corporation Limited (PSTCL) has recently announced the cutback of renewable power generation until coronavirus (COVID-19) outbreak subsides. The Government is imposing the force majeure clause for renewable energy generators since continuation power generation could significantly impact supply chains. Apart from business activities in the India biomass market, other industries related to biomass generation are also experiencing a curtailment in various business processes. Moreover, lack of free flow in public transport is another restraining factor that has caused a major slowdown in the market landscape.
Apart from biomass, energy generators of solar and wind have also been forced to shut down their business activities. Cogen power, biogas, and mini hydel projects are experiencing a halt in revenue generation. As such, energy generators are positively responding to regulations issues under the nationwide lockdown.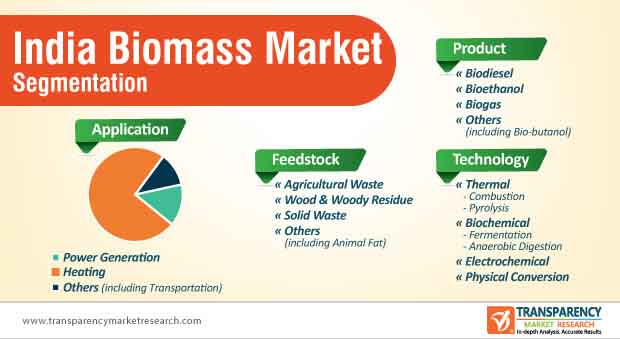 Stuck in a neck-to-neck competition with other brands? Request a custom report on India Biomass Market
Analysts' Viewpoint
The India biomass market is undergoing a slight downtrend, as state governments have issued a curtailment on renewable energy generation activities until the COVID-19 outbreak subsides. Foreign green energy companies are eyeing opportunities in India's flourishing industrial sector to establish clean energy ecosystems in Indian organizations.

New schemes supporting biomass cogeneration projects are generating incremental opportunities for renewable energy generators. However, many agriculture-intensive states, such as Maharashtra, Karnataka, and Andhra Pradesh are underutilizing the potential of the biomass energy. Hence, companies should focus their investments in North Indian states such as Uttar Pradesh and Punjab where companies can tap opportunities due to the abundance of sugarcane industries and co-generation power plants.
India Biomass Market: Overview
Biomass is used as feedstock in the production of energy. Biomass is also employed as fuel in the transport sector. It is derived through biological processes. Biomass is environmentally-friendly and can replace exhaustible sources of energy.
Of late, the biomass industry has gained significant traction as a key renewable energy in the global energy mix. Biomass, which is generated or extracted from forestry, biogenic, and agricultural waste, is used to produce fuels. Improvement in economics of energy production of biomass has radically boosted its potential as a fuel among several end-user industries. Demand for biomass is expected to increase in the near future, as it is environment-friendly.
Increase in Demand for Renewable Energy to Drive India Biomass Market
Primary energy consumption has increased significantly in India over the last few years, due to rapid industrialization and urbanization. According to the BP Statistical Review 2019, primary energy consumption rose by 7.9% in India in 2018, the highest growth rate since 2007. Power & heat generation accounted for major share of primary energy mix in India in 2019. Fossil fuels such as oil, gas, and coal are employed in majority of power and heat generation in the country.
Depleting crude oil reserves and increase in level of GHG emission have propelled the demand for clean energy resources in India. Biomass is an organic, clean, and renewable source of energy. Utilization of biomass helps address environmental concerns up to a certain extent.
Increase in utilization of biomass and other renewable sources of energy is estimated to help reduce carbon dioxide emissions in India. The Government of India has set a target to reduce carbon emission by 33% to 35% by 2030 compared to the 2005 levels.
Thus, increase in demand for renewable energy is projected to drive the biomass market in India during the forecast period
Increase in Focus on Maintaining Energy Security to Boost India Biomass Market
According to a report published by the Oil Ministry's Petroleum Planning and Analysis Cell (PPAC) in 2019, India's oil import dependency increased from 82.9% in 2017 to 83.7% in 2018. The country produces just 27.3% of its total petroleum consumption and has to meet the remaining requirement through import of oil. This excessive dependence on the import of oil leads to strategic risks related to availability, demand, and price fluctuation of petroleum.
The Government of India is focusing on increasing its domestic fuel production and maximizing the utilization of clean energy resources, including biofuel, in order to improve its energy security. For instance, the Government of India introduced the National Policy on Biofuels - 2018 with an aim to increase the utilization of biofuels in the energy and transportation sectors by promoting the production of biofuels from domestic feedstock. The policy aims to achieve 20% ethanol-blending and 5% biodiesel-blending by 2030. The percentage of the same currently stands at around 2% for petrol and less than 0.1% for diesel. This is estimated to boost the biomass market in India in the near future.
Thus, increase in focus on maintaining energy security is expected to boost the biomass market in India during the forecast period
Recent Developments, Expansions, Acquisitions, and New Contracts in India Biomass Market
In January 2020, BIOD ENERGY (INDIA) PVT LTD. announced plans to set up two biodiesel manufacturing facilities in Haryana and Dubai and open up to 30 biodiesel pumps in North India. The opening of new facilities is estimated to allow the company to increase its market presence.
In October 2019, Indraprastha Gas Ltd, the largest CNG distribution company in India, announced plans to open a paddy straw-into-biogas conversion plant at Karnal in Haryana. The biogas can be used as CNG in automobiles. The plant is expected to convert stubble generated from 20,000 acres of farmland in a year into gas. The manufacturing facility is projected to be operational by 2022.
India Biomass Market: Outlook
India is likely to emerge as a focal country for several key biomass market players during the forecast period, led by the abundant availability of municipal waste and agricultural waste in the country. Introduction of stringent policies to increase the utilization of renewable resources in order to minimize GHG emissions; and growth in efforts to reduce foreign import dependency are also major factors anticipated to propel the biomass market in India. However, complexities involved in waste segregation to separate potential biogas fuels from other waste products and involvement of high initial investments required for the installation of large-scale plants are expected to hamper the biomass market in India.
Highly Competitive India Biomass Market
The biomass market in India is highly competitive, with the presence of large numbers of players operating at local, regional, and international levels
Key players operating in the biomass market in India include

Emami Agrotech Ltd.
Muenzer Bioindustrie GmbH
Universal Biofuel
Aemetis
BIOD ENERGY (INDIA) PVT LTD,
Monopoly Innovations Private Limited,
EnviTec Biogas AG
India Biomass Market – Scope of the Report
The latest study collated and published by Transparency Market Research (TMR) analyzes the historical and present-day scenario of the biomass market in India to accurately gauge its potential development. The study presents detailed information about important growth factors, restraints, and key trends that are creating the landscape for the future growth of the biomass market in India, to identify opportunistic avenues of the business potential for stakeholders. The report also provides insightful information about how the biomass market in India will progress during the forecast period of 2020-2030.

The report offers intricate dynamics about the different aspects of the biomass market in India that aid companies operating in the market in making strategic development decisions. TMR's study also elaborates on the significant changes that are highly anticipated to configure the growth of the biomass market during the forecast period. It also includes a key indicator assessment to highlight the growth prospects of the biomass market in India, and estimate statistics related to the market progress in terms of value (US$ Mn) and volume (Kilo Tons of Oil Equivalent).

This study covers a detailed segmentation of the biomass market in India, along with key information and a competitive outlook. The report mentions the company profiles of key players that are currently dominating the biomass market in India, wherein various development, expansion, and winning strategies practiced and executed by leading players have been presented in detail.

Key Questions Answered in TMR's Report on India Biomass Market
The report provides detailed information about the biomass market in India on the basis of comprehensive research on various factors that are playing a key role in accelerating the growth potential of the market. Information mentioned in the report answers path-breaking questions for companies that are currently functioning in the market and are looking for innovative ways to create a unique benchmark in biomass, so as to help them make successful strategies and take target-driven decisions.
Which application of biomass market in India will emerge as a major revenue generator during the forecast period?
Which feedstock of the biomass market in India will emerge as a major revenue generator for the market during the forecast period?
Which product of the biomass market in India will emerge as a major revenue generator for the market during the forecast period?
How are key market players successfully earning revenues in the biomass market in India?
What will be the Y-o-Y growth of the biomass market between 2020 and 2030?
What are the winning imperatives of market frontrunners in the biomass market in India?
Which application is expected to have maximum potential for biomass in India during the forecast period?
Research Methodology – Biomass Market
The research methodology adopted by analysts for combining the biomass market report is based on detailed primary as well as secondary research. With the help of in-depth insights of the industry-affiliated information that is obtained and legitimated by market-admissible resources, analysts have offered riveting observations and authentic forecasts of the biomass market.
During the primary research phase, analysts interviewed industry stakeholders, investors, brand managers, vice presidents, and sales and marketing managers. Based on data obtained through the interviews of genuine resources, analysts have emphasized the changing scenario of the biomass market in India.

For secondary research, analysts scrutinized numerous annual report publications, white papers, industry association publications, and company websites to obtain the necessary understanding of the biomass market in India.
India Biomass Market – Segmentation
TMR's research study assesses the biomass market in India based on feedstock, product, application, and technology. This report presents extensive market dynamics and progressive trends associated with different segments, and how they are influencing the growth prospects of the biomass market.
Feedstock

Agricultural Waste

Wood & Woody Residue

Solid Waste

Others (including Animal Fat)

Product

Biodiesel

Bioethanol

Biogas

Others (including Bio-butanol)

Application

Power Generation

Heating

Others (including Transportation)

Technology

Thermal

Biochemical

Electrochemical

Physical Conversion
Custom Market Research Services
TMR offers custom market research services that help clients to get information on their business scenario required where syndicated solutions are not enough.
REQUEST CUSTOMIZATION