Biogas Market
Biogas Market (Application - Electricity and Heat, and Vehicle Fuel) - Global Industry Analysis, Size, Share, Growth Trends and Forecast 2019 - 2027
Category :

Energy & Natural Resources

Format :
Global Biogas Market: Overview
Biogas is a combination of various gases that are generated through anaerobic digestion, fermentation, or other processes. It is primarily generated using waste products from the agricultural industry, sewage or edible waste, plant and industrial waste, and municipal garbage collection. Biogas commonly holds valuable applications as a fuel source intended for space heating, powering vehicles, cooking, and heat and electricity production.
The popularity ratings of biogas among environment conscious consumers has soared over the years owing to it being a renewable source of energy with only a minor carbon footprint. The overall value and share of the global biogas market within renewable energies is forecast to increase significantly owing to improvements in production technologies as well as possibilities of newer generation techniques that would eventually enable the players to generate biogas at a more efficient level and on a broader regional scale. Currently however, the global biogas market suffers from the lack of sophisticated and efficient technologies and shows high potential for incorporating upgrades.
The global biogas market is scheduled to expand at a considerable CAGR of 6.62% in terms of volume, within a forecast period from 2019 to 2027. The biogas market recorded 28,989.86 kilo tons of oil equivalent (KTOE) in 2018, which is likely rise up to 51,581.99 KTOE by the end of 2027.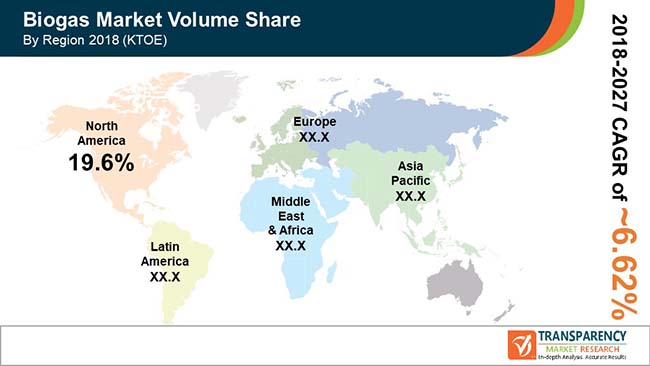 Request a sample to get extensive insights into the Biogas Market
Increase in demand for renewable energy to Drive Biogas Market
Currently, majority of power and heat generation across the globe is carried out by fossil based fuels such as coal, oil, and gas
Demand for alternate sources of energy, such as renewable sources, is increasing due to depleting crude oil reserves
Governments across the globe have started reducing dependency on fossil fuels by encouraging energy production from renewable sources
Strict environmental regulations and global climate change have led to the adoption of clean and renewable source of energy
Biogas is an organic, clean, and renewable source of energy. Utilization of biogas assists in addressing global environmental concerns up to a certain extent
Increase in use of biogas and other renewable sources of energy would help reduce carbon dioxide emissions
The European Union has set a target to increase the share of renewable energy in the total energy mix to 20% by 2020 and approximately 80% by 2050
Biogas is anticipated to hold a significant share in the total renewable energy consumption in Europe and North America from 2018 to 2027
Thus, increase in demand for renewable energy is predicted to drive the biogas market growth during forecast period.
To understand how our report can bring difference to your business strategy, Ask for a brochure
Recent Developments, Expansions, Acquisitions, and New Contracts
In November 2019, Macquarie Capital Principal Finance acquired the UK biogas producer BioCow. Biocow is a leading producer of biomethane from agricultural waste via anaerobic digestion. The acquisition would enable the company to enhance its presence in biogas market across the nation.
In August 2019, Bioenergy DevCo, a developer of anaerobic digestion facilities acquired BTS Biogas. The acquisition would enable Bioenergy DevCo to increase BTS Biogas' technology footprint in North America, working closely with companies and municipalities to help them efficiently, cleanly and affordably dispose of organic waste while producing clean, renewable natural gas that can be used by utilities.
In July 2019, Nature Energy acquired Bånlev Biogas located at Trige west of Aarhus, Denmark. The plant will be Nature Energy's tenth operational biogas plant. The acquisition of new plant would allow the company to enhance its presence in biogas market in Denmark.
Europe to Dominate Global Biogas Market
Europe dominated the global biogas market in 2018. The biogas market growth can be attributed to the increasing greenhouse gas (GHGs) emissions and their hazardous impact on the environment. Governments across the globe and several environmentalists are encouraging the usage of biogas, as it is a cleaner fuel than petroleum fuels. Owing to these reasons, several biogas plants will be set up across the region in the coming years.
In 2018, Germany had led the overall biogas market in Europe, thanks to the nation's special interest in the large scale use of biogas and the consequent installation of a large number of now operational biogas plants. Countries such as Sweden, the U.K., and France are also adopting the biogas and other ecofriendly fuel sources swiftly to reduce their overall carbon emissions.
Meanwhile, Asia Pacific are likely to emerge as focal points for many key biogas market players over the coming years, due to the large amounts of agricultural waste and municipal waste generated. A key factor that may impede the biogas market growth in this region is the heavy initial investments required for the installation of large scale plants, as well as the complexities involved in waste segregation to separate potential biogas fuels from other waste products
Stuck in a neck-to-neck competition with other brands? Request a custom report on Biogas Market
Global Biogas Market is Highly Competitive
The key players operating in the global biogas market are

Air Liquide Advanced Business & Technologies
Vanzetti Engineering S.r.l.
EnviTec Biogas AG
Wärtsilä Corporation
Swedish Biogas International AB
Gasrec Ltd.
Cryostar SAS
Biofrigas Sweden AB
Scandinavian Biogas Fuels International AB
Cryonorm BV,
Biogas Market – Scope of the Report
Transparency Market Research's recent report on the global biogas market, with the help of a comprehensive outlook, provides readers with an assessment of the global market landscape. This study on the global biogas market analyzes the market scenario for the period from 2019 to 2027, wherein 2018 is the base year. This report enables readers to make important decisions with regard to their business, with the help of a wealth of information enclosed in the study.
This TMR study on the global biogas market also provides data on developments made by important players and stakeholders operating in the market, along with competition analysis. The report also provides an understanding of strengths, weaknesses, threats, and opportunities, along with market trends and restraints in the competition landscape section.
This study also discusses the underlying trends and the impact of various factors on the global biogas market along with their influence on evolution of the market
This study also offers Porter's five forces analysis, value chain analysis, and regulatory scenario of the global biogas market, in order to elaborate crucial growth strategies of and opportunities for players operating in the market
Key Questions Answered in Global Biogas Market Report
How much volume does the global biogas market is expected to reach by the end of the forecast period?
Which region currently account for the maximum share of the global biogas market?
What are the key factors expected to drive the global biogas market?
Which region is likely to be a lucrative market for biogas during the forecast period?
What are the essential strategies adopted by key players operating in the global biogas market to expand their geographical presence?
This report answers these questions about the global biogas market, aiding major stakeholders and key players in making the right decisions and strategizing for growth of their business
Global Biogas Market: Research Methodology
This TMR report on the global biogas market is based on a complete and comprehensive evaluation of the market, backed by secondary and primary sources. The competition scenario of the global biogas market is supported by an assessment of different factors that influence the market on a minute and granular level. By thoroughly analyzing the historical data and the current trends, researchers of the global biogas market arrived at predictions and estimations, and calculated the market forecast.
This report uses an analytical triangulation method to estimate the volume of the global biogas market, by using both bottom-up and top-down approaches
This detailed assessment of the global biogas market, along with an overview of the market, is provided based on a careful examination of avenues related to the market. Analysts' conclusions on how the global biogas market is set to expand are based on carefully vetted primary and secondary sources.
Global Biogas Market: Segmentation
This report on the global biogas market provides segmentation of the market based on region
Application

Electricity & Heat

Vehicle Fuel

Others

Region

North America

Europe

Asia Pacific

Rest of World
Custom Market Research Services
TMR offers custom market research services that help clients to get information on their business scenario required where syndicated solutions are not enough.
REQUEST CUSTOMIZATION